Today it is my pleasure to Welcome author
Peggy Bird
to HJ!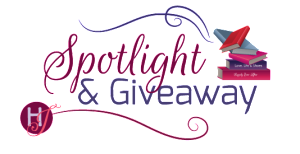 Hi Peggy and welcome to HJ! We're so excited to chat with you about your new release, The Professor's Secret!
Please summarize the book for the readers here: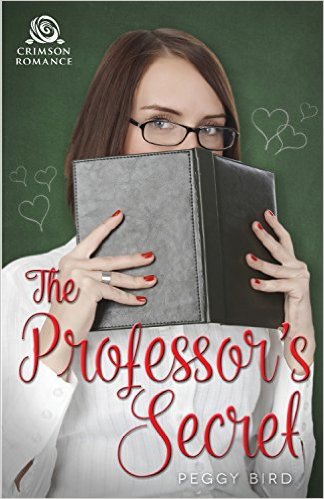 For most of the year, Claudia Manchester, PhD, teaches English lit at Portland State University. On vacation, however, her alter ego, April Mayes, Queen of Steam, takes over and she writes hot romance, a fact Claudia wants to keep under wraps until she has tenure.
Then her agent convinces her to go to a writers' conference in a disguise Claudia dubs "slutty romance writer." She meets Brad Davis, another teacher and romance writer. He's Mr. Hot and Handsome, and he's more than interested in her.
But when she finds out the school where he teaches is only blocks away from her university, she panics and invents yet another identity to hide behind. When Brad falls for her she isn't sure which woman he's interested in—her real self, her writer self, or the woman whose name he calls when they're together.
Their chance to find happily-ever-after will depend on whether a relationship based on lies can succeed. And whether Brad loves the real woman or one of the aliases.

Please share the opening lines of this book:
Had she been the woman she was pretending to be, Claudia would walk up to the man who'd just strolled into the waiting area at the gate, smile seductively, and say, "Let's blow this popsicle stand." He was so attractive, paying for a drink, a meal, or a trip to wherever he wanted to go would be worth it to have the chance to get to know him.
Please share a few Fun facts about this book…
After I sent the manuscript to my editor, I remembered that I'd failed to find out if there were male teachers at St. Mary's Academy, the private girls' school where I had my hero teaching. Luckily, a family member is an SMA alumna and she not only confirmed there were male teachers but told me about the time one of them got wolf whistles from the students when he crossed the stage at an awards ceremony. That made it into the book during the editing process.
Usually I include something in my books that I've done. This time I included the experience of a close friend. Based on her story about what she did on the first of May at the top of Beacon Rock, let's just say she's far braver than I am about amorous activities outdoors.
I havealways wanted to turn several of Shakespeare's plays into contemporary romances, giving all his charactershappy endings (well, some of them. I have no idea how to give Lady Macbeth a happy ending.) In this book, I have created someone who has fulfilled that fantasy.
If your book was optioned for a movie, what scene would you use for the audition of the main characters and why?
I'd use the scene where Brad asks Claudia to join him for a drink in the hotel bar after dinner, because it shows the beginning of the attraction between the two. Here it is:
"Why don't we meet in the bar then?"
"I'm not sure." (Claudia) was tempted. Maybe it was because she was a little high from playing April Mayes for three hours, but in spite of knowing it was risky, the desire to get to know this man was strong. Stronger than any attraction she'd ever felt before for anyone. But was it worth the consequences she feared?
"Tell you what," he said, apparently resigned to her not responding, "I'll be in the bar until ten thirty, looking hopefully at the door every time a redhead walks in, waiting for you. If you don't show up, I'll drink myself into oblivion before staggering to my cold and lonely bed where I'll pass out until the morning. Which will mean my presentation and lunchtime speech tomorrow will probably be disasters, and my career as a writer will be over. But don't let me influence you. Join me for a drink if you've got nothing better to do when you get back. And are feeling sorry for me being so alone in a sea of strangers."
By the time he'd finished his speech, Claudia was unable to keep a straight face. "So this is what it's like to cross swords with a writer. You're good."
"I'll only believe that if you show up tonight for a nightcap."
"I promise I'll do my best to meet you."
"I'll take it." He touched her face. "And I'll look forward to it."
For a moment, as he leaned closer to her and she felt his breath on her cheek, heappeared to be about to kiss her. But he merely tucked a strand of hair behind her ear,
saying, "That's been driving me crazy for hours. It's the only curl out of place." He patted her cheek and sauntered away without a backward glance.
What do you want people to take away from reading this book?
What I set out to do was write a light-hearted look at how romance writers are viewed. It still surprises me how easily the romance genre is excluded from any discussion of good writing. I hope I gave readers some ammunition to use if they ever get in such a conversation.
What are you currently working on? What other releases do you have planned for 2016?
I'm working on three projects at the moment. The first is a novella called Out of the Game. Itwill be released in Bella Andre's "Game of Love" Kindle World in May. The second is an as-yet-untitled Christmas novella. The third is a women's fiction novel that may take me until the next millennium to finish but which had a healthy start during a master class I recently took with Elizabeth George, my favorite mystery writer.

Thanks for blogging at HJ!
Giveaway:

2 ebook copies of "THE PROFESSOR'S SECRET"
To enter Giveaway: Please complete the Rafflecopter form and Post a comment to this Q:

So, romance readers, what do you think is the reason novels in our favorite genre are so often dismissed in ways novels in the mystery or western genres are not?
Excerpt from The Professor's Secret:
The thing was, she wanted to meet him. Wanted to see what it would be like to behave like one of her heroines. She'd actually written a scene in one of her books where her heroine met a man at a conference and began a torrid affair with him. Of course, it was fiction, so by the end of the book, they rode off into the sunset in his cute little convertible for their happily-ever-after. Claudia wasn't so foolish as to believe something similar would happen with Brad Davis. But still.
What if. That favorite phrase writers use to think up plot points kept coming to her. What if she had the nerve of the heroines she created? What if she fully and completely embraced the persona she was projecting? What if April Mayes took over the life of Claudia Manchester for the evening and did what she bloody well wanted to do? Took the chances Claudia had her heroines take? Walked into the bar with the explicit aim of doing Brad Davis. As thoroughly, completely, and exhaustively as any woman had ever done a man.
No, not possible. She could never do that. Granted, he had a kissable mouth. And he smelled good. Like a freshly laundered shirt overlaid with something subtly spicy. A freshly laundered shirt covering a body that looked amazing clothed but begged to be seen naked. And those eyes. They had never let her out of his sight in the airport, and she had caught them watching her at the book signing more times than she was comfortable admitting.
Claudia Manchester didn't do things like have a convention hookup. She dated perfectly appropriate men who she met through work and only landed in bed with a few of them and only after the appropriate number of dates. It was an insult to her dignity to even suggest otherwise. But she wasn't Claudia Manchester this week, was she? And April Mayes sure as hell would have grabbed him and dragged him off to her lair the first chance she had.
Excerpt. © Reprinted by permission. All rights reserved.

Book Info:
English professor Claudia Manchester secretly writes spicy romances as April Mayes, the Queen of Steam. She wants to keep her side job under wraps till she's secured tenure, but when she's pressured by her agent to appear at some out-of-state conferences, she agrees . . . if she can go in disguise. Dressed as her sexier alter ego, she meets historical romance writer and high school history teacher Bradley Davis and passion ignites. But can true love be built on lies? And will he still want her when she reveals her real self?
Sensuality Level: Sensual
Book Links:

Meet the Author: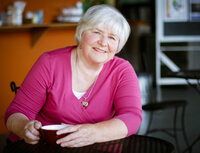 Born in Philadelphia, I've spent most of my adult life in the Pacific Northwest where I have happily grown webs between my toes and moss behind my ears. Over my adult life, I pursued a number of careers—nurse, legislative staffer, lobbyist, public affairs consultant, non-profit association executive, workshop teacher, oh, and mother and wife—before deciding to leave it all for what I've loved through every stage of life—writing.
But instead of the intricately plotted mysteries and deeply moving memoir pieces I assumed I'd write, the characters in every piece of fiction I started wanted their love stories told. Even when I had many of them hanging around questionable people or involved in murder, intrigue, and general mayhem.
That's how my Crimson Romances were born. All the stories are set in some of my favorite places in the country—Portland, Oregon,the Puget Sound, Philadelphia. My second series, A Holiday For Romance, includes some of my favorite times of the year—Independence Day, Halloween, Christmas/Hanukkah, New Year's Eve, Thanksgiving.
Still no mysteries, but I'm working on it.
Follow me:
On Facebook–https://www.facebook.com/peggybirdauthor
On Twitter–https://twitter.com/peggybirdwrites
On Pinterest–http://pinterest.com/writingbird/