Today it is my pleasure to welcome back USA Today bestselling author

Alice Clayton

to HJ!


IT'S GETTING HOT (AND HEAVY) IN HOLLYWOOD!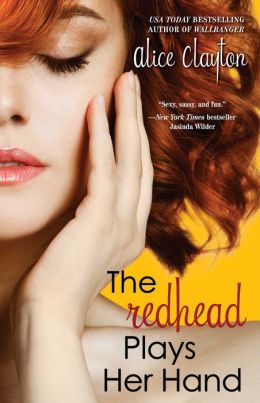 Grace Sheridan is flying high. With scorching passion from her gorgeous Brit superstar Jack Hamilton plus the lead role in a new television dramedy, she could just pinch herself. Then a demand from her show's directors to drop fifteen pounds brings her back down to earth with a thump. Forced to subsist on air, cucumbers, and boot camp, Grace wonders if the body that brings the newly crowned "Sexiest Man Alive" to his knees is just too booty-licious for Hollywood. Jack, meanwhile, seems overly enamored of the celebrity lifestyle. Forbidden by his publicity-conscious manager to reveal his relationship with Grace, he's hitting the industry party scene way too hard.
As Grace's bod incites fiery debate about the message of "thin is in," Jack's jealous fans are downing the hate-erade, viciously slamming her curves. Grace longs for Jack's support, but he's showing up late and disheveled to her most important moments. With tempers between them flaring, Hollywood's most talked-about redhead might have more to lose than a few stubborn pounds. She and Jack were clearly made for each other—but will the day ever come when they can walk the red carpet together, hand in hand?
I asked Alice to list her favorite Top 5 Scenes from The Redhead Series, here are Alice's picks: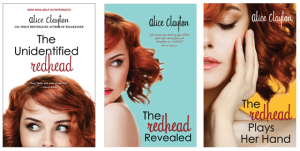 #5 .The Scene Where The British Have Landed
There's a scene towards the beginning of The Unidentified Redhead where Jack has Grace in a rather compromising position, up against her best friend Holly's front door. Grace is trying her best to show Jack he has absolutely no effect on her, not a bit. Jack isn't buying it. Not for a second.
He'd allowed his fingertips to slide all the way up my legs, stopping only when he reached my lacy panties. He traced the edge of the lace, starting at my hip and moving down, then covering me with his hand. I couldn't help the moan that escaped me.

"Are you focusing right now, Grace?" he breathed into my ear.

"Um, yes? But you don't affect me as much as you think
you do."
I tried feebly to keep control of the conversation,
since I was losing control of the lower half of my body.
"I don't think that's true." He frowned at me, pulling the
lace aside, his fingers hovering just above me. Like before,
even though he wasn't actually touching me, I could feel him.
I could feel where he was, and I knew he knew exactly what
this was doing to me. "In fact, I would say you are very affected
by this," he whispered hotly, his piercing eyes not allowing
me to look away.
Then his fingers touched me.
I have never in my life felt so aroused. It was magic. His
fingers fluttered along, grazing me lightly, and I almost came
right then. I shuddered.
"Mmm, Grace. You sure this isn't affecting you?" he said,
pressing down on me. I almost lost my balance. He pushed
me back up against the doorbell and I heard it ring.
"Coming!" Holly said as she clicked across the floor inside.
"Not quite, but she's close." He chuckled, removing his
hand and leaving me breathless and rosy cheeked. "I'll just
let you get back to focusing. Call me when you're ready to
finish this," he said, laughing lightly at my frustrated, confused
look.
"Guh," I mumbled. He slipped into the darkness, but I
could hear him. I amused him.
Holly opened the door and took one look at me. I was
still against the door with my dress bunched up around my
hips. I was shaking my head in wonderment, looking frazzled
and thrilled all at the same time.
"Oh, God, the British have landed, haven't they?" she asked.
I looked up at her, incapable of speech.
I distinctly heard Jack's laughter as his car started up.
#4. The Scene Where Grace Plays Porn Star-And Everyone Benefits
This is the first sexy scene I ever wrote in The Unidentified Redhead, and while I blushed the entire time, it still gets to me. And I always need a side of silly with my smexy, so this one hits all the spots for me. And to make this perfect, go ahead and listen to Firestarter by Prodigy while you read this. Mmm.
"Sweet Grace, you are trying to distract me. It won't
work," he said, warning me.
Is that a challenge?
I looked up at him, running my hands up along his bottom,
grasping the back of his boxers firmly.
"You sure about that?" Before he had a chance to answer,
I pulled them completely down, grasped him in my hand,
and took him into my mouth . . . fully.
"Oh, God, Grace . . . Jesus," he groaned, his hands tightening
in my hair, reflexively bringing him deeper into me.
Hearing that gorgeous voice, that unfettered British accent—
oh my God. I let him fill me, feeling the hardness of
him at the back of my throat, and I inwardly smiled. This was
exactly where I wanted him. He was perfect and huge and
smooth and rock hard.
I was in penis heaven.
I pulled back slightly, placing both hands on his length,
and decided to mess with him a little. As I admired his perfection,
I looked up at him. "Would you call this a distraction?"
I asked innocently, letting my tongue lick him from
base to tip, playing it up as he watched me.
"Grace, what are you doing to me?" He moaned quietly,
tracing his fingers lovingly around my face.
And in a voice that would have made a porn star proud,
I answered back naughtily, "Sucking your cock." I even
shocked myself a little.
There was silence. Jack stopped moving—fingers
stopped, hands stopped, hips even stopped rocking.
I closed my eyes in embarrassment. Oh, God, why did you
say that? Too soon!
Which is why I was so surprised when I suddenly landed
on the bed with such force that pillows were thrown all over
the room.
Jack had picked me up, thrown me on the bed, and was
now attacking me vigorously. My pants were unceremoniously
yanked down and tossed aside. All that was left between
this now-crazed Brit and me was a tiny pair of black
lace panties—oops, I'd spoken too soon.
#3. The Scene Where Jack Is Officially A Movie Star
Around the middle of The Redhead Revealed, Jack has his premiere for his big movie, Time. And Grace is on hand for his big premiere, albeit a bit nervous about being recognized. Not being able to attend his premiere as his date officially, she watches from inside as Jack pulls up to the red carpet, and emerges as a bonafide Big Swinging Dick In Hollywood.
Suddenly, everyone got quiet. There was only one star not
there, and one last limo had just pulled up.
And then Jack opened his door.
Utter. And. Total. Pandemonium. Ensued.
Women cried. Women fainted. Women yelled. Women
screamed.
Jack stood and took it all in.
He was my Jack, and he was their Jack. He was Hollywood's
Jack. He was a movie star.
#2. The Scene With The Canyon Sex
When I started writing The Redhead Plays Her Hand, I wanted to write a scene where the Sexiest Man Alive just needs a little touch. Needs his girl and needs her immediately. Here's what I came up with…
"Mmm, Jack," I sighed, my eyes opening to take in the
dark night, the stars above me twinkling, as the star below
me thrust, low and deep.
I gasped as he pulled me up flush against him, my hands
clasped behind his neck, his arms locked around me as I
stared down into his eyes. His brow furrowed, and he was
frantic, groaning as he drove on and on, not stopping, my
cries echoing throughout the night as he ravaged me. He
angled his hips suddenly, and then he was there, pressed
perfectly against the spot, that spot that he alone knew and
knew well enough to coax out something so intense.
What Jack Hamilton was capable of doing to my body
could not be defined. I came apart in the Southern California
night, strung out and unaware of anything in the
universe other than the feeling of him inside me, exactly
where he should be, his own body taut and tight as he
groaned through his own little piece of pleasure. The star
had exploded.
He clutched at me, shaking as I shattered, face nuzzled
into my breasts as his breath came as heavy as he did.
"Love you, Grace. Love you . . . so much," he sighed
moments later, eyes sleepy and sex filled as he gazed up at
me. I kissed him again and again, brushing my lips across
his nose and eyelids, feeling the stubble of his new haircut
rough against my mouth.
"Love you too, Jack," I murmured as he gathered me
closer still, unwilling to leave my body.
The canyon was finally quiet. I put my star to bed.
#1 The Scene Where Jack Begins To Take What He Wants
This scene from The Redhead Plays Her Hand was important for me, important to begin to see what it must be like for a young actor that can have literally anything he wants, but he's unable to kiss his own girlfriend in public. I wondered, how would this weigh on someone? How would it feel to have to be on edge all the time, not knowing whether a camera is going to capture a perfectly normal moment and have it on the cover of People within a week. How might that change someone? Jack struggles with that in this book, and who can blame him?
"You seem happy," Jack whispered, pushing a piece of
curly hair behind my ear.
"I am. It's nice being out and about with our friends." I
leaned into his hand.
"It's nice to be able to snog my girlfriend in public for
a change." He looked me straight in the eye, licking at his
lips.
"Shouldn't we behave? Don't you think we've pushed it
enough tonight?"
"I haven't pushed it at all."
"Where's your hand, Jack?"
"On your knee."
"In public. I'd say you've made your point. Why push
it?"
He tensed underneath me. "My point? You think I'm
making a point?"
"No, I think you're hanging out at a party with your
friends and your very cute girlfriend. And she's sitting on
your lap, looking all kinds of cozy. But the thing is, just by
doing that? You're making a point. Maybe not one you're
meaning to make, but a point just the same. So let's just
enjoy, and not push." I slipped my hand back up and
stroked the back of his neck. As I did, I casually looked
around at the rest of the party. Camera phone—there it
was. Did I stop? Did I continue?
He must have felt me freeze, because he looked in the
same direction I was, and we both saw the flash go off.
"There, someone got it. Now can you kiss your boyfriend?"
he demanded, looking back at me.
Giveaway:

2 print copies of The Redhead Plays Her Hand.
To enter Giveaway: Please complete the Rafflecopter form and post a comment to this Q:

Hope you enjoyed my favorite Top 5 Scenes from The Redhead Series, which of these made your list?