Today it is my pleasure to welcome back USA Today bestselling author

Alice Clayton

to HJ!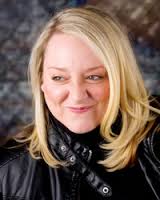 After working for years in the cosmetics industry as a makeup artist, esthetician, and educator, Alice Clayton picked up a pen (read laptop) for the first time at age thirty-three to begin a new career as author. Having never written anything longer than a grocery list, she soon found writing to be the creative outlet she'd been missing since walking away from the theater ten years earlier. She enjoys gardening but not weeding, baking but not cleaning up after, and is trying desperately to get her long-time boyfriend to make her an honest woman—and also to buy her a Bernese Mountain dog.
If you had to summarize The RedHead revealed for the readers here…
The Redhead Revealed is the 2nd installment of The Redhead Series, featuring Grace Sheridan and Jack Hamilton. Grace is 33, THE redhead that's about to be revealed, and is finally living out her life long dream of being an actress. Years after LA kicked her ass in a big way, she's back to give it another go. In this book we find her in NYC, working alongside an old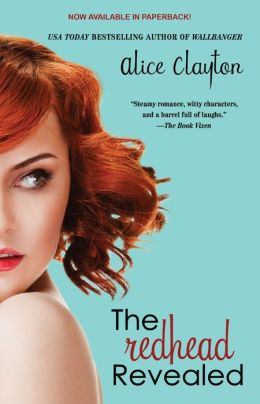 college flame in a brand new musical that's being workshopped. And then we have Jack…mmm. Jack Hamilton, 24, is the next big thing, the It Boy, who also happens to be a Brit Boy. Hollywood's new heir apparent, he is back in LA while his lady Grace is in NY. This book finds them not only dealing with the trials of a long distance romance, with quite a bit of the phone sexing, but also dealing with the paparazzi, and making sure they don't find out that these two are a couple.
What scene did you most enjoy writing? Why?
I think the scene I most enjoyed writing was when Jack surprises Grace in NY. Expecting him later that evening, she is stunned, and more than a bit thrilled, when he shows up at her rehearsal. Just off a plane and hot as hell.
As you wrote your hero and heroine was there anything about them that surprised you?
I think what surprised me most was how mature Jack really is at such a young age. That was really fun to play with. With a 9 year age difference, Grace really should be the emotionally mature one in the relationship, but she is 100% NOT that person.
What was your hero's biggest secret?
Jack has no secrets, he's an open book. Grace on the other hand…
What does your heroine love most about your hero?
Grace struggles with believing that she is truly worthy of someone as magnificent as Jack, someone that most of the women in the world are in love with, and she gets him? Hard to wrap her mind around, but she has no problem with wrapping her legs…ahem. I suppose what she loves most about him is his good heart.
If you could have given your heroine one piece of advice before the opening pages of the book, what would it be?
Oh my goodness, that's so hard to say! I think for Grace what she needs to realize is that she's exactly right for Jack, whether she knows it or not. SO KEEP YOUR HEAD GRACE.
Thanks for blogging at HJ!
Giveaway:

2 print copies of The Redhead Revealed by Alice Clayton
To enter Giveaway: Please complete the Rafflecopter form and post a comment to this Q:

How much is too much to know about your favorite movie star? Where should that line be drawn?
Excerpt
So what do you two plan on doing this weekend—as if I
don't already know?"
Holly's voice made me smile. "Believe it or not, we actually
did make some plans that don't involve a bed," I said.
"We're seeing a show Saturday night and a new exhibit at the
MoMA on Sunday. Between my rehearsal schedule and his
interviews, we'll barely have any quiet time at all." I sighed,
stretching out across the old couch in the back of the rehearsal
studio.
Holly had called from L.A. in between early-morning
phone meetings. Being both my best friend and my manager—
not to mention Jack's manager—was a multifaceted role
she was handling really well so far. She was great at her job,
especially with new talent like Jack. She was crafting his career
with precision, keeping him visible but not overexposed.
And speaking of Jack, he was due in tonight! His flight got
in around five, and I was meeting him at his hotel. We didn't
want to waste any time, and I expected that our hellos would
be quickly followed by my panties' removal.
"Why do I think quiet times aren't on the menu this weekend
anyway? More like screaming times," she chuckled, no
doubt remembering the caterwauling she'd had to endure all
those weeks at her house in L.A.
I blushed. He did make me scream louder than any man
before him, and then there were nights when he stunned me
silent. Oh, God. Is there a way to speed up time?
"So how's the show going? You and Michael still getting
along, or have you scratched his eyes out?"
"No, actually things are going surprisingly well. I forgot
how damn funny he is, and we're really having a good time together.
It's like we never stopped being friends." I was so glad
we'd put the past behind us.
"Uh-huh," she said.
"What does that mean?" I asked.
"Nothing. Just saying 'uh-huh,' " she said, the smile back
in her voice.
"Holly, you never say anything without meaning something.
Now give it up, bitch."
"I'm just glad you guys are friends again. It isn't weird at
all? No old chemistry knocking around, nothing coming up
between you two?" she asked.
"No, none at all. Thanks for asking, though, you scandal
whore." I laughed. There was nothing going on. But while Michael
and I had spent plenty of time reminiscing, we hadn't
addressed the feelings we'd had for each other back then, or
any impact they might have on the present. I thought briefly
of his eyes locked on mine during the egg roll standoff but
brushed that aside.
"So when are you coming to visit, you dumb bitch?" I
subject-changed smoothly.
"Nice talk. I'm trying to get out there before Thanksgiving.
And by the way, where are you planning on spending
the holiday? Can you get back here, or will you still be in
rehearsal?"
"I don't know, but my guess is I'll be here. Hey, I'll get to
see the Macy's parade up close and personal. That'll be kind
of cool!" I hadn't really thought about the upcoming holidays.
"Maybe I'll wait and come out then. Can't have my best
friend alone on Turkey Day," she said.
"Aw, that's sweet, babe. You know there's no one I'd rather
share yams with than your badass self." I chuckled.
"So when's he getting in?" she asked.
I ignored the obvious double entendre. "Around five. I
have to be here all day for rehearsal, but that's good. It's keeping
my mind off things. I'm so freaking excited! I really didn't
expect to miss him as much as I do."
I sighed, leaning back on the couch. It wasn't even lunchtime
yet, and I knew this day would positively drag.
Six hours until boom-boom . . .
"I have to tell you, he's like a little lost puppy without you,"
she said.
"Really?"
"Yeah. He's doing a ton of promotion and going out with
his friends at night a lot, but I can tell he'd rather be with you,
watching your god-awful Golden Girls."
"Yeah, I'm sure he'd rather be snuggled up watching Bea
Arthur than out on the town," I sniped.
"Grace, you're an idiot. The boy is in love. Let him miss
you," she said.
I chewed my lip thoughtfully. "I know he misses me. I miss
him too. A lot."
Just then Michael came into the studio with the musical
director.
"Hey, Holly, I gotta go. I'll call you later this weekend," I
said, rolling off the couch and walking over to the piano.
"Don't you dare call me when you should be fucking the
shit out of your hot British nasty! I love you, good-bye," she
said, and hung up.
I smiled as I clicked off the phone.
"Was that Holly?" Michael asked with a grin.
"Yep, she was harassing me." I laughed as we began to page
through the sheet music.
"About this weekend?" he asked, his smile tightening.
"Yeah, she's always trying to give me advice. You know how
she is," I said, nodding to the accompanist to begin.
We worked together on the song, finding the emotional
beats and drawing out the subtext. Once we finished, I sat
back down on the couch and Michael packed up to leave just
as Leslie came in from the studio next door.
"So I heard your boyfriend is coming in this weekend. Are
you stoked?" she asked, bounding into the room and curling
up on the couch next to me.
"He is coming in. How did you know that?" I asked.
"Michael told me," she said, digging into her bag and pulling
out a few magazines.
"What are all these?" I asked as she spread them out on
the couch.
"My favorite crush, Jack Hamilton, is supposed to be in
them. I thought we could begin a little shrine for our dressing
room!" She bounced like a schoolgirl.
I was beginning to wonder if I should tell her about me and
Jack. I didn't mean to keep it a secret so long, but I was following
Holly's directive that we keep our relationship private—
out of the newspapers and off the Internet—even though I
knew Jack was against it. He trusted Holly implicitly, though,
and knew we were only looking out for his career.
It wasn't that it was a secret, we just weren't public. And
my being on another coast solved a lot of problems with the
press, especially now that Jack was doing so many interviews.
Holly had taught him the phrase "I'm not dating anyone
right now," and he was sticking to it in the interviews. If those
few pictures they got of us in L.A. stayed on the back burner,
we'd be okay. Still, I knew Leslie would eventually find out,
and I didn't want her to think I was keeping things from her.
"Wow . . . he is so hot," she sighed, finding the first picture
in the teenybopper magazine and ripping it out.
I allowed myself a quick glance, which of course made my
heart do a little double-time, and then I looked at her. "Hey,
Leslie?" I started.
"My God, he's on fire, that boy! I might need to concentrate
on booking more jobs in L.A. I wonder if he's single?" she
continued, flipping through the pages of the next magazine.
"So listen," I tried again. "There's something I've been
meaning to tell you. My boyfriend, the one who lives in L.A.—"
I was interrupted by another squeal. "Jesus! Look at those
eyes! I mean, they just scream sex, don't they?" She tore out
the picture and added it to the pile.
"Yes, yes, they do. Anyway, like I was saying—"
"Holy shit—Jack Fucking Hamilton," she said softly.
"Jesus, Leslie, enough already! I'm trying to tell you something
about my boyfriend!"
Sitting there with a ripped picture in her hand, she looked
dazed. It was a pretty hot picture.
"What about your boyfriend?" a sexy voice said behind me
with a distinctly British accent. My eyes grew wide as I slowly
turned, now realizing what Leslie meant by her Holy shit—
Jack Fucking Hamilton.
He stood in the doorway, leaning against the door frame
with a bag over his shoulder. His eyes were bloodshot, his
clothes rumpled, and his hair needed its own zip code. He
smiled at me, and I was struck stupid by the sight of him.
"You were saying something about your boyfriend, I think,"
he asked again. His eyes twinkled, the green getting dangerously
dark. Then he bit down on that damn lip.