Today it is my pleasure to welcome Historical Romance author from New Zealand

Wendy Vella

to HJ!
Wendy welcome, for all of my readers who may not be familiar with your work, could you tell us a bit about yourself and your books?
Firstly I would like to say thanks so much for inviting me over to your wonderful blog site.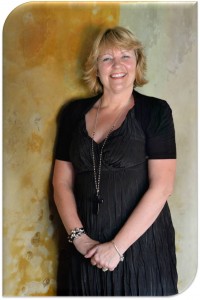 I was born and raised in the North Island of New Zealand. I had a childhood filled with love and laughter, surrounded by adults who were willing to give me their time and answer the thousands of questions that I needed answered immediately.
I have been married for 28 yrs to a wonderful, patient man who puts up with a great deal from me in the name of writing and we have two wonderfully well adjusted children, considering the turbulence of their teenage years.
I am a hopeless romantic who cannot watch a movie unless it has a happy ending. I'm not overly fussy where food is concerned and pretty much love everything as long as there's lots of it. I am a cyclist, avid watcher of rugby and love a good joke. My favorite time of year is Christmas when my husband says I morph into a crazed Christmas Fairy with maniacal tendencies.
I wrote my first book at 18years, a contemporary that is really terrible and then my first historical at 21 which was only marginally better. I joined RWNZ and started entering competitions and going to conferences and it was then that my writing improved. I met my editor Sue from Random House at a conference in NZ and sent her The Reluctant Countess and luckily she liked it.
Do you usually begin a book with a character or a plot?
I usually start my books with a character that is in my head just waiting to have their story told. I need the name to fit so that takes time and then I develop them, work on their traits and appearance and then build the story around them.
Which of your characters would you most/least invite to dinner, and why?
I'd invite Lord Stephen Sumner to dinner because he's a very funny man. He is a secondary character in The Reluctant Countess, Patrick's best friend, and he spends most of his time winding Patrick up, niggling at him to get him to argue back.
The one I'd least like to invite is probably the villain Jack Spode, he's just a nasty creep who cares for no one but himself and is usually out to get whatever he can from any situation.
What are you currently working on? What can we expect from you in the future?
I have a few things on the go at the moment; I've been working on a series set in the Regency Era about sisters which is fun. I'm also working on a contemporary that I hope to finish soon; I just have to remind myself not to write any historical phrases in there.
If you were stranded on an island…
with Brad Pitt an ereader plus an endless supply of chocolate but you could only keep one which one would it be? Duh…the ereader of course!
Let's talk about your new release 'The Reluctant Countess'
What sparked the idea for this book?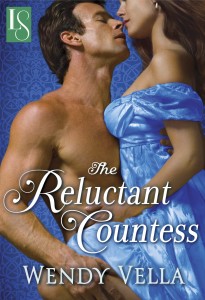 I came across a contest that intrigued me, it gave you the beginning of the book, there was to be an Earl a mysterious Countess and a ballroom and the rest was up to you and The Reluctant Countess grew from there. I never entered the competition but the book went on to do well!
If you had to sum up 'The Reluctant countess' what would you say?
It's a story about overcoming your past in order to secure a future with your one true love.
If you had to pick your favorite scene from this book ….
I'd pick the opening scene-
"If only she had a small imperfection."

"What?" Patrick, Earl of Coulter, tore his eyes from the top of the stairs to glare at his friend.

"The countess." Lord Sumner swept his hand in an arc that encompassed most of the assembled guests. "I was saying that some sort of imperfection would detract from her goddesslike beauty. Perhaps a lisp? Alas, no," he added seconds later. "A lisp would merely make her sweet and beautiful."

"Idiot," the earl muttered, propping one shoulder against the silk-covered wall. His gaze returned to where the countess now stood. Poised on the top step of the Duke of Rookvale's ballroom, she appeared motionless; only her eyes moved as they passed over the guests milling below.

"Perhaps a mole with several long dark hairs," Lord Sumner mused, "on the end of her little nose?"

Patrick watched the countess descend. Tonight her raven locks were piled high and clasped with a single diamond pin; several long curls had been artfully teased to lie on one slender shoulder. Created to torment, her dress was cut low in the bodice, allowing a glimpse of the lush curves that lay beneath, and with every step she took the skirts caressed her legs in a swirl of emerald satin. Patrick dreamt about those legs—naked and wrapped around his body. Even from a distance, his muscles clenched at the thought of her lying beneath him, skin gleaming, lips red from his kisses. Bloody woman. From the first glance, she had taken up residence in his head, and he wanted her out. Patrick didn't obsess over women—he took what he wanted when he wanted it. Usually his affairs were brief yet satisfactory for both parties and he was always the one in control. The countess, however, was another matter. Something about her reached out to him and he wanted her with a desperation no other had made him feel. Yet he would never act on that desperation because the countess was a fraud, and there was nothing Patrick hated more than people who set out to deliberately deceive others.

"Did you just growl, Coulter?"

"Don't be ridiculous!" Patrick snapped, following the countess's progress until she reached the bottom step. Once again she became motionless. It was as if she held her breath, yet those eyes moved in every direction, seeking, searching, but for what?

"To be her lady's maid for just one day," Lord Sumner sighed.
Who would play Sophie and Patrick in the movie version of your book? And why?
Patrick would be played by James Purefoy because ever since I saw him in A Knights Tale, playing Edward the Black Prince, I could think of no one but him for the roll. Kate Beckinsale would be the heroine Sophie, again because I saw her in Emma and she was great.
Wendy Thanks for a great interview…
Giveaway: I have 2 copies of 'The Reluctant Countess' to giveaway.
To Enter Giveaway: Please complete the Rafflecopter form below and post a comment to this Q from Wendy:
Do you like to read a sex scene with several heated suggestions about the act without actually mentioning the descriptive words for a (hand waving) instrument of pleasure? Do you like to read all the adjectives and nouns to get into the scene? Or are you happy with a little bit of a lead in and then some soft dancing around the act, so you can form a picture in your head of the scene and not leap into it with both feet glad in form fitting leather that reaches your thighs? So what's your preference?
a Rafflecopter giveaway

– Would you please share an excerpt from 'The Reluctant countess'…
"I thought you would relish the opportunity to irritate me, my sweet countess."

Sophie looked around her to see if anyone had heard his words. "Please do not speak to me like that!"

"But you are my sweet countess, remember. I know you better than any other person, Sophie, and as such you are now mine."

"No," Sophie said quietly, "I belong to no man."

"We must talk, Sophie. After the contest, let me take you somewhere private . . . just to talk," he added as she began to shake her head.

"There can be nothing further between us, my lord, and I do not want society thinking that there is."

Before Patrick could respond to that loaded comment, Lady Shubert once again spoke.

"Lords Coulter and Sumner will have one arrow each! Lord Sumner will go first. Ladies, do your best," Lady Shubert encouraged with an exaggerated wink.

Amelia looked furious. She stood with her arms crossed, staring sightlessly behind Lord Sumner, and then, just when he took aim, she bent forward and whispered something into his ear and his arrow shot skyward, coming to rest well beyond the target.

"Shrew!" he hissed.

"Rake!" Amelia retorted.

Patrick's smile was smug as he lifted his bow and nocked the arrow. Sophie would not upset him; she wouldn't make a scene in front of so many people.

Something about the earl's superior expression annoyed Sophie. A devilish impulse urged her to do something. Not giving herself enough time to think, she took one step forward, leaned into Patrick's large body and opening her mouth, she nipped his ear just as he released the arrow.

"Bloody hell!" Patrick roared as his arrow shot over the target and nearly impaled one of Lady Shubert's servants. Taking a deep breath to still the bolt of lust that nearly crossed his eyes, Patrick looked at Sophie. She stood demurely with her gloved hands folded, eyes cast down. No one had seen what she'd done as she had nipped the ear on the side of his head turned away from the spectators, and in truth, who would ever think her capable of such a deed? Disgruntled about losing and seriously discomposed, Patrick ignored her while he shrugged into his jacket.

"I cannot believe you did that," he muttered.

Sophie could not quite believe she had done it either. She decided, after looking at his dark expression, that it might be prudent to remain silent.

"Well done, ladies!" Lady Shubert cried. "It seems we have a tie today, so if you will come with me, my lords, I will give you both your prizes."

"I have promised to show Lady Monmouth the gardens, Lady Shubert; I shall collect my prize later," Patrick said, taking Sophie's arm before she could run from him again. With a curt bow, he then towed her away from the crowds.

"My lord!" Sophie struggled to keep pace with his much longer strides as they started down the stairs.

"What?"

"I-I did not say goodbye." Sophie looked over her shoulder and acknowledged Amelia's farewell with a wave of her hand.

"It is not as if you will never see her again." Patrick steered them down the last step and then toward the gardens, where there would be private paths and hidden bowers.

"I do not wish to walk in the gardens." Sophie knew that once he got her alone, he would relentlessly question her until he had all her answers. And what if he tried to kiss her again? Would she be able to resist him?

"I want to talk to you, Sophie, and to do that we need privacy."

Patrick entered the gardens, then swept down a path, only slowing slightly as Sophie tugged her hand for release, which of course he did not do.

"I cannot believe you bit my ear." His ear was still tingling from her endeavors.

"You make it sound like I hurt you." Sophie was now gasping for air from the frenetic pace he had set.

"Parts of me hurt," Patrick muttered.
Visit my website: http://www.wendyvella.com/
Facebook: http://facebook.com/AuthorWendyVella
Twitter: https://mobile.twitter.com/wendy_vella
Email: wendy@wendyvella.com
"THE RELUCTANT COUNTESS" can be purchased from Random House INC