Today it is my pleasure to welcome romance author

Jennifer Haymore

to HJ!
Hi Jennifer, Welcome to HJ
What would you say are the defining characteristic of your novels?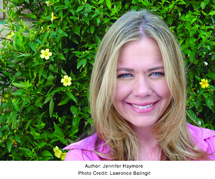 They're emotional, complex, and have a strong family component.
5 best things about being a writer?
5) I can write at any time of day
4) Creating something from the strangest places in my imagination
3) Learning from others' amazing writing
2) Wearing sweats all day
1) Learning that people have enjoyed or been entertained by one of my stories
If you were a heroine in a book, your character would be – The girl next door, the damsel in distress, Kick-butt take charge heroine or the aloof ice queen and why?
They could be all those—because I'm really all those at different times in my life. But lately, since I'm a mom, I'm mostly the kick-butt, take-charge kind of heroine!
Let's talk about your newest release: The Rogue's Proposal 
If you had to summarize The Rogue's Proposal for the readers here…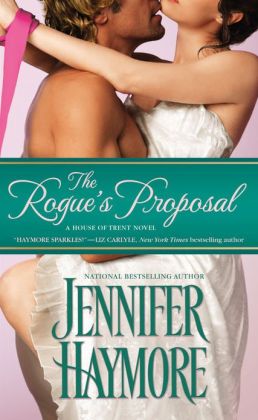 Lukas Hawkins, the second son of the troubled House of Trent, is on a mission: find his missing mother and her alleged kidnapper, a brute named Roger Morton. If bringing the villain to justice means breaking a few laws, then so be it. But when he encounters a mysterious stranger with the face of an angel and a body made for sin, Luke suddenly finds his task-and his heart-in peril.
Emma Curtis knows of Lord Lukas's rakish reputation-and hopes to use it to her advantage. While most men of honor would never travel alone with an unmarried woman, Luke is quite willing to take Emma on the road . . . and into his bed. As their journey carries them to unexpected places, Luke and Emma indulge their every passion and share their most private fantasies. But just when their deepest desires are finally within reach, a secret is revealed that threatens to end their love forever . . .
Please tell us about the characters in your book
Luke is the most damaged hero I've ever written, and his arc in the book is pretty extreme, because at the beginning he isn't exactly a hero at all. But I love him. I love the changes he goes through and all he is willing to sacrifice for Emma.
Emma is an intelligent, pragmatic, reasonable woman who's run her household for several years, taking care of her invalid father and younger sister. She is confused by Luke and his off-the-wall behavior, but she sees that spark of heroism hiding within him and fights to bring it out. And she keeps so much control in her life, that it comes as a surprise (to both her and Luke) how willing she is to give up all control in the bedroom.
What scene did you have the most enjoy writing? Why?  
I really enjoyed writing a scene toward the end when Luke reveals the truth about some of his scars. But a snippet of that would give too much away, so here's another favorite—this is towards the beginning. Luke is trying to proposition Emma, turning his seduction on full-force, but then she turns the tables on him:
"You've come to Bristol looking for a man named Roger Morton. Is that correct?"
"Yes, that's true. I am searching for Roger Morton."
"I can help you find him."
His lips curved. "Can you?"
"And that is my proposition. I will give you the information you shall require to find him if you allow me to come with you."
"Allow you to come with me." He repeated her words slowly, tasting them in his mouth as images washed through him. Taking this lovely specimen of womanhood with him in his hunt across England for Roger Morton. Sampling the beds of different country inns. Long nights of feasting on her pale, curvaceous flesh, of vigorous lovemaking…
He studied her face. The color was high on her cheeks now, and her implacable features had hardened, giving her an expression of iron resolve. He stood close enough to her to feel the thrum of purpose under her skin. Whatever this was about, it meant a great deal to her.
"Why would you wish to travel with me? Alone with me?" He put emphasis on the word alone to remind her of the potential permanent repercussions to her reputation. She was a lady, after all, and ladies simply did not travel alone with gentlemen unless they were married to them.
"Because," she said, her voice throbbing with certainty, "I want to find Roger Morton, too."
He narrowed his eyes at her.
"And then I want to kill him."
Who would you cast in the role of your characters if your book was optioned for a movie?
Emma would probably be Emily Blunt. And Warren Kole is Luke, hands-down—he would be PERFECT for the role!
Here's a picture of Luke…ahem, I mean, Warren:
http://www.fanpop.com/clubs/warren-kole/images/30982641/title/warren-kole-photo?ir=true
What are you currently working on? What other releases do you have planned for 2013 into 2014?
The House of Trent is finishing off with an e-novella (One Night with an Earl, in April) and Sam's book, the last House of Trent Book, The Scoundrel's Seduction in May.
Where can readers get in touch with you?
@jenniferhaymore on Twitter
www.facebook.com/jenniferhaymore-author
www.jenniferhaymore.com
Thank you for stopping by HJ!
Thank you so much for having me!
GIVEAWAY: 2 print copies of THE ROGUE'S PROPOSAL
To enter Giveaway: Please complete the Rafflecopter form and post a comment to this Q:

What do you like best about reading historical romances? The history? The fairy tale? The escape? The characters?
Excerpt from The Rogue's Proposal:
"I made a promise not to touch you."
"But you have touched me."
Luke gave a low, cynical laugh. "Not like I want to."
Emma closed her eyes against the burning-hot thrill that shuddered through her. He was silent, but she felt the heat of his gaze on her.
"You are a rogue, Luke. I deciphered that within ten seconds of knowing you."
He gave another short laugh, this one with a hint of scorn.
"I promised myself I would never again be taken in by another rogue. Because…well, because Henry was a rogue…and…and that didn't turn out well. At all. And the night I met you, I knew that I must remember that promise. Because you were obviously just like him."
Her heart had started to pound, and her words emerged sounding choppy and breathy.
He tilted his head. "What are you trying to say? Because I know all that, Emma. I know why you are so adverse to intimacy with a man like me. I don't blame you. It's why I am trying to honor the agreement we made."
"I don't like you leaving at night." The words rushed out of her.
His lips parted. He stared at her. Then he shrugged and looked down at his food. His voice took on a cynical quality. "You don't have a choice. I don't have a choice."
"Luke," she groaned.
His gaze snapped to hers again, and she couldn't have broken the eye contact even if she'd wanted to. His lips curled in that oh-so-wicked smile he'd used on her that first night. "Remember, I said the only thing that could break our agreement was if you begged for it. Is that what you're going to do? Beg for it?"
A part of her wanted to beg. A very big part of her wanted him to take her to bed and keep her there, and never go down to another pub or tavern again, never drink again, never look at another woman again, never gamble again.
He moved closer, shoving the food out of the way as he advanced. He cupped her cheek in his hand, stroking his thumb over her cheekbone as he spoke. "I want you, Emma. I have since that first night. Every single night, my body is an inferno burning just for you. And every night I deny it. Every night I suffer. Will you beg? Will you relieve my suffering?"
Her throat was dry. She squeezed her eyes shut because she couldn't bear to gaze into the blue fire of his. Soon, that fire would consume her. "I…I don't know."
"Don't do it," he whispered, his breath whispering over her lips. He brushed her lips with his gently as he continued. "I'm not good enough for you. Angels aren't meant for devils."
"I'm no angel," she whispered, "and you're no devil." The declaration surprised her even as it emerged from her lips, but in her heart of hearts, she knew it was true. And in her heart of hearts, she knew with the purest clarity that she wanted him.
He pulled back, his expression growing distant. "I wouldn't be so sure if I were you."
Bio: As a child, Jennifer Haymore traveled the South Pacific with her family on their homebuilt sailboat. The months spent on the sometimes quiet, sometimes raging seas sparked her love of adventure and grand romance. Since then, she's earned degrees in computer science and education and held various jobs ranging from bookselling to teaching inner-city children to acting, but she's never stopped writing. 

You can find Jennifer in Southern California trying to talk her husband into yet another trip to England, helping her three children with homework while brainstorming a new five-minute dinner menu, or crouched in a corner of the local bookstore writing her next novel.
 Social Media: Website | Facebook | Twitter | Goodreads
Buy links: Amazon | B&N | IndieBound | Bookish