Today it is my pleasure to welcome back Harlequin romance author

Ally Blake

to HJ!
Ally welcome & Thanks for stopping by to tell to us about your newest release The Secret Wedding Dress
Let starts with 5 Random facts about you?
I told the kids in my primary school I had three middle names (instead of one) as I thought it made me seem more exotic. The extra names? Karen and Vanessa. Why the heck didn't I go all out with something like Periwinkle and Desdemona!
I always eat dessert with a teaspoon. Makes it last longer.
 I could never, never, not even upon the promise of a million dollars watch a horror film and yet am addicted to True Blood and The Walking Dead.
My favourite colour is brown – every shade from beige to dark. Think about it – coffee, chocolate, croissants, cake, biscuits, a sandy beach, old wood furnishings, puppy dog eyes, rocks and mud and earth… Things good, and sweet, and natural, and warm.
Growing up I desperately wanted a horse. Not because I was interested in riding, per say, I really just wanted to name it. Writing for a living I get to name heroes, heroines, dogs, cats, businesses, places… Some horse somewhere should count itself verrry lucky.
What would you say are the defining characteristic of your Novels?
Every girl heroines who lean a little left of center and thus daze poor unsuspecting heroes with their quick tongues and delightful eccentricities. And big, gorgeous heroes with twinkles in their eyes, who only realize they've been dazed all too late…love has struck, and there ain't no turning back!
What is your favorite trope to read, one you will never get tired of?
I always love a "working together" story. Maybe it's the close proximity thing, maybe it's the fact that it can happen, people do meet their significant other at work. Maybe it's that I met my own husband while on the job. I was a beginner writer pitching a TV show and he was a big time producer with 100 episodes under his belt. I saw stars, he was dazed by my zest and zeal, see the previous question to find out how that usually turns out in my life;).
If you were a heroine in a book, your character would be – The girl next door, the damsel in distress, Kick-butt take charge heroine or the aloof ice queen and why?
I'd be the wide-eyed ingénue, so busy gaping in wonder at the bright, shiny, fabulous happenings all around me I'd walk into a wall. That's me in a nutshell – accident prone and easy to delight.
What are you currently reading?
My downstairs book is Amy Andrews' fabulous 
Driving Her Crazy
.  My upstairs book is Kelly Hunter's hilarious
The Trouble With Valentine's
.  On my ereader I'm stuck on Eloisa James' wonderful memoir 
Paris in Love
.  It's not just that I'm too lazy to walk up or down stairs to get the book, I write the same way with more than one book on the go at a time ;).
If you had to summarize The Secret Wedding Dress for the readers here ….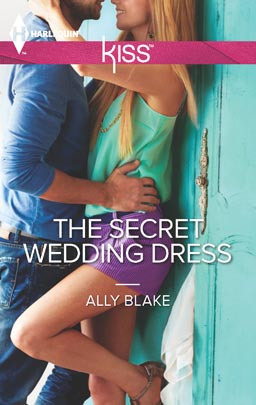 The story sprang from an image that just popped into my head one day, an image so clear it was like I was watching it unfold on film – a woman, standing in a lift, waiting for the doors to close, her arm aching from holding up a wedding dress, her expression so forlorn I knew it wasn't a happy thing.  And just as the lift doors are about to close, in walks the man of her dreams!
THE SECRET WEDDING DRESS
 story revolves around discovering why the heroine, Paige, has the dress, why she doesn't want it, and how those same reasons near screw up the best relationship she's ever had.
Who would who cast in the role of hero and Heroine if your book was optioned for a movie?
Blake Lively
 for Paige for sure – she's tall and gorgeous with a kind of fragility in her eyes that is so Paige.  And as for Gabe?  The guy's big, dark, all man, and every word out of his mouth came to me in 
Joe Manganiello
'sdeep
delicious
voice.  Check out the 
Pinterest
 board for the book if you aren't familiar with my Joe (or even if you are!)
What scene did you have most fun writing? why? 
The scene I grinned through while writing THE SECRET WEDDING DRESS was the epilogue. It's terribly cheeky and is written in a third character's point of view (ie not the hero or heroine) which is pretty much unheard of in short series romance, but it was so right for this book I'm glad I was able to get away with it! Most of the reviews of the book have mentioned it as being a favourite, but it's a total spoiler so I can't even give a hint as to what it's about! You'll just have to read the book to find out ;).


What are you currently working on? What other releases so you have planned for 2013?
THE SECRET WEDDING DRESS
 is my first for Harlequin KISS,  In August comes the follow up, 
FAKING IT TO MAKING IT
, which is about Gabe's business partner Nate.  I loved Nate in the first book – so confident, and cocky, yet fiercely loyal.  Poor sweet love, he has no idea what he's in for!
This month I also have a release with ENTANGLED Indulgence!  It's a four-parter-in-one written with Kimberly Lang, Anna Cleary and Kelly Hunter called 
WHEN HONEY GOT MARRIED… 
 It's brilliant.  Honestly.  I had the best fun writing with those amazong authors, and it's the most goose-pimply, smiley, warm, hot, sexy, sigh-worthy read!
Where can readers get in touch with you?
To find out more about my books, head to my website 
http://www.allyblake.com
.  I also hang out at 
Twitter
& 
Facebook
, which is where you'll learn the walking into walls thing is no joke.  If I go a day without stubbing my toe, please call the authorities as something will be very wrong!
Giveaway: an ebook of my last Harlequin Presents Extra
, THE RULES OF ENGAGEMENT.
To enter giveaway: please complete the Rafflecopter form and post a comment to this Q:
In the book I'm writing next, my hero has a dog, one that goes with him everywhere. What breed of dog do you guys think is perfect for a hero's best friend?
– An excerpt from your book
Later that night, when the lift doors closed several minutes after Paige had pressed the button for the eighth floor, she leant against the wall, getting herself comfortable for the ride ahead of her.
The second she closed her eyes, the picture projected onto the backs of her lids was the view of Gabe Hamilton as he'd walked away. All long strong legs and loping sexy strides. The thought of him made her tingle all over. Like static, only…hotter.
As it turned out, whatever she thought of Gabe Hamilton's scruples about flirting with a possibly engaged woman, she hadn't imagined the spark. It was there, in the directness of his gaze. The purpose in his smile. He knew he was gorgeous and wasn't above using it to get what he wanted. And if she had even half a sense about such things, he wanted her.
Paige crossed her legs at the ankle and slid her thumb between her front teeth and nibbled for all she was worth.
She'd never been one of those girls who went after men who looked like they sinned a dozen times a day and twice on Sundays. Sure, she could appreciate the appeal. The desire to tame the untameable. But she'd seen the emotional destruction a man with that kind of concentrated charm left in his wake. And while she wasn't a big believer in happy endings, more than that she was determined never to act in such a way as to have an unhappy one.
When the lift made its first stop she twirled her hair over one shoulder, stifled a yawn, glanced at the number to check which floor besides the eighth she'd landed on, then realised the lift had taken her to the top. To the penthouse.
She slowly stood to attention, her hands tight on her purse in an attempt to get a grip on the sensual wave rising through her knowing Gabe Hamilton was close. And with everything she had she willed the lift to descend.
But the lift being the lift, the doors slid open, and stayed open, leaving her standing staring into a large dark entrance boasting two shiny black double doors leading to the only apartment on the floor, one of which bumped as the handle twisted.
Paige shrank to the back of the lift, but there was no hiding. Every last wisp of air bled from her lungs as Gabe stepped through the doorway.
He looked up, saw her, and stopped. A muscle worked in his jaw. It was a testament to how her senses were working ten to the dozen that she even noticed that tiny movement, considering what the guy was wearing. Or not wearing to be more precise.
Pyjama bottoms. Long, soft, grey-checked pyjama bottoms. And nothing else. After that it was like a freeway collision inside her head, the way the gorgeous bits of him piled on top of one another. The deep tan that went all over. The large bare feet. The hair, all mussed and rugged. Arms that looked strong enough to lift a small car. A wholly masculine chest with the kind of muscle definition no mere mortal had the right to possess. And a happy trail of dark hair arrowing beneath his pyjama bottoms…
"Paige?" he said, his devil-deep voice putting her knees on notice.
44

Responses to "Spotlight & Giveaway: The Secret Wedding Dress by Ally Blake"
Ashlea Rhodes

Thanks for sharing sounds great love finding new stuff

Hi Ashlea (I looove that spelling!) Glad you like the sound of the book. It was a blast to write.

Ashlea Rhodes

And thanks mum picked it she thought it was cute I know of about 1 other close to me that has the same spelling. I'm writing and I done love my name and how it is but I can't use it in my own story's lol

Ashlea Rhodes

I also forgot to add a Foxie

Jennifer Zorko-Legan

Beagle\Basset mix

Lauren

A man and his dog…..so classic and peaceful. I picture a lab running along side.

Lauren, funny thing, the picture I found on Pinterest that made me know the hero has a dog was of a gorgeous guy and a chocolate lab. So you could be very close to the mark!

I've got a major soft spot for ex-racing greyhounds, and greyhounds in general. They are such lovely, loyal, big sooky dogs and very friendly.

Oooh Ros, I can picture my guy with an ex-racing greyhound. He's an ex in his own career which would be nice a symbolic too!

I love little dogs and men together, so something like a terrier. Rat terrier maybe. 🙂

Alicia, my hubby and I had a Tenterfield Terrier (Mini Foxy) when we first got married. I'm off to google if its the same thing! Coolest dog.

Leanna Hiner

I have a cockapoo and my sister has a whippet. They are both small dogs I think a great dane would be a good dog for a mann

A big dog for a big man. Excellent point. Not sure a cockapoo – though wholly adorable – would send quite the same message ;).

Annwitch

I think it needs to be a really big dog or a really small dog. A dog with questionable parentage is always fun. You never know how cute or goofy a mutt can end up looking.

Annwitch, you guys are giving me the best ideas! A dog with questionable parentage, an owner with the same. How juicy!

I already have this book, so don't pick me as your winner. I did want to cast a vote for Shetland Sheepdogs. Shelties are loyal, smart, sweet and great pets.

kp

I think it should be a rescue dog….the ones I know are always so loyal!

Kai W.

An Australian Shepard would be the perfect dog. It is the perfect dog around children. Great sheep/cattle dog. It is the perfect medium dog. The first seat is perfect for this breed to sit but due to traffic law, the Australian Shepard would have to stay in the back seat.

Ooh Kai, I have the feeling he might have been born Down Under (he lives and works overseas in the book) so an Aussie dog would make total sense!

Argh, he's going to need a bigger yard to keep all these awesome dogs!

Sharlene Wegner

I think a lab would be the likely choice. There are a couple of guys in the neighborhood who love their labs, walk them all of the time, sit out in the garage or driveway with them. When they are puppies, they a frisky, but when they are older, they seem to be calm & faithful.

You just reminded me Charlene of a local boy who had a lab when I was about 14, and how I'd watch out my window as he took him for a walk. Boy I had such a crush! not sure if it was the boy or the lab!

My vote is a big goofy loyal yellow lab mix, the dog could be named for the place that the hero found him. Because we all know he only took him home to clean him up, feed him and find him a permanent family… the naming would accidentally happen and well we hope we know the rest.

Both books sound wonderful!

Jenn Y.

I think any dog would work perfectly! I love all breeds of dogs. 🙂

Well, I like the small dogs, but I think for a hero, they need a big, trained dog to fight with them!

Winnie Lim

I have a husky and he's the greatest. He's smart, obedient and loyal to the fault. I think he definitely is a man's best friend.

A German Shepard! ::)

Lani

Pudel or Shepard.. that would be great.

DebraG

I think a Labrador, or a German shepherd. They need a big dog not some yipper.

Olga

German Shepherd 🙂

golden retriever, cause they are loyal and wonderful and playful and sometimes high strung lol. I grew up with one and absolutely love them, sweet dogs.

I love this shagging bundle

http://pinterest.com/pin/54043264250437997/

As much as I love my beagle, I also love big dogs! I would choose a big black dog – a rescue.

Joanne B

How about a Lab, a Shepard, a golden Retreiver or, my favorite, a Pembroke Welsh Corgie.

I love watching a guy with his German Shepard. But Lab was also nice.

Border collie.

Amy R

I think a German Shepard would be a good dog for mans best friend.

i think a french bulldog would be fun 🙂

Marcy Shuler

How about a Dalmatian? They're quite active and so cute with all those spots.

chey

A mutt.

KYLA WHITLEY

The hero's best friend would have to be a rescue dog! A big sloppy lovable pup! 🙂

Is it a lab? I always picture them as a mans best friend! 🙂

Cindy Hamilton

My husband says it's a Boston Terrier but a Lab works for me.