Today it is my pleasure to Welcome author
Sarah M. Anderson
to HJ!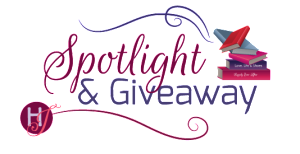 Hi Sarah and welcome to HJ! We're so excited to chat with you about your new release, The Sheriff

!


Happy…winter? I bet there's a few people who are happy it's winter!

Please summarize the book for the readers here: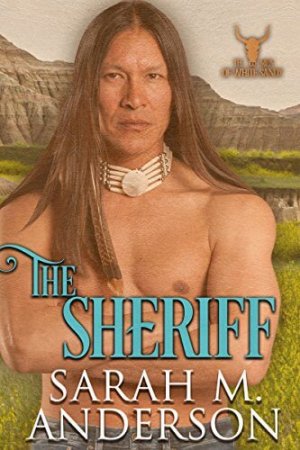 Take one grizzled Native cop who's getting too old for this sh*t, add in one biracial teacher coming home to the rez looking for a summer fling, mix in a bit of instant family with a smart-aleck teen brother and voila! You've got The Sheriff!

What's your favorite line(s) from the book?:
I like this one a lot:
He groaned. "You're going to kill me, aren't you?"

She gave him a little squeeze and felt the shudder race through his body again. "Maybe. But it'll be slow." She dragged her thumb in a circle, causing him to gasp. "And you'll enjoy it."
When you sat down to start this book, what was the biggest challenge you faced? What were you most excited about?
Good heavens–the first challenge is remembering WHEN I started this book. I think it was…2014? I'd finished Nobody (aka The Shadow) and I knew Sheriff Tim was next. I wrote 30K words which was the length of a novella and what I'd been aiming for and realized our couple hadn't even gotten naked yet but I was out of time so I…put him aside. For like a year or two. So the biggest challenge was just FINDING the time to get back to him.
The other big challenge was in deciding how to end the book. I knew the powwow would be the big moment but was this the last Man of the White Sandy book? Or would I be able to find the time to write more? And given that it took me three years to write Tim, I eventually decided to write an epilogue that closed the door on the White Sandy stories. I might come back for a short story but right now, this is the end of the line for the White Sandy.
Plot wise, the challenge was writing a book that was pretty tightly linked with the previous four. This book is the most small-town-feel book I've ever written, with a large cast of characters from previous books that pop in. It's a big shift from my Desire books, which are tightly focused on the primary couple with only a few mentions of the larger world. Here, the people and places on the rez are a crucial part of the story–they bring our hero and heroine together!
Please tell us a little about the characters in your book. As you wrote your protagonist was there anything about them that surprised you?
I'd known who Tim was from about 2011. But as I wrote this, even though he was always model Rick Mora (and yes, that's Rick on the cover!) in my head, he also turned into Roger Murtaugh from Lethal Weapon (Danny Glover). He's been the sheriff on this rez for a long time and he's getting too old for this sh*t! So he actually wound up being almost a decade older than I'd originally envisioned him being. But don't worry–he's still got it. 🙂
I think the thing that most surprised me about Summer was a) she manages to hold onto her youthful idealism even when things go wrong. She's never a cynic, never burned out. She sees the best in people! But b) when she and Tim finally take their relationship to the next level, she's got a heck of a libido! Sometimes that youthful idealism translates into sexual innocence and Summer more than capable of knowing what she wants and how to get it from Tim.
What have you learned about your own writing process/you as an author while writing this book?
Hoo boy. Well, I've learned that sometimes an older work can surprise you. When I finally found the time to finish Tim, I was afraid that going back and rereading something from a few years prior would mean that I'd either have to do massive revisions or chuck the whole thing because that has happened frequently (cough)–but boy, it was good! I liked it! So I have to trust that sometimes, I might actually know what I'm doing.

The First kiss…
Neither of them moved. He still had her head bracketed with his forearms, her one hand pinned over her head. She was still lightly tracing his ribs.

And he was going to kiss her. It probably wasn't the right thing to do. It definitely wasn't the smart thing to do. There were a lot of really good reasons why he shouldn't cross this line with her. But he was having trouble thinking of any of them right now.

All he could think about was the way her body fit against his, how pretty she was.

How she wasn't clawing his eyes out or calling him names.

She moved first. Her free hand left his bandage behind and skimmed over his chest, then up his neck. She stroked the side of his face and tucked a hank of his hair behind his ear. Then, somehow, her fingers were tangled in his hair and she was pulling him down to her.

"Summer," he whispered against her skin and then he was kissing her. Maybe this was just a hyper-real dream, because the feel of Summer, the way her mouth moved against his, the way she opened and sighed into him—this couldn't be real. If he was asleep, he sure as hell didn't want to wake up.

Summer's tongue traced his lips and he groaned. He shifted and she shifted with him, her legs wrapping around his and pulling him down harder into her. God, how long had it been? Months? Years? He couldn't remember. All he knew was it had been too long since he'd been tangled up with a woman in this bed, lips and hands and legs everywhere.

He shifted again, releasing her wrist and propping himself up so he could touch her. He cupped her breast and squeezed—maybe not as gently as he should have, because she gasped and broke the kiss. But before he could apologize for being too rough, she arched into his touch, her head thrown back against the pillow and her mouth open.

"Pretty," he managed to get out and then his hips moved without his explicit permission, grinding his dick against her. "So damn pretty," he said again because it was true and also because he didn't want her to leave. Not now.

"Tim…"

In the other room, his phone rang.
Did any scene have you crying or laughing (or blushing) while writing it?
Well, like I said, Summer's sexual appetite did kind of surprise me. When she and Tim finally get a night alone, she takes a shower and Tim joins her and…well, I about steamed up my glasses!
He was going to kill her and it would be slow and perfect and she would absolutely enjoy it.

He went from licking her breast to sucking on it, then he added teeth and began to nip at her.
She couldn't help the little sounds that escaped her mouth. But she didn't care because they were alone in this house and if she wanted to moan and cry out as he worked her body, then she would.

The heavy weight between her legs grew heavier until she was close to the point of pain.
"Please," she whimpered, lacing her fingers through his long, wet hair. "God, Tim—please."

He looked up at her, a wolfish grin on his face. "Please what?"

"You're driving me crazy," she told him, trying to pull him up so she could kiss him.

"Not the right answer," he said then he knelt in front of her. "Be specific. It makes things so much simpler, don't you think?"

"Are you lecturing me?" she asked in disbelief even as he pressed a kiss against her stomach. "Really, Tim."

He looked up at her and waited.
She shifted her hips, the tension inside her rising. "Fine. I need to come. There. Are you happy?"
"You always this bossy?" he asked as his hands dipped between her thighs and spread her legs apart.

"I am a high school English teacher," she reminded him but anything else she was going to say died on her lips as he pressed a kiss against her.

Summer shivered as waves of desire began to crest. His hair was wrapped around her fingers as she held him against her. With one hand, he spread her apart and nestled between her legs more fully. With the other, he stroked up and down over her opening.

"Oh, Tim—yes," she gasped as he began to lick her, his tongue moving in a slow, steady pace over her sex. She braced herself against the wall because otherwise, she might very well lose her balance and slide right to the floor of this shower.

"Hm," he hummed against her sensitive flesh, the vibrations driving her even more insane. One finger slipped inside, and she almost came right then. But he withdrew too quickly and she whimpered.

"Patience," he murmured, nipping at her thigh before turning his attention back to her swollen sex.

Patience? It'd been at least eight months since she'd last gotten lucky. She was completely out of patience by now, and he was reducing her to nothing more than a tightly coiled spring of want and need.
AND THAT'S JUST THE BEGINNING!!

If your book was optioned for a movie, what scene would you use for the audition of the main characters?
The scene where Tim and Summer meet alongside the road would be an excellent audition scene. They're both operating on preconceived notions of what the other person will look or act like and it doesn't take much for those notions to be blown away.
The car pulled off to the side of the road at the intersection. Summer's breath caught in her throat as she watched a man get out of the car. Was this the same man she talked to on the phone, Sheriff Means? Because the man striding toward her looked absolutely nothing like the man she'd pictured in her head.

Instead of short hair streaked with white, he had long black hair that came down just below his shoulders. It wasn't even tied back in a tail—instead, the breeze caught it and blew it around him. The man she'd pictured had a gut—too much beer and too many donuts. But the man who was now walking around her car was lean and muscled and moved with a coiled grace that did more than catch her breath—he took it away.

He stood by the driver-side door while she gaped at him. She hadn't remembered much about her brief time on the reservation, but she remembered what her father looked like. Now that she thought about it, her father and the way she'd envisioned this officer looking weren't that different. Large and heavyset with short hair going white.

He had on a nametag. Sheriff Means.

One corner of his mouth quirked up into an amused smile and he made a motion for her to roll down her window.

Oh, damn. She'd just been sitting there, staring at him. She quickly rolled down the window. "Sheriff Means?"

He nodded his head in acknowledgment. "Ms. Collins?"

"Yes. Call me Summer." She didn't know why she said that. She was Ms. Collins to her students. She was perfectly fine answering to her last name.

"Then you have to call me Tim," the sheriff said, his warm brown eyes doing something that looked remarkably like twinkling.

Was he laughing at her? Or flirting?

She jerked her gaze away from his face. Was it hot in here? "How did you know where I was?" She looked around at the nothingness surrounding them. "I mean, I don't even know where I am and there's no one around. Except…"
Readers should read this book….
Because Sheriff Tim is the definition of a good guy–and the car sex is hot!!

What are you currently working on? What are your up-coming releases?
I have a brand new series starting in April from Harlequin Desire–the First Family of Rodeo! The Lawrence family owns the All-Stars rodeo–but not everyone is happy about that. Book 1 is His Best Friend's sister (April), featuring Oliver dealing with the fallout when–surprise!–his best friend's sister turns to him during a crisis. Book two is His Enemy's Daughter (July?). That's Chloe Lawrence trying to keep Pete Wellington from stealing the All-Stars rodeo back–and boy, do the sparks fly! Book three is…November? December? I don't have a title for that one yet, but that's the youngest, Flash, who rides in the rodeo and discovers his one-night stand with country singer Brooke Bonner led to a baby! I really love this series about a wealthy family crossing paths with hard-working cowboys and cowgirls.

Thanks for blogging at HJ!
Giveaway:

I'm giving away a grand prize of 3 print books of the original editions of The Medicine Man, The Rancher and The Shadow (formerly known as Mystic Cowboy, Masked Cowboy and Nobody) to a lucky commenter in the USA! I also have five copies of the beginning of the Men of the White Sandy series, The Medicine Man, up for grabs in .mobi format (or the White Sandy book of the reader's choice if they've read it) open in the US and internationally. Yah! Books!
To enter Giveaway: Please complete the Rafflecopter form and Post a comment to this Q:

The Sheriff is set during the summer–but it's been an extra-cold winter here! (So many layers. SO MANY.) Do you like to read books set in the off-season? Or do you like your books to match up to the weather outside? Enquiring minds want to know!
Excerpt from The Sheriff:
Tim watched her in the mirror. The fuzziness of sleep was fading from his mind, but the urge to kiss her? Still there. "Which this? The part where I get shot or the part where I pin a beautiful woman to my bed and kiss her?"

She paused, her shoulders tense. He shouldn't have said that. He wasn't sure if it was the nap or what, but this was not normally how he rolled.

She continued to rewrap his chest. "Both, I suppose," she said in a pinched voice and he knew he'd embarrassed her.

"I don't normally pin women to my bed. I didn't realize it was you and again, I'm sorry I scared you." He did not, however, apologize for kissing her. He wasn't sure he would even if she punched him in the ribs.

She adjusted the bandage and tucked in the loose ends. "And getting shot?"

He tried to shrug but it pulled, so he stopped. "It happens. There are plenty of people who aren't happy to see me. That's nothing new."

Summer stood back and admired her handiwork. Then, in the mirror, she met his gaze. She looked like she wanted to say something—and God, Tim wanted her to say something. He wanted to know he hadn't scared her. No, that wasn't enough—he wanted to know she'd wanted him to keep kissing her, that he hadn't misunderstood the way she kissed him back.

"I don't really know what I'm doing," she said in a small voice. "I don't think I belong here."

Tim was not the most sensitive guy. But he was pretty sure he caught her meaning. She didn't know what she was doing kissing him. "You do," he told her. "You can always come back to the rez." Because if she came back…

Tim was getting ahead of himself. He hadn't even made it through today. And he had a lot of daylight left.

They stood there for a moment longer, neither of them moving. This seemed to be a trend. Normally, Tim was a man of action. But not when Summer was around. He could stand here and look at her all day.

She made a movement, like she wanted to step into him but then thought better of it. "Will I see you again later?" she asked.

To hell with that. Tim lifted his right arm—the good one—and draped it over her shoulder, pulling her into him. "I have to deal with the state troopers and finish processing last night's shootout. But after that—I sure hope so."

She leaned into him, her body warm against his. It was the sort of touch that seemed to say more kissing could happen. More everything could happen.

What he wouldn't give to pull her right back into the bed and curl up with her.

God, he liked holding her. They looked good together. Her head came up to his chin and, as she leaned against his shoulder, he found himself wanting to make all sorts of promises to her, how he'd keep her safe and keep her loved.

"You didn't, you know. Scare me."

He looked down at her. "Do you normally have men pounce on you like that?"

She shook her head. "I'm pretty sure that was the first time."

"Still, I'll try not to do it again. The pouncing, that is."

Something in her eyes changed—deepened. She reached up and stroked his cheek. "Right. No more pouncing."

His heart began to pound because that sounded almost like an invitation. What the hell. She was already in his arms. He was already in deep. "I'm going to kiss you again."

"Oh." Her eyes fluttered and she tilted her head back—and the damned phone rang again.
Tim groaned and Summer stepped away from him. "Tonight?"

Hell, yeah. "Tonight," he agreed.

"Good." She stood on her tiptoes to press her lips against his—another short kiss that held more promise than heat. "Now go."

"Yes, ma'am." So he went.

But he was coming back tonight.
Excerpts. © Reprinted by permission. All rights reserved.


Book Info:
The last thing he needs is another person he has to protect…
Tim Means is the sheriff on the White Sandy Reservation—a thankless job on the best of days. He's trying to keep a gang war from breaking out, vigilantes from running amuck and he's doing it all with a two-man force. When a kid named Georgey gets busted breaking into the Clinic, Tim doesn't have time to keep the kid on the straight and narrow. He needs a relative to take the teen off his hands.
But who? The only person who could take custody of Georgey is Summer Johnson, Georgey's half-sister. She hasn't been on the White Sandy in almost twelve years . But what choice does she have? She made a promise to her father to look out for her little brother, so she gives up her job teaching summer school and her hopes of a summer fling to venture west and meet a brother she barely remembers. But what she finds on the White Sandy is more than just a family or a sense of belonging. She meets one sexy sheriff and suddenly, a summer fling seems like just the thing.
But things on the White Sandy are never simple—or easy. When the gang war threatens Summer and her brother, will Tim be able to do his job—or will his heart get in the way?
Warning: This book features smart-mouthed teenagers, poverty issues, dyslexia, jackalopes, and car sex. Plan accordingly!
Book Links: Amazon | B&N | iTunes | kobo | BAM |


Meet the Author: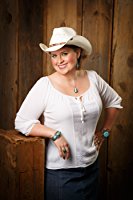 Sarah M. Anderson is an award-winning author who writes contemporary snarky and sensual romances featuring cowboys and bull riders as well as billionaires with and without babies. She won RT Reviewer's Choice 2012 Desire of the Year for A Man of Privilege. The Nanny Plan was a 2016 RITA® winner for Contemporary Romance: Short.
Sarah spends her days having conversations with imaginary cowboys and billionaires. Find out more at www.sarahmanderson.com and sign up for the new-release newsletter at http://bit.ly/sarahalerts.
Website | Facebook | Twitter |