Today it is my pleasure to Welcome author
Carolyn Brown
to HJ!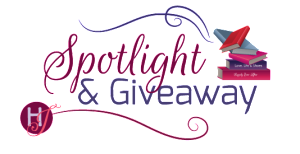 Hi Carolyn and welcome to HJ! We're so excited to chat with you about your new release, The Sometimes Sisters!

Thank you so much for inviting me back to HJ to talk about my new women's fiction book, The Sometimes Sisters.

Please summarize the book for the readers here: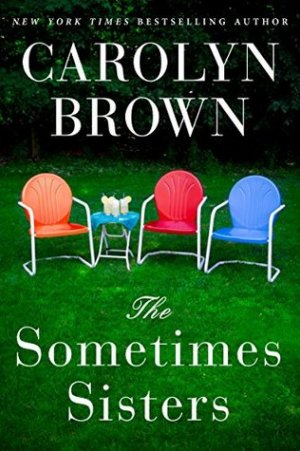 Dana, Harper and Tawny had been sometimes sisters their whole life until their grandmother passed away and left them her small business–a beer, bait and bologna convenience store with a gas pump out front, a café and twelve small cabins situated on a lake. Each of them brought their own baggage in terms of problems with them. Now they have to figure out if they can be real sisters and trust each other.

Please share the opening lines of this book:
"Promise me," Annie whispered.
"I promise." Zedekiah nodded with tears in his eyes.
"You'll bring them all home where they belong." She reached up and touched his cheek. "They need to heal."
"I'll get them here. You rest now." Zed cradled her frail body in his arms.
Please share a few Fun facts about this book…
Zed, the elderly guy who cooks in the café, started out to be a secondary character but before I'd written the first two chapters I realized that he was a major player for sure.
This is a multi generational book and the youngest of the whole cast is Brook who's a teenager who stole my heart.
When I write the characters sit in my office with me and sometimes we really do get into a good argument.
I'm glad no one else can hear what goes on in my head!
I ate so many barbecued potato chips during the writing of this book that I really think they should award me some stock in the company.
Jamey Johnson's song, "Lead me Home," played through my mind the whole time I was writing. Sometimes it made me cry and sometimes I sang with him (off key and out of tune.) I'm listening to it now and thinking of the book as a whole…yep, I'm misty eyed.
Please tell us a little about the characters in your book. As you wrote your protagonist was there anything about them that surprised you?
My characters always surprise me. They take over my entire world when I'm writing and I'm so focused on them that I feel every emotion that they do. Zed especially meant a lot to me. As I mentioned before he wasn't supposed to have the role he did but his input made my book so much stronger!
If your book was optioned for a movie, what scene would you use for the audition of the main characters and why?
This scene is when the sisters are first together after a decade. It would be an amazing scene for a movie or a television series since all five of the main characters are present.
Harper pulled off her sunglasses, and a quick glance around the café let her know that nothing had changed in that area. The menu was above the counter where Flora usually took orders until right after the lunch rush—if there was one. Burgers, hot dogs, fries, and the daily blue-plate special. Mainly good old-fashioned home cooking that folks came from miles around to get. Harper suddenly wished it was Friday, because that was the day that Zed made his famous pot roast and hot rolls. And on Sunday he always made chicken and dressing, cranberry sauce from scratch, mashed potatoes and gravy, and corn on the cob. That day drew folks in by the droves, and there was always a long line.
Chrome tables with yellow tops could seat four to six people or be pushed together for a bigger crowd. Napkin dispensers, salt and pepper shakers, and a bowl of small packets of sugar and sweeteners were arranged in the middle of the tables. Chairs used to match the tables, but they'd been recently recovered in shiny red plastic. Black-and-white tile covered the floor and was so shiny that Harper wouldn't have a problem eating off it.
"Hamburgers smell amazing. Why'd you make all these desserts?" Harper asked.
"Done told Tawny. She can explain it to you," Zed answered as he headed back into the kitchen.
She whipped around to see Tawny on the other side of the room. The precious daughter who did no wrong—according to their mother—looked like hell. Tawny's blonde hair, usually perfectly styled, with not a long curl out of place, was pulled up in a ponytail. And her eyes looked like she hadn't slept well in weeks.
"What are you staring at?" Tawny snapped.
"Not much." Harper turned away from her younger sister at the same time that Dana and Brook pushed their way through the door and sat down at the table where the food waited. "What's going on with the dessert table?" Dana asked.
"Evidently Tawny knows." Harper sat down across from Dana.
"Did you make all that, Aunt Tawny?" Brook asked.
"Humph," Harper snorted. "If she tried to boil water, she'd burn down the whole house. The kitchen is as foreign to her as—"
"Being sober is to you," Tawny smarted off as she crossed the room and settled into the fourth chair.
"Put the claws away." Zed brought a basket of sweet potato fries to the table. "Or I walk right out of here for good."
Dana gasped.
Tawny's eyes got wide.
Harper laid down her burger and touched his arm. "Please don't do that. We'd be lost without you, Uncle Zed."
"The church ladies brought the desserts. Evidently they did something to upset Granny Annie a long time ago, and they're feelin' guilty," Tawny explained.
"I wish they'd ride that guilt trip for a week or two," Brook laughed. "That stuff over there looks epic."
"Epic?" Harper asked and then bit into a burger.
"It's the new 'awesome' or 'fabulous,'" Dana explained.
"I thought everything was 'dope' these days. That's what I'm used to hearing the college kids sayin'"—Harper raised her voice—"Uncle Zed, these are epic, dope, and fabulous. Come on out here and eat with us."
"Naw, I'll just take my meal in the kitchen where I can watch the ribs I got cookin' for supper," he yelled back. "Y'all go on and clean up that food and then you can get into them cakes and pies. The lawyer will be here at one thirty."
"Yes, sir," Brook said seriously. "So is that old truck yours, Aunt Harper?"
"Yes." She piled lettuce, tomatoes, and pickles on her burger.
"It's been a long time since I saw you, but I think you were driving that truck then and I was just a little kid," Brook said.
"I've been driving it for a long time. Little kid, huh? What are you now, twenty-one?"
Brook giggled. "I'm fourteen. What kind of job have you been doing?"
"I worked as a bartender in one of the college honky-tonks up in Oklahoma this last time and lots of other bars before that," Harper told her.
"Figures," Tawny said under her breath.
"What? That I work in a bar or that it's in Oklahoma?" Harper asked.
"Both," Tawny said.
"Stop it!" Zed said. "Y'all ain't been together here in nigh on to ten years. I ain't havin' you upset Annie with your bickerin'."
"Uncle Zed, Granny Annie is gone," Brook said softly.
"Honey, her body is gone, but her spirit is still here among us, so these three best be a little more civil to each other," Zed scolded.
What do you want people to take away from reading this book?
That family is important, whether it's blood kin, half sisters or even old adopted uncles like Zed.
What are you currently working on? What other releases do you have planned for 2017?
Cowboy Bold starts a brand new series, The Longhorn Canyon series, at the end of May and then there's a women's fiction, Small Town Rumors, arriving July 3. Then in Sept/October, the second book in the Longhorn Canyon series, Cowboy Honor, will hit the shelves.

Thanks for blogging at HJ!
Giveaway:

I'll give away a signed copy of The Sometimes Sisters or a Kindle copy. Winner's choice.
To enter Giveaway: Please complete the Rafflecopter form and Post a comment to this Q:

Do you have a special relationship with your sister…whether it's a blood sister or a sister of the heart?
Excerpt from The Sometimes Sisters:
"Promise me," Annie whispered.
"I promise." Zedekiah nodded with tears in his eyes.
"You'll bring them all home where they belong." She reached up and touched his cheek. "They need to heal."
"I'll get them here. You rest now." Zed cradled her frail body in his arms.
She'd been in and out of consciousness for two days, and each time she awoke she made him promise all over again that he'd bring her granddaughters home to the lake resort. Suddenly her eyes opened wide, and she cupped his cheeks in her hands.
"You . . ." Tears flowed down her face.
"I know, Annie." His salty tears mingled with hers when their cheeks touched.
"I've loved you since we were kids." She inhaled deeply and let it out slowly.
"Oh, Annie—" he started to say, but then he realized that she'd taken her last breath.
Time stopped as he hugged her closer to his chest. One heart beat steadily as it silently shattered. The other heart that had kept perfect time with his for decades had entered into eternity without him.
"Why, God!" he moaned. "I was supposed to go before her."
Stop it! Annie's voice was so real in his head that he watched her lips to see if she might start breathing again. I told you that there would be no mourning. We'll be together again before long—remember when we were separated while you were in the military. You've got work to do now. So suck it up, Zedekiah, and call the girls.
They'd talked about this moment for three months and gotten all the pieces in order. Even though they'd argue about things sometimes, the plan was in place for the next step, as she called it. And now it was up to him to make sure that her wishes were carried out. But dear sweet Jesus, he'd never thought about the pain when he'd have to let her go for good.
He laid her gently on the pillow, laced his darker fingers with her paler ones, and bent to kiss each knuckle. "Oh, Annie, life without you isn't life at all."
The girls will help, the voice in his head said sweetly. Now let me go, Zed. You've got things to do.
"I can't," he groaned.
He sat with her for half an hour before he made the call to the doctor, who was also the coroner for the county. When they came to get her, he accompanied the gurney to the van with his hand on hers.
"I understand that she made arrangements beforehand. Do you want to come to the funeral home and see her once more before . . ." The doctor hesitated.
Zed shook his head slowly. "She said that I wasn't to do that, and I'll abide by her wishes. I can't say goodbye. Never could say that word to her and still can't, but we've come to terms while I waited on you to get here. Call me when her ashes are ready." He choked on the last words.
The doctor patted him on the shoulder. "I'm so sorry. She was a great lady and a good friend to you, Zed."
"My best friend." He wiped his eyes. "We made a lot of memories."
"If you need anything, call me."
"Thank you. Right now I have to go call the girls, and I'm sure not lookin' forward to that job."
"They should've been here."
Zed raked his hand through his curly salt-and-pepper hair. "She wouldn't let me call them. No tears. No fussin'. That was Annie."
"Yep, it was." The doctor nodded. "I'm so, so sorry, Zed."
"Thank you." Zed watched the van until it was completely out of sight, waving the whole time, just like he did from the window of the bus that took him away all those years ago when he joined the army to get away from Annie and her new husband. He'd thought he'd forget her, but distance and time did nothing to ease the pain of watching her marry his friend Seamus Clancy and wishing that he'd been born with white skin and blond hair so he could marry his beautiful Annie. But the ache on that day was nothing compared to the one in his heart now as the coroner's van disappeared while the sun rose over the bridge crossing the lake that morning.
Excerpt. © Reprinted by permission. All rights reserved.


Book Info:
A bittersweet inheritance reunites three estranged sisters in a novel of family, trust, and forgiveness from New York Times bestselling author Carolyn Brown.
When they were growing up, Dana, Harper, and Tawny thought of themselves as "sometimes sisters." They connected only during the summer month they'd all spend at their grandmother's rustic lakeside resort in north Texas. But secrets started building, and ten years have passed since they've all been together—in fact, they've rarely spoken, and it broke their grandmother's heart.
Now she's gone, leaving Annie's Place to her granddaughters—twelve cabins, a small house, a café, a convenience store, and a lot of family memories. It's where Dana, Harper, and Tawny once shared so many good times. They've returned, sharing only hidden regrets, a guarded mistrust, and haunting guilt. But now, in this healing summer place, the secrets that once drove them apart could bring them back together—especially when they discover that their grandmother may have been hiding something, too…
To overcome the past and find future happiness, these "sometimes sisters" have one more chance to realize they are always family.
Book Links:  Amazon | B&N |


Meet the Author: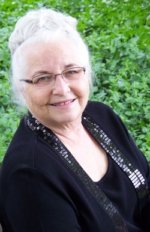 With more than 3 million copies of her books sold, Carolyn Brown is a New York Times, USA Today and Wall Street Journal bestselling author and a RITA finalist. She's won the National Reader's Choice Award three times, the Bookseller's Best Award and was awarded the prestigious Montlake Diamond Award for selling over a million books. Her books include romantic women's fiction, historical, contemporary, cowboys and country music mass market paperbacks. She and her husband, Charles, a retired English teacher, live in Davis, Oklahoma that only has one traffic light. They have three grown children and enough grandchildren to keep them young. When she's not writing she likes to sit in her back yard with her two tom cats, Chester Fat Boy and Boots Randolph Terminator Outlaw and watch them protect the yard from all kinds of wicked varmints like crickets, locusts and spiders.
Website | Facebook |  GoodReads |