Today it is my pleasure to welcome USA Today & New York Times bestselling author

Shirley Jump

to HJ!
Hi Shirley, Welcome to HJ!
If you gave one of your characters an opportunity to speak for themselves, what would they say about you?
I think they'd complain that I make life too hard for them, LOL. I truly believe that failure and overcoming roadblocks is what creates success (which leads to happiness) and as a result, give my characters lots of both! In the end, hopefully, they're grateful for all they endured to find their happily ever after!
What are you currently working on? What other releases so you have planned for 2013?
Right now, I'm working on the third book in the Sweetheart Sisters series, tentatively slated to come out next fall. The second book, THE SWEETHEART RULES, comes out in April, and now I'm working on giving Doc Harper his own happy ending!
Where can readers get in touch with you?
I feel like I'm everywhere! Start with my website, www.shirleyjump.com, my blog, www.eating-my-words.com, and then I'm on Facebook: www.facebook.com/shirleyjump.author, Twitter (@ShirleyJump), Instagram (Shirley Jump) and Pinterest (Shirley Jump). For readers in New Zealand, I'll be at the New Zealand Romance writer's conference next week!
Please summarize your latest release The Sweetheart Bargain for the readers here ….
The Sweetheart Sisters, a trio of sassy, well-meaning grannies (who aren't against a sip of bourbon with breakfast) are ready to dispense advice and help create happy endings with a little of what they do best—meddling.
Animal therapist Olivia Linscott is the Sweetheart Sisters's first target. Running from a bad relationship and a lousy job, Olivia is determined to save the dog shelter she inherited from the mother she never knew, and, above all, to protect her broken heart. The Sisters want to tie the divorcee together with wounded helicopter pilot Luke Winslow, even if the intended pair keeps slipping the leash.
Luke's dreams were shattered by a career-ending eye injury. Adrift and bitter, the last thing he wants is romantic involvement. But when a Golden Retriever, in worse shape than he is, scratches on the door, the dog brings in a whole lot more than puppy love…
I'm thrilled to add that it received a great review from Publishers Weekly, and a Top Pick from Romantic Times Book Reviews!
Please introduce your characters Olivia Linscott & Luke Winslow from your novel The Sweetheart Bargain to HJ readers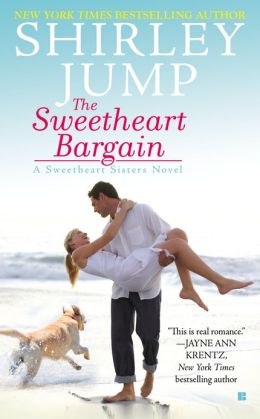 I'd love to! I really loved both these characters and their stories. Olivia, who was given up at birth, has finally found out who her birth mother is—but too late, because the woman has passed away and left Olivia a dump of a house. Olivia soon discovers there are other secrets her mother kept from her, and she stays in Rescue Bay to find the keys to her past. Luke is scarred, both physically and emotionally, and just wants to be left alone. But Olivia, and a starving, hurt dog named Chance, have other ideas.
How would you describe your Characters in one sentence?
Olivia and Luke are two wounded souls, searching for redemption and answers.
What do you like best about your characters? Least? Admire most/ Least?
I admire Olivia's determination and strength. She can be a little overly confident—which gets her into some trouble with a reciprocating saw 😉 but she's a warm, giving woman. I loved Luke's sense of right and wrong, his commitment to those he loves, and his strength. He's bitter at the beginning of the book, which was a challenge to write, because I had to let readers have a peek at the man he used to be and could be again, without letting Luke know he was exposing a vulnerability!
What does your character do for a living?
Olivia is an animal-assisted therapist, which means she does physical therapy with patients, but uses her diva dog, Miss Sadie, to interact with the patients and encourage them to work with the dog. Miss Sadie has her own little starring role in the book, and in the rest of the series. Luke was a pilot in the Coast Guard but an accident partially blinded him and has sidelined his military career.
Is your character ruled by emotion or logic or some combination thereof?
Luke is definitely the more logical one, but his emotions have overwhelmed him—because he has been doing a darned good job of pushing them aside. Olivia is the emotional, optimistic one who sometimes doesn't think through her decisions, which means she ends up calling on Luke to help her out of a jam!
Was it love at first sight for your character? If not what was the pivotal moment of change?
It wasn't love at first sight—more like a mild form of hate. But then there is a moment when Olivia realizes what Luke has gone through, and they share a kiss, and for her, the falling in love starts right then, even if she refuses to admit it. Luke tells himself he's annoyed with Olivia from day one, but when he sees that she sees the real him, he begins to open his heart.
What is your character most proud of about in his / her life?
For Olivia, it's a moment when she gets through to a patient. That shows her everything she has done is worth it, and she's on the right track. For Luke, it used to be his career, but the accident changed that. For him, his proudest moment is a simple one that involves the rescue dog, Chance.
How your character feel about life right now? What, if anything, would he/she like to change?
Luke wants only to be left alone. He wants to stay in the dark, literally and figuratively, and doesn't want it to change. But Olivia, who has uprooted her entire life to move to Florida for a major change, isn't about to let him stay in that cave of a house.
How did your character spend the week just before the story starts?
Olivia was packing—she had just received the information that her mother had left her the house—and then driving down to Florida. Luke was doing what he had done for the month before, wallowing in his anger, and trying to ignore the cookies and casseroles the neighbors keep bringing by! He had no idea that his new neighbor was going to change his life!
Thank you for stopping by HJ!
Giveaway: 

Sweetheart Bargain prize pack with a limited edition beach ball, lip balm, bookmarks and pens
To enter Giveaway: Please complete the Rafflecopter form and post a comment to this Q:

The Sweetheart Bargain is set in a beachside town named Rescue Bay. I'm a huge fan of beaches—it's my go-to spot for a day off or a vacation. What's your favorite vacation area?
Excerpt
Chapter One
Olivia Linscott made the most insane decision of her life in less time than it took to microwave a burrito. Before she could think twice, or worse, hesitate, she'd packed what remained of her belongings into her car, loaded up on gas and 5-Hour Energy drinks, then ditched her life in Massachusetts and headed south.
All because a lawyer had shown up on her doorstep with a mysterious will, a crinkled photograph, and a butterfly necklace. Olivia's heritage, reduced to a nine-by-twelve manila envelope.
Now, forty-eight hours later, she was in sunshine instead of snow, catching the scent of ocean instead of exhaust. Outside the Toyota's window, the Florida coastline curved like a lazy snake, an undulating ribbon of blue-green punctuated by soaring seagulls and cresting whitecaps. It was a million miles away—and a good burst of salty, fresh air—from the choked, congested streets of Boston, where cars played Frogger with each other and dodged potholes the size of small elephants. Down here, Olivia could breathe, really breathe, in more ways than one.
She pressed the speed-dial button on her cell and waited for the call to connect. When her mother answered with her familiar chirpy hello, a wave of homesickness crashed over Olivia, and for a second she had the urge to turn around, to head back to everything familiar.
"Olivia! I've been waiting for you to call," her mother said. "How far are you now?"
"Only another mile or so to go." Olivia nestled the cell against her ear. "I've been ready to crawl out of my skin for the last five miles, just dying to get there already. Maybe I should pull a Boston and put the pedal to the metal the rest of the way."
"Olivia Jean, if you do, I'll fly down there and take away your car keys," her mother said, with the same tone she'd used when Olivia had been little and trying to raid the cookie jar before dinner. "Even if you are over thirty."
Olivia laughed. "Okay, okay. I'll keep it to twenty miles over the speed limit, like any respectable Massachusetts driver." On her left, a half-dozen bright, happy shops lined a wide boardwalk, across the street from the beach. A white-and-pink awning fronted the Rescue Bay Ice Cream Stand, a quaint little place with umbrella-covered tables and a giant plastic cow sporting a bright pink bow. An elderly couple enjoying swirled cones—one chocolate, one vanilla—raised a hand in greeting as Olivia drove past. She returned an awkward wave, just as a man walking his dog raised his hand in greeting and a shopkeeper sweeping the walk did the same. The instant welcoming atmosphere gave Olivia pause. It wasn't that Bostonians were frigid, exactly, but rather less overt in being neighborly.
There was something . . . warm about this town, something Olivia had liked the second she arrived. "Ma, you should see this place. It's like another planet."
"Well, we're still stuck on planet Arctic here. It's too darn cold to even look out the window, never mind go anywhere." Anna Linscott was no doubt bundled up by the fireplace in her Back Bay townhome. Olivia could see her now, sitting in the threadbare rose-patterned armchair Anna had owned since the day she got married, the blue-and-green afghan Nana Linscott had crocheted draped across her lap. "There was a ring around the moon last night. A storm is coming. I'm thinking three inches, maybe four."
"It's January and you're in New England. There's always a snowstorm coming."
Anna laughed. "True. But if I see a ladybug—"
"And she lands on your hand, spring is on its way." Olivia grinned at her mother's superstitious weather predicting. Half the time, Anna was more accurate than the guys at Channel 7, so maybe there was something to her folklore. Olivia glanced out the window again, drawing in another deep breath of balmy air. "This is bliss. Palm trees and beaches and—"
"Alligators and geckos."
"They won't bother you if you don't bother them." Olivia fingered the picture taped to her dash. A perfect Florida bungalow, painted in sherbet colors of pale yellow and soft salmon, trimmed in white, nestled in the middle of a neat yard, flanked by rows of blooming annuals and fruit-laden citrus trees. "Mom, do you think I'm doing the right thing?"
"I think you have to do this." Anna sighed, a mixture of support and worry. "Then maybe you'll finally have the answers you need, and deserve."
Olivia's finger danced across the picture again. Would she? All her life, Olivia had felt like a lock without the right key, a puzzle missing a piece. Now, maybe here, she'd find what she was searching for.
Herself.
And if not, she'd at least get one hell of a tan.
"Darn," her mother said. "Your dad's beeping in. I sent him to the grocery store. By himself."
Olivia laughed. "Say no more. I'll hold." She glanced again at the photo on the dash, then up at the GPS. Distance remaining: 0.9 miles. Butterflies danced in her stomach.
When the lawyer had rung her doorbell last week, Olivia insisted he must have had the wrong address, the wrong Olivia Linscott, and the wrong will in his hands. Did she have any relatives in Florida, he'd asked, and she'd said no. Everyone in her little family lived in Boston, and always had. They'd practically come over on the Mayflower, as Aunt Bessie said. No one moved away, except crazy cousin George, who went to Alaska to marry an Inuit woman he'd met at a Trekkie convention. Olivia had seen the pictures of their Enterprise-themed wedding. Quite inventive, considering they'd held it outdoors. In February.
Then the lawyer had asked if she knew the identity of her biological mother, and Olivia's world flipped upside down. Her mother. The woman who had given birth, then walked out of Brigham and Women's Hospital, leaving her newborn daughter behind.
Her birth mother.
A woman she'd never met.
A woman who'd never contacted her, never done so much as send a Christmas card.
A woman who had left her property in Florida, a porcelain necklace, and not much else. There'd been no letter, no explanations. No idea of who Bridget Tuttle had been.
Or why she'd abandoned her baby.
All her life, Olivia had wanted to know why. She'd toyed with searching for her biological mother on the Internet, then drawn back at the last minute, afraid the answers might not be ones she wanted to hear. And now, that door to a personal connection, a face-to-face, was closed. Forever.
She swallowed hard and pressed a finger to the photo again. Her only link to Bridget Tuttle remained in this piece of property and the town of Rescue Bay. Someone here had to have known her mother and would be able to fill in the blanks that now gaped like black holes.
Maybe this desperate need to know stemmed from all the changes over the last year. Maybe it was finally having a tangible reminder of someone who had been, up till now, a mythical figure. A ghost, really.
Olivia had prodded the lawyer for more information, but he'd said he was merely the messenger, a Boston attorney hired by the Florida probate, and knew less than she did. He handed her the deed, along with the picture of the house and an envelope with the necklace, then wished her good luck.
She'd stood there for a long time, staring at that picture, before making the most impulsive decision of her life. Just . . . go.