Today it is my pleasure to welcome romance author

Theresa Meyers

to HJ!
Top Five Fav Scenes for The Switched Baby Scandal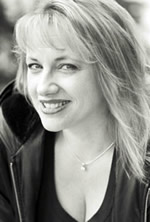 Thanks so much Sara for inviting me to hang out here!
Romance readers love the secret baby, but what happens when it's not the dad who is surprised, so much as the mom? That's kind of where I started with the idea for The Switched Baby Scandal. Poor Taylor is counting on results from a lab test to back up a paternity suit against her ex, and finds out her four-year old (nearly five) isn't even her biological child! But things get even more complicated when she meets her daughter's biological father and realizes he wants more than just custody of her daughter. He wants to be part of their lives.
With that in mind, my Top Five Fave Scenes from The Switched Baby Scandal are:
1. When they meet together for a family fun day at Jungle Jane's Playland.
When Emily ducked into the air-filled bounce-o-rama, he decided that now was as good a time as any to reach through Taylor's protective shell and see if he could get her to relax a little. Placing a hand on her shoulder, he turned Taylor to the air hockey tables next to the bounce-o-rama. "Don't suppose you know how to play do you? I could use a good challenge."
Taylor instantly brightened. "You picked the wrong opponent, buster," she taunted. "I rock at air hockey."
He leaned close and could instantly feel the crackle of energy between them. Reece gave her one of his best smilesand said in a low, teasing voice, "Prove it."
2. When Reece and Taylor get their first night alone together.
Any thoughts of dinner fled his mind. He was ready for dessert. And she was standing right in front of him.
Reece reached out and brushed her full bottom lip with his finger. Taylor made a little keening noise that tripled his heart rate.
"How hungry are you?" he asked, his voice unsteady.
"It depends, are we talking food?" The tip of her tongue lightly wet her lips.
3. Now I'm not morbid, but I swear I cry and my heart twists a little every time I read this scene and I've re-read it at least forty times while editing. So another of my favorite scenes is when Reece, Taylor and Emily all visit the graveyard together for the first time just because of the power behind it.
The lost child was a bond between them no one else had. Something no one else could break. Out of that shared pain, healing and, perhaps, love could come as well, for both of them.
The three of them piled into Reece's Lexus and drove the short distance into town. At the cemetery, the cool breeze sliced through her. She inched closer to Reece. They had debated taking Emily with them to the graveyard, but in the end couldn't agree who to leave her with, since Edith was out of town. Their little girl stood between them now, holding tightly to their hands.
"Mommy, are there ghosts here?"
"No, Emy, only angels."
Emily visibly relaxed and looked up at her. "Will my stepsister be here?"
Taylor felt a pang of anguish wrap itself around her heart. How could she explain this to Emily, when she hadn't even fully come to grips with the death of a daughter she'd never held? She gave Emily's hand a small squeeze. "This is where people go to remember those they love."
4. Reece has to do a lot of healing to make room for love in his life, and that's why I love when it all comes together when Reece has Taylor redecorate his kitchen after a small appliance disaster.
"Well, what do you think?"
"I'm speechless."
She punched him in the arm. "I'm serious. What do you think?"
"I love it. This is amazing, Taylor. I didn't know it could look this good."
Taylor beamed.
Out of the corner of his eye Reece caught sight of a crystal vase filled with red roses. The color exactly matched the walls and accents Taylor had added throughout the kitchen.
"I've got one question for you."
"Fire away."
He quirked one brow. "Is that a pun?"
She grinned and shook her head.
"Why red?"
"It was the roses." Taylor walked over and picked a single rose out of the arrangement in the crystal vase that usually sat out in the hall and inhaled the fragrance that scented the entire room.
"Don't ask me why, I just knew these were perfect and I went with it."
Reece felt his heart stop.
The sign.
That flaming toaster had been no accident. Instinctively he knew it was Becca giving Taylor a chance to make her mark in their home. To take over the kitchen that had been hers.
"Thank you," he whispered.
"Well, you could say it a little louder," Taylor teased.
He grasped her around the waist and pulled her close before capturing her mouth in a soul-searing kiss.
Taylor pulled back. "That's more like it," she panted.
5. And of course the Happily Ever After when Reece proposes during an Easter Egg hunt.
They looked high and low and found only a handful of the colored spheres as Taylor let Emily search. But when they passed the same blue egg four times, Taylor couldn't resist the urge to point it out to Emily. "I think there's one over there, sweetie."
"Where?"
"Near the bottom of the bushes."
Emily peeked down there. She grasped the egg and shook it. "I don't think this one has anything in it."
Taylor grinned. "Why is that?"
"It doesn't rattle. All the ones with candy in them rattle. Open it, Mommy. Let's see what's inside."
Taylor laughed, infected with her daughter's excitement. She gave the egg a twist and popped off the narrow end. A scarlet strip of satin spilled out of the egg, revealing a glittering diamond ring underneath.
For a moment she couldn't breathe.
So there you are. My fave five. I hope you're intrigued enough to want to read the whole thing! And don't forget to enter to win!
 Giveaway: 2 e-copies of
THE SWITCHED BABY SCANDAL
To enter Giveaway: Please complete the Rafflecopter form and leave a comment for Theresa.
About the book
 His child. Her daughter. One monumental mix-up.Single mom Taylor Lawrence just discovered that the hospital sent her home with the wrong infant five years ago. Now the headstrong and handsome biological father wants his child back. But Emily has always been her daughter, and Taylor wont give her up without a fight.Widower Reece Wallace believed his life was over when a drunk driver killed his wife and daughter. So when he learns of the baby switch, he sees this child as his ultimate salvation. But he never anticipated the fiery woman on the other side of this custody battleor how shed stir feelings in him long dormant.As the media storm surrounding the hospitals mistake intensifies, Taylor and Reece find theres more to sort out than custody of Emily they must work together to protect her while grappling with their growing attraction. Can they pick up the pieces of two broken families and meld them into something new?
About the Author:
Theresa Meyers | Raised by a bibliophile who made the dining room into a library, Theresa has always been a lover of books and stories despite dyslexia that made it difficult for her to write and read until the fourth grade. First a writer for newspapers, then for national magazines, she started her first novel in high school, eventually enrolling in a Writer's Digest course and putting the book under the bed until she joined Romance Writers of America in 1993. In 2005 she was selected as one of eleven finalists for the American Title II contest, the American Idol of books.
She is married to the first man she ever went on a real date with (to their high school prom), who she knew was hero material when he suffered through having to let her parents drive, and her brother sit between them in the backseat of the car. They currently live in a Victorian house on a mini farm in the Pacific Northwest with their two children, two cats, an old chestnut Arabian gelding, an energetic mini-Aussie shepherd dog, a parakeet and an out-of-control herb garden.
She collects teapots, teddy bears and steampunk gadgetry, and when not writing can be found sewing, painting, canning, baking, or hiding out in a comfy chair reading a wonderful book. On occasion, you might find her scuba diving or riding her white quad with hot pink flames on the sand dunes. Her favorite television shows are Supernatural (Dean Girl), The Vampire Diaries, Once Upon a Time and Grimm (is it any wonder she writes fiction?).
Connect with Theresa Online: Facebook | Twitter | GoodReads | Website