Today it is my pleasure to Welcome romance author
Michelle Major
to HJ!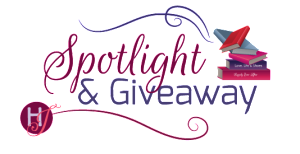 Hi Michelle and welcome to HJ! We're so excited to chat with you about your new release, The Taming of Delaney Fortune

!


Thanks so much for having me here today!

Please summarize the book for the readers here: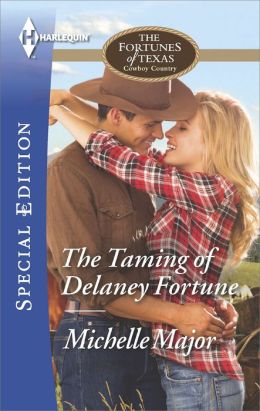 When a city slicker turned cowboy meets his match in a feisty Texas cowgirl, sparks fly and romance sizzles.

Please share the opening lines of this book:
A warm breeze blew across the Texas plains as Cisco Mendoza adjusted his cowboy hat. A thin bead of sweat trailed its way down his back. The temperature remained pleasant so early on this April morning, which meant the sweat was from nerves instead.
Please share a few Random facts about this book…
Delaney Fortune, the heroine, is the youngest of 7 children. Cisco Mendoza, the hero, is one of five kids . The Fortunes and the Mendozas like big families!
Cisco was raised in Miami, Florida, so he prefers salsa music. I had a lot of fun checking it out on Spotify. Delaney is a true Texas girl so my inspiration song for her was American Girl by Carrie Underwood.
Cisco was based on Mark Consuelos and Delaney like Hayden Panietierre. I love Hayden from the show Nashville, but sometimes I must admit I had Kelly Ripa in mind next to Mark. ☺
I made the Picadillo recipe that Cisco cooked for Delaney for my family. Here's a link if you want to try it: http://allrecipes.com/recipe/picadillo/
Please tell us a little about the characters in your book. As you wrote your protagonist was there anything about them that surprised you?
Delaney is young and the baby of the family, so I was surprised that when the chips were down she showed quite a bit of strength and maturity. And while Cisco came into this book as quite the ladies man, there ended up being so many sweet, tender moments he orchestrated with Delaney. I think readers will agree he's a fantastic book boyfriend. ☺
What, in your mind, distinguishes this book from other books out there in the same genre?
I was honored to be invited to participate in the Fortunes of Texas series. The continuity has such a long history of stories readers love. It was a great excuse to binge read as many Fortunes book as I could as I prepared to write the book and easy to see why these families are so popular.

The First kiss…
"The song ended and a slower tune began to play. Cisco held her closer, wrapping his arm tightly around her back, his hand splayed across her hip. Delaney nuzzled into the crook of his neck, breathing him in as she felt his heart beating against her chest. Longing pooled inside her, a deep and restless desire she couldn't name and barely understood.
When he leaned back to look at her, she saw the same passion reflected in his eyes. "You are a beautiful dancer, cielo."
"You are heaven." She whispered the translation and his gaze dropped to her mouth, darkening even more.
"Tonight there is nothing but this moment." He touched his lips to hers, gently exploring as if afraid she'd bolt if he was too aggressive.
But Delaney didn't want gentle. Being in Cisco's arms freed something reckless in her. She wanted everything he had to give and wound her arms around his neck, opening her mouth to deepen the kiss.
Did any scene have you crying or laughing (or blushing) while writing it?
Delaney doesn't have much experience with men, but when she sets out to seduce him, she's a pro. It had me blushing a bit because I could never be that fearless.
Goose bumps pricked the back of Delaney's neck as Cisco continued to stare at her. Maybe it was just a few moments of shocked silence, but it felt like hours. She dug her fingernails into the flesh below the hem of her nightgown, feeling like the biggest fool in the world.
"Um…maybe this is a bad time," she stammered, itching to bolt through the house out the back door. "I should just go and—"
"No." The force in his tone kept her rooted where she stood. He held up a hand. "I… Give me a minute to…" He swiped his hand over his face. "Delaney, what are you doing out of bed?"
"The idea was sort of to get into bed," she said on a nervous rush of breath. Color flooded her cheeks and she bit down on her lip. "I didn't mean to say that out loud."
If your book was optioned for a movie, what scene would you use for the audition of the main characters?
In this scene Cisco rescues Delaney after she is stranded then injured in a thunderstorm. It shows so much about their chemistry, I'd love to see how to actors make it work.
When he came to a ravine too deep for the truck to cross, he went the rest of the way on foot, moving as fast as he could through the underbrush that covered this part of the property.
She gave him a small, tired smile as he got close. "Fancy meeting you—" she started to say, but Cisco grabbed her up into a tight hug, and she buried her face in his neck, her hands fisting in his shirt.
"Delaney," he whispered, "are you okay? What happened? I can't believe I wasn't here."
"If you put me down, I'll explain," she said, her breath soft on his throat. "But…um…Cisco, I kind of can't breathe with you holding on so tight."
He forced himself to release her, placing her gently back down on the ground. "When I got to the ranch, your horse had just returned to the barn without you."
"Good boy," she said. "That's what I hoped he'd do."
"I don't understand."
"I found the calf and had gone over to secure him but ended up between a feral hog mama and her babies. She spooked Flapjack, and he took off. Unfortunately, my walkie-talkie was was still in the saddlebag."
Cisco cupped his hands over her cheeks, smoothing a stray hair away from her jaw. "I should have been with you."
She shrugged her shoulders. "You had a meeting to prepare for."
"It's not as important as you. Nothing is as important as you." The realization hit him like a leaded weight. His career was all he'd cared about for most of his adult life, but work no longer meant a thing if it compromised Delaney in the process.
"You're here now," she offered, always willing to see the best in him even if he didn't deserve it. "You came to find me."
If you could have given your characters one piece of advice before the opening pages of the book, what would it be and why?
I would tell both of them to trust themselves and each other. There are so many changes in the fictional town of Horseback Hollow, especially with the amusement park being built outside of town. Cisco and Delaney have different feelings about Cowboy Country, but they make more progress when they work together.

What are you currently working on? What other releases do you have planned for 2015?
I have two more Special Edition releases in my Crimson, Colorado series: Suddenly A Father comes out in June and A Very Crimson Christmas is set for November. In October, my first book with Montlake Romance, Kissing Mr. Right releases. Right now I'm busily writing more stories and loving it!

Thanks for blogging at HJ!
Giveaway:

I'd love to give away three print copies of The Taming of Delaney Fortune, US only.
To enter Giveaway: Please complete the Rafflecopter form and Post a comment to this Q:

To garden or not to garden, that's my question? I used to be an avid gardener but haven't had as much time lately. I'm wondering if I can get away with a couple of potted tomato plants. Do you do any gardening?
Excerpt from The Taming of Delaney Fortune:
A warm breeze blew across the Texas plains as Cisco Mendoza adjusted his cowboy hat. A thin bead of sweat trailed its way down his back. The temperature remained pleasant so early on this April morning, which meant the sweat was from nerves instead. He rolled his shoulders to force himself to relax. Cisco didn't do nerves.

Back in Miami, he was known for his ability to manage even the most contentious real estate deals with his signature mix of coolness and charm. But Horseback Hollow, Texas, was a far piece from South Florida. Still, a deal was a deal and if Cisco was good at one thing in his life, it was closing the deal.

"This project takes vision," he said to the man standing next to him. "And we both know Alden Moore has vision. It's one of the ways he's built Moore Entertainment to be the success it is now."

Kent Stephens, the regional VP of Marketing and Development for Moore Entertainment, not to mention Cisco's new boss, nodded. "Mr. Moore has vision, all right, and these condos are a big part of it. He has high expectations for Cowboy Country, but the pushback from the locals in town has become a thorn in all of our sides." He flipped a rock off to the side with the toe of his expensive loafer. "Those Fortunes won't give us a chance and their influence seems to run all the way to Lubbock." He pointed at Cisco. "Which, as we discussed, is where you come in. You've got pull with them and we need you to use it."

"Right." Cisco gave Kent a reassuring smile. "My sister is married to Jude Fortune Jones and you know that branch of the family wields a lot of power around town." Before Kent could respond, Cisco walked back toward his truck, across the open land he planned to help develop into luxury condos. It was true his younger sister, Gabi, had married Jude a couple of months ago right here in town, but as far as the Fortune influence in Horseback Hollow, that was pure guesswork. Jude had a bunch of brothers and sisters plus a horde of Fortune cousins in the area, so Cisco figured he couldn't be too far off the mark.

He'd originally come to Horseback Hollow just for Gabi's wedding, but when he'd heard about Moore's plans to develop the Western-themed amusement park and related real estate, Cisco had decided to stick around. He was busy and successful with his real estate projects in Miami. But recently he'd begun feeling restless and a little bored with the endless stream of business lunches, rounds of golf and nights spent with the who's who of South Beach. He loved his life but attributed his change in attitude to a childhood spent moving from place to place as his family followed his father's career in the air force. Cisco wasn't the type of guy to put down roots, and he always enjoyed the thrill of a new challenge.

Too bad his expertise in Miami didn't mean much to his new bosses in Horseback Hollow. What had been more important to them was his connection to the influential Fortune family—a connection that was tenuous at best. Gabi loved her new in-laws, and his father, Orlando, seemed a bit smitten with Josephine Fortune Chesterfield, the matriarch of the British branch of the clan. Cisco hadn't gotten close to any of the Fortunes personally, something he knew was going to need to change quickly.

"When can we get a meeting on the books with your Fortune friends?" Kent followed him across the empty field. "Cowboy Country is scheduled to open next month, and Mr. Moore wants to break ground on the condos by the end of the summer. The condos are new territory for Moore Entertainment, so we want outside investors to support this project. They need to be lined up in short order and catching a Fortune will go a long way toward attracting other important players around this part of Texas."

Cisco glanced over his shoulder at the other man. Moore Entertainment had bought this huge tract of land near the planned amusement park for the express purpose of developing condos to expand the Cowboy Country brand. From what Cisco could tell, Kent was a decent guy, in his late fifties and totally devoted to his job. He'd relocated to Horseback Hollow from Chicago to dedicate his time exclusively to Cowboy Country. Cisco knew Kent had a lot riding on the success of this venture. Everyone at Moore Entertainment did.

"I'll bring you the investors." Cisco kept his answer purposefully vague. "Closing the deal is my specialty."

"As long as the Fortunes are part of the deal, we're all good." Kent opened the trunk of his expensive BMW and pulled out a roll of paper. He closed the trunk, then spread the sheets across the gleaming black surface. Cisco had to give the guy credit—it was no easy feat to keep a car so clean with all the dust out on the plains of Texas. For the next twenty minutes, they discussed the plans for the Cowboy Condos, including a marketing strategy and target market. Cisco had his first niggling of doubt as he looked at drawings of stucco buildings with windows shaped like boots. He was used to dealing with extremely upscale developments and while Moore was certainly sinking a bunch of money into this project, the designs didn't yet have the spark Cisco knew they would need to appeal to highend investors. Right now, the Cowboy Condos reminded him of a kitschy motel off the highway. He wanted to turn them into a Western-themed Ritz.

Kent seemed willing to take his advice and input. The Mendozas had roots in Texas, so Cisco capitalized on his family history to encourage some authentic Western additions to the project. By the time the other man rolled up the plans, Cisco felt more confident things would work out in this deal. He would make sure they did, no matter what he had to do to get the end result he needed.

He watched Kent drive away, then turned to climb in the truck he'd leased from a dealership in nearby Vicker's Corners. As he did, he noticed a lone horseback rider in the distance, tearing across the land, horse and rider clearly in sync as the horse's hooves thundered over the ground. He felt his mouth go dry and had to remind himself to take a breath. That was a real cowboy, or maybe a cowboy kid, by the size of the rider. Cisco knew enough about horses and the West to pass himself off as a cowboy to his coworkers at Moore Entertainment, but this rider was the real deal from the tip of his cowboy hat to the glint of the metal on his saddle. Talk about a thrill. He was too far away to be noticed, but he stood and watched until the horse disappeared behind an outcropping of rocks, leaving a trail of dust in its wake.

That was the kind of adrenaline rush Cisco had been missing in his life, and he hoped pushing through this deal on the Cowboy Condos would reignite the fire that he'd been seeking.
Excerpts. © Reprinted by permission. All rights reserved.

Book Info:
He's been in Horseback Hollow for only a couple of months, but sexy Cisco Mendoza has already made quite an impression! Little does anyone know his real reason for being here—a top secret deal that could shake the foundations of the small Texas town…and one important family…
When Delaney Fortune Jones agrees to help Cisco win some hearts and minds, suddenly the tables turn—and the permanent playboy finds himself pining for the innocent cowgirl and her heart of gold. As business veers dangerously close to pleasure, Mr. Mendoza better hang on to his hat—the pint-size Delaney might just teach him a lesson in the art of falling in love…Fortune-style!
Meet the Author: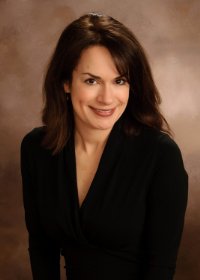 Michelle Major grew up in Ohio but dreamed of living in the mountains. Her life in Colorado is filled with one great husband, two beautiful kids, a few furry pets and several well-behaved reptiles. She's grateful to have found her passion writing stories with happy endings for both Harlequin and Montlake Romance. She loves to hear from her readers at www.michellemajor.com.
Website | Facebook | Twitter |