Today it is my pleasure to Welcome romance author
Barbara White Daille
to HJ!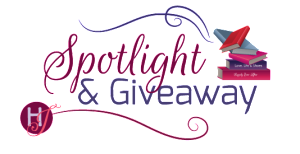 Hi Barbara and welcome to HJ! We're so excited to chat with you about your new release, The Texan's Little Secret!
Hi! I'm very happy to be here and am looking forward to chatting.
Please summarize the book a la Twitter style for the readers here: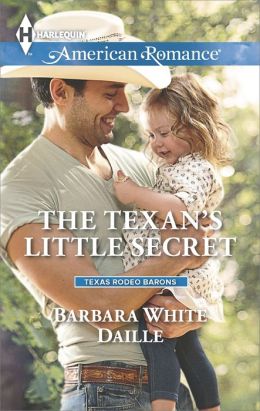 Here's a sort of sixty-second blurb I'd written about the story:
He needs a mother for his child; she claims she doesn't want a family. But they're also former lovers who have been forced together again…and he's determined to discover what she wants to hide….
And if I could only have a dozen words to say what the book is all about, they would be: overcoming a traumatic past and finding one's place in the world.
Please share the opening line of this book:
It didn't take Carly Baron long to figure out coming home to the Roughneck just might have been the worst decision she had ever made.
Please share a few Random facts about this book…
I've never been on the back of a bull, but I had a lot of fun living vicariously through Carly when she suffered through the experience!
This is the first of my books to feature a "baby" on the cover. Rosie's two years old
Another thing I'd like to share about this cover: although the book is part of a continuity featuring the heroine's family (and I love them all), I am beyond thrilled with this cover! It represents Luke's relationship with his daughter – and, not to mention, his conflict with Carly – *so* perfectly!
I believe I cried more writing this book than any other book I've written. There were sad tears and happy tears. Oh, and some laughs and smiles, too.
Please tell us a little about the characters in your book. As you wrote your protagonist was there anything about them that surprised you?
What surprised me most of all was a decision Carly made. Carly is a barrel racer. But there I am, writing the book, and she gets it into her head she wants to ride bulls. Truthfully, I think she only said that to get her daddy riled. But you know how it is when you say something without thinking, and it somehow takes on a life of its own.
It also came as a surprise to me that Luke wanted a big family. But really, I should have expected it because I know how much he loves his daughter, Rosie.
And if I can share just one more surprise, I have to say I didn't expect to have so much fun writing about Carly's daddy, Brock Baron, a man who is stubborn, cantankerous, and sure he knows what's best for everyone. Luke and Rosie's relationship is sweet as can be. Carly and Brock's is fraught with frustration. LOL But both touched my heart.
What kind of research did you do for this book?
Well, I looked at a lot of pictures of hunky cowboys It was rough, but I'm always willing to suffer for my art. 😉
I also did some research into women's professional bull riding and barrel racing, bulls, and various cities in the great state of Texas.
When it comes to research, I try to use details sparingly, just weaving it into scenes and dropping threads to tie the story together as needed.
The First kiss…
Here's a snippet just to give you a taste (no pun intended). The only background you need to know is that Carly has always been considered the "wild child" of the family.
It was like the first time they'd kissed, all over again.

It was like nothing she'd ever experienced.

It was like blazing new territory.

It was like coming home.

It was crazy, it was wild.

And allowing it to happen was the dumbest thing she had ever done.
Did any scene have you crying or laughing while writing it?
There are so many scenes that made me laugh or cry or sit at the edge of my seat. When Carly takes her first ride on a bull… When Luke confides in his little girl…
I loved the scenes where Carly stands up her dad and where Luke and his mom share a heart-to-heart. It's so tough to try to pick one!
Here's a quick peek:
In every photo, Luke smiled at his little girl, a miniature version of himself who shared his hair color and had the same warm-honey eyes. The look of love and pride on his face made her heart ache.

She should have shelves of photos of her own. She should be feeling that love and pride. She should have a child now.

Hers and Luke's.
If your book was optioned for a movie, what scene would be absolutely crucial to include and why? 
"Looks like you saved my letters."

She glanced down at the pile and flushed. "Guess so. I'd forgotten they were in here."

The ribbon was still tied tight, which meant she hadn't come up here just to read the few sweet nothings he'd sent her. So, this wasn't a trip down memory lane. Or was it? "What are you doing here?"

"Looking through these boxes."

He laughed softly. "Well, right. I can see that for myself."

She sat back on her heels and ran a hand through her hair. "I came up here to try to find a piece of my past."
If you could have given your characters one piece of advice before the opening pages of the book, what would it be and why?
I would tell Carly not to worry about the past and to turn to the future.
And I would advise Luke to remember how hard he'd once fought to overcome the expectations of others.
What are you currently working on? What other releases so you have planned for 2014?
Thank you for asking!
First, I'm pleased to announce that my first book will be released for the first time in e-book format. The Sheriff's Son will be out in October, 2014.
I'm also very excited to share that I'm working on a new three-book series! The miniseries title is The Hitching Post Hotel, in honor of the honeymoon hotel that's the key setting for all three books. The hotel is set on a ranch in New Mexico owned by a matchmaking grandpa who's determined to reunite his estranged family.
He's also planning to help his granddaughters connect with some eligible bachelors…only none of his candidates has any idea what he's up to.
This is going to be such a fun series! I'm already loving book one, the story of high-school sweethearts…sort of 🙂 …which debuts in April, 2015.
Thanks for blogging at HJ!
Giveaway:

Giveaway #1 – an autographed print copy of Rancher at Risk (U.S. only). Giveaway #2 – an autographed print copy of reader's choice of one of my available backlist books (U.S. only) 
To enter Giveaway: Please complete the Rafflecopter form and Post a comment to this Q:

Readers, what's your favorite type of romance storyline? Why?
Excerpt
Luke is a bull-riding champ and he's giving Carly some tips:

Smiling, he leaned forward, till their lips almost met. His eyes seemed to glow. "Well, now," he breathed, "you are…absolutely…wrong."

"What?" She recoiled in astonishment and almost toppled off the fence.

He grabbed her around the waist to brace her, then took her hands and rested them on her thighs. He pressed his hands flat atop hers, his warm palms covering her fingers. A prickly sensation ran through her, like sparks from an electrified fence.

"Not the hips, Carly. A little lower. Here."

He rested his hands on her knees. Then he slid his palms upward again. He had hooked his strong thumbs against her inner thighs, exerting more
pressure the higher his hands climbed. A bolt of heat slammed through her middle.
Book Info:
Coming home might be the worst decision Carly Baron has ever made. Each minute on her family's busy ranch is one minute closer to seeing him—her first love—the man who broke her heart seven years ago. While coming face-to-face with Luke Nobel again brings back painful memories, Carly quickly realizes there are other strong feelings just under the surface….
Luke would be a lot better off if Carly had stayed away. Being a single dad to an adorable two-year-old girl and managing the Roughneck is tough enough, but resisting the sparks that fly whenever he and Carly are together is near impossible. But first she must tell him her secret. The truth could heal their past…or forever destroy their chances of becoming a family.
Book Links:
Author Bio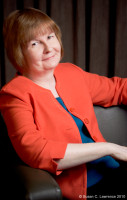 Originally from the East Coast, award-winning author Barbara White Daille now lives with her husband in the warm, sunny Southwest, where they love the lizards in the front yard but could do without the scorpions in the bathroom. Barbara writes romances—usually with cowboys, kids, and a touch of humor. Her previous title is Rancher at Risk, and she's excited to share that her current title, The Texan's Little Secret, has just been released.
She would love to have you drop by her website and to see you on Facebook and Twitter.
Website | Facebook | Twitter |