Today it is my pleasure to Welcome author
Amy Sandas
to HJ!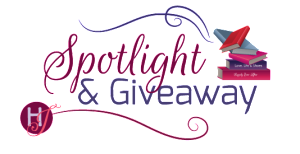 Hi Amy and welcome to HJ! We're so excited to chat with you about your new release, The Untouchable Earl!
Please summarize the book for the readers here:
I decided to use just one word from the title, since it's a bit long.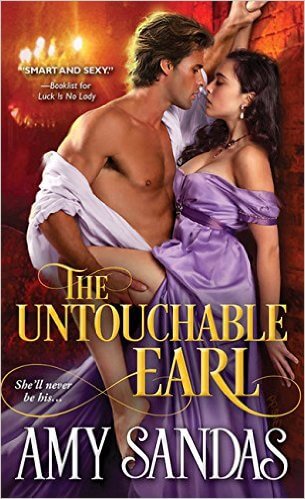 U is for Untouchable. I know it's cheating, but it is an important concept in the story where the hero, Avenell, suffers from an affliction that makes him extremely sensitive to touch.
N is for Lily's Naughty streak which she tries to keep hidden.
T is for Trust and the way it is earned.
O is for Outward appearances, which must be maintained to protect Lily's name.
U is for Unexpected as in Lily's decision to go against the strictures of society to get what she wants.
C is for Compassion which Lily possesses in abundance.
H is for Hot as in the passion between Lily and Avenell.
A is for the Arrangement they make to become lovers.
B is for the Brothel where Lily is sold at auction.
L is for Love, of course!
E is for the dauntless Exploration of personal limitations.

Please share your favorite quote from the book.
Every sense, every nerve in his body was focused on the next few moments. He knew he would want to savor the memory of this, the first time he had kissed Lily.
Please share a few Fun facts about this book…
Avenell's childhood illness and resulting nerve damage are aspects of Guillain-Barré syndrome which wasn't described in medical literature until several decades after this story takes place.
The story was originally a bit too sexy so a few of the hotter scenes had to be cut or trimmed.
This book required the most extensive revisions of anything I've written to date, but I know every change made the story that much better.
If your book was optioned for a movie, what scene would you use for the audition of the main characters and why?
I would choose the scene right after Avenell rescues Lily from the brothel. She is uncertain of her situation and is extremely vulnerable. Avenell's intentions are to take her home, but she has other plans. This scene would be great for an audition since it would require a good dose of chemistry and sexual tension between the leads while they maintain their character's individual awareness of their own hidden fears and weaknesses.
A snippet:
"What if you did not?" she asked, her tone strong and clear.
His body tensed. His hands curled into tight fists on his thighs. When he spoke, his voice was low and fiercely controlled. "Did not what?"
"What if you did not take me home?" she clarified. "At least…not right away."
Lily's heart raced. She had never been more terrified in her life.
But it was a beautiful, exhilarating sort of terror as she waited for him to understand what she was asking. Her entire body felt tight, as though every part of her held its breath in wait for his response.
"Miss Chadwick." The earl's voice was low and heavy. A tremor ran through her. "Do you know what you are saying?"
Her mouth went dry even as her palms began to sweat. "I believe I do."
His eyes burned black in the darkness, but he said nothing more.
She dropped her gaze briefly to where his hands fisted and extended in a rhythm already becoming familiar to her.
"Lord Harte."
"Yes, Miss Chadwick." The melted warmth of his voice sent shivers of anticipation across her skin.
There was no going back.
"I would like for you to claim me," she said softly.
If you could have given your characters one piece of advice before the opening pages of the book, what – would it be and why?
I would tell them to trust themselves and to trust each other. For Lily, trusting Avenell comes easy, it is trusting herself that requires more courage. Avenell on the other hand has not had much opportunity for trust in any aspect of his life and has a long road to travel as he slowly opens up to Lily.
What are you currently working on? What other releases do you have planned for 2016?
Although I have no more releases planned for 2016, I do have some things in the works for next year. The third book in the Fallen Ladies series, Lord of Lies, is currently going through edits. I cannot wait to share Portia's story and the amazing cover, which I just recently saw for the first time. It's gorgeous!
I will also have a story included in a Christmas anthology expected to release in fall of 2017. That story will kick off my next series which is set in the 1880s American West. There is so much to look forward to and I am super excited for what's to come.

Thanks for blogging at HJ!
Giveaway:

Print copy of The Untouchable Earl (Fallen Ladies) by Amy Sandas
To enter Giveaway: Please complete the Rafflecopter form and Post a comment to this Q:

In The Untouchable Earl, Avenell gives Lily a few gifts that demonstrate his understanding of and appreciation for her complex sensual nature. I would love to ask readers what the most memorable gift they ever received from a lover or significant other was and why?
Excerpt from The Untouchable Earl:
Fear crept in.
But it was a fear unlike any she had ever experienced.
As a child, Lily had been afraid of thunderstorms. She used to worry when her parents would go out at night, leaving her and her sisters to the care of their nurse. Then as she grew older, after her mother died, Lily feared the uncertainty of life. She feared having any part in causing distress for those she loved. Especially when Emma already had so much to worry about with Portia's rebelliousness and their father's descent into the twin vices of drinking and gambling.
But she had never known the kind of deep disquiet she felt in that moment as she considered how she would be changed once she climbed into the earl's carriage. Yet, it was not an unpleasant sensation. Intense and personal, but not alarming. It was not a reaction to him or the unusual context in which she stood. It was a direct response to everything she felt inside.
It was herself she feared. She could not deny, as she looked upon the earl, the exhilaration burgeoning inside her.
She hadn't realized she had stopped in her approach until he shifted. Not much, just a slight angling of his shoulders as he lifted his hand and held it out to her, palm up.
His fingers were long and elegant in a way that exuded strength and competence.
The intrinsic desire to touch him overruled all other thought. Lily took the last couple of steps to reach him and brought her hand out from beneath the heavy fall of her cloak to place it in his. His hand was smooth and warm, and his touch sent a jolt of lightning through her system. His hand seemed to twitch, just a subtle tightening of his fingers as her palm slid across his, and she wondered if he felt the jolt as well.
She climbed into the carriage. The vehicle swayed as he climbed in behind her, taking the seat across from her. Then the door closed, and with a gentle jingle of the reins, they started off.
She had done it.
The curtains were drawn over the windows, preventing any relief to the darkness enveloping them. The atmosphere was surreal and painfully quiet despite the sound of the horses' hooves and the creaking movement of the carriage.
A kind and thoughtful gentleman would say something to put her at ease.
The earl was not such a man.
Typically, Lily appreciated quiet moments, but tonight was not typical, and her nerves forced words to tumble from her lips without conscious choice. "You were at the Beresford ball tonight," she said inanely.
He replied, "I was."
Two small, insignificant words, yet spoken in his rich, velvet tone, they had a visceral effect in the darkness.
"I would have danced with you." Again, she wished she could take it back as a blush warmed her cheeks. It sounded like a complaint. And hadn't she already acknowledged to herself that she had never seen him dance but that one time?
He did not say anything right away, and Lily hastily muttered, "I am sorry," then felt even more ridiculous for apologizing when she had no apparent reason.
Goodness, she was a disaster.
There was another long moment of silence during which she could hear his breath, long and even. Then he spoke.
"There is more than one reason I could not dance with you."
Lily was surprised he had decided to provide an explanation. He did not seem the type to explain himself.
"I dance only once per Season, and only with a lady of innocuous charm. It is a rule I have followed for years. Any deviation could be noticed." His voice lowered. "You demanded a condition of discretion in our relationship. Not only would a second dance this year be noted, Miss Chadwick, but discretion may have become impossible if I had been in a position to touch you earlier tonight."
He paused then, and Lily sensed a slow shift in the atmosphere around them. Her muscles tensed.
"Why is that?" she whispered and was amazed at her own boldness.
She heard the subtle sounds of him shifting his position on the seat. The sound of soft fabric sliding against leather lingered in her senses. Her skin grew hot beneath her cloak.
"I am in unfamiliar territory," he murmured. "There is an intensity to my desire for you I have not experienced before. I do not yet know how that will manifest, so I must proceed with caution."
Lily trembled from head to toe. His explanation swirled through her brain. She was still terribly confused, but her body lit up again with the fire he had sparked with a glance.
Before she could reply—before she could think straight—the carriage came to a rocking halt. The footman opened the door, and the yellow glow of streetlights stretched into the interior of the vehicle.
Lily was provided with the breath-stealing sight of Lord Harte, sitting stern and handsome across from her. His expression was coldly emotionless, but in his eyes burned a hunger that curled her toes.
With slow, elegant movements, he leaned forward in his seat.
Lily sat stunned while he reached for the edges of her cloak, which had fallen open. The midnight depth of his eyes held her captive as he clasped the material between his long fingers and brought it together in front of her. It seemed he made a deliberate effort not to touch her body, not even with an accidental brush of his knuckles as he covered her exposed gown. Then he drew her hood more fully over her face.
"For your protection," he explained. He withdrew his hands and turned to exit the carriage.
Excerpt. © Reprinted by permission. All rights reserved.

Book Info:
"Are you afraid?"
"Yes," she replied in a soft voice. "But I love the way you frighten me."
Lily Chadwick has spent her life playing by society's rules. But when an unscrupulous moneylender snatches her off the street and puts her up for auction at a pleasure house, she finds herself in the possession of a man who makes her breathless with terror and impossible yearning…
Though the reclusive Earl of Harte claimed Lily with the highest bid, he hides a painful secret—one that has kept him from knowing the pleasure of a lover's touch. Even the barest brush of skin brings him physical pain, and he's spent his life keeping the world at arms' length. But there's something about Lily that maddens him, bewitches him, compels him…and drives him toward the one woman brave and kind enough to seek to heal his troubled heart.
Book Links:


Meet the Author: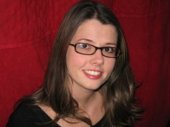 Amy Sandas' love of romance began one summer when she stumbled across one of her mother's Barbara Cartland books. Her affinity for writing began with sappy pre-teen poems and led to a Bachelor's degree with an emphasis on Creative Writing from the University of Minnesota-Twin Cities. She lives with her husband and children in Wisconsin.
Social Networking Links
Website: https://amysandas.wordpress.com/
Goodreads: https://www.goodreads.com/author/show/6217869.Amy_Sandas
Facebook: https://www.facebook.com/AmySandas/
Twitter: @AmySandas