Today it is my pleasure to Welcome USA Today bestselling author
Melanie Milburne
to HJ!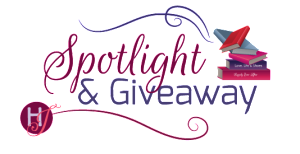 Hi Melanie and welcome to HJ! We're so excited to chat with you about your new release, The Valquez Seduction!
Please summarize the book a la Twitter style for the readers here: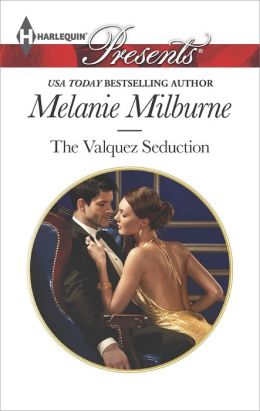 The Prince of one night stand pick ups- Luiz Valquez- steps in to protect a girl who was drink spiked only to find Daisy's mob-connected father has a contract out on him for sullying his baby girl's reputation when she is found leaving Luiz's room in Las Vegas. Luiz swings into damage mode by pretending to be in a serious relationship with Daisy. But with him trying to be good and Daisy trying to have a walk on the wild side with the wildest of them all, things get rather complicated!
Please share the opening line of this book:
It only took Daisy Wyndham three and a half blocks to shake off her father's bodyguard. She grinned as she joined her two teaching friends in the Las Vegas hot spot nightclub where they planned to kick off their half-term holiday before the winter school term in London resumed. 'See?' She high-fived Belinda and then Kate.
Please share a few Random facts about this book…
There's a vibrator called Edward in this book which my heroine Daisy insists is fabulous for neck and shoulder massage. ☺ My hero Luiz is a dare devil one night stand type of guy but for once in his life is trying to be an angel.
Please tell us a little about the characters in your book. 
Luiz is a professional polo player who is known as the prince of pickups. He has never been in a serious relationship. Daisy is a London Kindergarten teacher with a reputation as a goody two shoes mainly because her father is over-controlling and overprotective. Her trip to Vegas is her chance to break free and have fun.
As you wrote your protagonist was there anything about them that surprised you?
I didn't expect Luiz to be as gallant and principled as he turned out. He was such a bad boy but he had a strong moral compass.
The First kiss…
It doesn't happen until the end of Chapter Three as Luiz is trying so hard not to do anything he shouldn't with Daisy!
He studied her mouth for a heart-stopping moment. Daisy felt her breath come to a screeching halt as his fingertip traced the outline of her lips, the top one and then the bottom one. The movement of his finger stirred every nerve into a happy dance. She could feel her lips buzzing as if a swarm of bees was trapped beneath their surface.
'Are you going to kiss me?' Had she really asked that? She really needed to work on her flirting lines. But hey, this might just be the opportunity to do it.
His mouth curved upwards in an enigmatic smile. 'Let's say I'm measuring the risks.'
'Just so you know… I don't bite.'
'No.' He took a fistful of her hair in his hands and pulled her close as his mouth came down towards hers. 'But I do.'
Did any scene have you crying or laughing while writing it?
I loved writing the scene when Daisy wakes up in Luiz's room but doesn't know if they've slept together or not. He's a shocking tease and milks the situation for all its worth.
'Did you-' she swallowed tightly again '-undress me?'
His expression was now deadpan. 'No.'
Daisy looked at him blankly. 'Then who did?'
'You did.'
Her eyes were so wide with shock they felt as if they were going to pop out of her head. She hadn't been naked in front of anyone since she was twelve. She was twenty-six years old and still got dressed a towel at the gym. Body issues had plagued her since she hit puberty. Small breasts, a jelly belly if she didn't do a hundred sit ups a day and thighs that had a tendency to look like cottage cheese if she didn't stick to her diet of cottage cheese. 'I don't believe you.'
A glimmer of a smile came back in his eyes. 'I thought you said you were a teacher. Where did you learn the stripper routine?'
'You're lying!' she choked. 'I would never do something like that!'
'It was the best lap dance I've ever had and I didn't even have to tip for it.'
If your book was optioned for a movie, what scene would you use for the audition of the main characters and why?
The interaction between Luiz and Daisy in this scene is comical and yet serious. The interplay of her shock and embarrassment and his joking and teasing manner would be fun to watch on the screen.
If you could have given your characters one piece of advice before the opening pages of the book, what would it be and why?
Daisy should stand up to her father and live her own life. For Luiz, he shouldn't be afraid of sticking around longer than one night.
What are you currently working on? What other releases so you have planned for 2015?
My next release is a first person Medical in February 2015 called A Date With Her Valentine Doc. It is book one of a duet. Book two I hope to have finished by the time I get back from a trip from Europe. Then I'm going to work on a quartet for Presents/Modern, which I'm really excited about called (series working title) The Rakish, Rich and Ruthless Ravensdales.
Thanks for blogging at HJ!
Giveaway:

A signed copy of The Valquez Seduction
To enter Giveaway: Please complete the Rafflecopter form and Post a comment to this Q:

What is the most out of character thing you have ever done?
Excerpt
'What do you normally eat for breakfast?'
'Well, ideally, I would eat an egg white omelette and drink a herbal tea.'
His brow lifted. 'Ideally?'
She gave him a self-deprecating look. 'I'm rubbish at sticking to diets. I last about three days and then I cave in and eat everything that isn't nailed down.'
'How does bacon and eggs, pancakes, maple syrup and a side of hash browns sound?'
Daisy swayed on her feet as if about to go into a swoon. 'It sounds like heaven. I'm so hungry I could eat a horse and chase the rider.'
He stood looking down at her with a gleaming look in his dark as pitch eyes. 'I've heard there are some riders who like to do their own chasing.'
Daisy held his look with an aplomb she had no idea she possessed. Who knew flirting could be so much fun? 'Then perhaps those riders should make sure they never get caught.'
Book Info:
The most dangerous game of all…
Standing outside a decadent Las Vegas nightclub, innocent schoolteacher Daisy Wyndham has never felt more out of her depth. And that's before sultry Argentinian polo player Luiz Valquez rides to her rescue in front of the global media, leading to reports of their engagement….
It's a dangerous charade, but one they're both prepared to play! Luiz can shake his playboy image, and Daisy can cast aside her cloistered upbringing. With Luiz doing his best to be good and Daisy trying her hardest to be bad, it's only a matter of time before one of them gives in….
Book Links: Amazon | Amazon Kindle | Amazon UK | B&N | indieBound | Powells | BAM
Meet the Author: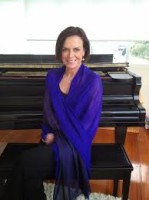 Melanie Milburne read her first Harlequin at age seventeen in between studying for her final exams. After completing a Masters Degree in Education she decided to write a novel in between settling down to do a PhD. She became so hooked on writing romance the PhD was shelved and soon after she was signed on to the London office of Harlequin Mills and Boon line, becoming the first not previously published Australian author to be contracted for the Presents line in over a decade.
Website | Facebook | Twitter |