Today it is my pleasure to Welcome author
Melissa McClone
to HJ!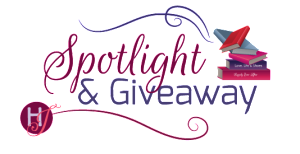 Hi Melissa and welcome to HJ! We're so excited to chat with you about your new release, Four Weddings and a Fiasco: The Wedding Charade!

Hi! It's great to be back on Harlequin Junkie.

Tell us about the book with this fun little challenge using the title of the book: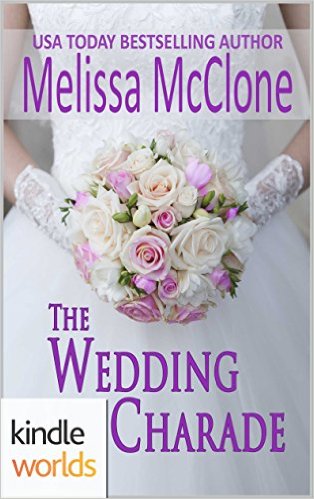 W is for wishes
E is for ever after
D is for dare
D is for dress
I is for image
N is for news
G is for game
What's your favorite line(s) from the book?:
Claire's face puckered as if he'd asked her to swim to Alcatraz. "I prefer to escape between the pages of a book."

"Then it's time to close the cover and live your own story."
Please tell us a little about the characters in your book. What first attracts your Hero to the Heroine and vice versa?
My hero Brady and heroine Claire are childhood friends and grew up next door to each other. They were best friends until she left for college and he moved to Los Angeles with her twin sister Cate to try to make it in Hollywood.
Ten years later, Claire O'Ryan is an unemployed librarian. She's living in San Francisco with her cat Thor and looking for a new job. She longs to find her Mr. Right, but her search, so far, has been frustrating. Still she knows he's out there somewhere.Claire had a big crush on Brady when she was younger. Not only because he's totally hot, but also because he also was caring and watched out for her and her sister.
Brady Quinn is an A-list actor, who's still a little surprised by his success after struggling for years to get roles. But he hasn't lost sight of what's important. He puts his friendship with the O'Ryan twins above anything else. He'll do just about anything to help either out. Brady has never seen her as anything more than a friend due to her gorgeous fraternal twin sister. But he's always thought Claire was pretty and smart and wondered if she liked him as more than a friend..
When you sat down to start this book, what was the biggest challenge you faced? What were you most excited about?
The biggest challenge was finding the best way to take advantage of Lucy Kevin's The Rose Chalet wedding venue and the staff who works there. I wanted to give readers of series something familiar but keep the story my own.
I was most excited about the friendship between the hero and the heroine. I love when friendship turns into something more and leads to an HEA!
What, in your mind, makes this book stand out?
How Cate and Brady feelings deepen from friendship to falling in love when they're forced to pretend to be a couple.
The First Kiss…
He hated that her smile had disappeared once again. Time to lighten the mood. "Just think how many women would love to be in your place right now."
"Nothing personal, but I'd change places with one in a heartbeat. Hiding like this—" She glanced around the cramped dressing room. "It's so not me."
Her quiet voice shook. Not quite on the verge of panic, but close.
He knew what she needed—a distraction. Turning his cap, so the brim faced the back, he asked, "Would this be more you?"
Leaning forward, he kissed her on the lips. Just a light touch.
She stiffened but then relaxed.
He was only going to make the kiss a peck, but she tasted so sweet. There was something more, too, something unexpected. More than a dash of spice.
Brady wrapped his arms around her, pulling her closer. He wasn't ready to stop.
Her chest went against his. Softness and warmth—the definition of Claire. She wiggled her hips, and heat exploded low in his gut.
Oh, man. If he'd known his sweet Claire could kiss like this, he would have done this years ago.
Pressing harder against her lips, he hoped Ruby took her time coming back.
If your book was optioned for a movie, what scene would you use for the audition of the main characters and why?
I would use the scene where the heroine and hero visit a sick child in the hospital. They are dressed up like characters from a movie. I love this scene not only because it was so fun to write, but you see a different side to Brady, one where Claire can imagine him as a father. And Claire is so reserved and quiet, yet she steps into the role her twin made famous for this child. And Les, a minor character who is part of Brady's security team, shows a softer side here.
"Okay, guys. Smile. No egos need to be involved. This is for Slayter." Claire with her cheery voice sounded like a librarian about to read to children during story time. But the green wig and pink-painted face looked sexy on her. The tight costume showed off her luscious curves, making him want to act out love scenes from the movies when they finished. "Ready?"
Brady knew she meant him. He adjusted the holster that held a beat-up laser gun. He imagined his alter ego, El, aka Eleon, a space cowboy, the defender of the downtrodden, and the leader of a rag-tag, fugitive group. "Let's do this."
"This is going to cost you extra." Les wore an eye patch, black leather pants, and a red jacket. He was playing Phemus, a hard-living assassin and rogue. His real tattoos worked perfectly for the part. "Just sayin'."
That made Brady laugh.
"Before you go into Slayter's room, you'll need face masks and gloves." The hospital administrator, a woman named Susannah, passed them out. "He tires easily, but even a few minutes with you will be a dream come true for him."
Brady wanted more than a few minutes. He put on his face mask, and then he pulled on the gloves. "It's showtime."
With an exaggerated swagger, he entered the room. A worried-looking woman with messy blonde hair leaned against the far wall by the window. A doctor in a white lab coat stood next to the bed where a boy lay connected to machines that beeped and buzzed.
Brady whipped out his laser gun and scanned the room. "I hear there's a smuggler named Slayter hiding in here. Big bounty on his head. Anybody see him?"
Eyes wide and mouth gaping, the thin, pale boy in the bed sat upright. "Eleon!"
The awe in the kid's voice tugged on Brady's heart. He took a step toward the bed. "Yeah, I'm El." He waved his laser gun. "Who wants to know?"
The boy raised his chin. "I'm Slayter."
"Lyra. Phemus," Brady called. "We found him."
As the two walked toward the bed, a smile spread across Slayter's pale face. "You're here. You're really here."
Brady looked around. "But no one can know. You're not the only one with a bounty on your head."
"I won't tell a soul. Promise." Slayter stared at Claire with total hero worship. "Lyra."
"Hello, Slayter," she said. "So happy we found you."
The boy sighed. "Me, too."
"Remember, she's mine," Brady said with a wink.
"I know." Slayter pointed to Phemus. "If she weren't, she'd be his."
Claire placed her hands on her hips. "Don't I have a say in this?"
"No," Slayter, Brady, and Les said at the same time.
That brought a round of laughs and more play-acting, followed by a hundred questions from Slayter about the next movie, and a special viewing of the new trailer.
Brady sat on the edge of Slayter's bed to watch it. "You must be super special because I haven't even seen this."
If your hero had a sexy-times play list, what song(s) would have to be on it?
I write sweet romance so there aren't any sexy-times in the story, but I'd say his playlist would be:
"You Really Got Me" by the Kinks
"Wicked Game" by Chris Isaak
"Chains," by Nick Jonas
"Love Me Like You Do," Ellie Goulding
What do you want people to take away from reading this book?
I wrote this story as pure escapism. I'd love for people to finish reading this with a smile on their face and a warm feeling inside. If they happen to think about how they treat their loved ones, whether they are more like Claire or Cate, that would be an added bonus!
What are you currently working on? What other releases do you have planned for 2016?
I'm currently working on A Thankful Heart which is part of Tule Publishing/Montana Born Books' Love at the Chocolate Shop series and will be out in November. I also am part of an anthology called Kiss the Bride that will be out at the end of May from Harper Collins Zondervon. I also have a royal Christmas story coming out from Tule Publishing/Holiday Books in October.

Thanks for blogging at HJ!
Giveaway:

I will be giving away a $10 Amazon gift card and swag! The giveaway is open Internationally.
To enter Giveaway: Please complete the Rafflecopter form and Post a comment to this Q:

My heroine's diva twin sister takes advantage of the people who are closest to her. Have you ever had someone do that to you?
Excerpt from Four Weddings and a Fiasco: The Wedding Charade:
Three long knocks sounded, followed by two short ones. It was the secret code they'd used at the tree house behind Brady's house, where his parents still lived.
"Claire." He sounded impatient.
She inhaled deeply and opened the door.
Sunglasses covered Brady's killer baby blues but did nothing to mask his classically handsome features. A multicolored striped beanie hid his wavy brown hair, which curled at the ends. A navy, oversized hoodie disguised his to-die-for body. With his six-foot-plus height and athletic build, he could easily be mistaken for a professional athlete.
Definitely swoon-worthy.
She clutched the door handle.
It was a good thing she'd developed immunity to his good looks and charm. No more weak knees. Forget the drawn-out sighs. She'd left those behind with her crush. For her sake and her sister's.
"Hey."
Brady stepped inside, closed the door behind him, and enveloped her in a bear hug. His trademark since he was fourteen and no longer embarrassed to touch girls. Although, she wasn't sure if he'd ever actually seen her as a female, even back then. She'd been parked in the friend zone for so long her windshield was plastered with tickets. Yet, that hadn't stopped her from trying to get him to notice her in high school. She'd been so hopeful back then.
Who was she kidding? She still was.
His scent—soap, shampoo, or aftershave?—surrounded Claire and made her want to inhale deeply to soak up the smell. She didn't.
"It's so good to see you." Brady let go of her. Off came his sunglasses, hat, and jacket. He placed them on top of the small, wooden bookcase where she kept her purse and keys. "Sorry I didn't call first. Nice PJs."
Claire struck a silly tiger pose. "A birthday present to myself."
"Not a book?"
"I gave myself one of those, too."
Brady laughed. "Were you asleep?"
"Yes, and Thor's not pleased. He doesn't like to be disturbed."
"Sorry, dude," Brady said to the cat.
Thor turned and gave a perfect view of his backside.
"I thought you were filming," she said.
"Finished." Glancing around, Brady shifted his weight from foot to foot. "You alone?"
Claire wanted to groan. Of course she was alone. She wanted nothing more than to fall in love; to open her heart and her life to someone special. So far, no luck.
"Only Thor and me."
"You mentioned something about a date the last time we talked."
He'd wanted to know how she was doing after losing her job. "Yes. Turns out he's allergic to cats. Sneezing, eyes watering, and hives broke out when he entered the condo. Shortest first date ever."
"That sucks."
"Try, try again." She motioned Brady into the living room. "So…"
He plopped onto her couch, a slipcovered loveseat she'd assembled herself. "How's the job search going?"
Heat rushed up her neck. So many libraries had turned her down that Claire felt as if she were a new college graduate with zero work experience, but she wasn't giving up. So what if her savings account was almost empty and the benefits from her severance package would end soon? The perfect job was out there somewhere. She would find it.
"I have a second interview on Friday for a great position. I've also been volunteering at a public library. I may have found a new calling."
"What's that?"
A ball of warmth formed in her chest. "Working in the children's section."
His gaze narrowed. "I thought rare books were your thing."
"They are, but I forgot how much I enjoy story time." Picturing the children from Friday's session filled her with joy. "Seeing young faces light up as I read—their eyes full of excitement and anticipation—is so much fun. I remember why I fell in love with books when I was younger."
"This really makes you happy."
"So very happy. I feel like I can make a difference with these kids." She shimmied her shoulders. "I've got big plans, too. I'm going to see if the library will let me start themed book clubs for various ages, and then I want to propose a theater and dance reading group for kids who learn better kinesthetically."
"Wow. Fantastic ideas," he said. "You sound so excited. Much better than I thought you'd be doing."
"I have an occasional off moment, but I'm not going to let being unemployed bring me down."
"The university was stupid to let you go."
"I didn't have enough seniority. Nothing anyone could do." If she'd stayed in Los Angeles, she would still be employed. But she'd made the right decision to head north three years ago. Her new job had been a dream while it lasted, and the distance had solved her problem. She'd gotten over her crush. Brady was nothing more than a friend now. However, she'd created another problem by moving. She felt like an outsider in her family. "You didn't come here to talk about my being laid off."
Humor flashed in his eyes, followed by a sheepish grin. One he'd used for as long as she could remember. Knowing she could still read him filled her with a sense of relief.
"You've always been the smart one," he said.
The three of them joked about how Cate got the beauty and Claire the brains. Being smart was great, but more than once, she'd wished they'd been identical twins instead of fraternal ones. Looking exactly like her sexy, gorgeous actress sister wouldn't suck.
"What's up?" she asked.
"Cate."
Claire wasn't surprised. Her sister was a magnet for trouble, always had been. Claire and Brady had grown up trying to get Cate out of one jam after another. He had a knack for minimizing the damage. A good thing since Claire was no longer there to help, but she did what she could from afar.
"Spill."
Thor jumped onto the couch, and the cat bumped his head against Brady's hand.
He rubbed Thor's neck. "I hope you've been taking care of Claire."
She wasn't going to let Brady distract her by talking to her cat. "I'm waiting."
"I…"
Excerpts. © Reprinted by permission. All rights reserved.
Book Info:
Growing up in her twin sister's shadow, Claire O'Ryan has made a life for herself away from family and the Hollywood limelight. But when her sister's lies start spinning out of control and she finds herself in trouble, Claire and her former crush are forced to help out.
A-list actor Brady Simms enjoys playing a good part and pretending to be engaged to his childhood best friend, Claire, sounds like an interesting role. Planning a fake wedding happens all too easily. Acting like he's madly in love with the quiet, sweet librarian feels all too right. And her kisses…all too perfect. Will a game of make-believe turn into a real-life happily ever after?
Book Links:

Meet the Author: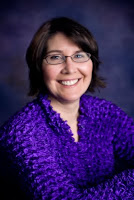 USA Today bestselling author, Melissa McClone has published over thirty novels with Harlequin and Tule Publishing Group and been nominated for Romance Writers of America's RITA® award. She lives in the Pacific Northwest with her husband, three school-aged children, two spoiled Norwegian Elkhounds and cats who think they rule the house.
Website | Facebook | Twitter |