Today it is my pleasure to Welcome romance author
Christina Brooke
to HJ!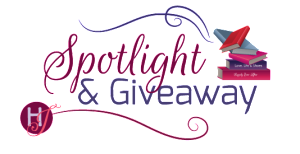 Hi Christina, welcome 🙂
What would you say is your motto or maxim as a writer?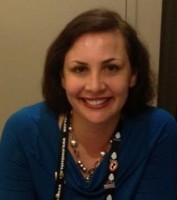 A novel must evoke an emotional response from the reader. All diligence, craft and inspiration must be directed toward that goal.
If you were stranded on a deserted island…
I would write stories in my head to pass the time. They might well involve a pirate and a dashing rescue of a lone female stranded on a deserted island…
Let's talk about your newest release: The Wickedest Lord Alive
If you had to summarize the book for the readers here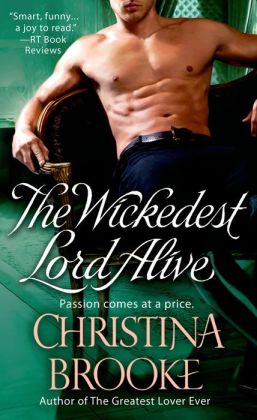 Eight years ago, a tall handsome stranger entered Lizzie Allbright's bedchamber and consummated a marriage of the utmost necessity. The Marquis of Steyne agreed to wed and bed Lord Bute's admittedly lovely daughter to pay off his mother's gambling debts. But once the deed was done, Steyne's lawfully-wedded wife vanished into the London night…
Years later, Steyne has nearly forgotten about his runaway bride. But when he suddenly finds himself in need of an heir, he has no choice but to track her down. Living happily in a small village under an assumed name, Lizzie is surprised to see her husband—and to feel such a strong attraction to him. But she is downright shocked when he asks her to bear him a son. How can they possibly repeat the heated encounter of their ill-fated wedding night without falling hopelessly in love?
Please tell us about the characters in your book?
Xavier, Marquis of Steyne is a complex character.
Outwardly cold, cynical and heartless, he is deeply wounded by the past. Only Lizzie Allbright can break through that icy facade. Lizzie is bright, loving, and quietly compassionate but she is resourceful and courageous and has a backbone of steel. When matters reach a crisis, they must fight for each other.
As you wrote your protagonist was there anything about them that surprised you?
Almost everything I write surprises me—I'm an organic writer, otherwise known as a pantser. But I think Xavier's duality surprised me the most. On one hand, he is the ultimate detached, cold aristocrat, on the other, he is always working behind the scenes to help those he loves. His actions almost never come to light, although throughout the six books I've written about this family, there've been hints along the way. He never looks for thanks, however, and if you pointed out to him how he has helped those around him, he'd stare at you as if you were mad. But he's always there behind the scenes, using his Machiavellian brain to sort out his family's difficulties. In fact, he is more like Lizzie, the quintessential vicar's daughter who helps everyone, than he knows.
What scene did you most enjoy writing? Why?
I love the tension between Xavier and Lizzie. You can read one of these on my website: http://www.christina-brooke.com/bookshelf/the-wickedest-lord-alive/ But I must admit, I always have a lot of fun writing scenes between the male cohort of my series. Here's a snippet:
"I'm writing a poem about thwarted love," Cyprian announced. "I'm having the Devil of a time with it, if you must know, Coz."
"My heart bleeds," said Xavier.
The boy slapped his knee and sat up with sudden energy. "That's just it. The heart. The organ of amour. The receptacle of tender emotions in a man's breast. I have never been thwarted in love, so how am I to write about it?"
Xavier snorted. "Romantic love is a pretty concept dreamed up by people who need some noble justification for slaking their lust."
Cyprian stared at him as if he'd just killed a puppy. The young man swallowed, then his widened gaze strayed to his work.
Mercilessly, Xavier added, "Given the entire concept is a construct, you need only use your imagination if you want to write about it. Make it up, why don't you? Just as so many deluded idiots have done before you."
Before Cyprian could frame a response, Lydgate strolled into the room. "Ah," he said, taking in the situation in a swift glance. "Pricking the bubble of love's young dream again, Xavier?"
Xavier snorted. "Merely stating facts."
"Don't listen to him, Cyprian," said Lydgate. "A more cynical man you will never meet."
Cyprian had been staring at Xavier with blank horror. Now, he shook himself and laughed. "Oh, I have learned by now not to regard anything my cousin says about tender emotions. It is well known he has an icicle for a heart."
The boy hadn't meant to wound him. He certainly hadn't succeeded.
"I wonder," said Lydgate with a gleam of speculation in his eye.
"My heart is an organ which pumps blood, nothing more," said Xavier.
What scene was the hardest to write? Why?
I know this must sound odd, but I don't recall a scene that was particularly hard to write. That's not to say there weren't any—there are always tough days—but publishing a book is like childbirth—once that baby is out in the world you forget all the pain involved in the process!
Who would you cast in the role of your characters if your book was optioned for a movie?
I think Michael Fassbender or maybe Viggo Mortensen for Xavier and Naomi Watts for Lizzie.
If you could have given your characters one piece of advice before the opening pages of the book, what would it be and why?
Trust one another.
What are you currently working on? What other releases so you have planned for 2014?
At the moment, I'm working on an exciting new project that is a slight departure for me. I can't say more right now but there will be an announcement soon! I don't have any more new releases in 2014 but I'm looking to release a couple of my early historicals, perhaps as a boxed set.
Where can readers get in touch with you?
I'm on Twitter @chrstnabrooke, Facebook: https://www.facebook.com/ChristinaBrookeAuthor?v=wall and of course you can contact me via the contact page on my website: http://www.christina-brooke.com/contact/
Thanks for blogging at HJ!
Giveaway:

2 print copies of THE WICKEDEST LORD ALIVE.
To enter Giveaway: Please complete the Rafflecopter form and Post a comment to this Q:

OK everyone, it's your turn to spill. What's the wickedest thing you've ever done? You don't have to tell me where the bodies are buried—it can be the wickedest dessert you've ever eaten, the wickedest indulgence you've ever enjoyed as part of "me" time.
Excerpt
This is an excerpt of Lizzie and Xavier discussing his requirement that she return with him from hiding to take her rightful place as his wife. And oh, incidentally, to produce an heir as soon as possible!

"I daresay this has all come as something of a surprise," Steyne said.
A surprise? She almost laughed. "Indeed."
"You will need time to collect yourself," he said. "But allow me to tell you now that my decision won't alter."
Some of her spirit returned. "Regardless of my wishes? You do not even care that I am thoroughly opposed to… to…"
He watched her and let her flounder without mercy. Then he said with something of a purr, "I will teach you any number of terms for what we are going to do, dear Lizzie. And any number of ways to experience pleasure."
In spite of her smarting pride, a dark thrill shot through her. The image of him moving over her in the candlelight made her throat tighten and her heart beat faster.
"You are shocking and… and vulgar. I won't listen to you."
She remembered the high, hot burst of ecstasy, the unwilling sense of closeness she'd felt in his arms. All that, despite their lack of empathy or acquaintance.
The words she'd overheard earlier that evening rang in her ears: Love has nothing to do with it.
To surrender herself to his ministrations without the slightest hope or expectation of love—that would be torment, indeed. To take this man inside her, yet never come close to touching anything inside him.
To know that no matter how much she might long for true intimacy, such emotional connection was beyond him.
If she hadn't experienced the depth of his remoteness for herself that night, she might well have been tempted by his looks, his rakish audacity and his air of mystery. But the desolation she'd known when he'd left her with such brutal coldness had been the greatest anguish she'd ever experienced.
It was as if she'd climbed aboard a life raft after years on a desert isle, and the raft had marooned her in some arctic wasteland. But she'd fought her way out of that place by sheer determination, with no one to help her. She'd found a haven, safe and warm, in Little Thurston.
Now, she said, "If I refuse?"
He could not, would not, force her to do this. She knew she'd have to obey him eventually but she wasn't going to make it easy for him. She wanted to punish him in some small measure for leaving her behind.
He did not answer
Book Info:
CAN AN INDECENT PROPOSAL
Eight years ago, a tall handsome stranger entered Lizzie Allbright's bedchamber and consummated a marriage of the utmost necessity. The Marquis of Steyne agreed to wed and bed Lord Bute's admittedly lovely daughter to pay off his mother's gambling debts. But once the deed was done, Steyne's lawfully-wedded wife vanished into the London night…
LEAD TO EVERLASTING LOVE?
Years later, Steyne has nearly forgotten about his runaway bride. But when he suddenly finds himself in need of an heir, he has no choice but to track her down. Living happily in a small village under an assumed name, Lizzie is surprised to see her husband—and to feel such a strong attraction to him. But she is downright shocked when he asks her to bear him a son. How can they possibly repeat the heated encounter of their ill-fated wedding night without falling hopelessly in love?…in Christina Brooke's stunningly sexy Regency, The Wickedest Lord Alive.
Book Links:
Author Bio
Christina Brooke is a former lawyer who staged a brilliant escape from the corporate world and landed squarely in Regency England.
She is a Golden Heart winner and two-time RITA finalist and her books have also been nominated for RT's Reviewer's Choice Award, Bookseller's Best and the Australian Romantic Book of the Year Award. The first two books in her Westruthers series, LONDON'S LAST TRUE SCOUNDREL and THE GREATEST LOVER EVER, have garnered Top Picks from RT Magazine.
Christina makes her home in sunny Queensland, Australia with her husband, two boys and one enormous girl dog called Monty. Monty is the inspiration for Ophelia, the Great Dane in the Ministry of Marriage series. However, the resemblance of any human characters to real life people is purely accidental.
Christina loves to travel, particularly to England for research and most especially to see her dear friends and colleagues in the United States. She also loves walking, window shopping for antiques and enjoying good food, good wine and good times with her friends and family.
Website | Facebook | Twitter |