Spotlight & Giveaway: The Wilder Series by

Jill Shalvis
The Making of Wilder Series by Jill Shalvis
Originally posted in 2009 on Jill's website
One day about six months ago I was fretting over not knowing how to start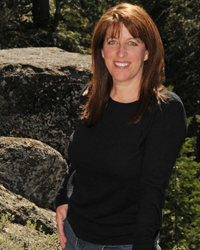 my book. All I knew was that I had three brothers running an adventure expedition company. I wanted the guys to be big and bad and tough, and of course sexy, and I wanted them all to be felled, one by one, by love. I wanted them to fall hard and messily, and I even knew by who.
What I didn't know was who the hell the first hero was and what he was so damn reluctant and reticent and wounded from, I had no idea what had made him who he was.
And then this song came on the radio. It was by Lifehouse, one of my favorite bands, and as I listened to the song, I realized they'd been kind enough to solve all my problems. The words to Whatever It Takes had me suddenly fully understanding the hero.
I love it when that happens.
I won't tell you more now cuz I don't want to spoil the unveiling, so to speak. But I turned the book in last week and I just wanted to give a big shout out and eternal THANK YOU to Lifehouse for the below lyrics, which put everything into perspective when I most desperately needed it. For now, here's the lyrics that started it all.
Whatever It Takes
By LIFEHOUSEA strangled smile fell from your face
It kills me that I hurt you this way
The worst part is that I didn't even know
Now there's a million reasons for you to go
But if you can find a reason to stay

I'll do whatever it takes
To turn this around
I know what's at stake
I know that I've let you down
And if you give me a chance
Believe that I can change
I'll keep us together whatever it takes

She said "If we're gonna make this work
You gotta let me inside even though it hurts
Don't hide the broken parts that I need to see"
She said "Like it or not it's the way it's gotta be
You gotta love yourself if you can ever love me"

I'll do whatever it takes
To turn this around
I know what's at stake
I know that I've let you down
And if you give me a chance
And give me a break
I'll keep us together, I know you deserve much better

But remember the time I told you the way that I felt
That I'd be lost without you and never find myself
Let's hold onto each other above everything else
Start over, start over

I'll do whatever it takes
To turn this around
I know what's at stake
I know I've let you down
And if you give me a chance
and believe that I can change
I'll keep us together whatever it takes
Giveaway: Thanks to Kensington Pub. I have 2 sets of the Wilder series to giveaway.
To enter giveaway: Please complete the Rafflecopter form below.
Keeping in theme with Jill's post above: Tell me what is your favorite go-to Pick me up song?  

My current fav. song is 'HOME' by Phillip Phillips, I just love the lyrics 🙂 Have a listen…
Instant attraction: Get Wild…And Then Get Wilder…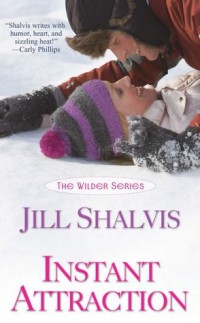 Accountant Katie Kramer is a quintessential good girl—working hard, recycling diligently, all the while trying to ignore the feeling that she doesn't fit in anywhere. That's all she wants. Well, that—and amazing sex, and the kind of daredevil escapade she can look back on when she's crunching numbers in a dusty cubicle. Which explains why she just took a job in Wishful, California, working for Wilder Adventures and Expeditions. Waking up to find a magnificently built stranger towering over her bed—that part defies explanation…
After wandering the planet for months following a life-changing accident, Cameron Wilder has come back to the only home he knows. Under other circumstances, he might be thrilled to find a gorgeous woman sleeping in his cabin, but now, while he'll risk his body taking clients on adrenaline-drenched excursions, his heart is off limits. Still, Katie's killer smile triggers something deep in his gut…among other places. Showing her how exhilarating it can be to stop balancing her life as if it was a checkbook is the biggest rush he's ever felt—and an adventure Katie's wishing would never end. . .
Instant Gratification: The Doctor Is In Deep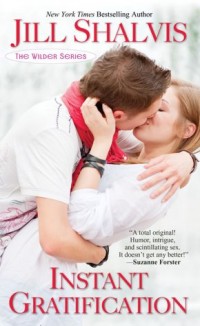 Wishful, California, is 3000 miles from Dr. Emma Sinclair's last job in a New York City ER. It may as well be another galaxy. Here, running her father's clinic for a summer, Emma treats bee stings, stomach flu, and the occasional pet cat. Plus, she has to contend with patients like Stone Wilder: gorgeous, laid-back, and irritating beyond belief. The man laughs at her. A lot. And Emma loathes him. All except that tiny part of her that wants to throw him on her examining table and break every doctor-patient rule in the book. . .
When Stone tries to help Emma learn to loosen up a bit, he pictures white-water rafting or scenic mountain hikes. Not a mind-blowing affair that shakes them both to the core. Emma's sure she has no place in a town like Wishful, but Stone knows different. Emma belongs here—in this town, in his life. And convincing this strong-minded, stubborn, sexy woman of that fact will be a challenge no Wilder man could resist. . .
Instant Temptation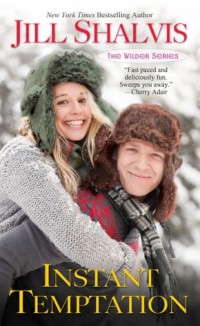 T.J. Wilder is the perfect package of breathtaking adventure and raw sex appeal. Even better, he's about to reconnect with the one woman he's never been able to forget…
Get Your Pulse Racing
To Harley, the landscape around Wishful, California, is exhilarating, untamed, and more than a little dangerous. The same could be said for T.J. Wilder, who's invited himself along on her trek to study a rare coyote. Harley's career is riding on this trip, and she doesn't need a stubborn, incredibly sexy distraction. But T.J. is a professional guide who knows when to stay back and when to provide invaluable expertise-just like he's done since they were in high school. And Harley, as usual, is torn between throttling him and giving in to the raw attraction that's been smoldering all these years.
T.J. knows how proud and capable Harley is, but he's damned sure not letting her put herself at risk when there are illegal hunters in the area. She needs him, with the same soul-stirring urgency that he's always craved her. And here, in this beautiful place days from civilization, he'll finally have a chance to prove it-over and over again…
Here's an Excerpt Instant Attraction:
Apparently he was always going to appear when she was somehow embarrassing herself or out of her element. With a sigh, Katie turned and faced her tall, strapping, gorgeous stranger from last night.
Except he wasn't a stranger.
No, Cameron Wilder was her boss, he of the sun-kissed unruly brown hair, razor sharp green eyes and scruffy face that she inexplicably and inappropriately wanted to feel rubbing all over her bare body. He wore the boots he'd had on last night, with lose khaki cargoes and a thick, soft-looking black sweater that she wanted to press her note to.
What was with her?
He reached out and removed her fogged glasses, cleaning them on the hem of his sweater while she squinted and focused the best she could.
"Why do they fog?" he asked.
Gee, because you're hot? "Um . . . they do that sometimes." When a hot guy gets close . . . which almost never happened.
In truth, Cam wasn't classically handsome. Nope, his nose was slightly crooked. And then there was the scar bisecting his left eyebrow. He had fine lines fanning out from his eyes, reflecting he'd lived his life, a real life out here in the mountains, and also apparently all over the planet with
a board strapped to his feet. That drew her too.
So much.
Then there were his eyes, filled a wicked bad-boy glint, which shockingly drew her in, but it actually wasn't just a physical appeal. She sensed a hint of something much deeper inside him, something . . . haunting, and though she had no idea what it was exactly, it was that which drew her most of all…
He set her glasses back on her nose. She could have told him not to bother, that if he kept doing stuff like, oh, breathing, they were just going to keep fogging. Finding her composure by sheer will, she pointed to her desk. "I was hoping you could give me a hand getting started here."
"You do remember me from last night, right?" He leaned that tightly muscled body against her desk. "The most unhelpful man you've ever met?" he reminded her.
"Yeah. Sorry about that." She winced at the memory. "But in my defense, I was a little…discombobulated at the time."
"Yeah." He offered a little smile that fried more than a few brain cells. "Me too."
"Really?" He'd seemed . . . exhausted, but definitely at ease, especially in his own skin.
"Hell yeah. I came home and found a beautiful woman in my bed that I didn't put there."