Today it is my pleasure to welcome historical romance author

Anne Gracie

to HJ!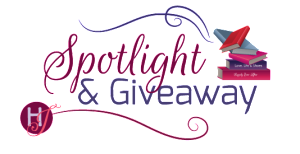 Hi Anne, Welcome to HJ!
Thanks Junkies (Junkettes? Junkabellas? Junkalovelies?) it's great to be here.
If you were written about in the newspaper, on the front page what would the headline say? Why?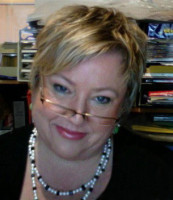 My friends Trish Morey and Kelly Hunter said it would be "AMAZING GRACIE!" Why? No idea, but who am I to argue with my friends? 🙂
Would you rather… visit the world 100 years into the past or 100 years into the future? Why?
!00 years into the future. Because I'm curious, because 100 years into the past is the beginning of WW1, which is depressing, and because if I came back from 100 years into the future, I could make some really excellent investments.
Let's talk about your newest release: The Winter Bride
If you had to summarize the book for the readers here…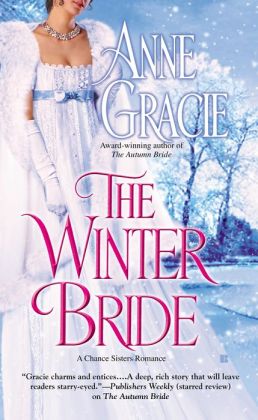 To get his parents off his back and to stop marriage-minded females stalking him, charming bad-boy Freddy Monkton-Coombes pays marriage-shy Damaris Chance to enter into a false engagement. It's all for show; falling in love was never in the plan . . .
Please tell us about the characters in your book.
My hero Freddy is (if I say so myself) gorgeous. He's not the grim and tortured kind of hero — he's funny and charming, a lighthearted bad-boy rake with a powerful aversion to marriage. He's relentlessly pursued by what he calls "muffins" — ie. eligible, seriously marriage-minded women and every woman he meets in the story gives him a hard time. But there are hidden depths to Freddy and as the story progresses, he slowly reveals himself to be "an utterly to-die-for hero" (to quote Mary Jo Putney.)
My heroine, Damaris is serious and quiet and fiercely independent. The secrets of her past make her vulnerable and just as marriage-averse as Freddy, but underneath her cool exterior she's really something special — brave and smart and resourceful. Watch her stand up to Freddy's b*tch of a mother, and bamboozle his arrogant father and I think you'll love her as much as I do.
As you wrote your protagonist was there anything about them that surprised you?
I'm always surprised by how characters can seem to take on a life of their own. They won't do what I've planned they will, and they take the story in directions I hadn't thought of. This, of course, is a big part of the joy in writing — discovering the characters' backstories and secrets — but it can also make the writing process tricky, as it can involve lots of rewriting.
What scene did you most enjoy writing? Why?
There are lots in this book. The opening scene was fun, where Max (the hero of the previous book) asks his best friend Freddy to keep an eye on his aunt and her nieces. Freddy, who generally avoids respectable girls, is forced to agree, though with one condition— he won't attend their literary society.
"Not the literary society. The horror stories those girls read are enough to make a fellow's hair stand on end."
Max frowned. "Horror stories? They don't read horror stories, only entertaining tales of the kind ladies seem to enjoy, about girls and gossip and families—"
"Horror stories, every last one of them," Freddy said firmly. "You asked me to sit in on their literary society last month, when you went up to Manchester, remember? The story they were reading then . . ." He gave an eloquent shudder. "Horror from the very first line: It is a truth universally acknowledged, that a single man in possession of a good fortune must be in want of a wife. Must he, indeed? What about the poor fellow's wants, eh? Do they matter? No. Every female in the blasted story was plotting to hook some man for herself or her daughter or niece. If you don't call that horror, I don't know what is!"
Max chuckled.
"You can laugh, bound as you are for parson's noose in the morning," Freddy said bitterly, "but every single man in that story ended up married by the end of the book! Every last one." He numbered them off on his fingers. "The main fellow, his best friend, the parson, even the soldier fellow ended up married to the silly light-skirt sister—not one single man in that story escaped unwed." He shuddered again. "Enough to give a man nightmares. So no literary society for me, thank you."
What scene was the hardest to write? Why?
For me, it's not so much writing a scene that's hard as choosing how much to reveal, when — it's choices that I find hardest, not the writing. In this book it was hard to decide how much of Damaris's backstory to show, and when. This is the first snippet:
She breasted the hill and stopped, catching her breath at the sight of the line of brilliant blue that shimmered along the horizon. The sea. She took a deep breath, breathing in the clean, fresh salt tang of it, the taste of freedom. . .
Then her heart started to thump as she saw in a dip between the hills three slender vertical lines silhouetted against the blue. Tall masts. Which meant a European ship.
Pray it was English. It shouldn't matter, as long as it took her away from this place where she would always be foreign, unwelcome, no matter that she'd lived all her life here and knew no other place. But she was English, and an English captain would understand and, pray God, an English ship would take her home. To what, she did not know — she had no living relatives that she knew of — but first things first.
She started to run, then stumbled to a ragged halt. She was hot, filthy, dusty and sweaty from the endless walk. She'd lost track of how many days she'd been walking, hiding from danger, sleeping under bushes and foraging for whatever food she could find along the way. She could not approach the captain of a European ship looking like a filthy beggar.
Who would you cast in the role of your characters if your book were optioned for a movie? And what scene would they use for their audition?
Maybe someone like Paul Walker (only sadly he's not around any more) or Bradley Cooper or Rupert Penry-Jones or even Laurence Fox as Freddy.
Damaris would be a young Winona Ryder.
For the audition scene? The kiss by the graveyard. There's dialogue and action and it's very potent and sexy and a little bit heartbreaking.
If you could have given your characters one piece of advice before the opening pages of the book, what would it be and why?
I wouldn't give them any advice, because if I told them what to do and think and how to behave there would be no story. Or a very boring one. Characters need to find their own way, make their own mistakes and earn their own happy ending. And I love seeing a rake sideswiped by love. 🙂
What are you currently working on? What other releases do you have planned for 2014?
I'm working on the third in a series of four books about The Chance sisters, four girls living in Regency-era London. Chance is a false name — they're not real sisters, but "sisters of the heart." The first book is called The Autumn Bride (it's a RITA finalist) the second is called The Winter Bride, (it's just out now) and I'll give you one wild guess what the next book is going to be called. 🙂
Where can readers get in touch with you?
Through Face Book (https://www.facebook.com/AnneGracieAuthor) Twitter (@AnneGracie) and you can get my email from my website (www.annegracie.com) I also have a blog (http://annegracie.blogspot.com/ ) and I blog regularly with the Word Wenches (http://wordwenches.typepad.com/word_wenches/)
GIVEAWAY:

2 print copies of THE WINTER BRIDE
To enter Giveaway: Please complete the Rafflecopter form and post a comment to this Q:

There have been so many films made and remade of long dead authors; what historical romance written by a living author would you like to see made into a movie? Why would it make a good movie?
Excerpt:
Here's a piece where Damaris's employer warms her off Freddy:
"Tomcat in gen'leman's clothing, that's what 'e is—a rake through and through."
"Rake? You thought—"
Mrs. Jenkins snorted. "I knew what he was the instant I clapped eyes on him! Dressed like that in his fancy duds at this hour of the mornin'. The cheek of 'im, thinking he could seduce away one o' my girls in broad daylight."
"But he wasn't—"
"Bless you, my dove, you're too young to recognize a Wicked Seducer when you see one, and I grant you that one is an 'andsome devil, and charmin' as an oiled snake, I have no doubt!" She fixed Damaris with a gimlet eye. "But it don't do for a girl like you to catch the eye of a gentleman, take it from me. He'll soften you up with sweet words and little gifts and . . . and poetry, and you'll think 'e's ever such a nice fellow, then in the twinklin' of an eye, he'll 'ave your skirts over your 'ead, and there you'll be, rooned forever!"
"But Mrs. Jenkins—"
"Rooned forever!" Mrs. Jenkins repeated firmly. "And we don't want that, do we? Now, I've given him a piece of me mind—blistered 'is ear'oles good and proper, I did—and if 'e knows what's good for 'im, he won't be back to bother you again, so let's get to work."
Damaris nodded and resumed her seat at the bench. Her hands had stopped shaking but she had to press her lips together to hide the smile that kept threatening to break out. She could just imagine Mr. Monkton-Coombes's face when he was confronted with Mrs. Jenkins, four foot eight of Righteous Indignation.