Today it is my pleasure to Welcome author
Lisa Berne
to HJ!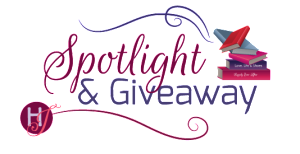 Hi Lisa and welcome to HJ! We're so excited to chat with you about your new release, The Worst Duke in the World!

Hi and thanks for having me here!

Please summarize the book for the readers here: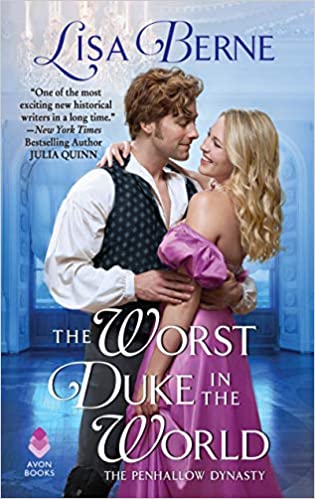 Anthony Farr, the sweet goofball Duke of Radcliffe and a widower with an 8-year-old son, is under tremendous pressure to marry again and produce additional heirs. Eligible candidates are continually thrust upon him, but he digs in his heels in revolt: his first marriage was absolutely miserable and he's vowed he'll do anything to now remain single.
Then, of course, Fate mischievously throws a wrench into his plans, in the form of the newest member of the Penhallow family: Miss Jane Kent, who's very kind, very smart, very fun to be with and altogether quite enchanting. Anthony's resolve begins to waver, but soon the forces of familial opposition (his snobby sister Margaret and the autocratic Mrs. Henrietta Penhallow) align against them.
It's a bit like ROMEO AND JULIET but with, rest assured, a much more cheerful outcome!

Please share your favorite line(s) or quote from this book:
It's hard to choose, but I'm very fond of this simple, understated little snippet from a scene in which Anthony and Jane, newly acquainted, meet up again:
Their eyes met and they smiled at each other.
"I say, you're here," said the Duke, as if something wonderful had happened.
Please share a few Fun facts about this book…
THE WORST DUKE IN THE WORLD is for anyone who might enjoy seeing the whole "duke" thing in historical romance playfully subverted. Also there's a food duel, a pig called Duchess, disparaging remarks about Almack's and the Prince Regent, an unflappable butler named Bunch, a frank aversion to clowns, a vicar who probably looks a lot like Sidney Chambers in GRANTCHESTER, and a running joke about Anne of Cleves (who, incidentally, deserves more credit than she tends to get for her cleverness). Plus, there's a bunch of little allusions to and 'Easter eggs' about Grumpy Cat, ELOISE, THE MATRIX, CHARLOTTE'S WEB, PUSS IN BOOTS, WOLF HALL, the boneless cat in PEANUTS, Samson's famous hairdo, HAMLET and Hello Kitty. I hope my readers will have fun finding them!
What first attracts your Hero to the Heroine and vice versa?
At their first meeting they each have limiting preconceptions of the other: Jane naively expects Anthony, a duke, to swan into the room in a very lofty, regal way, and is surprised to see that he's very low-key, even casual in his appearance and demeanor. And Anthony, perpetually besieged, is too deeply invested in his defensive I'll-never-marry-again attitude to really even register her presence.
But with the Duke's young son Wakefield as a kind of innocent intermediary bringing them together, Anthony and Jane come to realize that not only do they find each other very desirable, they can safely reveal who they truly are: even though Jane's past is disreputable to some, it doesn't bother Anthony in the least, and Jane, who has no interest in social advancement or financial gain, admires Anthony for all his many good qualities without feeling the need to maneuver him into issuing a proposal.
Did any scene have you blushing, crying or laughing while writing it? And Why?
Here's one of my favorite scenes. It makes me laugh, but also, importantly, it demonstrates the lovely relationship Anthony, the Duke, and his son Wakefield share. They're talking together after a mildly disastrous dinner party the night before, during which Anthony's sister Margaret has done her best to steer him right into the arms of their guest, the very eligible Miss Merifield. (To no avail.) This morning Margaret's taking Miss Merifield and her family hunting — at a neighbor's estate.
"Why don't you like to hunt, Father?" Wakefield said, jolting Anthony out of his brooding reverie.

They were standing on the marble steps at the front of the house, watching as the grooms led horses from the stables for Margaret and the Merifields to ride over to Sir Gregory's estate.

"It's not my idea of fun, my boy."

"Why not? You like riding."

"Yes, but I don't like careening after a fox. Hardly seems a fair match. If they could find a fox as large as a horse, I might consider it. Although it would be terrifying."

Wakefield nodded thoughtfully. "Will I have to hunt when I'm the Duke?"

"That's up to you."

"I don't think I will, and then Aunt Margaret can say I'M the worst duke in the world."

"Something to aspire to." Anthony reached into his greatcoat pocket and pulled from it a couple of small squarish confections. "Caramel?"

Wakefield took one, plucked off the dog hairs, and popped it into his mouth. Around it he said, "I say, Father, did you notice at breakfast that I put my fork, my spoon, AND my knife into my porridge?"

"Yes, and I did wonder. Yesterday you only put your spoon and fork in."

"I'm kindicting an experiment, you see."

"Do you mean conducting?"

"Yes, that's what I said. Don't you want to know what my experiment is?"

"I really do."

"Well, I'm trying to see how many things I can put into my porridge before Aunt Margaret notices."

Anthony nodded. It WAS surprising that Margaret, who had an uncanny knack for spotting dust on a shelf that was higher than her own head, had failed to observe Wakefield's illicit deployment of utensils. He supposed he ought to tell Wakefield to stop doing it, but the truth was that Margaret's behavior was so baffling that he didn't feel like it. Also, it was rather fascinating to watch things sinking into porridge. It made him think of quicksand, and how as a boy he had longed to actually stumble across a pond of it and toss things in. To Wakefield he said, "What will you do tomorrow?"

"I was thinking the salt cellar next."
Readers should read this book….
. . . if you're looking for a fun, funny, fizzy historical romance. Literary champagne!
What are you currently working on? What other releases do you have in the works?
I'm working on the sixth book in my Penhallow Dynasty series, as yet untitled. The hero of this one has been flitting in and out of the earlier books, carelessly leaving all sorts of wreckage in his wake: Philip Thane, a charming, devil-may-care rogue who's very much in need of redemption. Luckily for him, the clever, outspoken Miss Margaret Allen is more than up to the challenge . . .

Thanks for blogging at HJ!
Giveaway:

I'm delighted to be sharing two print copies of THE WORST DUKE IN THE WORLD. Open internationally, of course.
To enter Giveaway: Please complete the Rafflecopter form and Post a comment to this Q:

Are you getting "duke" fatigue in historical romance, or are you happy to see more books with dukes as heroes?
Excerpt from The Worst Duke in the World:
If you're writing a book whose hero is a widower with a young child, then of course it's important that not only do the hero and heroine fall madly in love but also that all three of them develop into a family. In this scene, which takes place early in their mutual acquaintance, we can see a little bit of this already happening. Jane's come over to the Duke's house to have luncheon with him and Wakefield . . .
Jane paused as they came to a white marble statue of a severe-looking man's head and shoulders set atop a pillar, on either side of which was a very expensive-looking chair upholstered in elaborately embroidered, deep red fabric. On one of the chairs was curled up a large, morose-looking tabby cat. Jane reached out a hand to pet it, then stopped herself. "Is this the cat that bit you, Wakefield?"

"Yes, that's Aunt Margaret's cat."

Jane pulled her hand away, then realized that she was exactly the same height as the statue. It was rather disconcerting looking into his face, as he seemed to be frowning quite horribly at her, so she turned away and glanced up at the Duke. "Is this one of your relations?"

"Yes, isn't he terrifying? Old Myles Farr, the fourth duke. Or was he the fifth? I can never remember. Apparently Elizabeth Tudor disliked him so much she forbade him to ever come to court again."

"Why did she dislike him?"

"Anyone would," answered the Duke. "Just look at that phiz. Looks like he's been sucking lemons, don't you think? When I was a boy I would scuttle past the old blighter as if the hounds of hell were at my heels."

"I used to also," said Wakefield, "when I was little."

A proper adult, thought Jane, would probably feel obliged to say, When you were little? But you're still little, you know. And even if the adult said it kindly, with all the best will in the world, it would still come out sounding utterly patronizing. Jane was very glad she hadn't said it. She was glad that the Duke didn't either.

And so they passed into the family dining-parlor, where they saw that the chair at the foot of the table was empty. "Bunch," said the Duke, "where's Lady Margaret?"

"I believe she's in her room, Your Grace, recovering from a headache."

"More macaroni for us then," said Wakefield, with a cheerfully callous disregard for his aunt's suffering, and sat down at his place.

Of course Anthony would never have said it out loud, but it was an undeniable fact that luncheon was a lot more fun without Margaret. Nobody glowered, nobody made pointed negative remarks, and nobody looked at anyone else as if they suspected them of using the wrong fork or sneaking rolls into their pockets.

Rather, they had a delightful time speculating about King Richard the Third and whether or not he was the victim of nasty Tudor gossip-mongering, and Anthony told Jane and Wakefield about Perkin Warbeck, a young man who claimed to be the son of one of the princes who had disappeared while being held in the Tower, and how it had cost the reigning king, Henry the Seventh, over 13,000 pounds to put down Warbeck once and for all, which turned Henry into an even greater skinflint who already didn't like spending money on wood to keep his family's rooms warm.
Jane mentioned the bedchamber back home at the Hall that Henry might or might not have stayed in, which made them all wonder if he had, did he insist that a fire not be lit for him, or did he take advantage of his hosts' generosity and keep a fire blazing at all times, which would, really, have been rather disingenuous of him.

After that Wakefield wanted to talk about haggis, which they agreed was certainly a peculiar dish, although, in fairness, England's own jellied eels was a peculiar one too, and Jane told them about her great-grandfather's dubious pamphlet on the use of dried eels to make hair grow faster, a topic Wakefield found riveting, so she shared with them a few other equally dubious remedies having to do with pills made from cobwebs (to treat gout) and also the one about dipping bread in wine and putting the bread up one's nose (to improve a lagging memory and also cure stubborn pustules located anywhere above the waist), and Wakefield had to be dissuaded from trying that one at once using water rather than wine.

By then all the macaroni was gone, and most of everything else, too, and dessert was shortly brought in.

"Apple puffs!" exclaimed Wakefield joyfully.

"I asked Cook to make them again," said Anthony to Jane, "in case you did come over. After church yesterday you said they sounded good."

She smiled at him, and it occurred to Anthony to wonder when was the last time he had been so happy. He couldn't remember, so he repressed a sudden paradoxical impulse to feel incredibly sad, and simply smiled back as best he could.

"Thank you. How very thoughtful. Your Grace. Yes, please," Jane said to the footman who was at her side with the platter filled with apple puffs. She took two, along with a giant dollop of whipped cream, as did Wakefield, and he himself did the same.

Jane took a bite and said, "This is delicious," and Wakefield answered rather blurrily through a mouthful of whipped cream:

"Isn't it just!"

After that a contented silence filled the dining-parlor like bright sunshine, and Anthony found himself noticing, for the first time in years, the wallpaper above the wainscoting, which was a ghastly dark reddish-purple color, and thinking that maybe he would tell Bunch to have it papered over in something more cheerful.

"I feel like having another puff," observed Wakefield, "but it's as if my mouth wants it and not my stomach."

"I'm fairly sure I would explode if I had a third one," Jane said.

"In solidarity, I'll refrain from eating another one also," said Anthony. "We'll be the very picture of sensible moderation. Although, given how much macaroni we all consumed, it may be rather a stretch. Shall we take a turn about the topiary, and remove ourselves from further temptation?"

"Yes, let's," said Wakefield, and so he and Anthony went to put on their coats and Jane her pelisse as well as a bonnet Anthony had never seen her wearing before, with a high poke and a shimmering pink lining and also pink roses on the top which, distractingly, reminded him of her lovely mouth.

Together they went outside onto the back terrace and into the gardens and to the topiary, where they stood for a while looking at McTavish's masterfully clipped Aphrodite shrub. It was a little scraggly given that it was wintertime, but still rendered everything pretty well including Aphrodite's long tendrils of hair and also her breasts and hips and legs, and Anthony found himself wondering what Jane would look like with her hair unbound like that and—once again—without any clothes on either.

He wanted desperately to glance at Jane, who was standing next to him, to reinforce his breathtaking imaginary vision of her, but had an uneasy feeling that if he did, she would know exactly what he was picturing and would think much the worse of him for it. So he shifted on his feet, readjusted his hat, and said, a little too loudly:

"Shall we move on?"

They did, and went to view McTavish's long line of shrubs which he had crafted to look uncannily like pumpkins, and Anthony confided to Jane his hopes for this year's fête, and Jane wished him good luck and also recalled another one of her great-grandfather's pamphlets which said that ordinary household dust was the world's best fertilizer (when combined with a small amount of flat beer) and was also an excellent remedy for night terrors when put into a small pouch and worn around the neck at bedtime.

"That sounds rather silly," remarked Wakefield.

"You'd think so," agreed Jane, "but I remember Great-grandmother Kent saying it was one of their best sellers."

When they finished strolling around the topiary, Wakefield, by now rather bored, said:

"I say, let's go play billiards."

So they all went inside and to the billiards room, where Wakefield explained to Jane the rules and generously let her have first crack at it. Jane only tore the green baize a little bit, and Wakefield poked both Jane and Anthony in their respective backsides with his stick, just for fun, and then (accidentally) ripped a truly magnificent hole in the baize after that, and Anthony made a rather good shot in a corner pocket, and throughout all this they laughed a great deal, and when they had finished their fourth game, Jane glanced out the window, gave a little start, and said:

"Oh, it's getting so late! It will be dark soon. I should go."

"Must you, Jane?" said Wakefield. "I thought we could go down into the basement rooms and look for rats."

"That does sound delightful," Jane answered, "but I'm afraid I really should go home."

"There aren't any rats," Anthony said.

"Yes, but it's fun to look for them, Father. Also, there are odd things down there. Do you remember the time I found that big copper tub and got into it, then couldn't get out?"

"What I chiefly remember is the hours of panic when I couldn't find you."

"Were you very afraid for me, Father?"

"Yes."

"I was a little afraid, too."

"I know."

"I cried like anything when you came."

"Well, I cried also."

"Aunt Margaret said that only girls are allowed to cry."

"What rot," said Anthony. "We men have feelings too."

"Yes, but she also said it was very poor form for a duke to cry."

"That may be true, but as I am, apparently, the worst duke in the world, I daresay it doesn't matter."

Jane said curiously, "Why are you the worst duke in the world?"

He shrugged. "Ask my sister."

"You'd better not, Jane," said Wakefield. "She'll talk your ears off."

"All right, I won't," replied Jane. "I'm fond of my ears."

Wakefield laughed. "That's funny, Jane. Do you like jokes, then? "

"Oh yes, very much."

"I do too. Here's one. A man is eating his salad, and he finds a button in it. So he says to the waiter, 'Look here, there's a button in my salad.' And the waiter says, 'Yes, but sir, it's part of the dressing.' Part of the dressing—isn't that funny, Jane?"

Jane laughed. "Very. Do you know the one about a man finding a fly in his soup?"

"I don't! How does it go?"

"Well, a man is having his soup, you see, and when he finds a fly in it he's very upset, and he makes a great fuss about it, and he says to his wife, 'Look, there's a fly.' 'Oh, you don't have to worry,' says the wife, 'it won't drink much.' "

"Ha! That's a good one, Jane."

"I'm glad you like it. I know some others—I can tell you them another time." She glanced again at the window, and Anthony promptly said:

"Miss Kent, may I drive you home?"

"If you're sure it's not a trouble?"

"Not at all," he said, and she smiled at him, and now, with the prospect of twenty minutes alone together, Anthony forgot all about being the worst duke in the world and instead felt his whole mind being blotted out by the glorious white light of happy anticipation. But not before he remembered to get something from his library and tuck it into the pocket of his greatcoat.
Excerpt. © Reprinted by permission. All rights reserved.


Book Info:
A wayward duke must choose: will he be the bad hero in a love story gone awry, or the brave and clever hero who risks everything for true love? The acclaimed Penhallow Dynasty series continues in this fresh, fun, funny tale!
Life's no bowl of cherries for Anthony Farr, the Duke of Radcliffe. Duty demands he remarry to provide a spare to go along with the heir — and eligible ladies keep trying to finagle him into a proposal. All HE wants is to be a good father to his 8-year-old son, see the Duchess (his truly terrific pig) win first prize at the harvest fête, and stay single. Even if that makes him a Bad Duke. Maybe the Worst Duke in the World.
Then Miss Jane Kent, a long-lost relation of the illustrious Penhallow family, arrives in the neighborhood and is promptly befriended by the Duke's son. Jane, Anthony comes to realize, is smart and fun and also very kissable and dazzlingly desirable. Still, that's not enough to melt his resistance to marrying again. He made a stern promise to himself and promises must, of course, be kept.
But what if that's just his head talking, and his heart . . . is saying something entirely different?
"Delicious." —Sarah MacLean, THE WASHINGTON POST, on YOU MAY KISS THE BRIDE
Book Links:  Amazon | B&N | iTunes | kobo | Google |


Meet the Author:
Lisa Berne read her first Georgette Heyer novel at fourteen — it was the effervescent LADY OF QUALITY — and was instantly captivated. Later, she was a graduate student, a grant writer, and a teacher — and now writes historical romance for Avon Books, with her stories set mostly in Regency-era Britain. She lives with her family in the Pacific Northwest.
Website | Facebook | Twitter | Instagram | GoodReads |