Today it is my pleasure to welcome NY Times and USA Today bestselling author

Jaci Burton

to HJ!
Jaci welcome to HJ, could you tell us a bit about yourself? What would you say are the defining characteristics of a Jaci Burton novel?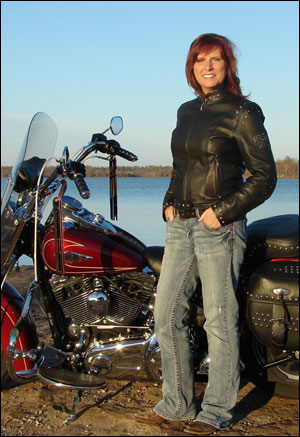 I've been writing romance for about about twelve years now, published for ten. I live in Oklahoma with my husband and three crazy dogs. Between my husband and I, we have three kids, all grown up and making their own way in the world.
As far as the characteristics of a Jaci Burton novel, I'd have to say fun, sexy, emotional, with a lot of dialogue. My characters like to talk! And you'll always find a happily ever after in my books!
In your opinion, what ingredients are needed to make up a good love story?
It's always about the characters. Without compelling characters that the readers grow to love and care about, the story doesn't matter. In my opinion, characters who are flawed, make mistakes, hurt each other, but in the end really love each other and will do anything to be with each other create the best love stories.
If you had to pick one book that made the biggest impression on you in 2012… ? Why?
Tough question, because I read a lot of really great books in 2012. I love Jill Shalvis's Lucky Harbor series. Forever and A Day was one of my favorites. It made me laugh and tugged at my heartstrings. A very unforgettable romance.
What are you currently working on? What can we expect from you in 2013?
I'm currently writing Melting The Ice, Book 7 in my Play by Play sports series.
And I have a lot of books releasing this year! Thrown By A Curve in March, which is Book 5 of my Play by Play series. In April is Nautier and Wilder, the second anthology I've done with awesomely talented author Lora Leigh, which features another of my Wild Riders books. In May is the release of Wild Nights, a digital novella previously featured in the now out of print Exclusive anthology. In June will be the release of the Hot Summer Nights anthology, which will introduce readers to my Hope contemporary romance series. Following that up will be Hope Flames in September, the first single title of my Hope series. And in December I'm releasing Holiday Games, a Play by Play holiday novella.
-Let's talk about your newest release '

Thrown By A Curve

', If you had to sum up the book for the reader here…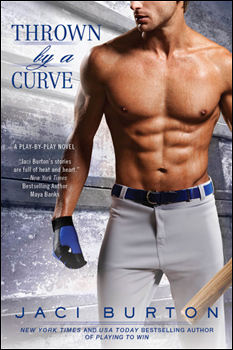 Thrown By A Curve is Alicia Riley's story. She's a sports medicine specialist assigned to rehab St. Louis River's star pitcher, Garrett Scott. It's a big assignment for her, and not an easy one. Both of their careers are on the line, and the heat between the two of them is explosive. They both walk a fine line between getting involved and keeping it professional. Fun stuff! J
If you had to pick your favorite scene from the book..
There's this scene in the dugout…
Who would play Alicia and Garrett in the movie version of your book? And why?
I'm going to leave this one unanswered because I hate to give readers a preconceived notion of how my characters should look. I'd rather they create their own visual. And actually, I never put an actor or model's faces on my characters or visualize anyone as them. In my head, they're unique. I'm weird that way, I guess.
Jaci, thanks for a fab Interview 🙂
Giveaway: Winners choice of 1
backlist from Play by Play books (print or digital)
To enter giveaway: Please complete the Rafflecopter below and post a comment to this Q:
How do you visualize characters when you're reading? Do you give them TV or movie star faces, create what they look like in your head, or none at all?
An excerpt from 'Thrown By A Curve'
"Lift your arms up, straight overhead. Touch the overhead."
He did. His left arm went up just fine, but he winced when he straightened the right. And he wasn't straightening it as easily as the left arm.
"It's just a stretch, nothing too strenuous. Keep it up there and try to straighten your right arm, keeping your arm as close to your ear as you can."
She stood behind him, silently watching.
"See anything?"
"Yes. Now, drop your arms, shake them out for a few seconds, and do it again."
He gave her a look over his shoulder. "This doesn't seem to accomplish anything."
"That's why you're the pitcher and I'm the therapist. Do it again, and hold for a count of ten each time."
He shrugged but reached for the top of the doorway again.
She had him do it five more times. By the last time, it felt like his form was much better. She came up behind him and grasped his shoulders, pushing against the muscles and tendons.
"Right side feels tight," he said.
"Of course it feels tight. You don't move enough. You don't stretch enough. The more you keep your arm immobile, the more scar tissue forms. That's half your problem."
He turned to face her. "And the other half is?"
She tapped the side of her head. "You thinking that your career is over. And because of it, you don't do your home exercises like you should. And because you don't do your home exercises like you should, your shoulder isn't healing. Self-fulfilling prophecy and all that. "
Garrett didn't like how easily Alicia had him pegged. Then again, wasn't that the reason he'd chosen her in the first place? She'd seen right through him, had told him what he needed. And what he needed was someone to push him.
He needed to get back on the mound. He was twenty-nine years old and still had a lot of years left to pitch. He wasn't going to let this injury derail his career. Being out of commission this long had fucked with his head, and he didn't know how to change that.
The one thing he'd always had was control—over his pitches, over his career, and over his life. The past year he'd lost all of it, and he wanted it back. All the team doctors and athletic directors and therapists hadn't helped him get it back.
The therapists he had befriended had done nothing but enable him, allowing him to make excuses and not get the strength in his arm back.
Was that what he wanted?
Maybe Alicia was the key. She seemed confident in her ability to help him, so he had to trust in her. He was running out of options.
He looked down at her, wondering how much he could challenge her. "You're kind of short."
She snorted. "Oh, but I'm mighty. Just you wait and see."
He liked that she didn't insult easy. "You must have brothers."
"One. And cousins. You don't scare me."
"Wasn't trying to."
"Let's go for a walk," she suggested.
"Aren't you going to work out my shoulder?"
"In good time."
"You know it's winter out there."
She cocked her head to the side. "Yes, I do. Afraid of a little weather?"
"No." He hated cold weather. If he'd wanted to be in cold weather, he'd have played football.
"Good. Put your coat on."
"Is this part of my therapy?"
She grabbed her coat. "No. I love freezing my ass off and thought you might want to join me."
"You're kind of a smart-ass," he said as he slid into his heavy winter jacket then his beanie.
"Yeah, I've never heard that one before." She slipped her hat over her head. "Everything I do with you is part of your therapy. Let's go."
About the book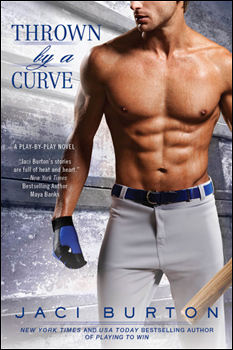 Thrown by a Curve
Book Five in the Play-by-Play Series
She thinks she knows this player—but he has a few surprise moves.
For Alicia Riley, her job as a sports therapist for the St. Louis Rivers baseball team is a home run—until she becomes the primary therapist for star pitcher, Garrett Scott. Out of the lineup with an injury, he's short-tempered, hard to handle, and every solid inch, a man.
Right now, the only demand he's making on Alicia is that she get him ready to pitch in time for opening day. Except the sexual chemistry between them is so charged, Alicia's tempted to oblige Garrett just about anything. But both their careers are at stake—one bad move and it's game over for both of them.
Garrett also feels the hot sparks between them, and the way he figures it, what better therapy is there than sex? Now all he has to do is convince the woman with the power to make the call.
Coming March 5, 2013
Berkley Trade
ISBN-10: 0425253457
ISBN-13: 978-0425253458
Subgenre: Contemporary,Sports, Erotic Romance