Today it is my pleasure to welcome debut romance author

Colette Auclair

to HJ!


Hi Colette, welcome to HJ!
What would you say are the defining characteristic of your novels?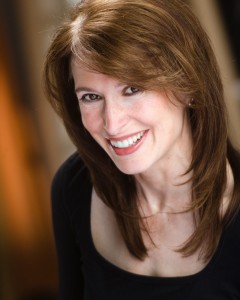 The quick answer is they take place in Aspen and feature horses and the women who love them. The more in-depth answer is they feature heroes and heroines who have to overcome fears and learn a few things to allow themselves to love and be loved. Which makes my books sound very serious, but it's peppered with laughs, since at least a few characters are pretty funny. I also have a tendency to put them in at least a few comically charged situations.
5 best things about being a writer?
1. You can work with your dog sitting on your feet.
2. It's actually desirable to hear voices in your head.
3. Getting The Call–when my publisher bought my book–was one of my life's best 48-second voicemails ever.
4. It's satisfying to have done something that takes so much time and effort and is so daunting at first. (Who am I kidding? It's still daunting, but so much fun–see next answer.)
5. When everything's clicking, when your characters take off and do things you hadn't foreseen as though they're real people and you're a reporter scrambling to keep up–it's completely exhilarating.
What are you currently working on? What other releases do you have planned?
I'm currently working on Jumped, the second book in the three-book series that began with Thrown. So you'll see Grady, Amanda and the gang again. There will, obviously, be a third book as well.
Where can readers get in touch with you?
coletteauclair@yahoo.com
Let's talk about your newest release: THROWN
If you had to summarize the book for the readers here…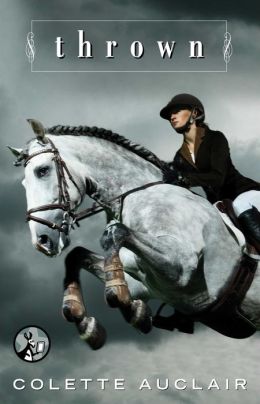 I've often said it's like THE SOUND OF MUSIC, but with horses. It's about Amanda, who loves to ride and train jumping horses, and whose dream is to compete in the Olympics. But something happens that traumatizes her so completely, she can't compete. She takes a job teaching a widowed movie star's bratty young daughters to ride at their summer home in Aspen. She hopes with all her might that by autumn, she'll have recovered enough to show on the jumper circuit again and keep pursuing her Olympic goal. But then there's that darn movie star, and he's charming. And infuriating. And lost when it comes to parenting. And the little girls just want a mom. These relationships develop, along with Amanda's friendship with Harris, the personal chef. When September rolls around, Amanda has decisions to make that she never could have predicted when she started the job in May.
Please tell us about the characters in your book
My pleasure! Amanda Vogel loves horses and riding. She is single-minded and practical. She has found what she loves to do in life and appreciates how lucky she is to be able to do it for a living, but she has also ignored other parts of her life so she show horses. For example, she's barely dated, she's never seriously given a thought to marriage, and she's in her early 30s. In addition, she has surrounded herself with good friends who understand her passion for horses because they share it. She's a perceptive, sensitive teacher and loves watching her students discover the joys of riding. When she's in her element–in a barn or vying for the blue ribbon in a jump-off–she's on top of the world. Out of it–like at a dinner party with the hero–she's impatient, insecure, and looking to escape to her comfort zone. But when she risks letting down her guard, all bets are off.
Grady Brunswick is one of those men who seems to have it easy, because he's handsome, charming, athletic, and a talented actor–one of those guys men want to have a beer with, and women want to marry (or at least date or even have a one-night-stand with!). But if you peer more closely, you'd see he's plagued by fears that he's not good enough, brought on by being raised by a demanding, perfectionist mother. He's afraid he'll make irreparable mistakes raising his two daughters alone, so he hires nannies and avoids the task, wanting to be the friend instead of the parent. He's this tender-hearted, funny, passionate man with a bit of a temper–but only when someone he cares about touches a nerve. Plus he plays the piano beautifully. (Can you tell I am totally in love with him?)
What scene did you most enjoy writing? Why?
This is a tough one–there are so many! But if I have to choose just one, and not give anything away, I loved writing a scene where Amanda has hurt her back and is on some mighty strong painkillers. Her defenses aren't only down, they're obliterated, and she tells Grady exactly how she feels about his children and him.
"You're so nice to bring me dinner. So nice and sooo cute!"
He presented the tray so she could see the food. "You've got lobster bisque, a fresh fruit salad, and a hunk of what I believe he called 'crusty artisan bread'—Tuscan, to be precise. Sparkling water. Dark chocolate—it's Vosges." He pronounced it correctly, vohj. "I had to talk him out of a get-well martini."
"Look at you—always thinking of my liver." She smiled.
"Among other parts," he muttered. "Voilà." He unfolded the little legs on the tray, placed it on her lap, and unfurled a light-green linen napkin for her.
"Sit." She patted the mattress beside her.
"I should be going."
"I could fall asleep and drown in the bisque." She widened her eyes comically.
He smiled. "All right. But just for a minute." He moved around the bed and sat next to her. Amanda smiled. She dipped her spoon into the soup and frowned, then slowly lifted the spoon to her lips and slurped. She looked like it was her first day working with spoons, bowls, and soup. She was silent for several forays, then spoke.
"Your kids like the push-ups."
He looked at her. "That's the drugs talking."
She took another spoonful. "Not the push-ups per se—push-ups per se, thass funny! What I mean is, they like riding, right?"
"Okay?"
"So I've solved the mystery of the nannies."
"What mystery of the nannies?"
"Why they don't like their nannies. They like riding. You know why?"
"Wild guess, but, because it's fun? And by the way, you are really high right now."
What scene was the hardest to write? Why?
A few scenes after the "black moment" (when Amanda and Grady are driven apart, seemingly without any hope of getting back together). They're both angry with each other, and Amanda is giving one of the daughters, Solstice, a riding lesson. It was hard to write because I just wanted them to get over their anger and get back together. And Grady acts like a jerk because he' so hurt, and because I like him so much, I hated to have him be so cranky.
"Sweetie," he said to Solstice, "take the blindfold off."
"I have to ride with it on. That's the whole point of this."
"No, you don't, sweetheart."
"But I want to. It's super fun, Dad. It's like a ride at Six Flags."
"Aren't you scared? Would you rather take it off?"
"Dad, it's fun. Get it? F-U-N."
Amanda had been watching Grady. He looked at her, clearly annoyed, then looked back at Solstice.
"Dad, watch me!"
"I'm watching."
"Okay," Amanda said, and lined Rainy up. Solstice went from walk to trot to canter and took the first jump perfectly. "Come on, Rainy," Amanda said under her breath. The mare launched over each fence with Solstice beautifully relaxed and balanced. Amanda smiled and sighed.
Rainy, proud of herself, gave a small buck and threw Solstice to the front of the saddle.
"Christ!" Grady grabbed the top plank of the fence.
The girl yelped in surprise, but recovered almost instantly and giggled. She halted Rainy. Solstice took off the blindfold, her huge smile a smaller, feminine replica of Grady's.
He said, "That was amazing, sweetie. You're just like National Velvet." He paused. "Amanda?"
Grady shot dead Amanda's sense of relief. She trudged to him again, a Dickensian orphan trudging to the evil owner of the workhouse.
His smile was gone and he spoke quietly. "If she falls off, you're fired. I kept you on because they're excited about the horse show. But if she falls, I don't give a damn about the show. You're fired."
Who would you cast in the role of your characters if your book was optioned for a movie?
Amanda Vogel: Kate Beckinsale; Amanda Peet; Jennifer Garner; Emily
Grady Brunswick: Bradley Cooper; James Marsden; Patrick Dempsy
Giveaway:

2 copies of THROWN (
Digital downloads via Pocketbook  website).
To enter Giveaway: Please complete the Rafflecopter form and post a comment to this Q:

Thrown takes place in Aspen, Colorado, a resort town known for natural beauty and great skiing, as well as being a winter playground for the rich and famous. I chose it because it's well-known, it would make sense for a movie star to live there, and I could easily drive there for research trips. If you were one of the main characters in a romance novel, where in the world would you like to fall in love and why?
Excerpt
Amanda hesitated before picking up the Emmy. But starting today, her life would be intertwined with Grady Brunswick's, so what was the harm? Besides, if he didn't want people touching the thing, he should lock it up. After all, her clients loved to see her grand prix jumping trophies. What did he expect with a freaking Emmy?
She held the golden lady while standing in a round room in the actor's gargantuan log home in Aspen. The room interrupted a hallway—on a blueprint it would strongly resemble a chubby piglet being swallowed by a python. Curving blond-wood walls cradled glass shelves that held glittering trophies. Late-morning May sun blasted the room through a skylight. The air smelled vaguely of Windex.
Amanda hadn't expected the thing to be so heavy. She ran a forefinger over letters engraved on cool metal and wondered if an Olympic medal would shine like this, if the gold would feel like this. She hoped to find out someday.
"Don't tell me I missed the speech!"
Grady Brunswick's familiar, sonorous, decidedly masculine voice was behind her. The mere sound of it made women across the globe collectively tingle, and she was hearing it firsthand, not in surround sound at a multiplex.
She whirled and almost dropped the figure. Eyes wide, mouth open, she was paralyzed and mute.
The in-person Grady Brunswick was both taller and better looking than the movie Grady Brunswick. And the movie Grady Brunswick was extraordinarily good-looking. He leaned his lanky six-two frame against the doorjamb—arms crossed, relaxed as anything—and looked casually elegant in a light-blue shirt and jeans. The same sunbeam that lit the trophies gleamed on his thick, dark-brown hair. Did he pay it to shine on him? There was no hint of the alcoholic, cocaine-snorting, thirty-five-year-old womanizer the tabloids loved.
He continued, looking amused. "Because usually people thank the academy and say the cast was like family. Which was true on that show"—he nodded toward the Emmy—"if by family you mean the Mansons." And he grinned, causing a shimmer of warmth in her belly.
Just then, an eleven-year-old girl with scrambling, coltish legs, a dark ponytail, and squeaking sneakers burst into the room. She aimed an absurdly large water gun at Amanda, grinned . . . and fired.
A fat rope of icy water slammed into Amanda's breastbone and drenched her face, hair, arms, and shirt.
With a gasp, she dropped the statuette.
About the book:
In this lighthearted and sexy romance, a young woman must choose between winning a competition—and the man who has won her heart.
Professional horse trainer Amanda Vogel dreams of riding jumpers in the Olympics, but after seeing her best friend die in a riding accident, she's so traumatized she can't compete. Broke and desperate, she takes a summer job in Aspen teaching some big-shot widowed movie star's spoiled daughters to ride—and braces herself for three miserable months. But the movie star is funny, down-to-earth, and gorgeous—and his spoiled daughters are just desperate for a mother figure. By Labor Day, she has to choose between capturing a gold medal…and the man who has captured her heart.