Today it is my pleasure to Welcome author
Melinda Curtis
to HJ!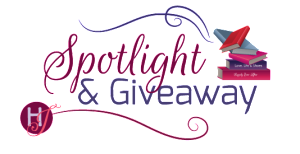 Hi Melinda and welcome to HJ! We're so excited to chat with you about your new release, Time for Love!

Waving to all the Harlequin readers out there!

Please summarize the book for the readers here: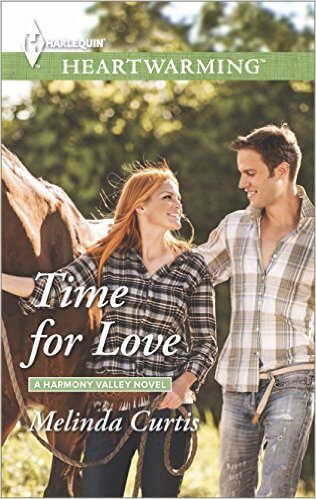 A touching, sweet romance that features a small town with a barnful of horses, quirky characters, a single mom trying to make up for past mistakes, and a sexy horse whisperer.

Please share the opening lines of this book:
When Kathy Harris was as a teenager, she'd dreamed of being a fashion designer, a professional basketball player and an airline pilot—anything to get out of her small hometown.
So much for dreams.She shoveled another pile of manure into the wheelbarrow.
She was back in Harmony Valley, the smallest of small towns in the remotest of remote corners of Sonoma County, California.
Please share a few Fun facts about this book…
I had a horse when I was a teenager that was half kitten, half she-cat. I based the former race horse/now brood mare, Sugar Lips, on my horse.
Abby, the Australian Shepherd in the book, is based on my son's dog, Bonny.
Tally, my young Shorkie, will make her debut in the next Harmony Valley book.
I guess you could say people in my life are safe, but the animals almost always get put in a book!
If your book was optioned for a movie, what scene would you use for the audition of the main characters and why?
The opening scene would be great. Kathy and Dylan meet up right away. Kathy isn't sure Dylan is the right man for the job – helping her save a dangerous colt that was attacked by a mountain lion. And Dylan? He's got his own agenda. Lots of subtelties.
What do you want people to take away from reading this book?
That no matter your past or the obstacles you face, you can find time for love.
What are you currently working on? What other releases do you have planned for 2015?
I'm incredibly excited for the next book in the series. I know you're not supposed to have favorites, but A Memory Away was a joy to write and the first real romantic comedy in the series. The rest have comedic elements and moments.

Thanks for blogging at HJ!
Giveaway:

One commenter will receive an ebook of their choice from Melinda's backlist.
Readers of this blog will be sent a FREE sweet, romantic comedy novella (You've Gotta Kiss a Lotta Frogs) by signing up for Melinda's book release email newsletter. (Note: you must close the loop on sign-up by confirming you are a living, breathing reader via email.) Link: http://www.melindacurtis.net/join-melinda-s-mailing-list
To enter Giveaway: Please complete the Rafflecopter form and Post a comment to this Q:

The horse I had as a teen was nearly too much for me. I had to work hard just for her to consider me worthy of a ride. When I was older, Mr. Curtis and I adopted a very strong willed Labrador, who took constant work to make him behave (not that he was an angel). Have you ever had a pet or raised/rescued an animal that challenged your skills as a caregiver/pet parent?
Excerpt from Time for Love:
There was a loud thud in one of the rear stalls.
"That would be Chance." Kathy hurried to the stall. "I hear you, baby." She slipped inside, moving slowly, surveying the stitches and bandages on the chestnut colt's lower neck and chest. He pranced nervously through the straw, eyeing Kathy as if he'd never seen her before. The stitches beneath his round cheek were oozing and needed attention. "What's up with you, baby? Are you lonely?"
Despite the long gashes, Chance was beautiful. He was only a few months old, his head barely reached Kathy's, and yet he held himself with the proud dignity of a long line of racing thoroughbreds.
Chance froze, staring at the stall door. A moment later, he began kicking, striking out at anything within range—imaginary foes, walls, Kathy.
A large hand gripped Kathy's shoulder and yanked her out of the stall.
"Let me go. I can calm him down." Kathy struggled to free herself as Dylan dragged her back several feet.
In the paddock outside, Sugar whinnied.
"You're not going back in there." Dylan's voice became clipped and seemed to harden until his words hit her like gravel spitting from beneath a semi's tires. "That. Colt's. A. Killer."
Kathy twisted free of his hold. "That colt is why you're here." She was shaking. Shaking with anger and fear and adrenaline. She was shaking and it wasn't because she needed a drink. She and Chance had a lot in common—social handicaps. He by his appearance and outbursts. Her by her reputation as a drinker.
She tugged Dylan out of Chance's line of sight. Sugar trotted back and forth along the paddock fence.
"I heard about this colt, but not from Gage." Dylan raised his voice to be heard above the huffing and hoof strikes Chance was making. "Mountain-lion attack."
Kathy nodded. "Since the drought, they've been coming closer to civilization looking for food. Chance and Sugar were in a remote pasture at Far Turn Farms. They moved them here a few weeks ago." She pitched her voice high, as if she was talking to a baby, taking a few steps back until Chance could see her again. "He's just a scared lamb."
At the sight of her and the sound of her voice, Chance's outburst seemed to lose some steam, just like when her son, Truman, would throw a tantrum as a toddler. A bit of gentle reassurance and everything would be okay.
"He's not a lamb. He's nearly as large as you are." Dylan's face was set in hard, disapproving planes, a cookie cutter of most people's reaction to her past mistakes. She didn't want to admit how disappointing it was to see that familiar expression on his face, especially since she just met the man. "I've seen that look before. Don't go in there. He's a lost cause."
The stall latch was cold beneath her fingers. "That's what some people say about me."
Excerpt. © Reprinted by permission. All rights reserved.

Book Info:
As a kid from a shattered family, Kathy Harris couldn't wait to get out of Harmony Valley. Yet here she is, back home, determined to rebuild her life and regain her young son's trust. But she doesn't expect to work miracles—unlike Dylan O'Brien, the enigmatic cowboy rumored to be a healer of misfit horses.
As they work to save an injured colt, Kathy starts to believe in a future with Dylan that she never thought possible. But one of Kathy's new rules is no more secrets…and Dylan has a big one. One that could destroy the life he and Kathy are building together.
Book Links:


Meet the Author: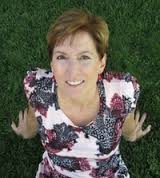 Melinda Curtis is an award winning, USA Today bestselling author. She writes the Harmony Valley series of sweet, light-hearted romances for the Harlequin Heartwarming line. Brenda Novak says: "Season of Change has found a place on my keeper shelf". Melinda also writes the sweet romantic comedy Bridesmaid series and fun, steamy romances. Jayne Ann Krentz says of Blue Rules: "Sharp, sassy, modern version of a screwball comedy from Hollywood's Golden Age except a lot hotter."
Website | Facebook | Twitter |