Today it is my pleasure to Welcome romance author
Christi Barth
to HJ!

All I'm Asking For: A Contemporary Christmas Anthology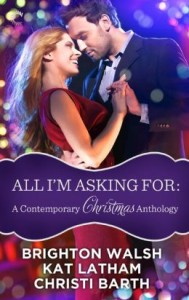 Put love on your wish list
This Christmas, the producer of a small-town holiday spectacular is swept away by a handsome Hollywood director. Being stranded in a snowstorm offers a couple a second chance at a future together. And an American in London helps a brooding Brit put the ghosts of Christmas past behind him. Wherever you are, however you celebrate, this collection of three festive novellas will bring warmth to your holiday season.
Edited by Angela James, this anthology includes:
Tinsel My Heart by Christi Barth
Season of Second Chances by Brighton Walsh
Mine Under the Mistletoe by Kat Latham
Hi Christi, welcome to HJ!
If you were a heroine in a book, your character would be – The girl next door, the damsel in distress, Kick-butt take charge heroine or the aloof ice queen and why?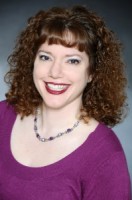 The kick-butt heroine, because I ALWAYS take charge. However, I have a secret fantasy of being rescued by a man in a cape, so I could be the distressed damsel if it got me hot, swashbuckling guy.
Let's talk about your newest release: Tinsel My Heart
If you had to summarize the book for the readers here
Her bad boy best-friend-crush from high school is all grown up…and ready to take their relationship to the next level.
Please tell us about the characters in your book?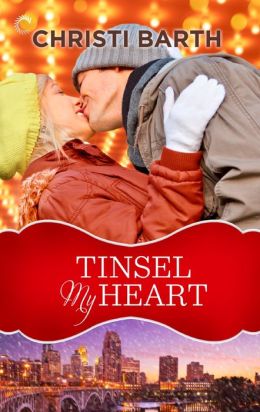 Jack Whittaker hates Christmas. Hates his hometown and vowed never to return. So when circumstances force him back to Minneapolis at Christmas, he's in a pretty crappy frame of mind. Until he realizes he gets to work with his high school best friend and crush, Becca Huntley. She's a forever kind of girl – and he plans to leave this town before the xmas presents get unwrapped – but he can't resist taking his shot with Becca.
Becca's completely in a panic when her annual Christmas production, one the entire town looks forward to, almost falls apart when their director enters rehab. The guy who saves the day? None other than her high school hottie of a best friend. He's definitely not a boy any longer. Jack's grown into a complicated man that she wants to get to know much, much better.
Was it love at first sight for your characters? If not what was the pivotal moment of change?
They'd been best friends in high school. Ten years later, they slip right back into those roles. And they start to appreciate each other as adults even more. So the moment everything changed was when they allowed all the lust to rush to the forefront. Finally acknowledge that they dating is about being best friends…with sex added on top like hot fudge and whipped cream on a sundae. Or, you know, as part of the sex….
If your characters could go back in time and change one thing what would it be? Why?
They would've gone for it in high school. Actually dated, instead of just being friends. Because when you do eventually fall in love, there's always a part of you that pines for the years you missed out on sharing. Now, of course it wouldn't have worked. High school romances rarely do. To get to their HEA, they needed to wait until now, until they both figured out who they were and what they wanted. Just like in real life.
What scene did you have the most fun writing? Why?
I love writing the first official date. Of course, lots of fun and shenanigans – not to mention kisses – can happen prior to that, but a first date carries some serious flirting and sensual tension. Sooo much fun. Here's a peek:
"Damn it, Jack, you've been back in my life for less time than I spend Christmas shopping. Do you really think you've earned the right to force your two-cents' worth of unasked-for advice on me?"
Okay, so he'd pissed her off. Jack decided to toss a little logic out and see if it smothered the brushfire he'd started. "You foisted your opinion of how I should feel about Ty on me. And why you don't think I should hate Christmas. Seems only fair that I get to toss one of my opinions back on you."
A big sigh, one that ruffled her bangs. And then the blue pilot light of temper in her eyes blew right out. "You're right. Being with you again is weird. Too easy, almost, to slip into our old roles. I'm as comfortable as ever talking to you, as if the lack of contact over the years never happened."
Crap. That set entirely the wrong tone for the rest of the evening. Or at least, the long make out session he hoped would happen after dinner. "Comfortable?" Jack nudged aside a braid to drop a kiss on the side of her neck. And was gratified to see goose bumps pop up below the shoved-up cuffs of her sweater. "Comfortable's not exciting. It's dull. Predictable. I don't want you to be comfortable around me."
As he continued to nibble down to her collarbone, Becca tilted her head to grant him better access. "Can I have a do-over?" she asked breathlessly.
"Sure."
"I'm comfortable with Jack-my-friend. With Jack-the-man, I'm distinctly off-balance and excited."
Excellent. Only fair, in fact, since he was having the same trouble reconciling the sweet-sixteen Becca he remembered with the sensual woman who quivered beneath his lips. "I'll take that."
No, damn it, he'd take more. Jack didn't want to keep Becca off-balance just to prove a point. He did it so that she'd topple into his arms. Back then, he'd been infatuated with the girl, but confused about what to do with his feelings. Clueless and scared about how and when to bridge the gap between best friends and boyfriend/girlfriend. Well, he damn well wasn't confused any longer.
How many times had they cooked macaroni and cheese together, or split a pizza for dinner as teenagers? The blast-from-the-past comfort zone of tonight had to go. He'd promised her a date. And when Jack Whittaker dated a woman, food fell way below fun on the priority list.
Moving his lips up her neck, he paused at her ear lobe. Tugged it between his teeth just hard enough to get her attention. "Let's get you more excited." Then Jack swooped. One hand planted just above her sweet ass, pulling her tight against him. The other anchored in the base of her braid. And when she opened her mouth in a surprise inhalation, he covered it.
He feasted on Becca, using all his senses. Inhaled her perfume, which sent a fresh zing straight to his dick. Marveled at the softness of the small slice of skin between her sweater and her jeans. Listened with smug satisfaction to her breathy moans. Tasted Becca's sweetness as he teased his tongue around hers. Then Jack pulled back to look at her. To see her kiss-swollen lips. The redness at her neck from his goatee. Things that claimed Becca as his. For now. For tonight. That thought sent another surge of need to his dick.
So he lifted her off her feet. Set her on the counter, and notched himself against her. Jack's thighs spread hers wide. Clearly on board with his idea, she wrapped them tight around him. Her hands slid up beneath his black T-shirt to roam his back. God, her fingers were soft. It made Jack want to arch his back like a contented tomcat. Instead, he angled his chest away just enough to look at her. Locked onto her aquamarine eyes blurred with passion. Then he took her left arm and slowly pushed up the sleeve of her sweater. Traced one blunt finger from the crook of her elbow to the center of her palm.
Good. Becca's entire body shivered. God, he wanted to feel her do that when they were both naked.
What scene was the hardest to write? Why?
In every other interview I've ever done, I've railed against the sex scene and how hard it is. But this time, the hardest part by far was writing the scenes in the theatre. I had to describe – from an insider's view point – what was going on, without delving into lengthy explanation or tossing in a full synopsis of the entire Christmas pageant. Scenes like that look great in movies, but are super difficult to write.
"Sweetheart, I'm about to start rehearsing a cast of amateurs, kids and goats. I'm gonna do nothing but worry for the next ten days."
Three hours later, Jack was considering changing his tune. Oh, he'd still worry. Any director worth a damn maintained a certain level of rampant panic over every last second of stagecraft right up until the first curtain. Worry that the actors might forget their lines. Forget their blocking. Hell, this show was a musical, so that brought in a whole other level of problems. No dancing—not a lot of polka numbers in the old King James version—so that was good. But the microphones might crap out. The recorded orchestra track might blip. And yes, for the first time, Jack actually had to worry about a goat taking a dump in the middle of the stage. That was a new one.
But his worry wouldn't be at Defcon Ten. Threat Level Midnight. Code Red. Whatever. Turned out that this ragtag bunch of rank amateurs actually knew their shit. Most of them were repeat cast members, so they'd been trained in the basics. They knew their upstage from downstage, knew to look for the spike tape and stand on top of it, and most important of all, knew when to shut up and listen to the director. This show wouldn't be the gigantic cluster fuck he'd expected.
When the stage manager called for a ten-minute break, Becca slid into the seat next to his. "How's it going?"
"That's a loaded question." He shifted, stretched his arms overhead. Hoped the gym in his hotel came with a whirlpool and steam room. The whirlpool to relax his stiff muscles. The steam room to thaw his frozen bones. "Do you really want to know? Or is this show a sacred cow to you?"
Becca leaned back. Kicked her Sorel boots up onto the chair in front of her, which showed off about a mile and a half of long leg. Even through the navy blue cords, he could get a sense of the shapeliness of her legs from the way they clung. Same way he wished his hand could cling to her thigh. Not that he'd actually follow through on that impulse. At least, not during rehearsal.
"I'll admit, I have a soft spot for this production. Probably because I've done it for so long, and I know it touches so many people. Like that woman you met out front. But not just the audience members. The cast, the crew, the board—everyone feels the holiday magic, as corny as that sounds."
She'd told him that Christmas had lost its luster without her grandmother around. If Becca got this mushy over the holidays at half-speed, he'd hate to see what sort of overexcited elf she turned into when she decided to go full-throttle. "It sounds cornier than a corn-shucking contest—in overalls with a banjo playing—at the Minnesota State Fair."
Becca waved off his comment with a languid movement of her long, tapered fingers. "All sentiment aside, I'm a producer first and foremost. I've got a professional reputation to maintain. When my name is listed on the front of a program, it better be a damn good show. So yes, I really do want to know how it's going. What you think."
Now she was speaking his language. And it turned Jack on even more than the way her breasts rose and fell beneath that tight sweater, mere inches away from his arm. Sure, the physical attraction and friendship he'd always felt for her was still there. It boomeranged back pretty much the moment he saw her. Hell, to be honest, there wasn't a month that had gone by over the past ten years when he hadn't thought about Becca. Wished for the chance he'd never gotten with her. But now, seeing her obvious talent in his chosen field? That shared professionalism and dedication? It amped up his attraction even more.
"I think you've done an amazing job turning dross into gold. I think the level of this production is heads and tails better than I expected."
Her smile was like the sun coming out after a hurricane. Bright, shiny and oh-so-welcome. "I can't tell you how happy I am to hear you say that."
"Don't get me wrong." Jack looked down at his legal pad full of notes. "The blocking's pedantic, the guy playing Herod strokes his fake beard every damn time he says a line, and the lighting chart I saw will have to be completely reworked for filming. But overall? It doesn't suck."
"High praise, indeed." Becca twisted in her chair to look at him. Leaned on one hip, keeping her balance on the armrest. Jack wished he was on the other side of her, to get a better view of that sweet ass canted up in the air. She lowered her voice, and leaned in close enough he could smell her perfume. Perfume that smelled like a bottle of pure spring air, if that air came from a wildflower-filled meadow with a rollicking stream. "So what's wrong?"
"I just told you." Jack stabbed his pen on his notes. "Those red gels are too harsh, and I'll freaking handcuff Herod to a pole if it's the only way to keep his hands off the beard. Who wears a fake beard days before the dress rehearsal, anyway? If he likes it so much, he should just grow a real one."
How did your character spend the week just before the story starts?
Jack spent the week pulling his best friend and partner off a drug bender and putting him into rehab. Doesn't sound much like a Christmas story, you say? Well, Becca spent the week preparing for the annual 100+ person Christmas pageant extravaganza. Goats, volunteers, costumers, actors…and a triple dose of Christmas spirit.
Who would you cast in the role of your characters if your book was optioned for a movie?
Are you kidding? I can't start writing until I have my characters cast! Be sure to check out my Pinterest boards – I make one for every book. This book would star the absolutely dark, dreamy and dangerous Colin O'Donoghue. Don't recognize the name? He plays Captain Hook on Once Upon A Time (I'll pause for a moment so you can all drool in peace). And the utterly Norwegian looking heroine would be played by Taylor Swift.
What are you currently working on? What other releases so you have planned for 2013 into 2014?
I'm almost finished with the first book in my new trilogy – literally – should finish it this week (whew!). This series is set in the Finger Lakes of New York. Here's my one sentence peek at it: A hard-nosed businessman with contempt for small town America is forever changed by the love of a sexy hotel owner and a quirky but tight-knit community famous for its anonymous journal by the shore. Coming sometime in 2014!
But first, A Matchless Romance, Book 4 of the Aisle Bound Series, releases on February 17, 2014. I think of it as a 40,000 word epilogue to the series. You'll get to see Ivy & Ben's wedding, as well as (of course) another great love story. Also coming in 2014 is the sequel to my beach fling book, Love At High Tide. This time the beach is Atlantic City. Still waiting for a title, but I can give you a tease. Rebound flings are supposed to have soft landings, but one sexy cop is about to fall hard…
Thanks for blogging at HJ!
Giveaway:
1 ebook of Tinsel My Heart, 1 ebook of All I'm Asking For: A Contemporary Christmas Anthology
To enter Giveaway: Please complete the Rafflecopter form and Post a comment to this Q:
What's the one decoration that has to go up first for you? The one that *makes* it truly Christmas?
Except
She picked up the end of her braid and tickled his cheek. "Told ya."
The silken hair set off a chain reaction in his body. Blood pounded south in great, galloping leaps and bounds to pool in his crotch. Jack hadn't experienced an insta-hard-on like that in years. He quickly shifted the black script binder across his lap.
"You've changed, Becca."
"Since high school? I would hope so." Then her lips pursed. "Okay, you've piqued my curiosity. Exactly how have I changed?"
"You've grown from a pretty girl into a beautiful woman."
"Oh." Her pale cheeks turned the color of ripe strawberries. It made Jack wonder if her nipples were the same color. Or would turn that color after he used his lips on them. "Um, thank you. And let me just say that adding a few pounds of pure muscle didn't hurt you any, either."
Interesting. Might as well push a little harder, see what developed. "Here I thought you were going to comment on my righteously masculine goatee."
As if lifted by marionette strings, her hand rose, scraped along the end-of-day stubble on his cheeks to trace the outline of the goatee. "It, ah, makes you look devilish."
"Want to dance with the devil?"
"What?" Her gaze flew up to meet his as her hands dropped to her lap. "You want to dance?"
Super literal people made flirting much more difficult. Jack sighed. "Metaphorically." When she still looked bewildered, he continued. "Forget it. Do you want to have dinner with me?"
She blinked, rapidly. Looked down at her hands twisting together. "That depends."
It wasn't a complicated question. Jack didn't want her take on the crisis in Syria. Why would a simple dinner invite come with conditions? "On what?"
Becca looked over both shoulders, as if to check they were still alone. Or as alone as you could get in a threehundred-seat theatre full of people milling about from the lobby to the dressing rooms. "Are you just lonely, Jack? Because of Ty?"
"I'm a grown-ass man. I can eat by myself," he growled.
"I know. I guess my real question is, do you want to have dinner with just anyone? Or do you want to have dinner with me?" She fluttered her hands up to cover her heart.
Now he got it. Well, he didn't get why she had the crazy female insecurity, but at least he knew what she was driving at. "I want to have dinner with you. Only you. Not because we used to be good friends. Not even because we've slid pretty well back into those roles. And not just dinner." Jack grasped her chin between his thumb and forefinger. "You're a beautiful woman who heats me up every time you slide those cool lake eyes over me. With enough talent and know-how and passion for my business to make for interesting conversation. So what I want from you, Becca, is a date."
To his utter surprise, she didn't blush again. Or look away. Or for that matter, look flustered at all. Instead, she mimicked his pose, putting her hand to his mouth. Rubbed her soft thumb in a slow glide across his lower lip. Her eyes darkened from the clear blue of Lake Harriet in the summer to the darkness of a winter's night.
"Well, why didn't you say so? Of course I'll go out with you."
No matter how many he tried on for size, women never failed to confound him. Jack didn't know what he'd said to peel off her timidity. Didn't care, either. Just looked forward to an evening filled with more surprises from the woman he was discovering he liked even more than the girl he used to adore.
Book Info:
Becca Huntley's produced the Lyndale Park Players' over-the-top Christmas show for ten years. It's a beloved Minneapolis tradition, and the theater's main fundraiser. But this year's production is in danger of being canceled when their director disappears into rehab. Good thing his directing partner steps in to save the day. Except for the minor fact that he hates everything about Christmas.
Jack Whittaker wiped this town off his shoe with his graduation tassel and never looked back. But duty compels him to fulfill Tyler's promise to direct the show. Even though it means working with Becca, the girl he always wanted, lost to Ty, but never forgot.
It'll take more than a few handfuls of tinsel to soften Jack's heart toward Becca's favorite holiday. Steamy kisses that melt the snow right off his boots are a step in the right direction. They'll both discover that Christmas is about making each other's dreams come true. But will it require sacrificing their chance at a happily-ever-after together?
Book Links:
Author Bio
Christi Barth earned a Master's degree in vocal performance and embarked upon a career on the stage. A love of romance then drew her to wedding planning. Ultimately she succumbed to her lifelong love of books and now writes contemporary romance. She is the award-winning author of the Aisle Bound series. Christi is President of the Maryland Romance Writers and lives in Maryland with her husband.
Website | Facebook | Twitter |