Today it is my pleasure to Welcome romance author
Joss Wood
to HJ!

 Hi Joss, welcome back to HJ!
What is your favorite trope to read, one you will never get tired of?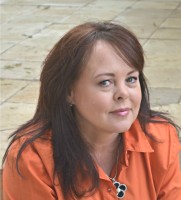 Oh, wow…thinking, thinking. I'm a bit of a sucker for a baby story and a make over story and a bad girl/good guy or bad guy/better girl story. I love free spirits and…I just love love stories. Pretty much every way they play out.
 Let's talk about your newest release: Too Much of A Good Thing?
If you had to summarize the book for the readers here
After her parents death when she was nineteen, Lu Sheppard has spent the last ten years of playing mom to her younger brothers. Her boys are off to university and she's determined not to fall victim to empty nest syndrome. She wants to make up for lost time! Item number one on her list? A man to have some fun with!
Super starry rugby coach Will Scott is just what Lu needs to ease herself back into the dating game. Only in town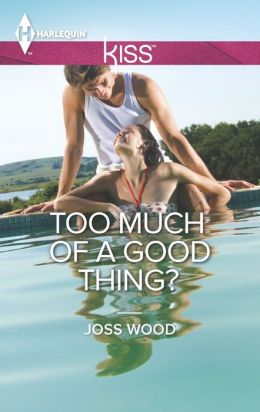 temporarily, king of the fling…he's perfect. But his kisses are so electric that remembering they have an expiry date is getting harder. Suddenly Lu starts wondering…maybe it is possible to have too much of a good thing!
Please tell us about the characters in your book?
Lu isn't quite sure who she is and where she is at. She's had to put her career as a burgeoning photographer on hold to raise her younger brothers and she knows that she's ten years behind, career wise. She hasn't dated much lately because men tend to run away when they realize that she comes with two brothers, a fish tank, a large house, dogs and cats. She knows that she needs to ease back into her life, needs to find a job, try new things, start to date…and Will is a perfect perfect man to practice on!
Will…well, he has had a very interesting past. An international rugby legend, he nearly threw away his career when he hooked up and married the bad girl of tennis, Jo Keith and they were wild! When they divorced, Will decided that he wasn't able marriage material and he isn't interested in anything more than a hook up. His friend Kelby challenges him to try something different with a woman. Will tells Lu that they can either hook up and never see each other again or they can hang out and be friends during his brief sojourn in her city.
Was it love at first sight for your characters? If not what was the pivotal moment of change?
No love at first sight….but lust, yes, there was plenty of that! Right from the beginning they both knew that they were deeply attracted to each other but Lu decided she needed a friend to have fun with more than she needed a brief hook up and Will wanted someone to hang with in a strange city. And they have so much fun together that neither of them wanted to ruin it by complicating it with sex.
The pivotal moment of change comes about when they can't resist the heat between them anymore and Lu suggests that have a one night and they promise each other they'll go back to being friends and normal in the morning. Um…normal? Not with these two!
If your characters could go back in time and change one thing what would it be? Why?
Will is deeply embarrassed about his wild past and the fact that he nearly ruined his career with the wild partying and feeding the tabloids when he was younger. Lu, for many reasons, wishes her parents hadn't died in a car crash.
What scene did you have the most fun writing? Why?
I loved writing the scene where Lu does the calender shoot with naked Stingray rugby players….Will didn't enjoy this scene half as much as I did!
The room roared, Matt high-fived her and Lu was still laughing as the Will stepped away from the wall and cleared his throat. Cold eyes drilled through her and her laughter died in her throat as the room fell into an uncomfortable silence.
He jerked his head at the gym door. 'Outside.'
Lu frowned. 'Sorry?'
'I want to talk to you…outside.' Will stated in a biting voice vibrating with anger.
'Lu's in trub-bel.' Matt sang and winced when Will walked up to him and slammed his hand against Matt's chest. Matt took two steps backwards.
'If you know what's good for you, you'll shut the hell up.' Will calmly stated, his eyes spitting.
Matt held his hands up. 'Yes, boss.'
'You, outside.' Will looked at Lu and his furious expression had Lu climbing down from the table and walking towards the door.
Lu heard the door slam behind her and looked up at Will who was, obviously, thunder cloud angry. What was his problem?
'Stop flirting with Matt.' Will stated through clenched teeth.
Wha-at?
'Jeez, Will, he was just trying to make the situation less awkward.' Lu replied, confused. He couldn't be taking their banter seriously, could he? 'What is your problem?'
Will stepped in front of her and pushed her back against the wall. He placed a palm on the wall next to his head and he loomed over her. 'My problem? You're about to get fifteen guys naked and the only one I want you to see naked is me. That's my problem. I'm pissed and frustrated and as horny as hell. That's another problem. I don't care if this is your job. I. Don't. Like. This.'
It was the first time she'd seen Will totally stripped of the cloak of control he constantly wore. His eyes were full of misery and frustration, his body was clenched with tension. He looked, almost, unhinged.
Over her. Being surrounded by hot, buff men…Well, shoo!
And as much as she wanted to smash her mouth against his and be kissed by this out-of-control Will, she had a job to do, a job that was important to her. The other rugby franchises, as Kelby had told her, were hiring big name photographers to capture their image for the calendar but he had faith in her that she wouldn't let their side down.
She had no intention of doing that but she couldn't do it with Will hovering like an angry tornado; he'd make the players tense, they wouldn't relax while he was watching over them…and she wouldn't be able to function. She had to get rid of him. Yet she knew that nothing shy of a dynamite stick would get him to leave.
So Lu stood on her tip toes, slammed her mouth against his and slid her tongue into his mouth. Her kiss was open mouthed and hot enough to drain all the blood from his brain…just what she needed. It took all her willpower to step away before Will caught her in his grip and wouldn't let her go.
Stepping back quickly, she gave him a quick salute, slipped through the door to the gym, slammed it closed and turned the lock. Ignoring his furious fist pounding against the door she walked back inside to a box she'd carried in earlier and yanked out an i-Pod and external speakers.
'Who wants music?' she loudly asked.
'Hell yes! But a drink would be better!' Matt loudly responded above the chorus of approvals and whistles.
Lu grinned as she pulled two bottles of tequila from the box and waved them in the air. 'I think this would be a damn sight easier with a couple of shots. There are quite a few bottles so don't be shy. But we'd better get slammed before Mr Grumpy breaks down the damn door!'
What scene was the hardest to write? Why?
Funnily enough, the hardest scene for me to write was the initial scene and how they met which was pretty unusual. It was a serious situation for Lu to find herself in yet I didn't want to make it too dark and Will had to come across as heroic. (Sorry no snippet, it's a huge spoiler alert!)
I felt quite emotional every time I wrote about Mak and his special needs, rugby mad son… here's a taster
View Spoiler »
Lu pulled to a stop outside St Clare's and turned in her seat to look backwards. Deon was looking a little grey, his hands were trembling and his knee bounced up and down. Mak was looking equally nauseous. He might be tough and forthright but he was a marshmallow when it came to his son.
Lu touched his shoulder before leaning back to pat Deon on the thigh. 'I told you that my brothers went here and that it's a really nice school? Remember that Mr Klimt, the principal, doesn't tolerate bullying.'
'Mt Klimt doesn't go into the boys bathrooms.' Deon said in his slow, measured voice. Lu sighed, the child might be challenged but he was not a fool. How was she going to get either of them out of the car and up the steps that led into the school? They were both anxiously watching the streams of laughing, smiling chatty kids mingling on the grass, within the school quad, leaning against walls and doors.
They looked confident and happy…no wonder Deon and Mak were terrified. Hell, even she was feeling a bit intimidated.
'I want to go home.' Deon said and dropped his chin to his neck,
God, she couldn't cry, that wouldn't help anyone! Terrified or not, someone had to take charge. 'Right, let's get your stuff together, dude.'
Lu sighed as her mobile rang and she picked it up and sighed at the display. 'It's really not a good time, Will.'
'It's a very good time.' Will replied, laughter in his voice. 'Tell the kid that his posse has arrived.'
'What?'
'Look in your review mirror, mermaid.'
Lu slid a glance to her mirror and laughter bubbled up in her throat. Walking down the pavement, dressed in their Ray's training uniform, looking as intimidating as all hell were Jabu, Matt and three other prominent Ray's players. Will and Kelby walked behind them, Will had his mobile in his hand.
Lu swallowed down the emotion and turned to Deon, her face alight with excitement. 'Ok, Deon, this is a mega big day for you.' She winked at Mak who'd caught sight of the players who'd come to a stop outside her car and his jaw fell to his lap. Lu reached over and lifted Deon's chin up. 'I know this is scary but some special people thought that you might need someone to see you into school. Say hello to my friend, Jabu.'
Jabu ducked his head inside the car and a long as she lived, Lu knew that she would never forget the look on the little boy's face when he saw his biggest sporting hero. The back door flew open and Deon tumbled into Jabu's enormous arms. Jabu held him with ease and calmly ignored his shakes as he introduced him to the rest of his team mates.
Lu looked at Mak, whose Adam apple was bobbing with restrained emotion. 'Did you know about this?' he demanded.
Lu shook her head and sniffed. 'Not a damn thing. Will must have organised it.'
Mak pressed the heels of his hands against his eyes. 'I'm really liking this guy, Lu.'

« Hide Spoiler
How did your character spend the week just before the story starts?
Lu spends the week feeling sorry for herself and wafting around her very empty nest; missing her brothers and all that noise and messiness that accompanied their presence in the house.
Back in New Zealand Will was preparing for his three month stint in Durban as a care taker-coach for The Stingrays, not really sure if he can pull off the job (he's a player not a technician!) but knowing that he owes his best friend Kelby, the 'Ray CEO, to try.
Who would you cast in the role of your characters if your book was optioned for a movie?
For Lu Jenna Elfman with short, blonde hair and for Will the Australian actor Brett Tucker.
What are you currently working on? What other releases so you have planned for 2013 into 2014?
I have a few books out in 2014, The Last Man She Should Call ( my free spirited world traveler Rowan comes home to roost) in February, in April my down to earth heiress Morgan meets her match in bodyguard Noah, in Flirting With The Forbidden. In June, workaholic Ally recruits Ross to promote her family's clothing and accessory line in More Than A Fling.
I'm in a Christmas anthology- out in October 2014- with Maisey Yates and Carole Mortimer called Christmas With the Billionaire so I have a busy year ahead!
Thanks for blogging at HJ!
Giveaway:

I am giving away two print copies of and two e-books of Too Much of A Good Thing.
To enter Giveaway: Please complete the Rafflecopter form and Post a comment to this Q:

Because I am a voracious reader, as all authors are, I'm always looking for new authors of romance (and romantic suspense). Do you have a favorite? Who is an auto buy for you? Let me know so that I can discover some new authors too!



Joss xxx
Except
'I need to ask you if you meant what you said in Kelby's office?' Will asked.
Lu frowned. 'Which part?' she asked, wary.
'About not wanting to get involved with anyone?'
'Yes.' She needed to stand on her own feet first before she tried to walk beside someone else. Find out what made her tick, what made her happy.
'Ok, so here's what I'm thinking. I can take you to bed− and yes, I'm alive and breathing and you're hot so God knows I want to− and we'd sleep together and have a lot of fun. But I wouldn't see you again. It's not what I do… and it could be weird seeing that we have to work together for the next three months. '
'Ok.' What was she supposed to say to that? And where was he going with this?
'Or I can not take you to bed and see you again.'
Huh?
'Look Lu, at the risk of sounding like a like a conceited ass, I can walk into any club in the city and have someone in my bed every night.'
'You're right, you do sound like a conceited ass.' Lu murmured.
'But I don't have someone to hang with, someone to pass the time with. I enjoy your company, even when you are trying hard to hide your irritation.'
He'd been thinking about it since he'd last seen her, thinking about what Kelby said. Despite his issues around relationships, he genuinely liked people and enjoyed being around them. He couldn't foist his after-hours company on his team mates, he was their boss and who wanted to socialise with their boss? And Kelby had his family and didn't want or need him around. Being single in a foreign city could be bloody lonely and having someone to hang with would make time go faster, would kill the hours away from the stadium.
Pushing his attraction to her aside− he could do that, he wasn't a hound dog −he genuinely enjoyed her company; she was restful, easy to be with. Lu was real in a way that he hadn't encountered in a woman in long time. When last had he felt so at ease, relaxed, with a woman?
With her, he felt like he was himself. Not Will Scott, he curled his lip, the legendary All Black, not the Caretaker Coach that everyone was watching to see what he did with their beloved team. Not Jo Keith's unreliable bad boy ex-husband.
Just Will. He really liked being just Will.
And he enjoyed the fact that she didn't simper or smirk and hang on his every word. That she could call him a conceited ass. Apart from his sisters, who called him far worse, every other woman he met only ever complimented him.
It got old, very quickly.
He made it sound so easy, so simple, Lu thought. And it could be that simple, if she didn't over think this. Sex and walk away or no sex and a couple of weeks of hanging together, having fun.
She wanted sex but she needed fun. She wanted to laugh like she had earlier, try new things, stagger to work bleary eyed because she'd been out having a blast. She wanted to drink cocktails and wear pretty dresses and try new foods. She wanted to recapture a little of the youth she'd lost; to live life; taste it, feel it, experience it.
And she just knew that she would have more fun with Will than without him.
Book Info:
Joss Wood wrote her first book at the age of eight and has never really stopped. Her passion for putting black letters on a white screen is only matched by her love of books and travelling (especially to the wild places of Southern Africa) and, possibly, by her hatred of ironing and making school lunches.
Fueled by coffee, when she's not writing or being a hands-on Mom, Joss, with her background in business and marketing, works for a non-profit organization to promote the local economic development and collective business interests of the area where she resides. Happily, and chaotically, surrounded by family, friends and books, she lives in Kwa-Zulu Natal, South Africa with her husband, young children and their many pets.
Author Bio
Joss Wood wrote her first book at the age of eight and has never really stopped. Her passion for putting black letters on a white screen is only matched by her love of books and traveling (especially to the wild places of Southern Africa) and, possibly, by her hatred of ironing and making school lunches.
Fueled by coffee, when she's not writing or being a hands-on Mom, Joss, with her background in business and marketing, works for a non-profit organization to promote the local economic development and collective business interests of the area where she resides. Happily, and chaotically, surrounded by family, friends and books, she lives in Kwa-Zulu Natal, South Africa with her husband, young children and their many pets.
Website | Facebook | Twitter |