Today, HJ is pleased to share with you Tessa Bailey release: 

Too Wild to Tame

Sometimes you just can't resist playing with fire . . .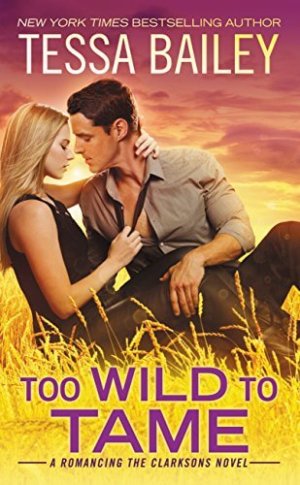 By day, Aaron Clarkson suits up, shakes hands, and acts the perfect gentleman. But at night, behind bedroom doors, the tie comes off and the real Aaron comes out to play. Mixing business with pleasure got him fired, so Aaron knows that if he wants to work for the country's most powerful senator, he'll have to keep his eye on the prize. That's easier said than done when he meets the senator's daughter, who's wild, gorgeous, and 100 percent trouble.

Grace Pendleton is the black sheep of her conservative family. Yet while Aaron's presence reminds her of a past she'd rather forget, something in his eyes keeps drawing her in. Maybe it's the way his voice turns her molten. Or maybe it's because deep down inside, the ultra-smooth, polished Aaron Clarkson might be more than even Grace can handle . . .

Enjoy an exclusive excerpt from Too Wild to Tame: 
Grace stepped back and allowed the door open a few feet, marveling over the living room's transformation, courtesy of having Aaron walk inside. It went from quiet and empty to rife with life, energy.
Aaron's throat muscles shifted when he saw her, his progress halting just inside the door, that gaze she wanted to hold so badly dipping to her legs and heating. "You have a robe or something you can put on?"
A shiver passed through the lowest region of her belly, warmed and chilled simultaneously by the drop in his tone, but she managed a headshake.
"Of course you don't," Aaron said, whipping off his suit jacket and closing the distance between them in two brisk strides. He seemed so full of plans and purpose until he got close and appeared to realize he'd have to put his arms around her in order to get the jacket on. She couldn't stop staring at his jaw, bunched so tight, as his arms surrounded her without touching—not so much as a brush of arms against shoulders—and dropped the jacket around Grace in a plop of warmth. Then he eased back a few steps, looking like the survivor of a tornado. "Better."
"Is it?"
Lines formed between his brows. "What happened to your hair?"
Grace experienced a wave of appreciation, just having someone to talk to about her day—even someone who thought her off. Even someone who was kind of responsible for some of the bad parts. "The hair stylist cut out the ribbons and threw them in the trash. The rest just kind of washed away."
The atmosphere around them went still. Like maybe it was holding its breath. "Are you going to put it back the way it was?"
"I don't know." Discomfort, maybe even grief over having the symbol of her freedom taken away, slid down the walls of her throat, making her speech sound unnatural. "It seems like a lot of work just now."
A handful of seconds passed. "You're supposed to be smiling and talking about bears and asking me existential questions." He seemed confused by whatever thoughts were moving through his head. "I don't like it when you don't."
"Oh." He'd been very aware of her, hadn't he? Of her words. Something compelled her to let Aaron know she'd noticed his qualities, too. Because she had. Way too much. "Why don't you smile very often? You have lovely teeth."
The corner of his mouth jumped, as if his body wanted to prove her wrong, but his brain shut the idea down. "I do smile. When it can make some sort of difference."
She nodded, relieved that he'd answered at all after the teeth remark. "When you're politicizing."
"Yes."
"Or charming a woman."
Grooves formed between his eyebrows. "I haven't smiled at you, have I?"
"No." Her knees turned gooey. "But you're not trying to charm me."
"If I was, I'd be doing a pretty shitty job." He gave her a hot, thoughtful once-over as he raked a hand through his hair. "Smiling is meant to invite people and often mislead them. Make them like you, trust you, want more of you. Those are goals I only have in my professional life."
How could such an astute man not hear the ache in his own voice? "Why?"
"Because it's only a matter of time before they see…" He shook his head. "The smile is a decoy. It's not real. And then they're sorry they ever looked beneath it."
Excerpt. ©Tessa Bailey. Posted by arrangement with the publisher. All rights reserved.
Giveaway:

Print copy of Too Wild to Tame (Romancing the Clarksons) by Tessa Bailey
To enter Giveaway: Please complete the Rafflecopter form and post a comment to this Q:

What is the first physical quality you notice in a man? Why?
Meet the Author: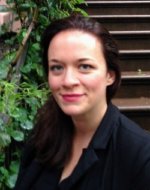 Tessa Bailey is originally from Carlsbad, California. The day after high school graduation, she packed her yearbook, ripped jeans, and laptop, and drove cross-country to New York City in under four days. Her most valuable life experiences were learned thereafter while waitressing at K-Dees, a Manhattan pub owned by her uncle. Inside those four walls, she met her husband, best friend, and discovered the magic of classic rock, managing to put herself through Kingsborough Community College and the English program at Pace University at the same time. Several stunted attempts to enter the work force as a journalist followed, but romance writing continued to demand her attention.
She now lives in Long Island, New York with her husband and daughter. Although she is severely sleep-deprived, she is incredibly happy to be living her dream of writing about people falling in love.
You can learn more at:  Website | Facebook | Twitter | Instagram | Goodreads
Buy:  Amazon | Barnes & Noble | Books-A-Million | Google Play | iBooks | Indiebound | Kobo |