Today it is my pleasure to welcome New York Times bestselling author
Monica Murphy
to HJ!
 Hi Monica, welcome to HJ!
5 things HJ readers should know about you?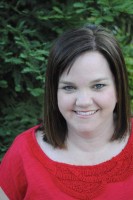 I also write contemporary romance as Karen Erickson.
The most important men in my life (my husband and two sons) were all born on the 26th.
My sons are also named after cheese (this is kind of embarrassing but I love both names dang it!)
I have a sad, pitiful addiction to diet Coke.
My dream vacation is somewhere alone with no deadlines so I could read all day and night. I miss reading – I don't do it nearly as much as I wish I could.
Let's talk about your newest release: TORN
If you had to summarize the book for the readers here
Gage and his two friends had made a bet (and you witnessed that bet if you read the first book in the Billionaire Bachelors Club – CRAVE) that the last one not tied down would win one million dollars. All three of them were pretty confident they wouldn't fall but of course, I as the writer, had to prove them wrong.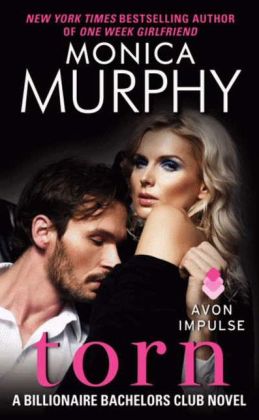 So Gage meets Marina and discovers her family owns a piece of valuable property he wants. Marina doesn't want to sell. She thinks Gage wants to be with her only for the property. Gage at first felt that way but…he eventually falls for her. Naturally.
Please tell us about the characters in your book?
Gage is young and smart and determined. Sexy and charming yet completely dumbfounded when it comes to Marina. She renders him borderline stupid every time he gets around her, he's that enraptured with her.
Marina, on the other hand, has this air of confidence and a don't mess with me attitude but deep down, she's scared. Scared of losing her family business, scared of what might happen to her if she does actually lose it. And she's scared of her growing feelings for Gage.
Was it love at first sight for your characters? If not what was the pivotal moment of change?
It was definitely not love at first sight, at least for Marina. She pretty much hated Gage on sight despite her attraction toward him. Gage on the other hand, was completely intrigued with Marina and wanted to get to know her better. He had no problem laying it on the line for her, while Marina would rather run away and hide.
He finally gets her to come around though. Don't worry. 😉
If your characters could go back in time and change one thing what would it be? Why?
Since I'm a person who doesn't believe in changing or regretting things, I'm going to say my characters wouldn't want to change a thing either. If Gage or Marina changed what happened in their past, they might've never met, you know?
What scene did you have the most fun writing? Why?
There's a scene where Gage picks up Marina and they're driving to a restaurant and um, Marina becomes aroused by watching him drive. As I was writing it, everything just came to me out of nowhere. I had no idea Marina was such a speed/adrenaline junkie until that moment!
What scene was the hardest to write? Why?
The turning point or "black moment" as writing classes/books like to call it. That moment in the book (and I'm not really going into detail so I won't spoil it) where things are discovered that could ruin their relationship. Sometimes I really dislike being so mean to my characters. But that would make a very boring story, no? 😉
How did your character spend the week just before the story starts?
Hmm, the both of them were working hard and worrying about their own personal issues. Doesn't sound like much fun but Gage and Marina needed each other so they could find balance in their lives. They just didn't realize it yet.
Who would you cast in the role of your characters if your book was optioned for a movie?
I never used visuals for any of the characters in this book so I really don't know! This question is always so hard for me… 😉
What are you currently working on? What other releases so you have planned for 2013 into 2014?
The third and final book in the Billionaire Bachelors Club (SAVOR) will be out January 21st. The third book in my One Week Girlfriend series, THREE BROKEN PROMISES, will be out 12/31, with the fourth book (FOUR YEARS LATER) out February 25th. There's also a Drew + Fable novella coming out in January as well. And as always, there are other things in the works and I hope I can announce more information soon!
Thanks for blogging at HJ!
Giveaway:

Print signed copy of CRAVE.
To enter Giveaway: Please complete the Rafflecopter form and Post a comment to this

Q: What's your favorite type of romance? Friends to lovers? Opposites attract? Boss/assistant? Or something else? (I'm a sucker for all three personally!) Let's discuss!
Except
"Well. He sounds horrid." Gina sniffs.

I hold back from rolling my eyes. My mother's younger sister loves to rush to judgment. It's one of her finer qualities, my mom always says. Her steadfast loyalty is always appreciated. And we work well together, despite her occasional moodiness and uneven temperament.
Of course, she could probably say the same about me, so . . .

"He wasn't that bad." Major understatement. No, Gage Emerson definitely isn't horrid. Handsome, yes. Sexy, indeed he is. Confident to the point of smug, oh yeah.

I've always found confidence in a man attractive. I blame my father. He embodies all of those traits in a most handsome package.

"Do you forgive him?"

Blinking, I turn to find Gina studying me, her gaze shrewd. "What did you say?" I ask.

"What with the flowers and the card he sent you, do you now forgive this man who insulted our family? And why would he go so far and apologize like this? How long did you two talk?" she asks.

"I don't know. Ten minutes?"

Her lips tighten to the point of almost completely disappearing from her face. How does she do that? "So a man you spoke to for ten minutes and treated you rudely sends you flowers that probably cost hundreds of dollars? I smell a rat."

"You always do," I joke with her, trying to lighten the moment, but she won't have it.

Shaking her head, she rounds the counter and stands on the other side, sticking her face into the bouquet and breathing deep. "This is by far the most beautiful arrangement I've ever seen. And I've seen a lot." That was the truth, considering Gina used to create beautiful cakes for wedding receptions. We gave that up when I took over. I'd streamlined the business completely, something my aunt was very grateful for. She'd been working herself to the bone.

Now I guess it's my turn.

"He's just trying to impress me with his money," I joke, making her smile. "Probably hoping I'll fall to my knees and praise him for his lavish gifts."

"Now that sounds like an interesting scenario," a man's voice said from behind her.

Gasping at the sound of the faintly familiar, velvety deep voice, I glance up to find Gage Emerson himself standing in the middle of the bakery, looking disgustingly gorgeous, clad in another one of those perfect suits he owns. The man dresses to perfection. And why didn't I hear the bell ring over the door? "Oh my God," I whisper, absolutely mortified. His suggestive tone said he found my words . . . titillating. Great.

And while we're standing in the presence of my very overprotective and slightly angry aunt.

"I take it this is the rat?" she asks, making me groan inwardly.

"At your service, ma'am." Gage goes to her, his hand outstretched. Gina eyes it warily, as if it was a snake that might strike her at any moment. "Gage Emerson, aka The Rat."

She laughs and takes his hand, charmed. Just like that. It might not last, knowing my aunt, but come on . . . everyone seems to fall for him.
Why does her positive reaction rub me the wrong way? Why does Gage rub me the wrong way?

If I'm being honest with myself, I could get on board with him rubbing me the right way. And I don't normally fall for smug assholes. I'm attracted to confident men, but there's something about Gage I don't like. His arrogance is over the top. He seems like he'd be bad for me. And I've never had a bad-boy fetish.

Not that he's a bad boy, per se. But he's definitely trouble. Trouble I don't want.

Yeah, you do.

I'm arguing with my own self inside my head. Clearly, I've lost my mind. I don't get it. I don't get my reaction to him.

Correction. I don't want to react to him, and I can't seem to help myself.
Book Info:
New York Times bestselling author Monica Murphy mixes business with pleasure in the second book of her sexy Billionaire Bachelors Club series …
Marina Knight came to this party for one thing only: to slap Gage Emerson in the face. Poised to snatch up her family's real estate empire, the sexy tycoon is on the verge of making an enemy for life—even if he can make her melt with a single kiss …
When Gage discovers that the alluring woman before him is the key to his latest acquisition, claiming her as his suddenly doesn't seem quite so cut-and-dried. To get what he wants, he must get to know the fierce woman willing to face him down—as she steadily steals his heart.
Gage's persistence and intense passion war with Marina's determination to protect her family. As they delve deeper into an affair they didn't see coming, Marina's torn: Will she lose her heart to Gage—or everything she holds dear?
Book Links:
Author Bio
Monica Murphy is the New York Times and USA Today bestselling author of the One Week Girlfriend series. She writes new adult and contemporary romance for Bantam and Avon. She also writes romance as USA Today bestselling author Karen Erickson. A native Californian, she lives in the foothills below Yosemite.
Website | Facebook | Twitter |