Today it is my pleasure to Welcome author
Caitlin Crews
to HJ!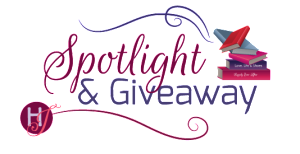 Hi Caitlin and welcome to HJ! We're so excited to chat with you about your new release, Traded to the Desert Sheikh!

So happy to be back! Hooray!

Please summarize the book for the readers here: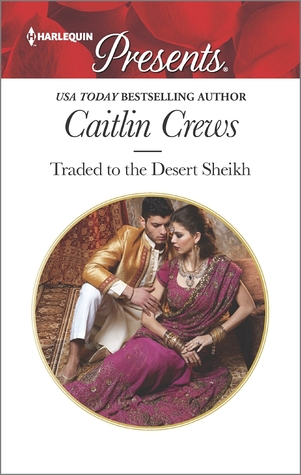 Six months ago, Amaya agreed to do her duty as a princess of her brother's kingdom and marry the fierce warrior king Kavian of the neighboring realm. But the night of their betrothal ceremony things got out of hand and she ran!
Kavian has been chasing her all over the globe for six months–but now he's found her. And he has every intention of taking what's his and making his runaway bride his queen!

Please share the opening lines of this book:
SHE HAD NO warning.
There had been no telltale men with grim, assessing eyes watching her from the shadows. No strange gaps in conversation when she walked into the small coffee shop in a tiny lakeside village in British Columbia. There hadn't been any of the usual hang-ups or missed calls on her latest disposable mobile phone that signaled her little noose was drawing tight.
Please share a few Fun facts about this book…
This is the second book in a sizzling sheikh duet! The first, PROTECTING THE DESERT HEIR, features Amaya's older brother and came out in June.
Kavian is up there in the top 5 of my favorite heroes. I loved writing him!
The working title of this book was SHEIKHS DON'T YIELD. I was only partially kidding.
My editor told me there's a scene toward the end of the book that made her swoon. I really hope readers have a similar reaction!
If your book was optioned for a movie, what scene would you use for the audition of the main characters and why?
The best scene is one I don't want to put here because there are spoilers! But it would involve deep emotion, sacrifice and fear and vulnerability and need. All the good stuff.
What do you want people to take away from reading this book?
One reason I love writing sheikhs is they're unmovable mountains. Immense and unyielding. So love stories are all about how a woman can find a way to such a hard man's heart and teach him, if not how to yield, then how to bend a little bit. I find these stories fascinating. Don't we all wish we could melt a hard heart? Sheikh books are all about exactly that!
What are you currently working on? What other releases do you have planned for 2015?
I have a delicious trope-tastic book coming out in November. UNWRAPPING THE CASTELLI SECRET is a stepbrother/fake amnesia/secret baby/reunion/Christmas story. Bonus: a Christmas party in Venice, Italy! It's so much fun.
I also have things coming out under my other name, Megan Crane.
Check out www.megancrane.com for all my releases and upcoming books!

Thanks for blogging at HJ!
Giveaway:

1 kindle e-book copy of the first book in this duet, PROTECTING THE DESERT HEIR.
To enter Giveaway: Please complete the Rafflecopter form and Post a comment to this Q:

Do you think you'd like being swept off into the lair of a desert king?
Excerpt from Traded to the Desert Sheikh:
"Where are we?" she asked.
Her voice resounded in the space, coming back a damp echo, and smaller, somehow, than she'd meant it to sound.
And Kavian stood there before her, his arms crossed over his magnificent black-covered chest with the gleaming pools all around him, and smiled.
"These are the harem baths."
There was something sour in her mouth then. "The harem."
"The baths, yes. The harem itself comprises many more rooms, suites, courtyards. A whole wing of the palace, as you will discover."
"It's empty." Amaya forced herself to look around to confirm that, and hated that she was afraid she was wrong. She didn't particularly want his attention anyway, did she? What did it matter if it was shared with the other women who must surely be around here somewhere? Her father had been the same kind of man. She'd lived the first eight years of her life in his palace, with his other women in addition to her mother, each one of them one more lash of pain Elizaveta still carried with her today. Loving a man like your father is losing yourself, her mother had taught her, and then watching him lavish his attentions on others instead, while what remains of you shrivels up and dies. Amaya shouldn't have been surprised, surely, that Kavian was cut from similar cloth. "Surely it can't be a harem without…a harem."
Again, that dark, assessing look of his that she worried could separate her flesh from her bones as easily as it bored inside her head.
"Do you not recall the conversation we had in your brother's palace?"
She wished she didn't. She wished she could block that entire night out of her head, but she'd tried. She'd tried for six months with little success. "No."
"I think you do, Amaya. And I think you have become far too comfortable with the lies you tell. To yourself. To me."
"Or perhaps I simply don't remember, without any grand conspiracy." But her voice was much too hoarse then and she saw that he knew it. Those eyes of his gleamed silver. "Perhaps I didn't find a conversation with you all that interesting. Blasphemous, I know."
"You told me, with all the blustering self-righteousness of your youth and ignorance and many years in North America, that you could not possibly consider marrying a man with a harem, as if such a thing was beneath you when you were born in one yourself. And I told you that for you, I would empty mine." His mouth crooked again, but she felt it like a dark, sensual threat, not a smile. "Does that jog your memory? Or should I remind you what we were doing when I made this promise?"
Amaya looked away, blindly, as if she could make sense of this. What he'd told her then, when she'd been shooting off her mouth to cover the tumult he'd caused inside her. What he appeared to be telling her now.
"I didn't think you really had a harem." She didn't want to look at him again. She didn't want to see the truth on that face of his that had yet to soften a single blow for her, and she really didn't want to question why she should care either way. "My brother doesn't have a harem."
"Neither do I." He waited until, despite herself, she looked at him again as if magnetically drawn to him. As if he controlled her will as easily as he controlled her body. "I haven't had a harem for the past six months. You are welcome."
Amaya blinked, and tried to process that. All its implications.
As if he saw some of that internal struggle on her face, Kavian laughed, which hardly helped anything. He moved away from her, toward the nearby seating area that dominated the central expanse in the middle of the pools, all stone benches and bright floor pillows around graceful round tables covered in trays of food she didn't want to look at, because she didn't want to eat anything. She didn't want to be here at all.
Amaya had read entirely too many ancient myths in her time. She knew how this went. A few pomegranate seeds and she'd find herself forced to spend half her life trapped in the underworld with the King of Hell. No, thank you.
She refused to accept that this was her fate, like her mother's before her. She refused.
So she didn't follow him. She didn't dare move a muscle. She was afraid that if she did the graceful, high ceilings would crash down and pin her here, trapping her forever.
Or maybe she was afraid of something else entirely—and of naming it, too, because she knew exactly where this ended. She'd witnessed it as a child. She'd lived through its aftermath. It didn't matter how hard her heart beat. She knew better.
"How many women did you keep here?" She meant to sound arch and amused, a great sophisticate who could handle what was happening here and the fact of a harem, but that wasn't at all how it came out. She felt the searing look he threw her way, though she didn't dare look over at him, felt it sweep over her skin, making her wish she hadn't discarded all her winter outerlayers on the plane. Making her wish there was some greater barrier between them than the simple, too-sheer T-shirt she wore.
"Seventeen."
"Seven—you're messing with me, aren't you? Is this your version of teasing?"
"Do I strike you as a man who teases?" he asked, mildly enough, yet she could hear the heft of his ruthlessness beneath it, the deadly thrust of his intent, like the rock walls all around them.
"You kept seventeen women locked away here." She felt as if she were in the helicopter again, that wild ride like a slingshot across the mountains. "And you—did you—at night, or whenever, did—"
She couldn't finish.
"Did I have sex with them?" he finished for her, his voice smooth and dark, and it moved in her in all the worst possible places. It made her feel greedy and panicked, exactly the way she'd felt in that terrible alcove in her brother's palace when she lost her mind. And everything else. "Is that what you want to know, Amaya?"
"I don't care," she threw at him. "I don't want to know anything. I don't care what you do."
"Do not ask questions if you cannot handle the answers, because I will not sugarcoat them for you." His voice was so dark, so harsh. Inexorable, somehow, as it wrapped around her. "This is no place for petty jealousies and schoolgirl insecurities. You are the queen of Daar Talaas, not a concubine whose name is known to no one."
She jolted at that, as if he'd electrocuted her. "I'm not the queen of anything!"
And it was as if her body only then realized it could move if it liked and that she wasn't trapped here—not yet—and so she whirled around to face him again.
A mistake.
Kavian had stripped down to boxer briefs that molded to his powerful thighs and made Amaya's head go completely, utterly blank. No harems. No concubines. Nothing but him. Kavian.
And when she could think again, it wasn't an improvement. There was still nothing but that vast expanse of his steel-honed chest, ridged and muscled in ways that defied reason, that made her mouth water and her knees feel wobbly. He was beautiful. He was something far more intoxicating than merely beautiful, more overwhelming than simply hard, and yet he was a harsh and powerful male poetry besides.
Her mouth fell open. Without realizing she'd moved at all, Amaya found her hands clamped tight over her heart as if she was afraid it might burst from her chest.
She was, she realized. She was afraid of exactly that.
"I hope you are finished asking these questions I suspect you already know the answers to, Amaya," Kavian said with that dark, quiet triumph in his voice that washed through her like a caress and made her body feel like someone else's. As if it belonged to him, the way it had once before and she hated that she couldn't get past that. That she felt indelibly marked by him. Branded straight through to her soul. Owned whether she wanted to be or not, no matter that she knew better than to let herself feel such things. "Now take off your clothes."
Excerpt. © Reprinted by permission. All rights reserved.

Book Info:
"You belong to me."
In the desert, Sheikh Kavian's word is law. So the defiance of his promised queen, Amaya, who flees after their betrothal ceremony, is intolerable! Kavian's already tasted her sweetness—perhaps his reluctant bride-to-be needs reminding of the pleasure he can give…
Once Amaya is back in his kingdom, Kavian commands her total sensual surrender in the secluded harem baths. Amaya fears such all-consuming lust makes her weak, but she's proven she can match his desire. Kavian needs a queen who can endure everything about him—can Amaya face his dark past and embrace her desert destiny?
Book Links:

Meet the Author: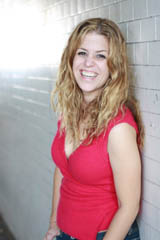 USA Today bestselling, RITA-nominated, and critically-acclaimed author Megan Crane has written more than fifty books since her debut in 2004. She's won fans with her women's fiction, chick lit, and work-for-hire young adult novels as well as with the Harlequin Presents she writes as Caitlin Crews. She currently lives in the Pacific Northwest with a husband who draws comics and animation storyboards and their menagerie of ridiculous animals.
Website | Facebook | Twitter |