Today it is my pleasure to Welcome romance author
Regina Kyle
to HJ!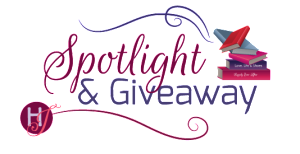 Hi Regina and welcome to HJ! We're so excited to chat with you about your new release, Triple Time!

Hello, HJ readers! I'm so happy to be back here for my second release with Harlequin Blaze, Triple Time.

Please summarize the book for the readers here: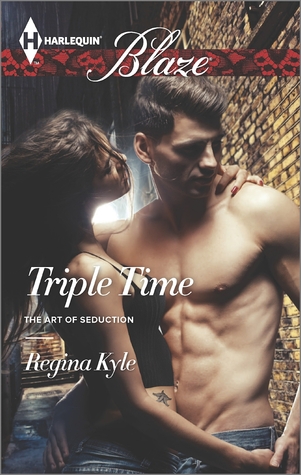 Triple Time is a opposites attract story. Devin's a hard-as-nails tattoo artist/bartender who's grown up in foster homes and on the streets. Gabe, her best friend's brother, is a stuffed shirt attorney. But when they're forced to work together to loosen him up so he can get elected District Attorney and find her brother, who was separated from her in foster care, they can't keep their hands off each other.

Please share the opening lines of this book:
By the time the Perfect Moment arrived for Gabe Nelson to pop the question, his tongue felt like lead, too thick for the elaborate script he'd written in his head. So he decided to keep it simple.
"Will you marry me?"
Please share a few Fun facts about this book…
I started writing this book before Triple Threat, the first book in the Art of Seduction series, but put it aside when it just wasn't working.
Initially, Gabe's heroine was Kara, the woman who now turns down his marriage proposal in the opening pages.
I knew Kara wasn't working as a heroine, but didn't who should replace her – until the character of Devin leaped off the pages in Triple Threat. I knew immediately that Gabe's sister's edgy best friend would be the worst possible person for him to fall for – and, therefore, his perfect heroine.
Devin is, according to my editor, the very first Blaze heroine to sport a tattoo on the cover. Look for the starfish on her hip.
I'm a prosecutor by day, so making Gabe a district attorney was a no-brainer, and made the scenes at his office, and the subplot involving the criminal case he's working on, easier to write.
My muse for Gabe was Eric Bana. I saw him in the movie The Time Traveler's Wife and knew right away he was perfect for Gabe, who I've always thought of as a sort of combination of Atticus Finch in To Kill A Mockingbird and Alex P. Keaton, Michael J. Fox's character in the TV show Family Ties.
If your book was optioned for a movie, what scene would you use for the audition of the main characters and why?
Probably the scene where Gabe and Devin meet for the first time in the book. It shows Devin at her toughest and reveals Gabe's protective instincts. Plus, it's fun. Here's a taste:
His apartment was only a few blocks south, but he headed in the other direction, toward Central Park. Not the best place to be at night, especially a night like this one. Ripe. Sweltering. Sure to lure out every crazy without air‑conditioning. But he wasn't ready to go home yet. He needed to breathe, to think, and nothing cleared his head like a run in the park. Tonight his suit meant he'd have to settle for a brisk walk, even if it meant he'd be covered in sweat by the time he got to his apartment downtown.
He circled the sailboat pond, trying to figure out why he felt more numb than crushed by Kara's refusal, when a high‑pitched voice from behind the boathouse froze him in his Ferragamo shoes.
"Get your fucking hands off me, or I'll knee your balls right through the roof of your goddamned mouth." Gabe did a one‑eighty and sprinted toward the sound.
A woman stood with her back to him, fists clenched.
Her attacker lay curled at her feet, wheezing for air.
"No means no, asshole."
The guy let out a muffled moan and she bent over him, making her short skirt ride even higher up her toned thighs. Her fishnet stockings covered her long legs, disappearing midcalf into a pair of hot‑pink Doc Martens.
"Okay, okay. You made your point. You didn't have to kick me so hard. Frigid bitch."
Gabe stepped out of the shadow of the boathouse. "Watch your mouth. And don't move a damn muscle. I'm calling the police." He pulled out his cell phone and started to dial.
"No cops. Please." The woman held out an arm as if to stop him, and Gabe caught a glimpse of a tattoo on her shoulder. A distinctive, familiar tattoo of some sort of forest fairy. "Freddie just got a little overeager. But I set him straight." She prodded him with one boot, eliciting
another moan. "Didn't I, Freddie?"
Gabe's stomach clenched. "Devin?"
She pivoted slowly, her eyes widening and her mouth falling open in recognition. "Shit."
What do you want people to take away from reading this book?
That's a tough question. I don't really write with a theme or moral in mind. I just try to craft flawed by sympathetic characters who readers can root for and put them in interesting, sometimes funny, sometimes touching, but always hopefully relatable situations. I guess I'd like readers to come away having laughed a lot, maybe cried a little and, in the end, been satisfied with Gabe and Devin's journey to their HEA.
What are you currently working on? What other releases do you have planned for 2015?
I've got two more books planned for the Art of Seduction series. The third, Triple Dare, will be out in December. The heroine is Ivy Nelson, Gabe's twin sister, and the hero is his best friend, Cade Hardesty. You can see where this is going . . .
Up after that is the fourth and final Nelson sibling's story. Noelle, a ballet dancer, meets her match in bad boy shortstop Jace Monroe. Not title or release date yet, but it should be out some time in 2016.

Thanks for blogging at HJ!
Giveaway:

I'll give an e-copy of Triple Threat, the first book in the Art of Seduction series, to one commenter.
To enter Giveaway: Please complete the Rafflecopter form and Post a comment to this Q:

In honor of Devin's status as the first tatted-up Blaze cover girl, who's your favorite tough-girl heroine?
Excerpt from Triple Time:
Carlos showed them down a long hall and then a flight of stairs. As they descended, the insistent beat of techno music grew stronger, vibrating through the soles of Gabe's loafers and up his body.
He bent his head so his mouth was at Devin's ear. "This might be a good time to confess I'm not much of a dancer."
"Don't worry. I'll lead." She grabbed his hand. "Just stick close and follow me."
"Have fun, kids." The music was deafening now, and Carlos had to yell to be heard as he swung open the door at the bottom of the stairs.
Gabe nodded in acknowledgment, not even bothering to try to shout over the noise, and he and Devin stepped into what seemed like another dimension.
The big open space was wall‑to‑wall people of all ages, from college kids to baby boomers. Some were dressed in street clothes like him. Others wore all manner of costumes: tutus, hot pants, sequined bras, fluorescent wigs, outrageous hats and glasses. Gabe could have sworn one woman's dress was made entirely of duct tape.
A huge stage filled the far end of the room, showcasing a DJ behind a wall of electronic equipment. Giant screens displayed images from an elaborate laser light show.
"Come on," Devin said, drawing him into the crowd. "Let's dance." Or at least that's what he thought she said. They didn't teach lip‑reading at Columbia. Or Officer Development School.
The crush of bodies on what Gabe supposed could be considered a dance floor pressed them together, chest to chest, hip to hip. Laughing, Devin threw her head back and raised her arms. Then she started moving, swaying, undulating against him and he thought his cock would burst through his khakis.
"What are you doing?" he mouthed.
She smiled and looped an arm around his neck, tugging him impossibly closer. He tensed, certain she could feel his erection straining against his zipper.
Christ. What had happened to his legendary self control? The guys at work called him Mr. Spock, and it wasn't because he had pointy ears.
Gabe gritted his teeth and focused on a spot somewhere just above Devin's left shoulder. Anything to distract him from the seductive way her breasts shimmied under her tiny tube top.
With her free hand, she grabbed his waist. "Move those hips," she shouted. "You're as stiff as a freaking statue."
Oh, he was stiff all right. But not in the way she meant. "I told you, I can't dance."
She rose up on her toes to speak into his ear. "Just think of it as sex standing up. With your clothes on. In public."
She gave him a wicked grin. "You can do that right?"
He smiled back. "I can try."
"Good."
She started swaying again, using the hand at his waist to make him move with her. After a minute, he relaxed and gave in to the rhythm of the music and the soft but insistent pressure of her hand. With each step, each brush of her chest against his, his pulse quickened and his breath grew more ragged.
Gabe dragged his gaze from Devin's and scanned the crowd. It was either that or go from the simulated sex she called dancing to getting down and dirty for real right there in the middle of the floor.
A few gyrating bodies away, a man in a leather vest and pants was doing his best impression of moonwalking. He turned, and his eyes locked on Gabe. A slow, sardonic smile spread across his face as he held out his thumb and index finger in the shape of a gun. He pointed it at Gabe, then shifted his aim to Devin before pulling the imaginary trigger.
Fuck. Gabe knew that ugly mug. Had seen it in court every day for three months, felt those eyes boring into the back of his head from the gallery when the jury announced its guilty verdict and the judge pronounced sentence—life in prison without parole.
"We've got to get out of here," he yelled, unwrapping
Devin's arm from around his neck. "Now."
"What—"
"No time for questions." He pulled her farther into the fray, away from both the mock gunman. And, unfortunately, the door they'd come in. "Is there another exit?"
"This way," she hollered back, taking the lead and pushing through the crowd toward the stage. "Like Carlos said, I'll take care of you."
Excerpt. © Reprinted by permission. All rights reserved.


Book Info:
How to unravel your straight-laced lover . . .
Gabe Nelson would be a great district attorney, but his public image is too boring to get voters' attention. Tattoo artist Devin Padilla can help him show off his fun, sexy side, but she needs something in return—Gabe's legal expertise to track down her missing brother. She's not his type, but they can't keep their hands off each other, whether it's good for his image or not.
At first, Devin thinks she got the easy end of the bargain. Gabe's the sexiest stuffed shirt in Manhattan, and his kisses practically set her on fire. But every deal has its fine print. As their relationship goes from business to pleasure, Devin realizes this one won't cost her soul…it'll just steal her heart.
Book Links:

Meet the Author: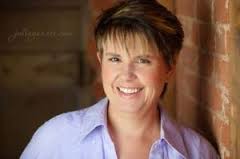 Regina Kyle knew she was destined to be an author when she won a writing contest at age ten with a touching tale about a squirrel and a nut pie. By day, she writes dry legal briefs, representing the state in criminal appeals. At night, she writes steamy romance with heart and humor.
A lover of all things theatrical, Regina lives on the Connecticut coast with her husband, teenage daughter and two melodramatic cats. When she's not writing, she's most likely singing, reading, cooking or watching bad reality television. She's a member of Romance Writers of America and of her local RWA chapter.
Website | Facebook | Twitter |