Today it is my pleasure to Welcome author
Tamra Baumann
to HJ!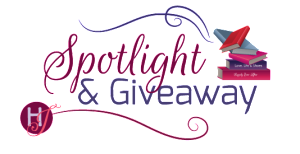 Hi Tamra and welcome to HJ! We're so excited to chat with you about your new release, Truly A Match!

Thank you so much for having me! I'm excited to share my latest book with all of you!

Please summarize the book for the readers here: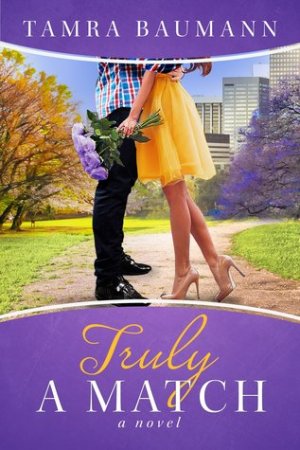 Truly A Match is about a woman named Rachel who was determined to live as much of life as she could before settling into marriage and having kids, but things don't always work out the way we plan. When her famous former ex reappears, she has a very big decision to make. But now it's not just her own heart she has to protect, she has to make the right choice for her twins as well.
Fame, wealth, and even winning an Oscar for Best Actor, something he'd dreamed of for years, should have made Marcello's life complete. But something is still missing. And that something is Rachel and their children. He'd allowed scars and secrets from his past convince him that he wasn't the right man for Rachel, but now he knows he'd been mistaken. It's time to win the love of his life back. But will Rachel take another chance on him if she finds out about the secrets he still keeps?

Please share the opening lines of this book:
The jarring vibration of her phone dancing across wood made Rachel Caldwell blink her eyes open. Had she fallen asleep at her desk? Again?
Please share a few Fun facts about this book…
This book is the fourth in a matchmaker series, but there isn't much matchmaking going on. That's because Rachel, the identical twin of the heroine of the last book, wasn't supposed to have her own story. That'll teach me to have a sassy, strong character show up pregnant with twins by a famous movie star who she hadn't told he was going to be a father yet. And who had no intention of letting her children grow up to be spoiled Hollywood brats.
I had so many fans contact me and ask when Rachel's book was coming out that I decided I'd better get busy! I'm glad I listened because I really enjoyed writing this story.
Please tell us a little about the characters in your book. As you wrote your protagonist was there anything about them that surprised you?
My heroine, Rachel, is an identical twin. I have identical twin nieces who had their own language when they were very young, who share the same bedroom and have never spent a night without the other in all of their eleven years. I still can't tell them apart until they speak because one has a lower voice than the other. It's interesting to me that one identifies herself as the nicer twin and the other says she's sassier. (I think they're both just a hoot!)
What my nieces hate the most is that people think of them as clones. But they are individuals with their own thoughts, dreams, and desires. So as I wrote Rachel's character, I thought a lot about how growing up an identical twin would affect an adult. It'll be interesting to see if I was right on my nieces' thirtieth birthdays.
If your book was optioned for a movie, what scene would you use for the audition of the main characters and why?
It was difficult to choose, but this scene might be good because the characters have to be able to tease each other but at the same time, understand that there are deep feelings and past hurts that need to be addressed:
"Maybe before this forgiving happens, I'd like to see what's in the little blue bags I saw in the kitchen last night?"
He settled his face in the crook of her neck, inhaling her enticing sweet scent. Even better than the smell of his mama's red sauce cooking on the stove. One of the few good childhood memories he'd kept tucked away. "Lori said I should take those gifts back. That the videos are worth far more to you."
"They are worth more." She playfully bit his earlobe. "But there is no way any sister of mine would tell you to take those back."
"But you told me not to give you expensive things, so are you sure?"
"I'm willing to make the occasional exception for Tiffany."
"That's what your sister said. She took one look at those bags and kissed me right on the lips in gratitude for them on your behalf. It wasn't half bad." He went back to nibbling on her neck.
"Half bad?" She took his face in her hands and yanked his chin up. "You kissed my sister? On the lips?"
The spark of anger in Rachel's eyes delighted him. Maybe she cared for him more than she let on. "Jealous?"
"Only if you think she's a better kisser than me." She tilted her chin in that adorable, arrogant way of hers.
"No one is a better kisser than you." He rolled off her. "I'll go get the presents. Be right back."
"Wait." She grabbed his hand to stop him and pulled him closer. "So…why exactly did you kiss my sister?"
The uncertainty in her voice made him sit on the side of the bed to explain. "I thought it was you who answered the door. I planned to kiss you first and then beg for mercy with Tiffany's after." He tilted her chin with his finger. "It was an accident. But I can see by your face that I've upset you, bella. I'm sorry I teased about it."
"That's okay." She sat up and leaned back against the headboard. "It's just Lori is a lot nicer than I am. Back in high school, more than one guy started off flirting with me but then decided they liked Lori better. I mean, we look just alike, so why not go for the sweeter one, right? It made me a little sensitive, I guess." She crossed her arms so tight around her middle, it was as if she was hugging herself.
He stared into her doubt-filled eyes. "Kissing Lori was like kissing a cousin. Kissing you lights a fire in my soul. I prefer the heat."
What do you want people to take away from reading this book?
I'd be thrilled if the reader enjoyed seeing two characters learn to change while they both fight to save their relationship. And if the reader got a chuckle or two along the way, that'd make my day.
What are you currently working on? What other releases do you have planned for 2017?
I am currently writing the third book in my Heartbreaker series that is tentatively titled, Crossing Double. And you heard this here first– I've been studying popular cozy mysteries with a big magnifying glass because I plan to start my own series set in a small town with some big characters as soon as my work in progress is complete.

Thanks for blogging at HJ!
Giveaway:

I'd love to give away 5 e-book copies of Truly A Match picked randomly from the commenters below.
To enter Giveaway: Please complete the Rafflecopter form and Post a comment to this Q:

Have you ever regretted giving a relationship (of any kind, friendship, romantic, etc.) a second chance? 



Excerpt from Truly A Match:
He scooped her legs out from under her and cradled her against his chest, heading for the living room. "Thank you for discussing this with me, rather than sneaking off into the night. But you still haven't said it, Rachel."
"Said what?" she teased, as she buried her face in the crook of his neck and inhaled his unique scent. Spice, heat, and pure testosterone. Mmmmm.
"That's it." He turned around and headed for the backyard again. "No more games. You know exactly what."
Of course, she did, but he was getting worked up, and it made her want him even more. "Did you know that English is the only language with only one word for that?"
"Say it in English, or you're going in." He stopped at the edge of the pool.
Marcello wouldn't do it. Stella told her the shoes alone were worth three grand, and her dress was a designer original.
She moved her mouth next to his ear and whispered, "I will. Later. Let's go skinny-dipping. We haven't done that yet either."
"I'll be upstairs when you're ready to confess your love for me properly." Before she could respond, she was flying through the air toward the deep end.
"Marcell—" She didn't have time to finish before she hit the frigid water. It stole her breath for a moment before her brain kicked back into action. Since they hadn't been swimming together before, maybe she'd teach him a lesson for ruining a dress she was supposed to return.
She swam to the surface and sputtered, "I can't—" and then she took a deep breath and sank under the surface again. She flailed around and started counting. She'd only gotten to three before a set of strong, tuxedo-clad arms grabbed her and pulled her to the surface again.
He sputtered, "Are you okay?"
"Fine, thanks." She wrapped her legs around his waist and her arms around his neck while he treaded water. "Now that you've decided to join me, may I help you out of that tux, sir?" She started working on his top button. He looked so handsome in a tux, but even better naked.
His hand covered hers to stop her. "You're going to have to beg for it now, Caldwell." He pushed her head under water and then took off for the side.
Caldwell? She was trying not to laugh—and hold her breath at the same time—as she swam underwater to catch up with him. She reached him just as he was lifting his body out of the pool, so she grabbed a leg and held on.
He reached down and dragged her out of the water along with him. She landed with a thump on her butt while he headed for the pool house, leaving a trail of water behind. Maybe she'd pushed him too far.
Excerpt. © Reprinted by permission. All rights reserved.

Book Info:
BlurbRachel Caldwell had never known a man who could make her weak in the knees. Until she'd met the most charming man in the world, Marcello. An Italian, dark haired, olive skinned, Hollywood actor who'd swept her away on luxurious getaways, and had accidentally given her the greatest gift of all—nine months later. Now that she's found the kind of love that never lets her down, Rachel is trading dating for motherhood. She's determined to be the best single parent she can be. Rachel shields her twins from the paparazzi who hound their famous father as strongly as she protects her damaged heart.
Marcello Romano has it all. He's living the life of the most sought-after leading man in Hollywood and has an Oscar nomination to prove it. But something is missing. And that something is his family quietly living in Denver. He made a mistake by letting fears from his grim past stop him from dropping to one knee and proposing the night Rachel told him they were having twins. Now, it's time to make things right. If that includes diamonds, Ferraris, or even puppies to sway the reluctant Rachel, he'll make it happen. He won't stop until he can convince her to take another chance on him. But if she finds out his secrets will she risk her heart again?
Book Links: Book Links: Amazon | B&N | iTunes | kobo | BAM |


Meet the Author: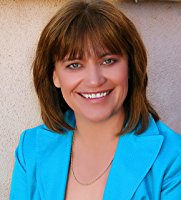 Tamra Baumann is an award-winning author of light-hearted contemporary romance. A reality show junkie, she justifies her addiction by telling others she's scouting for potential character material. She adamantly denies she's actually living vicariously in their closets. Tamra resides with her real-life characters—her husband, kids, and their allergy-ridden dog—in the sunny Southwest. Visit her online at www.tamrabaumann.com and on Facebook at www.facebook.com/author.tamra.baumann.
Website | Facebook | Twitter | Instagram | GoodReads |