Today it is my pleasure to welcome New York Times bestselling author

Virna DePaul

to HJ!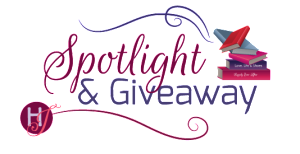 Hi Virna, welcome 🙂
Hi Sara! Thank you for having me at Harlequin Junkie today! I am excited to share my new paranormal romantic suspense, TURNED, with your readers.
If you were written about in the newspaper, on the front page what would the headline say? Why?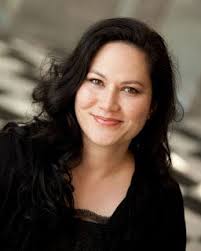 While the thought of being on the front of the newspaper is a bit overwhelming, the headline would tell you I'm shy, but bold. I'm quiet, but I have a lot going on inside my head, and I put that on the page. My books are fast-paced, edgy, and sexy.
Would you rather… visit the world 100 years into the past or 100 years into the future? Why?
I love all things paranormal and techie so I would like to go to the future to see how society has changed and what kind of technical advances have been made. I think that even though we have a ways to go, we are making strides toward being more tolerant and accepting of others. I'd like to see this tolerance grow even more—especially since it might encourage some paranormals to come out and play! ☺
Let's talk about your newest release: TURNED
If you had to summarize the book for the readers here…
TURNED is the first book in my new paranormal romance series, The Belladonna Agency. The Belladonna Agency is a black ops organization that employs human women to take out vampire criminals. There are some hunky paranormal men involved as well. My hero Ty Duncan is an FBI special agent who was forcibly turned into a vampire and he's still grieving the loss of his humanity. My heroine Ana Martin is a woman with a dark past. She's trying to live a peaceful and uneventful life when Ty shows up to recruit her. Together, they must infiltrate Salvation's Crossing, a suspected blood slave ring posing as a human rights organization.
Please tell us about the characters in your book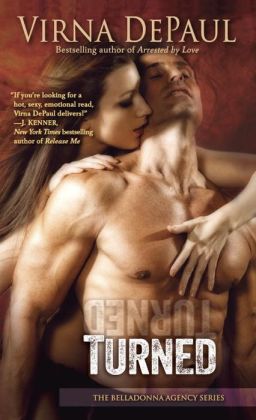 Ty and Ana are struggling with their own dark issues. Ty feels guilty that he was unable to help his friends and sister when he was captured and turned by vampires. He mourns his humanity even as he seeks revenge against those who turned him. Ana is a former gang member who spent time in prison after she tried to jump out of the gang and things went bad. She is motivated to find her sister to make sure she's okay, and it seems the only way she's going to be able to do this is by helping Ty and Belladonna. Neither Ty nor Ana believe they deserve love, but they soon discover differently.
As you wrote your protagonist was there anything about them that surprised you?
Ty surprised me by how open and emotional he became with Ana. Here's a man who feels like he's lost everything worth living for, and when he fears he's nothing but a monster, he lets down his guard to show Ana that vulnerability.
I knew Ana was strong from the beginning. It was difficult getting her to let down her guard to let Ty in, but once she did, she surprised me with her ability to roll with whatever he threw her way, even if it happened to be a pair of fangs.
What scene did you most enjoy writing? Why?
I really enjoyed writing the first time Ty and Ana met face-to-face. Ty has been watching Ana in preparation of contacting her. All Ana knows is that he's a potential threat who's been following her. Here is a little teaser I put together from that scene.
What scene was the hardest to write? Why?
The hardest scenes involved pitting one vampire against another, even though vampires can technically read minds. How was I going to get Ty and Ana inside a vampire cult without their true motives being discovered? I had a couple of tricks up my sleeves, including the fact people are self-centered—they often see only what they want to.
If you could have given your characters one piece of advice before the opening pages of the book, what would it be and why?
Wow that is a really good question. For Ty I think I would tell him to have faith in himself. He may be a vampire but he remains more human than most. For Ana I would tell her that it is okay to have faith in others. She has reasons not to trust others, but Ty's about to change all that.
What are you currently working on? What other releases do you have planned for 2014?
I am currently working on Book 3 of my Dalton Brother's Series, Bedding The Billionaire. The first book, Bedding The Wrong Brother, is a #1 Bestselling Contemporary Romance. I'm also working on revisions for the second book in the Belladonna Agency series, AWAKENED. AWAKENED will be hitting shelves July 1, 2014. I am also featured in several boxed sets, including the Lucky 7: Bad Boys Box Set, Spring Fling Contemporary Romance Box Set & the Dangerous Dozen Box Set.

Where can readers get in touch with you?
I love to hear from readers! You can find me online via Facebook and Twitter, as well as my website at www.virnadepaul.com
GIVEAWAY:

I am giving one lucky Harlequin Junkie reader a print ARC of TURNED

(US & Canada Only).
To enter Giveaway: Please complete the Rafflecopter form and post a comment to this Q: Hi readers!

What are your favorite things about male vampires? Do you like him to be far more dominant than his female, or do you like a human heroine with some sass?
Excerpt:
"Don't call me that," she said automatically, just before she found the gun tucked into a sleek holster concealed inside his waistband.
She pulled it out, and the sight of the Luger didn't surprise her. The well–made weapon suited him. Swiftly, she slipped it out of his holster and into the front of her own waistband.
The only other time she'd seen a Luger was when she'd delivered a package to Pablo, the leader of Devil's Crew, another street gang, and he'd insisted on inspecting the contents before he paid. He'd told her the guns had been stolen from some Richie Rich who liked fancy cars as well as fancy guns. When he'd asked her what kind of car she drove, she'd told him the truth. None. She'd only been fourteen at the time.
Even so, her youth hadn't stopped her from fighting the gang leader when he'd decided to inspect more than the package she'd delivered. All she'd gotten for her trouble was a beating and the ugly scar on her face.
To her, big and male was synonymous with power and violence.
"I'm not going to hurt you," the man in front of her said softly, as if he'd read her mind. "If you'll listen to me, I can help you, Ana."
The fact he knew her name shocked her . . . and scared her even more. "Fuck you," she snapped without meaning to. Swearing was an old habit, one she'd fought hard to break, but sometimes it came out. When she was angry . . . when she felt threatened . . . the tough girl inside her lost control, cursing and spitting and speaking Spanish in an effort to protect herself despite the fact it merely revealed how vulnerable she really was.
How weak.
She bit her lip, furious that he'd sensed her fear. Furious that his offer of help made her easily long for things she couldn't possibly have.
She'd gotten soft. Too soft. And once again she was paying the price. The only question was how high the price would be this time.
"Move." She gestured with her gun. "Face the wall." He had her so rattled she was second–guessing herself. She needed to frisk him again. Make sure she hadn't missed anything the first time.
He merely stared silently at her, and she forced herself to snap, "Now."
Unbelievably, he practically rolled his eyes just before he obeyed, cursing when she suddenly shoved him face–first against the brick; Eliana Garcia, gang member, was quickly chipping away at the civilized, respectable woman Ana had been trying to become.
But instead of retaliating, he waited while she frisked him yet again. When she was done, when he failed to make a move on her, she relaxed slightly. "Face me."
As he did, she saw the slight trickle of blood now dripping from a cut on his forehead. She felt a momentary pang of guilt. Along with it came the strange temptation to wipe the blood away and kiss the wound better. To kiss all his hurt away. Hurt she somehow sensed was there.
Blurb:
Welcome to a mesmerizing world where vampires hide among humans. This centuries-old species has its own rules, code of conduct, and taboos. Only the FBI knows that vampires exist—and although the Bureau agrees to keep their secret, it also plots to give humans the upper hand.
Turning mortals into vampires is forbidden.
But there are creatures who refuse to play by the rules.
Ever since he was turned, FBI special agent Ty Duncan has had one mission: bring rogue vampires to justice. As a recruiter for Belladonna, a shadow agency formed to keep vampires in check, Ty must tap Ana Martin, a troubled ex–gang member and one of the few mortals who can infiltrate places that his kind and the law cannot. From their first encounter, Ty fights a hunger to make Ana his own.
When Ty claims to have information about Ana's missing sister, Ana has no choice but to trust this captivating stranger who awakens her deepest desires. But as she and Ty climb the heights of pleasure and passion, an enemy is conspiring to destroy them both.
Can Ana help Ty find his humanity in a love that could heal them both, or will their passion lead them into a darkness impossible to escape?
Buy Links: Amazon, Amazon Kindle, Amazon Audio, Barnes & Noble, Book Depository, iTunes