Today it is my pleasure to host USA Today Bestselling Author

Rebecca Zanetti

to HJ!
Thank you to Sara for having me over to Harlequin Junkies today! I love being here to celebrate the release of Under the Covers, which is a fun romance about a sexy sheriff and a classy woman on the run.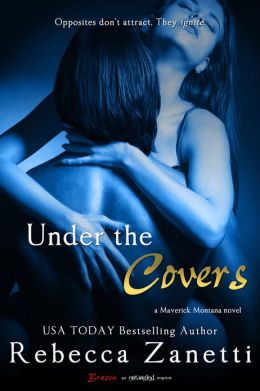 Sara asked me about my five favorite scenes from the book, and so I sat down and gave it some thought. Here they are:
1) The first scene in the first chapter. I'm a complete sucker for the beginning of a love story, when the sparks fly, there's tension, and you can just tell these folks are going to end up rolling around in the hay. So, in the beginning, Quinn stomps into Juliet's gallery and they argue…and then reach an agreement that makes them both nervous.
2) The first time the characters kiss. Like most women, I love a good kiss! So, when Quinn first kisses Juliet, it had to be hot, sexy, and make her want more. He cages her against a pillar at a fundraiser…
3) A scene with humor. There are a few humorous scenes in Under the Covers, and I don't want to spoil one. But, the other one involves a kitchen full of women who want Quinn, and he walks in, not knowing they're all there. Let's just say he makes a quick exit.
4) A sensual sex scene. There's nothing like a tough guy with a sweet heart who's a bit dominant in the bedroom. Quinn fits the bill perfectly, and like I said earlier, foreplay really does start while riding a horse.
5) A happy ending. This is a romance, so the reader has some assurance of how it will end. But that's all I'm saying about this. ☺
Thanks again to Sara for having me over today!
Giveaway:
2 e-copies of AGAINST THE WALL

(Book 1 in the Maverick Montana series)
To enter Giveaway please complete the Rafflecopter form and post a comment to this Q:
So, I have to ask. What's your favorite part of a romance? The beginning, the first kiss, the sex scenes, or the happy ending?Why?
Here's a quick excerpt of UNDER THE COVERS:
"Besides," Quinn reached the bottom of the ladder and held up a hand, "aren't you tired of dancing around this? For the last few months, we've danced around this."
"That's what responsible adults do." Juliet automatically took his hand to descend. Electricity danced up her arm from his warm palm.
"Bullshit." He helped her to the hard-tiled floor. "You feel it, too."
Yes, she did, and the crass language actually turned her on. But he didn't know her, and he wouldn't like her if he did. "I've chosen not to act on any temporary attraction." As a tall woman, it truly unnerved her when she needed to tilt her head back to meet his gaze. "How tall are you, anyway?"
He shrugged. "Six four, last time I checked. How about you?"
"Five ten."
He nodded. "Petite. Very petite."
The man was crazy. She tugged her hand free. "I'm not dating you."
"I know. We're pretending." He glanced around at the many paintings on the wall. "Are these from Sophie's new collection?"
"Yes." The damn man already knew his sister-in-law's paintings adorned the walls.
"Didn't you promise her an amazing showing for the opening of your gallery?" he asked.
"Yes."
"Well, then. This is the only place to have an amazing showing, right?"
Wasn't that just like a man to go right for the kill? Sophie was Juliet's friend, one of her only friends, and the showing meant a lot to her. "You're not being fair."
He reached out and ran a finger down Juliet's cheek, his gaze following the motion.
Heat flared from his touch, through her breasts, right down between her legs. "Stop."
His hand dropped. "I need a pretend girlfriend. You need to keep the gallery open. This is a perfect agreement."
Darn it. Temptation had her glancing around the spectacular space. Three rooms, all containing different types of Western art, made up the gallery. The main room already held most of the paintings created by Sophie Lodge. Rich, oil-based paintings showing life in Maverick, life on the reservation, and the wickedness of Montana weather. The showing would put both Sophie's art and Juliet's gallery on the Western-gallery map.
She wanted on that map. Perhaps badly enough to make a deal with the sheriff. Plus, she was tired of dancing around her attraction to Quinn. Would that attraction explode or fizzle if they spent time together? Frankly, it didn't matter. She had to leave town soon. Why not appease her curiosity? "Okay, but keep your hands to yourself."
"But—"
"No." She pressed her hands on her hips. The man was too dangerous, too tempting. A woman had to keep some control, or Quinn would run wild. No question. "You're creative, and this is your idea. If we pretend to date, you keep your hands off me."
His eyes dropped to an amused, challenging expression. He held out both hands, palms up. "Tell you what, darlin'. These hands won't touch you until you ask nicely. Very nicely."
"That will never happen," she snapped.
His left eyebrow rose. "I wondered if that red hair came with a temper." Interest darkened his eyes to midnight. "So much passion locked up in such a classy package. I thought so." He leaned into her space. "Be careful, or I'll make you beg."
Book 2 – UNDER THE COVERS – May 27, 2013
Opposites don't attract. They ignite.
The small Montana town near the Kooskia reserve seemed like the perfect place for Juliet Montgomery to hide from her not-so-law-abiding family. But when her peace is shattered by a break-in and threatening phone calls, it's clear someone back in New York knows where she is. It's time to plan her getaway, and fast—but first, she needs to tie up a few loose ends. Namely, finding out exactly what the town's sexy cowboy sheriff is hiding in his holster…
Sheriff Quinn Lodge has enough demons of his own to know when someone's hiding something. Clearly, he needs to do a thorough investigation to uncover what's beneath Juliet's uptight, city-girl exterior—preferably one piece of clothing at a time. But when their chemistry goes from fizzy to full-on explosive, things start getting complicated. How can Juliet stay beneath the covers with Quinn, when doing so means blowing h
BIO: USA Today Bestselling Author Rebecca Zanetti has worked as an art curator, Senate aide, lawyer, college professor, and a hearing examiner –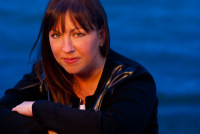 only to culminate it all in stories about Alpha males and the women who claim them. She writes contemporary romances, dark paranormal romances, and romantic suspense novels.
Growing up amid the glorious backdrops and winter wonderlands of the Pacific Northwest has given Rebecca fantastic scenery and adventures to weave into her stories. She resides in the wild north with her husband, children, and extended family who inspire her every day—or at the very least give her plenty of characters to write about.
Please visit Rebecca at: http://www.rebeccazanetti.com/