Today it is my pleasure to Welcome author
Sara Luck
to HJ!

Fun Facts about UNDER THE DESERT SKY:
Back at the turn of the last century, my great grandpa made a great deal of money by harvesting hard wood from the swamps of Southeast Missouri. He invested all that money in buying several acres of land in the Salt River Valley, near Phoenix, Az. It was his intention to go into ostrich farming, not for the meat, but for the feathers, which were bringing a princely sum for m' ladies' hats. But when he got to Phoenix he learned that he had been swindled out of well over one hundred thousand dollars. The property deeds he held were worthless. I returned to Phoenix in the mid-seventies and made a thorough search of all property records from that period. It was my hope that I could present myself to all the business owners in the Kachina Shopping Mall and tell them they owed me 70 years back rent. I failed in that effort, but his idea of ostrich farming was the genesis of my book…UNDER THE DESERT SKY.
An ostrich, which can grow to as high as eleven feet, and weigh as much as 375 pounds can be a very dangerous animal. Ostriches kick to the front, never to the rear as does a horse or mule, and a kick, with two toes that are like six – inch knife blades, can quite easily kill a man. However, a man, armed with a "tacky" can enter a field of as many as 2000 ostriches, and never have to worry about more than one at a time. An ostrich can go on the attack and its nearest neighbor, perhaps as close as ten feet away, will be totally unconcerned, as they never team up. The tacky is a long pole, to the end of which is affixed a branch of thorns. Holding the branch of thorns in the attacking ostrich's face, will completely subdue him.
The ostrich is plucked the first time when six months old, and should be plucked every 6 to 8 months thereafter during its life time. The feathers are plucked from the wing tips…not the tail, and male feathers, which are more valuable, are kept separate from the female feathers. Unlike other birds, ostrich feathers are perfectly divided with the quill running exactly down the middle. They are classified as to shape size, and color. The "white primes" are the most valuable, and at the time of our story, were selling on the wholesale market for $145 per pound, about 90 feathers making a pond. Ostrich feathers fell out of favor with the beginning of World War I.
Chrisitan De Wet, who is from South Africa, has arrived on the scene to deliver ostriches from that country. While in South Africa, he survived the Siege of Kimberly. During the Boer War, Kimberly was besieged by the Boers who, with very large cannon, were able to stay well out of range of anything the defenders had, and bombard the city with huge bombs, which gradually reduced the city to rubble. The women and children were forced to take shelter in the De Beer diamond mines, subsisting on meager food rations, and water which, by a brilliant piece of engineering, was able to capture and use the run-off water of the mines. The siege lasted for 124 days until the defenders, including the famous entrepreneur Cecil Rhodes, were relieved
Christian De Wet and Phoebe Sloan take a romantic trip to Castle Hot Springs. The resort was completed in 1896, and immediately became a commercial success. During the 1920s. the resort was often visited by the writer Zane Grey, as well as famous and very wealthy families, such as the Rockefeller family. After World War II, John F. Kennedy came to Castle Hot Springs to recuperate from his ordeal in the Pacific, and begin thinking about his book PT-109
Enjoy an exclusive excerpt from Under the Desert Sky: 
Christian bought two box lunches, one with potted ham and the other with potted chicken. In addition, there were several saltines, some locally-grown pears, and a small spice cake.
"This may take a while," Christian said as he sat down beside Phoebe. "Ham or chicken?"
"It doesn't matter."
"Then I'll take the ham."
"Sir, I heard you say you're going to the hot springs," a gentleman said as he approached them.
"We're going, that is if we get there today," Christian said.
"You will be back by November 6th won't you? I'd like to ask you for your vote."
"I'd love to vote, period," Phoebe said. "I don't understand why Arizona isn't a state yet."
"And that is one of the main reasons I want to be elected as a territorial delegate to Congress. I'm Governor N. O. Murphy, but my friends call me Oakes. And you sir, may I count on your vote?"
"I can't vote for you either," Christian said.
"You're a Smith man?" the governor questioned. "Let me tell you why, I'm the best person to go to Congress. You know Arizona needs this water project to go through. If I'm elected, I can guarantee that the National Irrigation Congress will find in our favor."
"Well, then, the Salt River Committee doesn't need me," Christian said.
"Wait a minute, who are you? Are you that foreigner from South Africa? The one Ben Fowler hired?"
"I am from South Africa and Mr. Fowler has asked me to assist him."
"Well, whatever it is you do, I hope you can get the job done. This valley needs water. Now, I didn't catch your name?"
"Christian DeWet." Christian extended his hand to Governor Murphy.
"DeWet? Are you fighting against the British?" Murphy screwed up his eyes as he scrutinized Christian.
"I can't say that I am right now."
The governor moved a rock that held down several copies of the Arizona Republican. He picked up a paper and handed it to Phoebe. "Front page, four columns over. Can you read that headline? 'Drubbed De Wet.' If your friend's a Boer, he'd better think about going back where he came from." The governor turned and began addressing another person who was coming into the depot.
Phoebe looked at the front page and she found the headline:
Drubbed De Wet
The Famous Boer Commander Given the Run
The London war office has received the following from Lord Roberts:
"Lt. General Charles Knox successfully engaged General Christian De Wet on October 27. During the Boer retreat, Knox caught De Wet in Rensburgdrift. The Boers lost heavily, but due to the treachery of the inhabitants who admitted Boers to their houses in the night, from which a fire was opened at daybreak, the guerrilla fighters, led by De Wet escaped. Troops dispatched from Modder River drove off the Boers and destroyed the houses of the treacherous inhabitants.

"Christian, you have the same name as this general. Are you his relative?" Phoebe handed him the paper.
Christian shuddered and put his arm around Phoebe drawing her close to him.
"I don't know if the General is a relative or not. I don't even know if I'm Dutch or British."
"There can't be that many De Wets in South Africa, and to be named Christian, too; you have to be a relative. Someone had to give you that name."
Christian chuckled in a deprecating manner. "Someone did give me that name. I told you once that I was taken to an orphanage and then I . . . escaped for want of a better word. I lived on the streets for at least five or six years, until I had an accident. I was taken to an infirmary where two very generous people took me in. One was my benefactress and the other was my mentor. Mrs. Van Koopmans gave me her maiden name, and Cecil Rhodes said I had to have a Christian name. So there you have it. I'm Christian De Wet. Nobody knows who I am or where I came from."
Phoebe leaned into Christian and kissed him lightly. "I know who you are, and I know where you came from."
Excerpt. ©Sara Luck. Posted by arrangement with the publisher. All rights reserved.

Giveaway:

2 Print copies of UNDER THE DESERT SKY by Sarah Luck
To enter Giveaway: Please complete the Rafflecopter form and

Leave a comment with your thoughts on the book…
Book Info: 
Phoebe Sloan isn't afraid of hard work—she couldn't have survived on the Arizona frontier if she were. But ever since her husband was killed in a ranch accident, she's struggled to make ends meet and preserve her young son's birthright. Her last gamble was to start raising ostriches—the plumes are prized by fashionable city ladies—and it could work, but someone's determined to sabotage her efforts.
Enter Christian de Wet, a South African importer who finds himself drawn to the fragile but determined Phoebe. He begins helping her around the ranch as a kindness, but the two quickly find that the heat rising between them has nothing to do with the Arizona desert! When the saboteur finds a way to endanger not just the ranch, but Phoebe's family, will she have to forsake her happiness to save her son?


Meet the Author: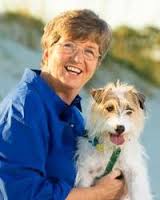 Sara Luck taught school in Alaska for six years, spending much of that time 200 miles north of the Arctic Circle. Married to a retired army officer (also a novelist), Sara and her husband live on the beach in Alabama with a Jack Russell terrier named Charley.