Today it is my pleasure to Welcome author
Katee Robert
to HJ!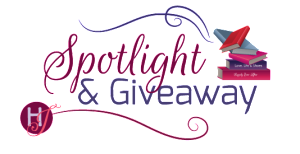 Hi Katee and welcome to HJ! We're so excited to chat with you about your new release, Undercover Attraction!

Thank you so much for having me!

Please summarize the book for the readers here: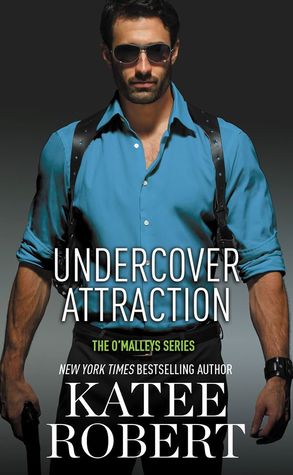 This is the fifth installment of the O'Malley series, and we get an up close and personal look at the oldest brother, Aiden! He proposes a fake relationship with the daughter of an FBI agent in order to take out a mutual enemy.

Please share the opening lines of this book:
Charlie Moreaux, formerly Charlotte Finch, tucked a strand of long white-blond hair behind her ear, narrowing her eyes. This time of night, the party should have been in full swing, everyone a little too drunk, a little too loud. Instead, people kept to their tables and talked in low voices.
Please share a few Fun facts about this book…
Aiden was a tough hero to write. He spent most of the series as the distant older brother who did things that sometimes were pretty crappy, and so getting inside his head was a revelation!
Charlie was a breath of fresh air, both for Aiden and for the family as a whole! She's a former cop and she has no problem calling Aiden out when he gets too high handed–and calling out the various siblings on their BS. It was a delight to write!
Please tell us a little about the characters in your book. As you wrote your protagonist was there anything about them that surprised you?
Aiden is the oldest of his siblings, and he has a tendency to wear masks in order to accomplish his goals. It makes it difficult to find the man beneath the masks, but he's got his own sort of honor and he puts his family first at all costs.
Charlie is a disgraced cop with a chip in her shoulder a mile wide. She's tough–she's had to be–and her only real family was her dad…who's not super great. So throwing her into the O'Malley family and putting them at odds with the core values she was raised with… It was a blast.
If your book was optioned for a movie, what scene would you use for the audition of the main characters and why?
"What is it about being my fiancée that bothers you so much?"
"How about the fact that I'm not going to sleep with you?"
Aiden barked out a laugh. "You don't have to sleep with me, Charlie. You just have to pretend." Just like that, all amusement was gone from his face, the intensity of his eyes leaving her breathless. He reached across the meager distance between them and captured her chin. Her heart tried to beat out of her chest as he leaned forward until his breath ghosted across his lips. "No one would believe for a second that I'd wait for marriage to have you in my bed, and so you'll be in my bed. But I won't touch you without permission."
His voice dropped an octave. "You can pretend to want me, can't you?"
She squeezed her thighs together, but the move did nothing to alleviate the ache growing between them. Do not give him permission. Some things you can't come back from.
She held perfectly still, a rabbit in a trap, and when she spoke, she was pathetically grateful that she sounded mostly unaffected. "I think I'll manage."
"Good." His lips curved a little. "Then we can begin."
What do you want people to take away from reading this book?
That everyone is redeemable.
What are you currently working on? What other releases do you have planned for 2017?
I'm currently working on the first in a brand new series that will be coming out in spring of 2018. Aiden's book is the last release for this year!

Thanks for blogging at HJ!
Giveaway:

A $25 Amazon gift card
To enter Giveaway: Please complete the Rafflecopter form and Post a comment to this Q:

Do you like anti-heroes?
Excerpt from Undercover Attraction:
Aiden leaned on the edge of a giant desk that was almost perfectly clean. She'd have thought the lack of clutter meant he didn't do work there, but Charlie suspected it was because Aiden was a control freak of epic proportions. She'd seen his type around the poker table—the man who uses masks to manipulate the people around him. He was the best buddy, the overwhelmed newbie, the blustering idiot, all depending on what would serve him best.
But the pros she knew looked like children playing pretend compared to Aiden O'Malley. The main skill Charlie had developed after she'd been so horrifyingly wrong about her brothers in blue was people-reading…and she couldn't begin to guess what the real Aiden was like.
At the moment, he looked slightly rumpled, a few buttons of his shirt undone, his hair not quite perfect, as if he'd been running his hands through it. He went still as she walked toward him. "Charlie." She heard the door shut behind her, but she had eyes only for him.
Pretend. It's just pretend.
It didn't feel very fake when he held a hand out to her and she crossed the room to take it. She had a vague impression of masculine colors on the wall and sturdy furniture, but she couldn't take her gaze from him.
He took in her dress with a quick look, the heat in his green eyes banking just as quickly as it had last night. "I like it."
"Thanks." This felt too weird, especially considering why she was really here. Charlie looked around. "I met your sister when I walked through the door."
"Keira." He said her name on a sigh, the very picture of the beleaguered brother.
Real or pretend?
"She's pissed at me right now, and I don't expect that to change anytime soon." Aiden motioned her closer and took her hand again, running his thumb over her knuckles as he examined the manicure she'd gotten today.
She didn't ask what he'd done to make his sister angry. It was none of her business. She wasn't here to get to know him—something she desperately needed to remember. "What's the plan?"
"Dinner." He saw her confusion and explained. "Before we can convince our enemies that we're madly in love, we need to convince my family. Their belief will lend the whole thing credence. Some of them are terrible liars."
She doubted that very much. Charlie looked down at their joined hands, the contact so innocent and yet branding her all the same. "Well, then let's make it convincing. This holding hands makes me feel like I'm back in seventh grade and awkward as hell."
"What are you proposing?" His tone gave nothing away, not anticipation, not condemnation.
"The only way they'll believe you proposed marriage so fast is if the sex was off the charts." Idiot, idiot, idiot. She was on dangerous ground, and she knew it, but she wasn't going to risk what little she had left to lose on a plan destined to fail because they half-assed it.
Charlie took a deep breath and stepped into him. He felt good, all long lines and hidden strength, but she was about to jump out of her skin just being this close. Seductress she was not. "We have to be all over each other, have to constantly look like we're about to fuck or have just fucked—or a combination of both."
His hands came to rest on her hips, not pulling her closer or pushing her away, just touching her. "It would make the charade more convincing. I can't argue that."'
"Then let's…" She ran her hands up his chest and looped them around his neck. The move pressed her breasts more firmly against him, and his fingers flexed on her hips. It was a slight movement, but it was the first physical indication he'd given since that moment in the car that he wanted her. We're both the problem here. Too cold. Too contained. "Let's mix things up a bit."
"You're playing with fire, Charlie." The words came out in a rumble. "I promised I wouldn't touch you unless you asked me to, but make no mistake, if you want to play this close to the line, then we'll be crossing that line. Repeatedly."
"I know." Her body tingled, but she couldn't be sure if it was in fear or anticipation.
"Be sure."
He was giving her an out, which was kind of sweet, but she was right and she knew it. They had to cross this line, and cross it before they encountered any more of his family. The reasoning felt flimsy, but she pushed away her doubt. She was an adult, and she was well aware of the risks that came with taking things to this level. "I'm sure."
He didn't ask again. Aiden let go of her hip with one hand, and slid it up her side to bracket her throat. There was no pressure, no pain, just a startling possessive gesture that seared her to the core. "Take off your panties. Now."
She swallowed hard, the move dragging his calluses against her sensitive skin. "I'm not wearing any."
The look he sent her nearly had her on her knees, her legs shaking, her breath already coming in short gasps. "Good girl."
Excerpt. © Reprinted by permission. All rights reserved.


Book Info:
Ex-cop Charlotte Finch used to think there was a clear line between right and wrong. Then her fellow officers betrayed her, and the world is no longer so black and white. Especially when it's Aiden O'Malley, one of the most dangerous men in Boston, who offers her a chance for justice. The only catch: she'll have to pretend to be his fiancée for his plan to work.
Aiden can't afford to let anyone see the man behind the mask. To run the O'Malley empire, he has to be cool and controlled at all times. But the moment he meets Charlie, they're playing with fire. Her slightest touch is enough to send him over the edge. At first their "engagement" was a way to eliminate his enemies. Now he'll do whatever it takes to keep her safe– even if he has to destroy his own family to do it.
Book Links:


Meet the Author: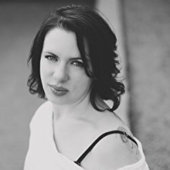 New York Times and USA TODAY bestselling author Katee Robert learned to tell her stories at her grandpa's knee. Her 2015 title, The Marriage Contract, was a RITA finalist, and RT Book Reviews named it 'a compulsively readable book with just the right amount of suspense and tension." When not writing sexy contemporary and romantic suspense, she spends her time playing imaginary games with her children, driving her husband batty with what-if questions, and planning for the inevitable zombie apocalypse.
Website | Facebook | Twitter | Instagram | GoodReads |