Today it is my pleasure to Welcome romance author
Samantha Hunter
to HJ!

Hi Samantha, Welcome 🙂
If you were written about in the newspaper, on the front page what would the headline say? Why?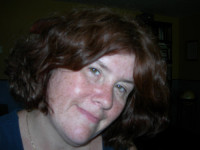 Need to warm up this winter? Local writer writes hot, hot romance!
I think this would be a great headline, since I've lived here in Central New York all my life, and we do have nasty winters — people need all the ways they can find to warm up. 🙂 I also think a lot of people who live here don't realize how many published romance writers live in the area — it would be a great chance to let everyone know.
Would you rather…have 3 wishes in 10 years or 1 wish today? Why?
I would rather go with one wish today — always better to go with the bird in the hand. 😉
I've always said if I had one wish, it would be that for myself and all the people (and pets!) I love, that we could enjoy complete good health and long lives with no doctor visits. 🙂 I think good health is the most important thing for all of us, really.
Let's talk about your newest release: Unexpected Temptation
If you had to summarize the book for the readers here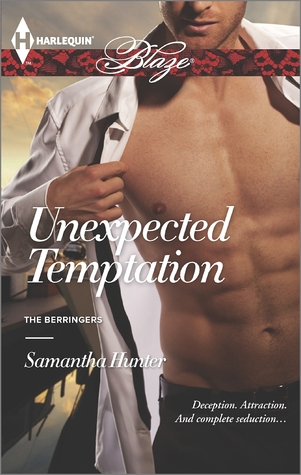 This is the final book in the Berringer Bodyguards series, and I would describe it as a very sexy suspense-adventure romance. There's a lot going on in this book — the hero, Luke Berringer, is looking for the woman who ruined his life several years before, the heroine is looking for her long-lost sister, and both of them are about to head into a whole lot of trouble and danger — and romance — trying to find what they're looking for.
Please tell us about the characters in your book?
Luke Berringer was a tech giant, a peer of people like Steve Jobs or Bill Gates, but he lost it all in a terrible scandal and worse, he let it happen by falling for a woman who was actually a spy. She left his company in ruins, and his life, after one of his employees committed suicide when Luke wrongly accused him before he knew who was really responsible. Wrecked, he sold everything and left to try to find a way to heal, and now he's back and working with his cousins as the white collar expert in their bodyguard business — but Luke can't quite lay the past to rest until he finds the woman who ruined him. What he's found instead is elementary school teacher Vanessa Grant, who isn't quite who he thinks she is.
Vanessa Grant loves being a teacher and she lives for her kids and her job, probably in part because she lost her own siblings when they were all split up in the child welfare system after their parents died. She was adopted by a good family, but has never been able to find her sister or brother, though she's never stopped looking for them. One day, when she goes home from work, her house explodes — and she finds out it was wired to do so specifically to kill her. She'd be dead if it weren't for Luke Berringer, but Luke scares the heck out of her as well as making her feel things she really shouldn't be feeling for this strange man who is about to take her on the adventure of her life.
As you wrote your protagonist was there anything about them that surprised you?
I think I was surprised with Luke, that for all the lessons he's learned in life, and all of the obstacles he had to get past, he's still very stubborn and limited in this thinking sometimes. He can have serious tunnel vision, and I didn't really see that at first, but it made more sense as the story played out. For all that he's been through, I think he's not quite as past it all as he thinks he is.
Vanessa surprised me in how daring she was. . .but it's because she has a huge heart, she's a sweet, caring person, and that makes her a very strong person (though she doesn't really understand that, not completely). And her love, for her family, or her students or even for Luke, eventually, makes her very brave — she's an action hero all by herself, in some ways. 🙂 I think it was nice to have a heroine who was "kick ass" in some ways, but also was just a normal woman — a nice woman who likes kids, family, and wants normal things in life.
What scene did you most enjoy writing? Why?
The first kiss was fun in this one, because it was not a very typical first kiss, when Luke thinks he's kissing one woman, but finds out how wrong he is…
Then he saw her. She must have exited the side door. Trying to avoid him?
Either way, the police had let her go, so her story had to have held up. He watched her from the distance; she had no idea he was there.
She was still as beautiful as ever. Even with her plain-Jane, no-frills elementary-school teacher persona, she couldn't hide her natural beauty. She might actually be even more attractive than the glamorous high-roller he'd known six years before. Softer and more vulnerable, she didn't look dangerous at all. But Luke knew better.
Her chestnut hair was still long and thick, no highlights this time, but the color was the same. Luke remembered what it was like to bury his face in it. What it felt like to wrap it around his fingers as he kissed her. He knew what every inch of Nicky felt and tasted like. Seeing her had brought it all back. Arousal coiled down deep in his belly until he reminded himself what was behind the beauty.
Lies were the least of it.
She paced, looking exhausted and wary, as well she should be. Apparently Luke wasn't the only one after her. In fact, if she was a victim here, the police shouldn't have let her leave the station.
He made a judgment call and stood from the steps.
"Nicky. . .I mean, Vanessa," he called out, trying to sound less threatening that he had earlier as he closed the distance between them.
She pulled her purse up close to her, as if putting it between them would stop him. He'd grant her, if she was faking, she should win an Oscar.
"Y-yes?" she asked, peering at other people around them, making sure they weren't alone.
He could almost believe that she was afraid of him.
"Listen, I wanted to apologize. I'm sorry I was unfriendly earlier. I don't know if the police explained, but I thought you were someone else," he explained, modulating his tone, adding a bit of a smile. "I'm sorry about that. I behaved. . .badly."
"Yes, well, thanks." Her words were clipped, her eyes still wary.
"You've had a long day. A hard one. I figured I added to that, and I hoped you'd let me make it up to you. Maybe I could buy you dinner or something," he said with a smile. "Or at least give you a ride. I think your car was impounded as evidence."
"Thank you, but I called a cab. It should be here any minute. They are releasing my car tonight after they're done with it. Thanks for the apology, and for. ..well, thanks for saving my life. I don't mean to be rude, but I really have to go."
She frowned as she saw the taxi that had approached drive on by, pulling up to the curb ahead of them. She started walking in that direction. Luke took a step after her, his hand on her arm. Before he knew it, she'd turned, neatly grabbing him and twisting his arm behind him.
It was nothing to him, though he was momentarily surprised. He'd spent enough time practicing various fighting styles that he easily slipped her grasp and tightened his around her, her arms immobilized as he trapped her against him.
"So, you didn't forget everything I taught you," he said against her ear.
"What? I don't know what-"
"Stop it, okay? It's me. Do me the favor of dropping the act when no one else is listening."
He twisted her around to face him, and he was surprised to see her hand shake as she lifted it to her face.
"You really are crazy, aren't you?" She backed away, her eyes darted to where the taxi waited, hitting its horn once. "You stay away from me."
She was going to push this all the way. Fine.
Luke pressed in close, and her eyes widened. He'd always loved her eyes.
"Let's see if I can jog your memory a different way."
The kiss wasn't meant to be kind or even sexy, but once he felt her against him, intention went out the window.
He held her tight against him until she relaxed, opened, and started kissing him back. Blood rushed in his veins as he went deeper, harder, trying to make her give in. Her nipples were hard, crushed into him, and he was hard, too. He let her know. She moaned into him as he pressed against her.
But as delicious as she was, he had a purpose. He paused only long enough to trail kisses down her neck. With his hand, he pulled the shoulder of her blouse away, nipping the soft skin there.
As he kissed her, holding her against him, he looked down at the curve of her shoulder blade.
Nothing.
To be sure, he slid his hand inside, felt her shudder against him. His astonishment cooled his ardor; his arousal and his anger were squelched by confusion.
It was pause enough for her to come to her senses, too, and she pushed away. He let her go, still shocked.
It wasn't there. No tattoo, no scar or indication that anything had been removed. There was a small mole in the spot where the tattoo once was – something that could not be faked.
What scene was the hardest to write? Why?
There is an action scene at the end, and there is a lot going on. . .getting the logistics and all of the moves right in that one took some work, capturing all of the emotions and motivations and conflicts as well as the action — you can't have people stopping to think for too long when they are in imminent danger — but I think it really works, at least, I hope so!
A very brief snippet — sorry, this is all I can give you without giving too much away! 🙂
Luke sat on the floor of the basement with Vanessa's head resting on his thigh. She was out cold. A lump was prominent above her ear, but she was breathing steadily and her pulse was strong. Still, he was anxious for her to show signs of consciousness.
They'd been put down here about an hour ago. At least it was cool. Luke wasn't sure how to get out of this. He wasn't lying about having no phone signal, and no one knew where they were. He'd thought he'd had control of the situation, but apparently that wasn't the case. If anything happened to them – to Vanessa – it was his fault.
He couldn't live with that.
Of course, whether he'd live through this at all was in question.
Who would you cast in the role of your characters if your book was optioned for a movie?
For Luke, it would have to be Gabriel Macht (Harvey Specter on SUITS) — absolutely definitely! — he looks exactly like Luke, and I think he'd carry off the swagger and the sort of depth that Luke has. For Vanessa probably Megan Boone (Blacklist), since that actress looks like Vanessa, and she has that softer vulnerability about her while still being very, very strong. Capable.
If you could have given your characters one piece of advice before the opening pages of the book, what would it be and why?
If you can trust yourself as well as each other, you may end up with more than you ever wished for.
I would want to plant this in their minds because they have both been through so much, and they are so different, that they don't really trust their emotions or each other — I think they both lose perspective a lot. Vanessa can't believe Luke would ever really want to be with someone as unglamorous as her, and Luke doesn't think he can trust anyone, not completely, ever again, but that's because he hasn't healed completely yet. I think they could use that little voice in their head, but their attraction and desire for each other helps bridge to the emotions that get them the rest of the way. It's impossible to be that attracted to someone and to go through what they do without realizing in the end that you have something pretty special.
What are you currently working on? What other releases so you have planned for 2014?
Right now I'm working on my next Blaze, which is a story about two subplot characters from my previous Blaze, I'LL BE YOURS FOR CHRISTMAS, NASCAR driver Brody Palmer and accountant Hannah Morgan. I enjoyed getting these two together for a fling in I'LL BE YOURS… and I'm happy to be writing a longer story for them. I have one more Blaze to write later this year, and I plan to write more novellas for my Samhain series as well .
My next release after UNEXPECTED TEMPTATION will be a story in a Blaze Christmas Anthology in December, and I'm very happy about that project. I love writing Christmas stories. 🙂 Readers can check my website or touch base with me on Twitter or Facebook for any other new news. 🙂
Thanks so much!
Thanks for blogging at HJ!
Giveaway:

Two winners will receive a COMPLETE signed set of Berringer Bodyguard books (5 in all, print). US only. Two other winners will receive a signed copy of Unexpected Temptation (open to all internationally).
To enter Giveaway: Please complete the Rafflecopter form and Post a comment to this Q:

Do you often get mistaken for being someone else? Have you ever mistaken someone else's identity? 
Excerpt
The boat was silent and deserted. Luke had always enjoyed a walk on deck at night when no one was around. In the middle of the ocean, you could feel like nothing else existed.
The aft deck on the top level was open and spacious, and a cool breeze whipped around him as he stared out into the blackness. Looking down, he saw the glowing trail of effervescence, the water alive with glowing, microscopic organisms that churned behind the boat.
Shivering, he planted his bare feet on the solid deck and started to move, focusing his thoughts away from everything but his limbs, his balance, his motion. His breathing leveled out, his mind relaxing and zeroing in on how his body moved with his breath.
A few minutes into it, a small noise behind him signaled that he wasn't alone. His concentration was broken as he turned and saw Vanessa standing by the rail in a robe.
"Vanessa," he said, surprised.
"I'm sorry. I didn't mean to interrupt, but you were. . .it was wonderful to watch. Tai Chi?"
He nodded.
"I'm sorry to intrude."
"It's fine. Why are you up in the middle of the night?"
"Why are you?" she countered.
Her hair blew in the breeze, and he could barely make out her features in the dark. He'd turned off most of the deck lighting before he came out, so they stood in shadow of light cast from the inside of the main room.
"I couldn't sleep. I needed to relax."
"Did it help?"
"I only just started, but it usually does."
"Maybe it would help me. I can't sleep, either. My mind keeps going over everything, over and over. I've been walking around, trying to tire myself out, but I get more worked up. When I saw you, it was the first time I was able to stop thinking. It was peaceful to watch."
Luke found something humbling in her admission.
"I used to find that, too, when I was in Tibet. I spent months watching before I started learning in any formal sense. Do you practice?"
"No. It was something I always meant to learn. My father taught me some self-defense and enrolled me in Krav Maga classes, but those are not relaxing."
Luke smiled. "No, not by a long shot. Come here. I can show you some basics, if you want."
She hesitated and then joined him. "What do I do?"
He led her through a few of the basic moves, helping her stand correctly and hold herself in balance. She had natural aptitude, already knowing some martial arts, but it took everyone time to learn the deceptively simple movements.
"The transition between the stances should be slow and easy," he instructed. His touch was light as he guided her.
"Wait. This robe is in the way," she complained as she removed it.
All of Luke's relaxation and zen was washed away in a wave of desire. She didn't seem to think anything of her sexy appearance.
"That's better. Let me try again, now that I can move freely," she said, unaware of the picture she presented.
Luke stood back, putting some distance between them. Now he was the one watching.
"Don't stand so stiffly," he said softly. "Let your spine float on your hips, rooted through your legs. Remember to keep your tongue soft on the roof of your mouth as you breathe."
She moved through the first five postures he'd showed her, doing well for a beginner, but forgetting to open her arms after crossing them in the White Crane movement.
"You're doing great, but let me help you with that last part," he said, standing behind her. "Settle back into Basic Horse again."
She did, and he pushed on her shoulders lightly. "Deeper."
She sank a bit deeper, which caused her shorts to pull up higher. Luke looked past her shoulder, out toward the dark ocean, focusing his energy inward and away from his desire.
"Okay, now go forward like this."
As he moved behind her, he was able to reach forward and adjust her movements, keep her in time with him. After a few more tries, with his correction, she fell into perfect rhythm with him. They repeated the series twice more.
Luke hadn't experienced the sense of being so totally in sync with anyone since his days in China. As they finished a final time moving through the fifth posture, he could almost see that the tension had drained from her body, until she gasped and wrenched forward, holding her side.
"Vanessa?"
She straightened, looking down at her side, where a dark spot appeared on her shirt.
"Damn it," Luke swore under his breath, realizing her wound had reopened and was bleeding through. "I wasn't thinking," he said.
"Luke, it's fine. I stretched a little too far that last time, that's all."
"It's not fine. I should have known that could happen."
She put her hand on his arm, looking up at him. Her skin appeared luminous in the silvery light, her eyes large and dark.
"Why? You can't think of everything. I should have eased up, but it felt good. In fact, it felt great. For a little while, I completely forgot about everything except the movements, and the two of us flowing through them. It was perfect."
So she'd felt it, too. The symmetry they shared.
"We should get that fixed up."
He turned away, resisting the urge to find that connection with her again, but in a different way.
"Luke." She said his name as she reached up to push his hair back from his forehead.
An unbearably tender, gentle gesture. He bent to kiss her, and then caught himself.
Her wound. What was wrong with him? He'd completely blanked on that twice now. This woman merely looked at him and sense went out the window. When she touched him, he forgot everything but the desire to touch her in return.
Book Info:
Luke Berringer used to have everything—money, status. And just like that, he lost it all. Now a bodyguard for Berringer Security, he's determined to track down the woman responsible for ruining his life. But when he finally catches up with Vanessa Grant, he's in for one heck of a surprise….
Vanessa is no con artist. It's a case of mistaken identity, and worse for Luke, the woman has a hidden sensuality that he can't resist. With her life in jeopardy, Luke must protect an innocent woman, track down a guilty one…and determine if maybe the "wrong woman" isn't really the right one, after all!
Book Links:
Author Bio
Sam Hunter lives in Syracuse New York with her husband and several pets. Since January 2004 when she sold her first book to Harlequin Blaze, Virtually Perfect, she has gone on to publish several more with new releases on the way. Sam holds two Master's degrees and was a university instructor for many years before quitting to live the writing life.
Website | Facebook | Twitter |