Today it is my pleasure to Welcome author
Amy Ruttan
to HJ!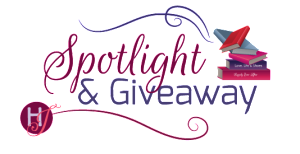 Hi Amy and welcome to HJ! We're so excited to chat with you about your new release, Unwrapped By The Duke!

Hi and thank you for having me! I always love coming here to Harlequin Junkie!

Please summarize the book for the readers here: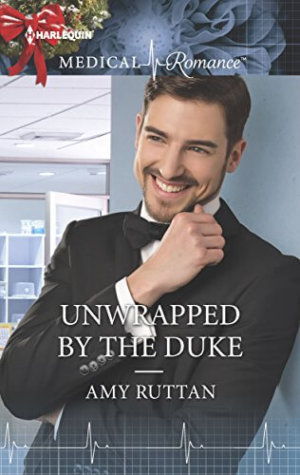 It's a bit like the Reluctant Debutante or What a Girl Wants. Geraldine grew up poor and had to work hard for everything in her life. When she discovers her father is a Lord and needs her to come work at Harley Street practice she's thrust into a world she doesn't know how to navigate. Her father's partner Thomas Ashwood guides her through the world of galas, the modern day aristocracy and romance. Geraldine's just not sure she can trust the notorious Dark Duke who leaves far more broken hearts in his wake than the hearts he saves in the operating room.

Please share the opening lines of this book:
"AND THIS IS WHERE you can change into your lab coat while you make rounds on our patients."
Geri nodded her head as she followed her father into the lounge all the surgeons and physicians at the hospital used. There were overstuffed sofas and a sparkling kitchen area.
Please share a few Fun facts about this book…
My hero was completely influenced by Tom Hiddleston. There was a photograph of him walking down a London street in a morning suit and he just had this cheeky grin and that photograph totally inspired my hero.
This is my first Christmas themed book. I was nervous about it, but it was so much fun to write. I had to learn British medical terms. So that was a bunch of fun research.
I love everything about England. I'm a huge fan of everything Brit, but yet hadn't written anything set there, so my editor challenged me to set one in London.
I love reading regencies, so I channeled my love of Dukes and the ton and modernized it. I spent many hours on Debrett's learning social skills and etiquette. As well as form of address.
Please tell us a little about the characters in your book. As you wrote your protagonist was there anything about them that surprised you?
Geraldine is a fish out of water. She's never had a traditional childhood, but neither has Thomas. So even though they came from completely different worlds (one growing up poor and one growing up wealthy) they were both the same.
They both felt alone and alienated. Both of them were craving love.
Thomas surprised me the most. The character had this great witty, sexy personality and he was my favourite to write in this book.
If your book was optioned for a movie, what scene would you use for the audition of the main characters and why?
I think I would audition the main characters using the scene where Geraldine realizes that Thomas is the famed Duke of Weatherstone. The notorious Dark Duke that all the women are lusting after.
She walked slowly around the tree, admiring the decorations and listening to the chatter around. There was a group of woman about her age. Debutantes. They barely spared her a glance, but she didn't care. She just stood there, admiring all the Christmas decorations and taking in the sights of a beautiful London home decked out for Christmas.
"I can't believe they invited Duke Weatherstone and that he actually came. He never comes to these things." The ladies began to chatter loudly.
"I heard that he actually seduced Harriet Poncenby, but since he didn't want to get married ever, she dropped him."
"He's devilishly handsome, though."
Geri chuckled to herself as she listened to the gossip and she couldn't help but wonder who this Duke Weatherstone was because she'd heard so much about him. All she could imagine was a middle-aged Lothario, because even though these socialites thought he was devilishly handsome, she doubted very much that he would live up to expectations.
No one ever did.
"He did, he actually came to this event and he looks so handsome in that tuxedo. Too bad he brought his half sister with him."
Geri whipped around to see who they were talking about and she gasped when she saw that it was Thomas and Zoe who were coming down the stairs.
Thomas? He's the Duke of Weatherstone.
And the women were right, he was devilishly handsome in that designer tuxedo. His dark hair was perfectly groomed and a mischievous, devil-may-care smile flitted about his lips. It made her feel weak in the knees and her pulse race. She'd been attracted to Thomas before, he was very handsome, but seeing him like this made her swoon just a bit.
Zoe looked gorgeous in a dark green velvet dress that accentuated her blond hair, the complete opposite of her dark brother. She also looked uncomfortable, but then her gaze met Geri's and she waved. Geri waved back, stunned. Thomas turned and looked at her and that smile disappeared, replaced by an expression she couldn't read.
Warmth spread across her cheeks and she knew she was blushing.
Run.
He was heading toward her and there was no escaping now.
What do you want people to take away from reading this book?
I hope they enjoy it. It's a fun, romantic book and love can really cross a lot of divides. Love doesn't care what race, religion or income class you're from. Love will always find a way.
What are you currently working on? What other releases do you have planned for 2016?
Unwrapped by the Duke is my last release for 2016. It's been a whirlwind year. I have two books scheduled for 2017. Alejandro's Sexy Secret comes out January 2017 and His Pregnant Royal Bride comes out in March 2017.
I just finished book #15 for Harlequin Medicals and I'm about to dive into another Christmas book for a 2017 Christmas Continuity. I'm really excited about my Christmas Continuity book because my hero is a former Navy Doctor. I love writing military heroes.

Thanks for blogging at HJ!
Giveaway:

A print copy of Unwrapped by the Duke, a tote bag and a flat doctor bookmark. It's open Internationally.
To enter Giveaway: Please complete the Rafflecopter form and Post a comment to this Q:

What's your favorite part about Christmas? If you don't celebrate Christmas, tell me about what you do celebrate and your favourite part.
Excerpt from Unwrapped By The Duke:
They wandered into the little shop that was overflowing with gifts, confectionary and decorations. It was Christmas overload in there. Thomas felt a little bit overwhelmed and wanted to leave, but Geraldine was in her element.
He never seen her like this. Her green eyes were sparkling and she was grinning as she filled a basket full of gaudy decorations. This wasn't the cold, detached doctor he was used to. This was a totally different person and he liked this side of her. This was the side he'd known was buried under that cold facade. This was the real her that she was so desperately trying to hide, but he couldn't figure out why.
"Can't we keep to a theme?" Thomas asked.
"A theme? If this is your first Christmas tree, the theme should be fun. What were you thinking?" Geraldine asked.
"Simplicity." Thomas stared at a box of twinkle lights. "Just a tree and maybe some ribbon."
She frowned at him and then sang a song, "You're a mean one, Mr. Ashwood…"
He rolled his eyes. "Fine, but no flashing lights. I don't want to have a seizure every time I go into the sitting room."
Geraldine laughed. "Deal."
"And no ornaments that bark or meow Christmas carols."
"How about a singing fish?" she asked, and pointed to the abomination wearing a Santa hat on the wall.
"No. Definitely not." As if on cue, someone else in the store pressed the fish and it began to sing "Jingle Bells" like Elvis.
"Why Elvis?" Geraldine asked in horror. "That is awful."
"We need to get out of here before we find out how that monstrosity sings." Thomas pointed towards the very large reindeer head that was hanging on the wall, also adorned with a Santa hat.
"Agreed."
Excerpt. © Reprinted by permission. All rights reserved.

Book Info:
An unexpected inheritance…
When Geri Collins learns she's the daughter of a lord her world changes in an instant. Running from a relationship gone wrong, she seizes the opportunity to help her gravely ill father by running his Harley Street clinic.
If only she didn't have to deal with the sensual temptation of her new partner—the notorious "Dark Duke"! Thomas Ashwood unnerves her with every burning look and suggestive word. And as Christmas approaches Geri finds herself contemplating the consequences of a kiss under the mistletoe…
Book Links:

Meet the Author: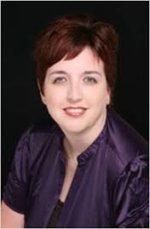 Born and raised just outside of Toronto, Ontario, Amy fled the big city to settle down with the country boy of her dreams. After the birth of her second child, Amy was lucky enough to realize her life long dream of becoming a romance author. When she's not furiously typing away at her computer, she's a mom to three wonderful children who use her as a personal taxi and chef.
Website |