Today, HJ is pleased to share with you Asa Maria Bradley new release:

Viking Warrior Rebel

She can't let him discover… Immortal Vikings are among us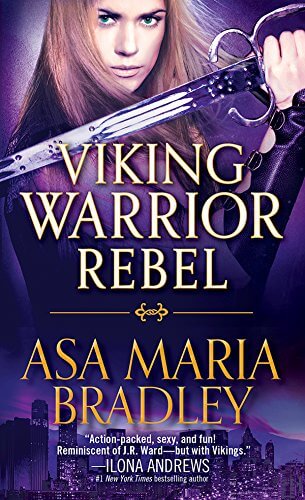 Astrid Irisdotter is a Valkyrie-a fierce warrior fighting to protect humanity from the evil god Loki and his brutal minions. She's on an urgent mission for her queen when everything goes hideously sideways. Undercover agent Luke Holden arrives on the scene just in time to save her life-and put his own on the line.

Luke may have saved her, but that doesn't mean Astrid can trust him. Tempers flare as they hide secret upon secret from each other, but Astrid's inner warrior knows what it wants…and it will not take "no" for an answer.

Enjoy an exclusive excerpt from Viking Warrior Rebel:
Holden sighed, got up, and retrieved another bottle of juice from the minibar. He handed it to her without comment and sat back down. This one was cranberry. "Look, I get that there are loads of information you don't want to share. But can we cut the crap? Just share what you know."
Astrid cracked the juice bottle open. "I am sharing." She took a swig of the bright-red liquid, hoping she wouldn't spill any on the nice white sheets. How had Holden kept her from bleeding all over the linens? "Just ask me what you want to know." That way she could censor each chunk of information more easily, and maybe his questions would show a pattern. Holden definitely had an agenda. His body betrayed him. He was too tense, too probing. This felt more like a debriefing than just him wanting to know about the creature he'd fought. Why would a nightclub owner interrogate her?
"Fine." Holden ran his hand through his hair. "Answer the second part of my question. Why are they trying to kill you?"
This one would be a little trickier. A long explanation about the power struggles in the Norse gods' council and Loki's circumvention of the rule about not taking the gods' battle to the human realm by instead sending wolverines seemed like a lot to lay on Holden all in one go. Plus, describing herself as an immortal sentinel fighting for Odin and Freya to keep humanity safe from Loki and his deranged plans might make Holden put her in a straitjacket.
She drank from the juice bottle again and took her time swallowing. The tic in Holden's jaw pulsed faster. Maybe he was able to control his physical reaction to her—which she so obviously struggled with, her nipples still hard—but she definitely got to him on some level.
She looked down and fiddled with the cap on the bottle to hide the small smile tugging at her lips. "That's a complicated story. I'm not sure if they wanted to kill me as much as capture me. I'm just good at fighting back." She looked up.
Holden met her gaze with an intense stare. He didn't blink before firing the next question. "Why do they want to capture you?"
"They want information." She held up her hand when it looked like he was about to explode out of the chair. "Information I can't give them and I can't give you. It would endanger people I care about."
He sat back and studied her. "If these people are so concerned about keeping their secrets, why are you here on your own? Why aren't they protecting you?"
Good question. Although a better question would be: Why was she such a stubborn dumbass that she didn't take someone with her instead of endangering herself and the queen's brother? "They wanted to, but I…screwed up a few weeks ago and I had to prove to them and myself that I could do this on my own."
His eyebrows shot up. Obviously he hadn't expected her to admit to that weakness. She hadn't expected to either, but it slipped out before she could stop it. Somehow it was easier to admit this flaw to Holden than to her Norse brothers and sisters. Although she was pretty sure they were aware not only of her stubbornness, but also of how tightly she held on to her pride.
"Is Daisy Driscoll one of those people?" He used the name of Naya's fake identity. The one he'd known her by when she worked as his security consultant.
"She's a friend. That's all you need to know." Astrid kept her voice flat so no emotion would slip out. Let him interpret that statement as he wanted to. She would not betray her queen.
He seemed to sense that questions about Naya were off-limits because he nodded. "Fair enough. But then tell me what your business here in Denver is." She hesitated and he leaned forward, putting his hand on top of hers. "Astrid, they almost killed you. Let me help you."
She shook her head and looked away in case the sudden burst of tears welling up in her eyes escaped. The blood loss had made her into an emotional mess.
Trust, whispered through her mind. The berserker again, but it didn't come out of its slumber.
"I have great resources." Holden squeezed her hand. "Please, let me help you."
Could she risk taking him up on his offer? He seemed awfully eager to help. "What's in it for you?" she asked.
He looked away. "What do you mean?"
"Why do you want to help so badly? What do you get out of this?
Holden stood and paced the room. "I care about you."
Her heart fluttered, but she ignored it. She already knew she couldn't trust her hormones around Holden. Apparently other parts of her body were now betraying her too. "Bullshit. You hardly know me."
He turned, a wicked smile on his lips. "I would say I know you quite intimately."
Her whole body tingled, and heat pooled in her stomach before moving lower. She was glad she was under the covers so she could hide her body's reaction. She forced her breathing to remain steady and quirked an eyebrow. "Can we keep this conversation serious?"
His grin widened, but he nodded. "Alright, let's just say that I have an interest in this since you're a friend of Daisy's." Naya had worked with Holden before she met the king. Had there been something more than just a professional relationship between the two humans? The thought disturbed Astrid more than it should.
The berserker suddenly woke fully from its slumber.
Mine, it growled. An intense burst of anger flooded Astrid's senses. Images of her fighting the queen flooded her mind. She struggled to keep her face from betraying the rage spreading through her body.
She must not have been successful, because Holden frowned and took a step toward her. She held up her hand to stop him.
A knocked sounded on the door. Saved by room service.
As Holden turned, Astrid bolted out of the bed and slipped into the bathroom. She locked the door behind her and leaned her forehead against its cool wooden surface. What the fuck was going on?
Excerpt. ©Asa Maria Bradley. Posted by arrangement with the publisher. All rights reserved.
Giveaway:

Print copy of VIKING WARRIOR REBEL (Viking Warriors Book 2) by Asa Maria Bradley
To enter Giveaway: Please complete the Rafflecopter form and post a comment to this Q:

What did you think of the excerpt spotlighted here? Leave a comment for the author with your thoughts on the book…
Meet the Author: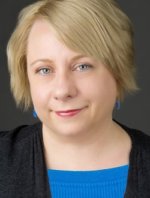 2016 double RITA finalist Asa Maria Bradley grew up in Sweden surrounded by archaeology and history steeped in Norse mythology, which inspired the immortal Vikings and Valkyries in her paranormal romances. She arrived in the U.S. as a high school exchange student and quickly became addicted to ranch dressing and cop shows. Asa currently resides on a lake deep in the pine forests of the Pacific Northwest with a British husband and a rescue dog of indeterminate breed. She graduated from the Inland Northwest Center for Writers program at Eastern Washington University with an MFA in creative writing and also holds an MS in Medical Physics from University of Colorado.
Website: http://www.asamariabradley.com/
Facebook: https://www.facebook.com/AsaMariaBradley.Author
Twitter: @AsaMariaBradley
Goodreads: https://www.goodreads.com/author/show/13754069.Asa_Maria_Bradley

Buy links:
Amazon: http://amzn.to/2cSDfPh
B&N: http://bit.ly/2dsx2pK
iBooks: http://apple.co/2dswVuo