Today it is my pleasure to welcome USA Today bestselling author

Alice Clayton

to HJ!
Alice welcome, for all of our readers who may not be familiar with your work, could you tell us a bit about yourself and your books?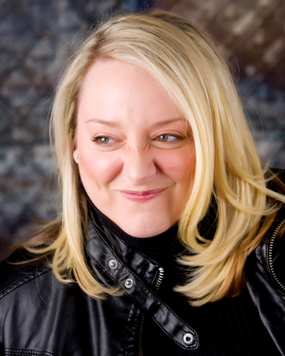 Of course, thanks so much for having me here! I'm a Midwestern girl who lives in St. Louis with Mr. Alice and our 3 kitty kids (Gracie, Mabel and Gladys) and am obsessed with pretty boys. Also watching Bravo TV, I literally can't turn the tv off is there's a Real Housewives episode on, it's like crack. Speaking of crack, my personal crack would be Chex Mix, really good caramels, and Vietnamese noodle soup. As far as the writing goes, I am so very new to this world, I am still a wee babe. I only started writing a few years ago, and was lucky enough to have the first piece of fiction I'd ever written turn into The Redhead Series.
What inspired you to write your first book?
I saw an interview where Robert Pattinson was asked who his biggest crush was, and he mentioned thinking that Tina Fey was "like, the sexiest woman on the planet". After I stopped panting, I started thinking about what it must be like, for the new It Boy to try and date someone, and what if the girl he chose to spend his evenings with was significantly older than he was. What if they spent those evenings high above Hollywood in the hills, watching episodes of Golden Girls and eating Chex Mix in between sexy times? Poof. The Redhead Series was born. Steamy mixed with sexy, that's what I realized was the kind of book I wanted to read so I wrote what I wanted.
If you had a free day and your only mission was to enjoy yourself, what would you do?
It depends on the day, how's my hair? I think that should be considered, since if I am having a great hair day and looking a little tan, I might want to do something different than if I haven't showered and look kind of sad and pasty, right? But all things being equal, I think I'd want to be with Mr. Alice and my family, somewhere absolutely magical. Like, on safari in Africa, or on a houseboat somewhere off the coast of Thailand. Eating amazing food, drinking a really cold beer, with the people I adore.
What are you most proud of about your life?
Not giving up my voice. It was muffled for a few years, but I never lost the creative spirit that I've always had, I just didn't let it fly as high as I could have. Now, it's in fucking orbit, and I'm so proud that I let my inner Alice take over, trust that what I thought was funny or sexy or interesting, that someone else might as well. That I didn't allow people to drag me down, it's just easier to trust and be happy.
If you had to summarize Wallbanger for the readers here ….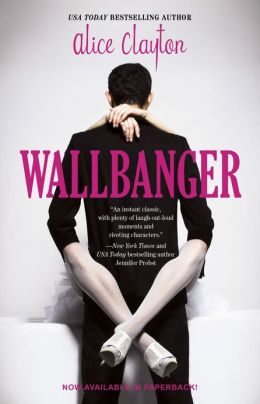 THE BEST BOOK EVER WRITTEN. Heeheehee. You think I'd be better at summarizing at this point, but when I think about Wallbanger, I just start to laugh.
Wallbanger is the story of the girl next door living next door to Sex On Legs. Our girl has lost her orgasm after a bad one night stand, and her neighbor is bringing it on home night after night, reminding her that her O has left the building. It's a comedy for sure, with her cat Clive stealing every scene he's in, but it's also a story about not always knowing exactly what you want. And sometimes it's staring you right in the face, although it might not be in the package you always thought it would be in.
Please tell us about the characters in your book.
Wallbanger is the story of Caroline Reynolds and Simon Parker, with a supporting cast of nutballs and feline crazies. Caroline's an interior designer, Simon's a freelance photographer, and they live in one of the most beautiful cities in the world San Francisco. It's a tale of exasperation at first sight.
What scene did you have most fun writing? why?
Hmm, I think it's a tie between the apple pie making scene and the Exorcist scene. And don't you want to read it now???
Who would who cast in the role of hero and Heroine if your book was optioned for a movie?
Hoping to have some news on that front soon…heehee. But in my head, Simon is Jensen Ackles from Supernatural. Simon has to be equal parts pure sex and pure charm, with a killer sense of humor. Caroline is a bit harder to visualize, but the truth is I've seen Jennifer Love Hewitt as Caroline from the very beginning.
What are you currently working on? What other releases so you have planned for 2013?
I've got a few new projects going on, including my first venture into the world of television with Have Boobs, Will Travel. A travel show aimed at women in their 30's, 40's and beyond, doing things our mothers never did (shark tank, zip line, male strippers) and stars actor Greg Grunberg, blogger Brittany Gibbons and actress Keili Lefkovitz. And I am writing, oh boy am I writing. I have several writing projects lined up for the next 2 years or so, there's lots coming down the pike. I'm exhausted already, but luckily I mainline coffee so there's that…
Where can readers get in touch with you?
I'm on twitter and facebook (links below) and you can always drop me a line alice@aliceclayton.com.
https://www.facebook.com/TheAliceClayton
https://twitter.com/alice_clayton
Giveaway:

2 Print copies of Wallbanger
To enter Giveaway: Please complete the Rafflecopter form and post a comment to this Q: 

What do you think of the book ? Does it sound fun?  Is this something you would be interested in reading ? Tell me why 🙂
About the book:
Caroline Reynolds has a fantastic new apartment in San Francisco, a KitchenAid mixer, and no O (and we're not talking Oprah here, folks). She has a flourishing design career, an office overlooking the bay, a killer zucchini bread recipe, and no O. She has Clive (the best cat ever), great friends, a great rack, and no O.
Adding insult to O-less, since her move, she has an oversexed neighbor with the loudest late-night wallbanging she's ever heard. Each moan, spank, and–was that a meow?–punctuates the fact that not only is she losing sleep, she still has, yep, you guessed it, no O.
Enter Simon Parker. (No, really, Simon, please enter.) When the wallbanging threatens to literally bounce her out of bed, Caroline, clad in sexual frustration and a pink baby-doll nightie, confronts her heard-but-never-seen neighbor. Their late-night hallway encounter has, well, mixed results. Ahem. With walls this thin, the tension's gonna be thick…
In her third novel, Alice Clayton returns to dish her trademark mix of silly and steamy. Banter, barbs, and strutting pussycats, plus the sexiest apple pie ever made, are dunked in a hot tub and set against the gorgeous San Francisco skyline in this hot and hilarious tale of exasperation at first sight.