Today it is my pleasure to spotlight the release of

HER HOMETOWN HERO

by Melody Anne

Dr. Spence is searching for the perfect woman…but how will he know when he's found her?
From New York Times bestselling author Melody Anne, the second steamy romance in a new breakout series based on her beloved and bestselling Billionaire novels.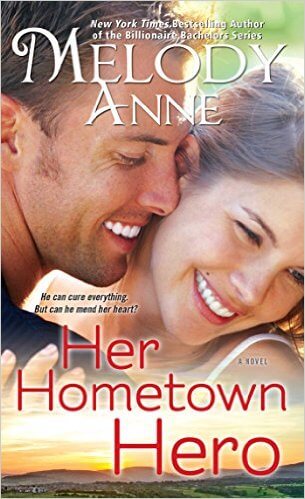 In the bestselling books Billionaire Wins the Game, Hidden Treasure, and The Billionaire's Marriage Proposal, among others, we met the Andersons. Matchmaking patriarchs Joseph and George took matters into their own hands to get their sons to marry and settle down. But now that Dr. Spence Whitman sees how happy his Anderson friends are in married life, he's itching to get hitched too! But how will he find The One?

After his wealthy dad adopted him and his two brothers at a young age, Spence grew up learning there are more important things in life than money. He wants to find a girl who shares that philosophy, and it wouldn't hurt to have some similar interests too. Now if he could just stop getting distracted by his gorgeous surgical resident, he could start looking for the perfect wife…

Read an exclusive excerpt from Who I Am With You: 
In Her Hometown Hero, this was one of my favorite scenes because I love when there is playfulness with my characters. I love to show the inner child in my hero's and how that affects my heroines.
To me there is nothing sexier than a man who is confident in himself and his situation and goes after what he wants, but who still knows how to unbutton his shirt and laugh with true joy. There is so much more to life than work and sleep. Laughter keeps us alive.

Do this! Do that! Move it, Dr. Banks. In the ER she couldn't complain about Spence's orders, but when it came to what and when she drove, he didn't have a leg to stand on. And since he had such fine legs, that was a shame.
"We can argue more about it in an hour," he said peremptorily.
She looked at him while he stuck out his tongue to catch a snowflake. Despite his last words, for him, the subject was finished. He'd had his say, and in his opinion the conversation was over and done with.
Sage scooped up a large mass of snow and began forming a ball. She was nearly finished when he noticed what she was doing, and he took a cautious step backward.
"Now, Dr. Banks, I would just put that down slowly if I were you."
"I'm not you, Spence. Why so formal all of the sudden?"
"Retaliation will be swift and furious," he warned her with a gleam in his eyes that she should have tuned in to.
But she'd never been able to resist a challenge, and the snowball in her hand and his arrogant smile were just too much to resist. Without giving it much conscious thought, she let the ball fly from her palm. It whizzed through the air, aimed with deadly accuracy right at his incredulous eye. But he turned at the last second and the snow exploded against the side of his head.
He lifted a hand and wiped the snow from his hair. "I can't believe you actually threw that."
She was already regretting her impulsive decision. She'd started a war with only one possible outcome, and that wasn't her victory. Still, if she was going down, she'd do it fighting. First, she'd attempt escape, but if that didn't work, it would be all weapons set on automatic fire.
"That was my pager," she said, and she immediately turned and began running toward the side doors she'd come through earlier.
"Not gonna happen, Sage. Mine would be going off, too, but good try," he yelled, his voice seeming to be only inches behind her ear.
She tried to pick up her pace, but found herself sliding—beneath the fresh layer of snow was packed ice. She was going to fall flat on her . . . rear if she didn't slow up. Of course, she was going to fall if she stood still.
She'd take her chances with the snow. Speeding up, she saw freedom in her sights when suddenly strong arms wrapped around her waist, spinning her around and stealing the breath from her lungs, and then she and Spence were launching into the air.
"We're going down," he said, belaboring the obvious.
Sage cried out, expecting this to hurt, but he somehow managed to turn them around before they fell, and his back landed with a splash in the snow while she bounced against his chest—his delectably hard chest.
Excerpt. ©Melody Anne. Posted by arrangement with the publisher. All rights reserved.
Giveaway:

2 Digital copies of HER HOMETOWN HERO by Melody Anne (via S&S)
To enter Giveaway: Please complete the Rafflecopter form and post a comment to this Q:

There are so many things I'd like to ask, but I guess the biggest question on my mind now is this; What is it about a hero that makes you unable to put a book down? Their description? Their confidence? Their job? The way they carry themselves? What makes you fall hopelessly, irrevocably in love?
Meet the Author: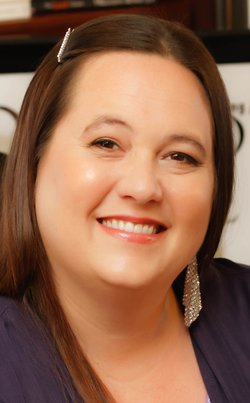 NYT and USA Today Best Selling Author Melody Anne has written the popular series, Billionaire Bachelors, Surrender, and Baby for the Billionaire. She also has a Young Adult Series; Midnight Fire, Midnight Moon and Midnight Storm – Rise of the Dark Angel along with her new Unexpected Hero Series and the newest release "Taken by a Trillionaire," a collaboration with fellow Authors J.S. Scott and Ruth Cardello.
See Melody's Website and subscribe to her newsletter at: www.melodyanne.com. She makes it a point to respond to all her fans. You can also join her on facebook at: www.facebook.com/authormelodyanne, or at twitter: @authmelodyanne. Also, follow her blog at authormelodyanne.blogspot.com.