Today it is my pleasure to Welcome author
Megan Frampton
to HJ!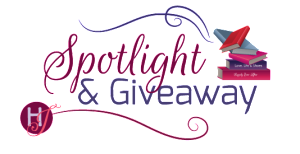 Hi Megan and welcome to HJ! We're so excited to chat with you about your new release, Why Do Dukes Fall in Love?!
Please summarize the book for the readers here: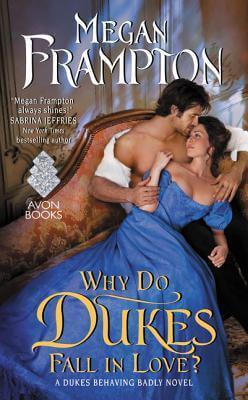 A highly intelligent duke hires a female secretary and discovers she is just as intelligent as he, not to mention desirable, intriguing, and someone who brings emotion into his life.

Please share the opening lines of this book:
"He left you with nothing?"
Edwina glanced to the side of the room, a tactic she knew full well wouldn't disguise the moisture in her eyes, especially not from Carolyn, her oldest and dearest friend. They'd met when Edwina's late husband had wanted to find a respectable, but inexpensive, maidservant, and Carolyn's agency had found the perfect person.
Please share a few Fun facts about this book…
There really is an engine part called an "eccentric crank."
Female secretaries are the standard now, but in Victorian times, a female secretary would be a complete anomaly.
My characters engage in safe sex because it wouldn't be practical to risk pregnancy.
Please tell us a little about the characters in your book. As you wrote your protagonist was there anything about them that surprised you?
My duke is someone who now would be seen as 'on the spectrum.' He has no use for emotion, he is nothing but practical, and so when he falls in love he is entirely shaken. My heroine is used to being valued for her looks, so it's refreshing that the hero appreciates her intelligence. I was surprised that the hero ended up being such a dirty talker in bed!
If your book was optioned for a movie, what scene would you use for the audition of the main characters and why?
The scene where Michael hires Edwina as his secretary:
Michael raised his eyes to where she stood in the doorway. Hawkins had seen fit to mention that she was a woman, but not that she was a wickedly, gloriously beautiful woman.
Not that that would matter any more than that she was female in the first place. Not to Michael.
What do you want people to take away from reading this book?
That love is illogical!
What are you currently working on? What other releases do you have planned for 2016?
I am working on the first book in a new series, very loosely based on Pride and Prejudice with a bit of Moonstruck snuck in. I am part of an anthology that releases in September titled Dressed to Kiss, a series of connected novellas written by me, Madeline Hunter, Caroline Linden, and Myretta Robens.

Thanks for blogging at HJ!
Giveaway:

Print copy of WHY DO DUKES FALL IN LOVE? (A Dukes Behaving Badly ) by Megan Frampton
To enter Giveaway: Please complete the Rafflecopter form and Post a comment to this Q:

What hero gave the worst impression at first that you ended up falling in love with at last? 
Excerpt from Why Do Dukes Fall in Love?:
Well, he could tell that his new secretary hadn't dawdled in presenting herself. She wore an old, worn gown whose color could best be described as drab, and her hair had come unpinned, with a few pieces swirling about her face.
Unfortunately, it just had the effect of making her look far more approachable, and he did not want to be thinking about approaching his new secretary on any terms. It wasn't sensible.
"Mrs. Cheltam, please come here." The railroad man had straightened instinctively, but Michael remained seated. He gestured to a chair opposite his desk, the one she'd sat in just two hours and twenty-four minutes prior. She nodded and took her seat, folding her hands in her lap.
"Mr. . . ." and then he paused because he couldn't remember the man's name, just that he was far too vague on specifics for his liking, and he couldn't very well address him as Mr. Vague. "This gentleman was just reporting on the benefits of investing in the Right Way Railway Company. Terrible name," he added, shaking his head. "Mrs. Cheltam, you will take notes." He flicked his fingers toward the man. "Proceed. This time, please give us precise details on the venture and the various timelines for resolution."
The man's gaze shifted quickly between the two of them, the Adam's apple in his throat working visibly. He did not speak. Michael suppressed a sigh. "Unless you would care to just leave your documents here for our perusal? I can reply to your employees within thirty-six hours, if that is suitable."
Michael would have laughed at the man's relieved look, if Michael laughed at such things. Or at all. "That would be perfect, thank you, Your Grace."
He bowed in their general direction and sped out of the room, barely waiting for the door to open before bursting out of it.
Silence. Michael turned to see his new secretary regarding him. He raised an eyebrow, which seemed to make her stiffen.
He would have to do it frequently, then.
"Are you always so abrupt?" Her question, which some would have considered rude, was said in such a pleasant tone he couldn't take offense.
Besides, the answer was yes.
"Yes, I am." He leaned back in his chair. "I don't see the point of prevaricating when there is something to be said." He raised his eyebrow again. This time, it seemed she was prepared, since she didn't react. Pity. "I appreciate the same of my employees, no matter what they might say." He leaned forward, clasping his hands on his desk. "If we are to work well together, Mrs. Cheltam, I would ask you to keep that in mind. No matter what you might think the effect of what you'll say is. I assure you, I far prefer honesty to flattery, and I do not like to waste time."
She blinked, and shook her head. He resisted the temptation to lean forward even more and sweep some of the errant strands of hair behind her ears. Odd, he'd never had that thought before, and he had seen plenty of disheveled women.
"That will be acceptable," she replied in a soft, but even, tone.
He felt something ease within him. As though he'd actually been concerned about what she would say.
"I will expect you to reciprocate," she said, lifting her chin. "If you have cause for either complaints or compliments, I do hope you will offer them instead of keeping them to yourself. I will not know how to improve, or what I am doing well, if you do not tell me."
He'd never had anyone respond to his request for honesty with an equal request for honesty.
Something sparked in his belly, a frisson of . . . of excitement? Of being challenged?
And here he thought he'd had all the experiences he'd ever have in his thirty-four years. His new secretary was not only new to his employ, she was providing new experiences just by being here.
Interesting.
"Of course, Mrs. Cheltam," he replied, giving her his full scrutiny and appreciating that she did not flinch from the appraisal.
Very interesting indeed.
Excerpt. © Reprinted by permission. All rights reserved.

Book Info:
In Megan Frampton's captivating new Dukes Behaving Badly novel, we learn the answer to the question:
Why do dukes fall in love?
Michael, the Duke of Hadlow, has the liberty of enjoying an indiscretion . . . or several. But when it comes time for him to take a proper bride, he ultimately realizes he wants only one woman: Edwina Cheltam. He'd hired her as his secretary, only to quickly discover she was sensuous and intelligent.
They embark on a passionate affair, and when she breaks it off, he accepts her decision as the logical one . . . but only at first. Then he decides to pursue her.
Michael is brilliant, single-minded, and utterly indifferent to being the talk of the ton. It's even said his only true friend is his dog. Edwina had begged him to marry someone appropriate–—someone aristocratic . . . someone high-born . . . someone else. But the only thing more persuasive than a duke intent on seduction is one who has fallen irrevocably in love.
Book Links:


Meet the Author: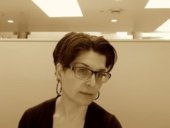 Megan Frampton writes historical romance under her own name and romantic women's fiction as Megan Caldwell. She likes the color black, gin, dark-haired British men, and huge earrings, not in that order. She lives in Brooklyn, New York, with her husband and son. You can visit her website at www.meganframpton.com. She tweets as @meganf, and is at facebook.com/meganframptonbooks.