Today it is my pleasure to Welcome author 
J.T. Geissinger
 to HJ!

A ruthless businesswoman and the playboy who dumped her long ago find themselves embroiled in a high stakes game of love, lies and revenge.
Can you tell us a little about the Wicked Games series?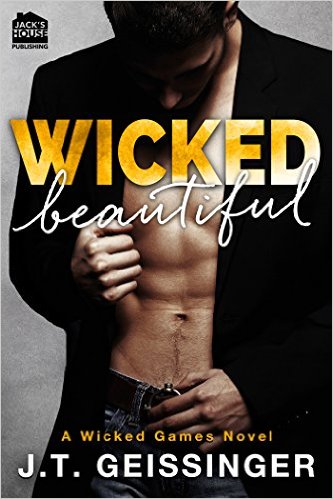 The first book, Wicked Beautiful, was inspired by something I overheard standing in line in the grocery store. The woman in front of me, an attractive brunette, was arguing with her boyfriend. Actually he was arguing with her, she just stood there examining her nails while he went on and on about how much she'd spent that month on their credit card. Finally when he didn't get a rise out of her, he muttered, "You're such a bitch." She looked up at him, lifted her brows, and calmly said, "No, honey. I'm not A bitch. I'm THE bitch." And she smiled. I thought that was so badass! I wanted to high five her. So I started thinking about what kind of woman wouldn't be afraid to be called a bitch, who would actually embrace the title. And that's how Victoria Price and Wicked Beautiful were born.
Once I had Victoria's story down, I knew I had to give her friends that were equally badass, so I came up with Tabitha, her assistant. Tabby became such a fantastic character in her own right I knew I wanted to give her a book of her own, so that's how Wicked Sexy came about.
Both books are filled with shocking twists, have really funny moments, and have tons of suspense. They're edgy, sexy and very hot. Did I mention the twists? You could get whiplash they're so unexpected.

What is unusual about your heroines in this series?
A. Well, for one thing, they're their own heroes. They don't want or need a man to rescue them. They're never not in complete control. But neither Victoria nor Tabby have figured out the balance between being strong and being soft, that is, embracing their femininity and enjoying a relationship with a man while still honoring their strength and independence. They've always put their careers first, and everything else a distant second. So to see them grapple with the overwhelming experience of falling in love is so much fun! And I paired both of them with equally strong men who are used to getting what they want, and gave them all impossible situations to work through. In my humble opinion, it makes for gripping reading!

Speaking of the men, tell us about Parker Maxwell and Connor Hughes, the heroes of Wicked Beautiful and Wicked Sexy.
Parker is very sophisticated, witty, well-dressed and well-spoken. Your rich, gorgeous, golden-boy quarterback type. He loves women and is a dedicated womanizer, until he meets Victoria, and then all bets are off. As we get to know him better, we find he's not what he seems on the outside—like Victoria—and has a dark secret—also like Victoria—haunting him from his past. I pictured a young Brad Pitt when I was writing him. He's a guy who outwardly appears to be a shallow playboy with the world at his feet, but there's far more to the story.
And Connor…oh Lord. The man just exudes sex appeal. He's Alpha to the core. He's got a jaw-dropping body, dangerous dimples, and the dirtiest mouth of any hero I've ever written. He's also funny, highly disciplined, and not at all interested in dating. He's too focused on work. Enter Tabby, and he's toast. Their sexual chemistry is off the charts. Watching him try to win her over is awesome.

Wicked Sexy is your eleventh published novel. What are some of your biggest challenges when writing a book?
My biggest challenge is keeping the length down. I tend to write long books (around 100,000 words, or 400 pages) and my husband is constantly telling me to finish the damn thing by just dropping an asteroid on the planet or something. But I spend a lot of time with character development, and though my books are long, the pacing is tight, so they don't feel long.
I don't worry about writer's block because I trust my creative process, but there is always a point in every book where I stop and ask myself, "How is this going to end?" It's usually in the middle, where a story can tend to sag. I'm not a plotter, all the action in my books are driven by the characters—which is another reason the books tend to be long—so I have to figure out my ending about halfway through. Once it comes to me, though, it's a rush to the finish.

Is there anything else readers should know about you?
I get asked quite often why I chose to write romance, and it's because I fell in love at first sight. Just wham! I was having brunch with my girlfriends at a restaurant in Malibu, and I looked up to find this really cute guy staring at me. He was sitting with some of his friends across the restaurant. We kept staring at each other until it was time to go, and then he ran out to the valet and asked me out on a date. I moved in with him two weeks later, and we've been married for sixteen years. So I totally believe in love at first sight, happily-ever-afters, all that stuff, because it happened to me!
One other thing is that I LOVE to interact with readers, and am very active on social media, especially my Facebook page. So if you have any questions or just want to say hello, hop on by!

Enjoy an excerpt from Wicked Beautiful: 
"You have the most interesting internal conversations," says Parker, watching my face. "Someday I'd love to be in on one of them."

I blurt, "I was just thinking about sleeping with you."

He stares at me. I've never seen such a look of hunger. Softly, he says, "Go on."

"I…cannot believe I just said that out loud."

Parker hasn't blinked. His pupils are dilated. I wonder if mine are, too.

"Seriously, let's just pretend I didn't say that, OK? Rewind. Erase. Press play again."

Aware that I've begun to babble, I snap my mouth shut. We stand in silence, looking at each other, until Parker lifts his hand and brushes his thumb over my lower lip.

"OK. We'll pretend you didn't say it. Please ignore the churro in my pants, because he's not quite as good at pretending as we are."

My gaze involuntarily drops to Parker's crotch. And there, in all its glory, is one large and determined-looking bulge.

"I just said ignore it, Victoria, not stare at it. Show some mercy, woman."

I press my lips together to keep from smiling. Mercy is the one thing he'll never get from me.

Gazing up at him, I capture his thumb lightly between my teeth and nip it playfully. "I can't help it. Remember I told you how much I love churros? Your churro looks particularly big and yummy."

He exhales, hard. "Jesus. I can't decide if I should laugh, kiss you, or bend you over the counter and have my way with you. That was just evil."

I giggle. "Evil's my specialty. You've been warned."

He clasps my face in his hands and plants a firm, potent kiss on my mouth. In a husky voice he says, "If we're going to dinner, we better get to it, because we've got only about thirty seconds left before Mr. Big Yummy Churro takes control of the rest of my body and I rip off your dress. With my teeth."

That's as blatant a proposition as I've ever heard. I'm thrilled he's so affected by me.

I'm far less thrilled by how affected I am by him.

But if there's anything life has taught me, it's that every worthy endeavor is difficult, challenging, and usually painful. Nothing truly valuable comes easy. A battle easily won is no battle at all.

And we are at war, he and I. Blood will be shed. By the end of it, we'll both bleed.

But he's the only one who will be dead.

I stand on my tiptoes, brush my breasts against his chest, and whisper in his ear, "Let's go have dinner, then. I'm hungry. But maybe we'll save the dress-ripping for dessert."

I turn and walk away, leaving him standing in the kitchen, chuckling to himself and muttering, "So goddamn evil."

Oh Mr. Maxwell, I think, smiling, you really have no idea.
Excerpt. ©J.T. Geissinger. Posted by arrangement with the publisher. All rights reserved.
Giveaway:

$10 Amazon gift card and a signed copy of Wicked Beautiful + Wicked Sexy.
To enter Giveaway: Please complete the Rafflecopter form and

Leave a comment with your thoughts on the book…
Book Info: 
Life coach and best-selling author Victoria Price has it all: a successful career, fabulous friends, a fantastic penthouse in Manhattan. What she doesn't have—and doesn't want—is a husband. Fifteen years ago her high school flame broke her heart so badly she swore she'd never love again. Now she makes millions teaching other women how to be just like her: a ruthless bitch.
Drop-dead sexy restaurant tycoon and infamous playboy Parker Maxwell has only three rules for the women he dates: no questions about his past, no expectations for the future and no spending the night. When he meets Victoria, however, he's willing to break his own rules if it means sating the explosive desire she arouses in him. What he doesn't know is that the alluring Victoria Price used to be the mousy Isabel Diaz, the girl he deflowered and dumped long ago.
Presented with a perfect opportunity for revenge, Victoria decides the game is on. But when her connection with Parker proves more than just skin deep, she has to make a choice—continue with her plan for payback, or risk her career, her reputation and her heart by taking a second chance on love?


Meet the Author: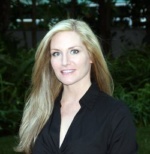 J.T. Geissinger is a #1 internationally best selling author of smart, sexy romance. Writing in both the paranormal and contemporary romance genres, her ten published novels all include a high level of sensuality, intense emotional connections, and dark plot twists galore.
She is the recipient of the Prism Award for Best First Book, the Golden Quill Award for Best Paranormal/Urban Fantasy, and was a finalist for the prestigious RITA© Award from the Romance Writers of America. Her work has also finaled in the Booksellers' Best, National Readers' Choice, and Daphne du Maurier Awards.
Visit her website at www.jtgeissinger.com
Twitter: @JTGeissinger
Instagram: JTGeissingerauthor