Today it is my pleasure to Welcome author
Sawyer Bennett
to HJ!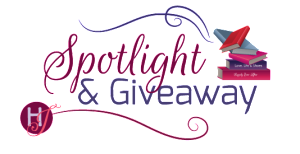 Hi Sawyer and welcome to HJ! We're so excited to chat with you about your new release, Wicked Ride!

Hi! Thanks for welcoming me back! xoxo

Please summarize the book a la Twitter style for the readers here: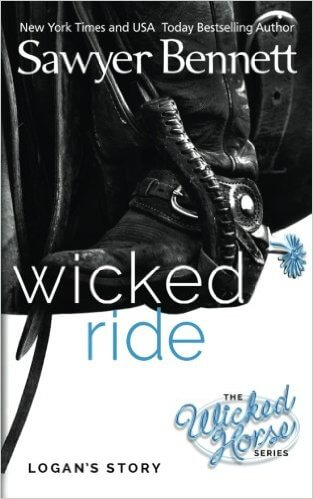 A man hiding from his past.
A woman fighting for her future.
A connection they never saw coming.
An attraction they can't deny.

Please share your favorite line or quote from this book:
"Logan blows though me like the force of a hurricane, completely overwhelming me and battering down what faint resistance I try to keep toward him."
Please share a few FUN facts about this book…
I have been to Jackson, WY and have actually gone on the guided fishing trip that Logan leads for his day job.
This part of the country is my absolute favorite, which is why I decided to set the series there. I mean, I have to visit for research, right?
Please tell us a little about the characters in your book. As you wrote your protagonist was there anything about them that surprised you?
Logan McKay is running from his past, living a simple life and settling in Jackson. He has secrets from his past that he closes very close, and that eventually becomes an issue.
Auralie Foster is hiding secrets of her own, working to protect the one person that has always been there for her.

What kind of research did you do for this book?
A lot of my research was already done, having visited the area and experienced many of the things discussed in the book. I did do some research on some items for both Auralie and Logan's background, but I don't want to give too much of the story away. As always, Google was a very trusty resource.

The First kiss…
The first touch of his full lips are whisper soft, just a slight grazing back and forth across mine that makes my breath puff out in a contented sigh. Pressing in closer to me, he puts pressure against my mouth, and I open up to him. His head tilts and I mirror in the opposite direction. He gives me a soul-possessing kiss full of wet tongue and minty breath while his hands gently frame my face. It's a kiss for the ages, and it will never be forgotten by me. It's full of sweet romance. The way in which he moves against me suggests a rumbling inferno of passion barely contained.
Was there a scene in this book that was harder to write than others?
This is actually a very small snippet of the scene immediately before. Giving any of the actual scene would give away part of the storyline…
Logan turns to the door. My heart cracks as he turns the knob and pulls it open. Before he steps through though, he turns to me and says, "I also came to tell you my story. Who I was two years ago and why it's led me to do the things I've done."
My jaw drops open wide and my heart squeezes even more painfully.
He gives me a wink. "When you want to hear it, I'm staying at the Marriott on Adams Street. Room 4319."
Then he walks out the door and shuts it softly behind him.
If your book was optioned for a movie, what scene would be absolutely crucial to include and why?
The first time Logan and Auralie are intimate would show the connection between the two characters, so I would use that scene. It is also an unusual situation, because it takes place at The Silo, in front of other patrons.
Logan's mouth presses to mine, effectively shutting up my self-deprecation. Surprisingly, his kiss is soft but short. When he pulls away, his voice is heavy with grievance. "This is it for us. Tonight. Right now."
I nod in sad understanding, hating my life so much. My eyes drop from the weight of my dejection.
"I'm going to make this good for you, Auralie," he says quietly. My eyes snap up to his with astonishment. "We have to do it in a public room so others can watch, but I want you to try to ignore that and concentrate on me. I swear I'll make it good."
My heart squeezes hard, and then bursts outward, filling up with a warm sensation of comfort I've never felt before. I've always taken care of myself, even since I was a little kid, and to have Logan declare his devotion to my well-being is almost more than I can handle.
"Logan, I don't understand any of this…"
Placing his fingertip over my lips, he says, "We don't have time. Magnus is expecting us to appear soon, and we're not going to be able to say much in there, but know this… I'd make things different for you if I could."
My eyes mist up, and I have to blink them furiously to make them go away. As he pulls his finger away from my mouth, I manage to nod my understanding. "I wish things could be different."
What do you want people to take away from reading this book?
That people aren't always who they seem. That you can overcome your past. That you can by anyone or anything you want, so long as you set your heart and work for it.

What are you currently working on? What other releases do you have planned for 2016?
I am currently working on Max (Cold Fury, Book #6), and after that will begin work on an all-new standalone coming in November. After that, I'm on to 2017!
Thanks for blogging at HJ!
Giveaway:

A Sawyer Bennett mystery box! Open to US residents only.
To enter Giveaway: Please complete the Rafflecopter form and Post a comment to this Q:

Would you ever visit The Silo? Why?
Excerpt from Wicked Ride:
"And buddy," Bridger says in a far gentler voice. "I know you're here for a reason. I know something drove you to Wyoming and The Silo and that you get something from all this. I suspect it lets you exist as best you know how. But you can't find happiness in this place. Not for the long haul anyway."
My stomach tightens and I stare at him through hard eyes, refusing to give any credence to his very spot-on assessment of me. I've not shared that piece of me with anyone, and it sure as fuck won't be him.
"You can't outrun your demons," Bridger says meaningfully, completely at ease in giving me advice I don't want or need. "You can't outrun them because they're inside of you, not behind you. Until you confront that shit, you'll never lose them."
This takes me aback, not because he's being nosy as fuck into my life by his uncanny insight, but because his voice holds something more than just a friend giving out a piece of unsolicited advice. It sounds as if he might know a little something about running from demons.
I've always found Bridger to be coolly aloof and guarded with most everyone except his buddy, Woolf, who used to own The Silo with him. Figured something made him that way. It's not until this moment when I realize by the tone of his voice, that whatever it is that has made him a very strange man, it's something that's caused him great pain.
Maybe even a pain as great as mine?
I shake my head to clear it, but I still can't help but ask. "That work for you? Have you made peace with your demons?"
It's an impertinent question to the man who essentially keeps me employed as a Fantasy Maker, and I half expect him to kick me the fuck out of his office.
But instead, he gives me a wry smile and shakes his head. "Nah, man. I keep those fuckers around intentionally as reminders of what I'll never go through again."
I don't even know what to say to that, but on some level, I recognize the reasoning. It's why I keep myself reserved from relationships and friendships. Because if you don't have anything of value to lose, it can't hurt you down the road.
"Thanks for the help," I tell him quietly as I turn toward the door. "I'll see you over at The Silo."
Excerpts. © Reprinted by permission. All rights reserved.

Book Info:
I think this woman may be the death of me. A dire prediction, but probably true.
Probably true because she's not mine to have and I'll probably take her, even at the risk to my own safety. So many men slobbering to get a taste of her and only one, sweet, virginal girl to go around.
That's right.
She's a virgin.
Looking like a porcelain china doll that would break if not handled carefully. But I also know she's stronger than she looks.
She's a contradiction.
She's most likely my downfall.
Like I said, she'll probably be the death of me, but it's a risk I'm willing to take.
**Warning: this book has sex in it. Lots of sex. Dirty sex. The Wicked Horse Series is a bit different than what Sawyer Bennett normally writes. While you'll still enjoy fabulous characters, a suspenseful story, some witty banter and an epic romance, there's just… a lot of sex. You've been warned.
Meet the Author: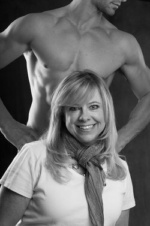 Since the release of her debut contemporary romance novel, Off Sides, in January 2013, Sawyer Bennett has released more than 30 books and has been featured on both the USA Today and New York Times bestseller lists on multiple occasions.
A reformed trial lawyer from North Carolina, Sawyer uses real life experience to create relatable, sexy stories that appeal to a wide array of readers. From new adult to erotic contemporary romance, Sawyer writes something for just about everyone.
Sawyer likes her Bloody Mary's strong, her martinis dirty, and her heroes a combination of the two. When not bringing fictional romance to life, Sawyer is a chauffeur, stylist, chef, maid, and personal assistant to a very active toddler, as well as full-time servant to two adorably naughty dogs. She believes in the good of others, and that a bad day can be cured with a great work-out, cake, or a combination of the two.
Website | Facebook | Twitter |