Today it is my pleasure to Welcome author
Sawyer Bennett
to HJ!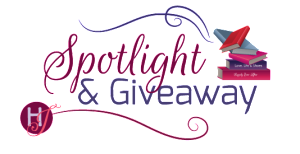 Hi Sawyer and welcome to HJ! We're so excited to chat with you about your new release, Wicked Wish!

Hello, readers! xoxo

Please summarize the book for the readers here: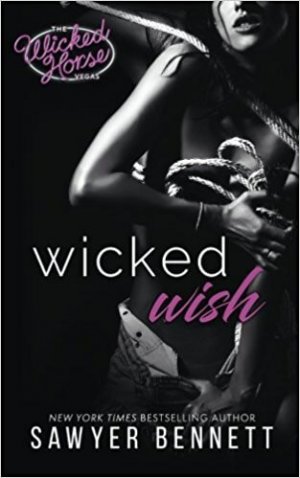 Wicked Wish is the second release in the Wicked Horse Vegas series. Walsh Brooks is one of the most sought after men in the Wicked Horse. He works hard and uses sex as a release, but that's all it is–sex.
Until he meets the green-eyed beauty behind the mask of sapphire feathers.
Until she touches something deep inside of him.
Until he realizes he knows who she is.
The one woman he can't ever have.

Please share the opening lines of this book:
"Walsh… buddy, good to see you," Jerico Jameson says as I saunter into the Social Room of The Wicked Horse.
We shake hands with a strong familiarity born from sharing a woman in bed or a good scotch at the end of an evening. Of course, that was all PT, or pre-Trista.
Please share a few Fun facts about this book…
I work to keep the Wicked Horse books fresh, and like to push some boundaries while doing so. To spice up Wicked Wish, I had to do some….extensive….research on new ways to dirty up the Wicked Horse. Once you've read it, you'll understand what I mean. 😉

Please tell us a little about the characters in your book. As you wrote your protagonist was there anything about them that surprised you?
Walsh Brooks owns The Casino Royale along the Vegas Strip. A businessman by day, he gets his rocks off at the Wicked Horse each night. He likes his sex varied, and while he's not against repeats, he's not in it for a relationship.
Jorinda Pearce is nursing a broken heart. Looking to pick up the pieces of her broken self-esteem, she allows her best friend to talk her into a night at the Wicked Horse. She is strong, but a little broken.

If your book was optioned for a movie, what scene would you use for the audition of the main characters and why?
After Walsh and Jorie have a very intense experience together during the Wicked Horse masquerade party, they realize on another's identity. After not having seen one another in ten years, and knowing a relationship between the two would be forbidden, their exchange is heated, both in anger and attraction.
Here is a small snippet:
I struggle to keep up with his long legs, which is difficult given the four-inch heels Elena talked me into wearing. My legs are weak, and I'm so confused over the fact I can feel little tremors of pleasure still pulsing between my legs.
It's in vain when I try to jerk my arm free, and fear fills me when he drags me out of the glassed room, out of The Silo, down another hall that says Private, and into a locker room I suspect is for employees.
"Goddamn it, Jorie," the man says as he turns me to face him while still gripping me tightly.
"Ow, you asshole," I grit out as I successfully jerk my arm away from him and rub it. "What the hell?"
He just stares at me with hard, flat eyes.
"Wait," I say as a shiver runs up my spine that has nothing to do with a residual orgasm and everything to do with apprehension. "Did you just call me Jorie?"
His shoulders drop almost in defeat and his head sags so he's looking at the floor. Almost wearily, he loosens a tie at the back and pulls the mask over his head. When he looks back at me, my legs go numb.
I stumble back two feet, my ass coming up hard against a locker that rattles. "No."
Walsh Brooks stares at me without an ounce of contrition for what he just did to me, but he's clearly distressed if the darkness in his eyes is any indication.
What do you want people to take away from reading this book?
Sometimes you have to push your boundaries to find your happily ever after.
What are you currently working on? What other releases do you have planned for 2017?
For the rest of 2017, I'll be working on existing series – another release in The Wicked Horse Vegas, two more releases in the Cold Fury Series, and another release from my alter ego, Juliette Poe.

Thanks for blogging at HJ!
Giveaway:

Five e-book copies of The Wicked Horse Boxed Set: Wicked Fall + Wicked Lust + Wicked Need + Wicked Ride + Wicked Bond.
To enter Giveaway: Please complete the Rafflecopter form and Post a comment to this Q:

Have you ever had a forbidden love?
Excerpt from Wicked Wish:
I listen with half an ear and am all too glad when my phone dings in my pocket, indicating a text. I pull it out and smile when I see it is from Jorie.
It merely says, Pink or Black?
I look up to see Carina and the architect involved in deep conversation, August listening in, and I send a quick text back to her. Pink or black what?
She responds back almost immediately with a picture of two pairs of panties laid out on my bed. One pink, the other black.
Definitely pink.
She writes back. You know, I only used to wear pink panties when I was fifteen.
That just gave me a hard-on. I snicker when I hit send.
Perv, she retorts, and then gives me a smiling emoji.
My fingers fly over the screen, typing back to her. You in the pink panties, nothing else on, spread and waiting for me on my dining room table. I'll be there in thirty minutes.
I smile in satisfaction as I wait for her response. It's been a damn good week with Jorie. She's stayed at my apartment every night, and we've gone to The Wicked Horse twice. What we do in the privacy of my bedroom is far more intimate than what we do at the club, but I love having her in both places. In my bedroom, she's all soft and pliant with breathy moans and worshipful eyes.
At the club, she's a writhing, screaming mess. She's fucking glorious in her abandonment, and I wonder if she always had that in her, or if I bring it out.
My ego wants to pin the blame squarely on my shoulders.
Can't tonight, she texts back. Having dinner with Elena.
I stare at her words and take note of the keen disappointment I can feel in my bones. While we've been together every night this week, we've done nothing more than grab dinner where we tend to find ourselves reminiscing about old times growing up, and then fuck all night. It's what I wanted… that no-strings, casual sex.
And now that I might not see Jorie tonight, the fact I'm feeling bent out of shape about it gives me the wiggins. It scares the fuck out of me that I might have become dependent on Jorie.
Or possibly even addicted.
This scares me because this is how it started with Renee. Off the charts, kinky, dirty, filthy fucking that neither of us could get enough of it. Yes, we were possibly even addicted to each other and for some stupid reason we were never able to figure out, it led us to the altar.
My inner sense of self-preservation tells me to let it go.
Wish her an enjoyable time tonight.
Play it casually.
Instead, I write, Why don't I take both you ladies out for dinner? Then we'll take in a show or something.
I hit send, and then curse, "Fuck."
"Something wrong?" August asks me from across the table.
I shake my head. "Just something I need to take care of," I tell him with a casual smile. Then I nod to the model. "But you have my approval to go forward."
August nods at me, then turns back to Carina, who is still talking to the architect with animated hands. She's the detail person in our three-way partnership. She'll hone in on and iron out the nitty-gritty shit that August and I overlook.
My phone dings, and I look down. That's awesome. What time and how should we dress? I mean… you know… where are we going to dinner? Fancy? Casual? So excited.
And then she put a little heart emoji on the end.
I grit my teeth and write back without any sense of self-preservation anymore. Fancy, expensive restaurant. High-dollar cocktails. Put your dancing shoes on.
God, what am I turning into?
Excerpt. © Reprinted by permission. All rights reserved.

Book Info:
Jorinda Pearce thought she did everything right – graduated from college, married her long-time sweetheart, established a career. But what does she have to show for it now? A degree she doesn't use, a job she hates, and an ex-husband that broke her heart.
Looking for a long overdue adventure, Jorie takes a walk on the wild side and attends a masquerade event at The Wicked Horse Vegas. It's exactly the escape she's looking for, and even better, she can explore anonymously. Drawn to the man masked in black leather with the body of a god, Jorie finds the greatest pleasures of her life at the hands of a stranger.
Walsh Brooks is the most sought after man in The Wicked Horse. Sex is nothing but a game to him and he's the type that will always leave at the end of the night without looking back. Unfortunately for Walsh, there's no way he can walk away from the mysterious green-eyed beauty behind the mask of sapphire feathers, because he knows exactly who she is.
Jorie is his best friend's little sister and there's not another woman in the world that's more off limits.
Book Links:

Meet the Author: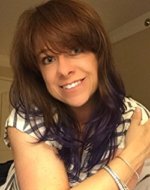 Since the release of her debut contemporary romance novel, Off Sides, in January 2013, Sawyer Bennett has released more than 30 books and has been featured on both the USA Today and New York Times bestseller lists on multiple occasions.
A reformed trial lawyer from North Carolina, Sawyer uses real life experience to create relatable, sexy stories that appeal to a wide array of readers. From new adult to erotic contemporary romance, Sawyer writes something for just about everyone.
Sawyer likes her Bloody Marys strong, her martinis dirty, and her heroes a combination of the two. When not bringing fictional romance to life, Sawyer is a chauffeur, stylist, chef, maid, and personal assistant to a very active toddler, as well as full-time servant to two adorably naughty dogs. She believes in the good of others, and that a bad day can be cured with a great work-out, cake, or a combination of the two.
Website | Facebook | Twitter | Instagram | GoodReads |