Today it is my pleasure to Welcome author
Deborah Blake
to HJ!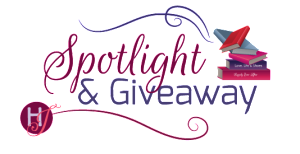 The author of Wickedly Wonderful returns to her world of Russian witches in the latest Baba Yaga novel.
Please summarize the book a la Twitter style for the readers here: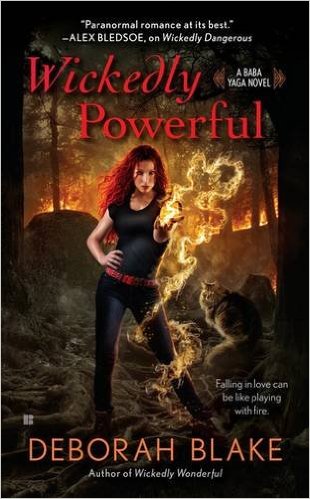 A not-so-wicked witch from Russian fairy tales must work with a scarred former Hotshots fire fighter to discover who is setting the forest on fire. Also, dragons!
What's your favorite line(s) from the book?:
Koshka, Bella's dragon (currently disguised as a giant Norwegian Forest Cat), in response to Sam's startled reaction when the dragon-cat begins to talk: "So you believe in witches but not in talking cats? You have a very limited worldview, Human. You might want to work on that."
Please tell us a little about the characters in your book. What first attracts your Hero to the Heroine and vice versa?
Bella and Sam both have some serious issues and tragedies in their pasts that make it hard for them to let their guards down and let anyone else in. It's less a matter of not being able to trust someone else than it is not being able to trust themselves.
When you sat down to start this book, what was the biggest challenge you faced? What were you most excited about?
I had to wind up the current series, which meant including all three Baba Yagas somehow, and lead into the next part of the series, which focuses on the Riders. But it still had to be Bella's book. That was a bit of a juggling act. I was most excited about *finally* having a Chudo-Yudo (the dragons each Baba Yaga travels with) that was a cat. The first two books had dragons that were disguised as a massive white pit bull and a huge black Newfoundland. But since I have five cats, it was great to have a dragon-cat at last. You know, so they didn't kill me in my sleep.
What, in your mind, makes this book stand out?
No one else has used the Baba Yaga witch as a protagonist, at least not that I've found. And I've stayed true to the fairy tale origins of the story while also updating it in a fun and playful way. Besides, who doesn't like a dragon-dog or a dragon-cat?
Is there certain trait or je ne sais quoi that you find all your heroes have? Why do you think that is?
Actually, my heroes are all quite different from each other. I think the only thing they really have in common is that they can all be strong and yet also gentle. No doubt because that's what I like in a man. (Snort.)
The First Kiss…
Passion flared up like wildfire.
Did any scene have you laughing or crying (or blushing) while writing it? Please share a little snippet of the scene.
I always blush when I write love scenes. I'd rather write a fight scene any time. Here's a bit from one in this book:
"In the dim light of the fire tower, Sam finally found the freckles he'd been looking for; a few scattered across her shoulder as he nibbled and licked his way down, a couple on the inside of a knee as he kissed his way back up."
When Sam walks into a room, what song is playing? For Bella?
Sam's song is "Fire and Rain" by James Taylor. Bella is "Witchy Woman."
What are you currently working on? What other releases do you have planned for 2016?
I just finished the manuscript for the next book in the series, DANGEROUSLY CHARMING (Day's book) and I'm about to dive into writing the second Rider's book.

Thanks for blogging at HJ!
Giveaway:

2 Print copies of WICKEDLY POWERFUL (A Baba Yaga Novel)
To enter Giveaway: Please complete the Rafflecopter form and Post a comment to this Q:

Who is your favorite fictional witch? Why?
Book Info:
Known as the wicked witch of Russian fairy tales, Baba Yaga is not one woman, but rather a title carried by a chosen few. They keep the balance of nature and guard the borders of our world, but don't make the mistake of crossing one of them…
The only thing more fiery than Bella Young's red hair is her temper. She knows that a Baba Yaga's power without strict control can leave the people she cares about burned, so to protect her heart—and everyone around her—the only company she keeps is her dragon-turned-Norwegian-Forest-cat, Koshka.
But when Bella is tasked with discovering who's setting magical fires throughout Wyoming's Black Hills, she finds herself working closely with former hotshots firefighter Sam Corbett—and falling hard for his quiet strength and charm.
Sam may bear the scars of his past, but Bella can see beyond them and would do anything to help him heal. Only before she can rescue her Prince Charming, she'll have to overcome the mysterious foe setting the forest fires—a truly wicked witch who wields as much power and even more anger than Bella…


Meet the Author: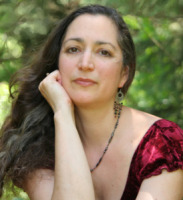 Deborah Blake is the author of Veiled Magic and the Baba Yaga novels, including Wickedly Wonderful and Wickedly Dangerous. She has published numerous books on modern witchcraft with Llewellyn Worldwide and has an ongoing column in Witches & Pagans magazine. When not writing, Deborah runs The Artisans' Guild, a cooperative shop she founded with a friend in 1999, and also works as a jewelry maker, tarot reader, and energy healer. She lives in a 120-year-old farmhouse in rural upstate New York with five cats who supervise all her activities, both magical and mundane.
I've got a website: http://deborahblakeauthor.com (where you can find links to everywhere else I am) as well as a blog http://deborahblake.blogspot.com and I am also on Facebook and Twitter.