Today, HJ is pleased to share with you

Christine Feehan's

new release: 

Wild Cat

In the new Leopard novel by the #1 New York Times bestselling author of Cat's Lair and Leopard's Prey, passions explode like wildfire when a young woman's feral instincts are ignited by a man who's too dangerous not to desire…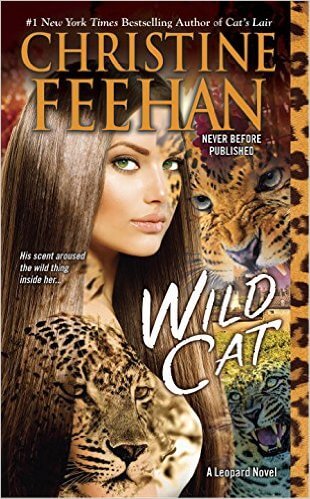 A simple request for Siena Arnotto: deliver a gift to her grandfather's friend. One look at Elijah Lospostos, hard-bodied and stripped to the waist, and Siena succumbs to a feline stirring she never felt before, and to Elijah's reckless and pleasurable demands. But when that pulse-throbbing moment ends in the murder of an unexpected intruder, Elijah accuses the shaken and confused Siena of setting him up.

Then Siena discovers the truth of her Leopard heritage, of the secrets in her grandfather's inner circle, and the sinister plot of revenge that has put her in jeopardy. When Siena's grandfather is assassinated, she realizes the only man she can trust is Elijah.

Now as her Leopard rises from within, Siena and Elijah share not only an animal instinct for survival—but a desire so raw and wild it may be the only thing that can save them.

Enjoy an exclusive excerpt from Wild Cat: 
Elijah stood waiting at his front door, wearing a tight-fitting pair of jeans that rode low on his hips and fit very lovingly around his extremely nice butt. The breath left her lungs in a long rush. His jeans were carelessly buttoned, the top two left undone. He wore no shirt, displaying a heavily muscled chest. His black, black hair was unruly and damp as if he'd just stepped out of the shower. She swallowed hard, trying not to stare. Her already soaring temperature went up a couple more notches. She had forgotten how good he looked. He was definitely a man—no soft edges to him at all. Right now, intimately barefoot, his anger seemed to simmer right below the surface.
She couldn't understand his anger, unless she had interrupted him with another woman. She blushed. Of course there would be a woman there. She hadn't called. Her grandfather never had her call, saying he wanted it to be a surprise when she delivered his best reserve for whatever the occasion. She could see how intruding on a date with a willing woman would make Elijah mad.
Still, he looked so gorgeous. Handsome. Masculine. Dangerous. Immediately, that wild thing inside her stretched and unfurled. She felt hot. Very hot. She couldn't tear her gaze away from him. She told herself he probably had a woman in the house with him, but it didn't matter. Already, her blood rushed through her veins, so heated she knew she was flushed. Her breasts ached. Her sex spasmed. There was a burning between her legs that was worse than anything she'd ever experienced. She had the mad desire to fling herself at him, tear his clothes off and beg him to pound into her, filling her.
She gripped the steering wheel until her knuckles grew white. His eyes drifted over her, an intense scrutiny that saw way too much. She had never seen a man more sensual in her life.
"Siena." He said her name softly and took a step toward her.
Her heart hammered madly. God. He was beautiful. Masculine. All roped muscle, wide shoulders and thick chest. With every movement, his very defined muscles rippled. Her mouth watered. Her pulse throbbed deep in her core. His wide shoulders tapered to a narrow waist, and her eyes dropped lower. Her breath caught in her lungs.
"Siena," he said again, this time firmly. A command.
She swallowed hard and let out her breath slowly. "Elijah." She could barely get his name out. Her voice didn't sound the same at all. It sounded husky. Sexy. Not at all her.
They stared at each other. Her breath refused to leave her lungs. He'd sucked all the air from the atmosphere until her lungs burned and felt raw. He looked predatory. Dangerous. Scary. He looked delicious. She licked her lips, holding on for dear life to the steering wheel, otherwise something terrible was going to happen. Her blood thundered in her ears, drowning out common sense.
"My grandfather sent you a belated birthday present, Elijah. A case of his reserve." She nearly stammered the words. Her voice wasn't her own. Husky. Sensual. Needy. Hungry.
His gaze drifted over her face and dropped to her chest. She couldn't control her breathing. "So this is how he does it. He uses you. You're a part of this? He uses you for his dirty work?" He nearly snarled the words at her. "And you let him?"
She had no idea what he was talking about. She barely heard the words through the roaring of her blood in her ears. She could barely think. Her mind was melting along with her body. So hot. Her breasts were on fire. She needed to drive away. Her finger instinctively went to the starter.
"Don't." His voice was low. She froze, her gaze skittering to his. "Get out of that fucking car right now."
She didn't dare obey him. His voice was every bit as husky as hers. Predatory. Hungry. She tried to shake her head, to tell him it wasn't a good idea, but he was down the walkway and leaning into her car to unhook her seat belt. He simply lifted her into his arms, pulling her right out of the car and striding back to his house. Into the house.
Posted by arrangement with Berkley Books, a member of Penguin Group (USA) LLC, A Penguin Random House Company. Copyright © Christine Feehan, 2015.
Giveaway:

Print copy of WILD CAT (A Leopard Novel) by Christine Feehan
To enter Giveaway: Please complete the Rafflecopter form and post a comment to this Q:

What did you think of the excerpt spotlighted here? Leave a comment with your thoughts on the book…
Meet the Author: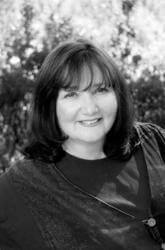 Christine Feehan is a #1 New York Times bestselling author multiple times over with her portfolio including over 40 published novels, including five series; Leopard Series, Dark Series, Ghostwalker Series, Drake Sisters Series, & the Sisters of the Heart Series. All five series hit the #1 spot on the New York Times bestselling list as well. Her debut novel Dark Prince received 3 of the 9 Paranormal Excellence Awards in Romantic Literature (PEARL) in 1999. Since then she has been published by various publishing houses including Leisure Books, Pocket Books, and currently is writing for Berkley/Jove. She also has earned 7 more PEARL awards since Dark Prince.
In addition to the #1 New York Times bestsellers list and the PEARL awards, Christine is honored to have made the bestsellers list for Amazon, B. Daltons, Barnes and Nobles, Bookscan, Borders, Ingrams, Publishers Weekly, Rhapsody Book Club, USA Today, Waldenbooks, Walmart, and the Washington Post. Other honors that she has received include being a nominee for the Romance Writers of America's RITA award, receiving the Career Achievement Award for Contemporary New Reality from Romantic Times Magazine in 2003 and in 2008 the Borders Lifetime Achievement Award.
She has been published in multiple languages and in many formats, including audio book, e-book, hardcover and large print. In October of 2007 her first manga comic, Dark Hunger was released in stores. This was the first ever manga comic released by Berkley Publishing and it made #11 on Publisher's Weekly Bestseller's List. Her ground-breaking book trailer commercials have been shown on TV and in the movie theaters. She has been featured on local TV, appeared on the The Montel Williams Show, and her book Dark Legend was featured on the cover of Romantic Times Magazine.