Today it is my pleasure to Welcome author
Claire McEwen
to HJ!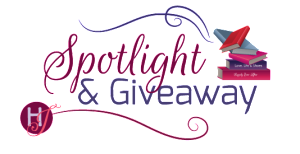 Hi Claire and welcome to HJ! We're so excited to chat with you about your new release, Wild Horses!

Thank you! I'm so happy to celebrate my new book with you all today!

Tell us about the book with this fun little challenge using the title of the book: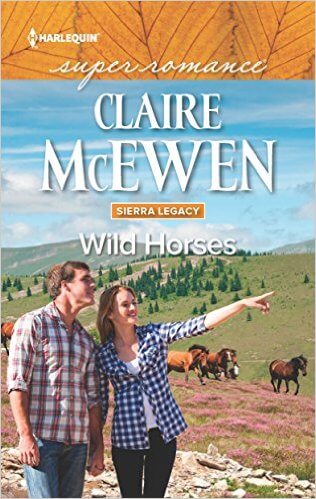 W – Wild horses
I – Idealistic
L – Legacy
D – Desert
H – Hoffmans' Hometown
O – Outdoors
R – Round-up
S – Sagebrush
E – Endangered
S – Sierra Legacy Series
What's your favorite line(s) from the book?:
But now he thought maybe there were two kinds of love. The instant kind, like he'd felt when he first met Nora in college. And the slow kind, that creeps up on you over the years, as life shows you what's possible and you realize what you've lost.
Please tell us a little about the characters in your book. What first attracts your Hero to the Heroine and vice versa?
Todd Williams is an idealist with an enormous sense of justice. He has a deep connection to wild places and wild creatures and feels morally obligated to try to help them. He also has a generous heart and wants to be there for the people in his life. But all of his intensity can get pretty overwhelming sometimes! Nora Hoffman is deeply practical, because her entire childhood was focused on survival. She is drawn toward facts and figures, which makes her a great scientist, but can get her in trouble when emotions get involved!
And what draws them together? Well, they are both very smart so they challenge each other intellectually. They love to talk with each other! Sometimes when I was writing this book, they'd go back and forth bantering or arguing and I'd have several pages written before I knew it. I had to delete a bunch of their conversations… it was too much! They both have a very intense connection with nature and are very comfortable out in the wilderness. When I set scenes indoors, I noticed they'd find their way back outside again as soon as possible. I think they have a very strong bond with nature, and with each other in nature.
When you sat down to start this book, what was the biggest challenge you faced? What were you most excited about?
The biggest challenge I faced is that this is a huge story. It's really a few stories woven together. There is the story of Todd and Nora's past love, and the feelings they wrestle with when they meet again. There are also the challenges Nora faces returning to her hometown and caring for her brother who has just returned from war. And Todd has his own struggles because his sense of justice won't let him ignore the plight of the wild horses. It felt like an epic tale with so many different layers of emotion, and it was a challenge to wrestle it all into one cohesive romance.
But the same thing that made it difficult is also what I loved the most about writing this book! Todd and Nora are such passionate people who both have been through so much in life already. Taking them to their happy ending was a fantastic experience because I felt so strongly about each of them. I could see their strengths and difficulties so clearly, and I could feel their love in my heart.
What, in your mind, makes this book stand out?
I think my hero and heroine are pretty unique. Todd is a former eco-warrior who almost died lying down in front of a bulldozer in an attempt to save the Amazon rainforest. He's got ideals so strong he'll walk on the shady side of the law for them sometimes. And Nora is an extremely independent woman and an excellent scientist. She has no problem wandering the desert on her own to study the plants she loves. I haven't really come across people like them in a romance novel before!
Nora's family story, which runs through three of the books in this series, adds a raw element that may resonate with some readers. Those of us who grew up with family dysfunction, or felt ourselves stuck on the 'wrong side of the tracks' carry that identity inside of us. I tried to explore that idea through the Hoffman family in this series.
So far this series is full of very powerful emotions! Maybe it's the sweeping desert and mountains of the setting, or the wild horses thundering along, but the first two books are extremely emotional stories. I'm working on books three and four right now and I think they're going to be pretty romantic as well!
The First Kiss…
Helps to save them from hypothermia!
If your book was optioned for a movie, what scene would you use for the audition of the main characters and why?
It could be fun to use the fishing fiasco as an audition. Todd has taken Nora's brother, Wade, fishing and Wade has been hurt. Nora is very protective of Wade, especially after worrying about him for years while he fought in Afghanistan. So when Todd brings her beloved brother home injured, she's a little upset. Here's a snippet:
"I just think it's interesting that the first time you guys hang out, you get hurt."

"You're being ridiculous, sis."

Wade was right. She was. Completely. But all her anxiety for her little brother was swirling in her veins.

"I'm gonna take off." Todd backed away toward the door.

Nora flushed. He must think she was nuts. But seeing Wade hurt, even with such a minor injury, was bringing back every fear she'd tried to tamp down during those two long years he'd been at war. She'd been so grateful he'd come back unscathed. And now he wasn't. She took a shaky breath. "I'm sorry, Todd. Of course this wasn't your fault."

He looked at her searchingly. "Are you okay?"

"I'm fine. Just overprotective of my little brother."

"Nora," Wade groaned in obvious embarrassment. "You've got to stop."

Todd laughed. "It's okay, man. I get it. She just cares about you. You're lucky."

The words hung in the air for a moment while they all tried to interpret them. Nora was grateful when Wade held out his good hand to shake Todd's. "Thanks, T. We'll see you in the morning."

T? Wade had given him a nickname? "You don't need to come." Nora knew she sounded stubborn. And just plain dumb. But she didn't want Todd's help. Didn't want him near her. Because he was being nice about all her craziness and it was creating this warmth that she didn't want to feel when he looked at her. And gratitude was seeping in because he'd pulled her brother out of the water, and if Wade had been at that stream alone, and bashed his head, and been unconscious, and slid into the water… She shuddered.

"I'll be here," Todd said quietly. "If I'm really not helpful, you can send me away. But let me try."
If your hero had a sexy-times play list, what song(s) would have to be on it?
Todd's version of sexy might be a little different than most. Luke Bryan's Strip It Down, would be on there for sure. But Todd is not a pure country kind of guy. There'd be Foo Fighters' Walking After You. Jimmy LaFave's Never is a Moment. Arcade Fire's Wake Up. Bob Marley's Stir It Up. There'd be more and it would be eclectic for sure!
What do you want people to take away from reading this book?
I want them to be swept away in the story! And I want them to feel like love is possible, even against the odds – even if there is disagreement or differences sometimes. And I want people to see that even if their childhood was difficult, it is still possible to learn and grown and find happiness.
What are you currently working on? What other releases do you have planned for 2016?
Nora's brother, Wade Hoffman, has his own story, Return to Marker Ranch, which will be released in July. I think it's the most emotional story I've ever written! I really love it and hope readers will too. And there are two more books in the Sierra Legacy series after that. The third book should be out in November and the fourth in early 2017. So the Hoffman family will keep me busy for a while!

Thanks for blogging at HJ!
Giveaway:

A signed copy of Wild Horses – US and Canada only please!
To enter Giveaway: Please complete the Rafflecopter form and Post a comment to this Q:

Todd Williams is a complicated hero! And not a very typical romance hero, I don't think. What types of heroes do you love? Do you love the strong silent types? The bad boys? Troubled artists or quirky nerds? Please share your ideas with us in the comments and thank you for joining me for the Wild Horses Spotlight!
Excerpt from Wild Horses:
The kid who'd been sweeping up the repair shop when Nora stopped by after work told her that Todd was down the street at the High Country Sports Bar. But he didn't mention that Todd was there with a woman. A gorgeous woman with a fall of sleek blond hair—hair that cascaded over one shoulder when she looked up from some papers on the table. A woman whose lipsticked mouth showed perfect white teeth when she opened it to laugh at something Todd had said.

She had big violet eyes and was showing an insane amount of cleavage, and all the outrage Nora had been saving up since her conversation with Lee this morning merged with the realization that Todd living in Benson meant Todd dating in Benson. The sick feeling that had been in her stomach all day got worse, and all Nora wanted to do was go home. But before she could, Todd's date saw her standing there gaping at them like a jealous, dusty fish. The woman leaned her shiny head in and murmured something to Todd, who turned around and spotted Nora.

"Hey," he said, waving her over.

She didn't want to be waved over. She wanted to sink through the floorboards of the High Country and disappear into the beery mud below. Her hair was in pigtails that hung down from underneath her ball cap. Below her shorts, her legs were dirt smeared and scratched. Dusty, clunky hiking boots completed the look. In humiliating contrast, Todd's date was wearing a minidress and heels.

Outrage began building again, white-hot inside her. While his actions had Nora covering for him with lies and Lee frantically trying to salvage his job, Todd was here cuddling up with a date.

Her anger eclipsed her embarrassment. "I was hoping to speak with you, but it looks as if you're extremely busy."

"I am, but…"

"And I'm sure whatever you're doing in here is very important and urgent." She bit the words out.

"Well, I think so…" Todd's brows were raised and he looked embarrassed. Probably for her.
Which just made Nora angrier.
"Because that's what you do, right? You run around and try to save the world, and your lofty goals are so important that you couldn't possibly consider the consequences for anyone else." The anger felt good, wiping out the guilt from lying to Lee today and the irritating jealously she was feeling now.

Todd glanced helplessly at his date, then back at her. He looked so bewildered, and that just made it all worse. He should know. He should have realized that after he let those horses out, the Department of Range Management would need to blame someone. And that someone was poor Lee. "Look, Nora, we're almost done here. Let me just go ahead and finish up, and then you can tell me what's got you so upset."

She hated his placating tone. As if she was some kind of crazy person he was trying to appease. And the worst thing was, she never got this mad. She was reserved. Famously reserved. She'd stayed calm almost her whole life. Except when Todd had left her. Except in the bar the other night. Except today.

Anger mutated to blinding rage. "Oh, I'm so sorry. I realize that finishing your date is so much more important than talking about how I had to lie for you today. Or how you might have ruined a good man's entire life."

Todd paled. She'd come close to spilling the secret he'd asked her to keep. But it served him right.

"Nora, this is my friend Tess Cole. She's putting together a few ads for me."

"Oh." Great. She was his friend. To top everything off, now Nora had her filthy hiking boot stuck in her mouth. "An ad for the repair shop?" It was an inane question, but her mind was scrambled. Todd's not-a-date was looking at her with a slight smile and the knowing eyes of a woman who could spot a big romantic mess. Except this mess wasn't romantic. Far from it.
Excerpts. © Reprinted by permission. All rights reserved.
Book Info:
This wild stallion can't be tamed
Todd Williams is still the naive idealist he was in college. Only now he's endangering lives—Nora Hoffman's to be exact. Nora hasn't seen Todd since he decided that saving the rain forest was more important than their relationship. Until the night she's nearly crushed by the stampede he causes. Now Todd is determined to make amends, for everything.
She may not agree with his methods, but even Nora can't deny the importance of his fight to save the wild horses. With the attraction between them still sizzling and the fate of the horses in the balance, Nora must decide just how much she's willing to risk.
Book Links:


Meet the Author: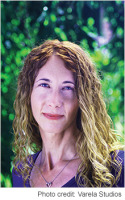 Claire McEwen lives by the ocean in Northern California with her family and a scruffy, mischievous terrier. When not dreaming up new stories, she can be found digging in her garden with a lot of enthusiasm but, unfortunately, no green thumb. She loves discovering flea-market treasures, walking on the beach, dancing, traveling, and reading, of course!
Claire loves to write complex, modern heroes and heroines, who grow and find themselves through their search for love.
Website | Facebook | Twitter |