Today it is my pleasure to welcome USA Today bestselling author 

Toni Blake

to HJ!


Hi Toni, Welcome to HJ
Hi – and thanks so much for having me.
What would you say are the defining characteristic of your novels?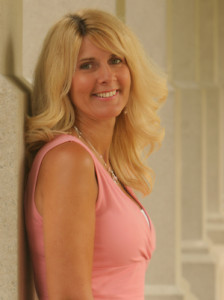 Sweet but sexy. Or sexy but sweet. 😉 They have evolved over time, but no matter how you slice it, all of my books have some of both. Most people describe my books as being filled with emotion, but they also have very healthy helpings of sex. J
5 best things about being a writer?
Flexibility: I work outdoors a lot – even in the winter sometimes – and I love it. Not many jobs allow you to work wherever you want to.
It's a pretty clichéd answer at this point, but the freedom to work in my jammies. I'm working in my jammies at this very moment, in fact.
Knowing my work touches other people. And feeling connected to so many other people through what I do.
I've always been a very creative person, so being able to express that creativity for a living is pretty amazing!
It's living the dream! I dreamed of being a novelist from the age of ten and it's pretty satisfying to have fulfilled that desire.
If you were a heroine in a book, your character would be – The girl next door, the damsel in distress, Kick-butt take charge heroine or the aloof ice queen and why?
I'm pretty much the girl next door – but also the girl next door who marches to her own drummer. In my books, I strive to create very multi-faceted heroines – for example, a small town woman who loves to bake and make quilts can also love hot sex. Society is pretty good at trying to label people in very simple, one-dimensional ways, but people are actually a lot more interesting than that. I, for one, am more interesting than that. 😉 So I try to create heroines who more or less echo my core beliefs in life – which come down to this: It's important to be a good, kind person, but it's also okay to have fun, express yourself, and enjoy sex. 😉
Let's talk about your newest release: Wildest Dreams
If you had to summarize Wildest Dreams for the readers here…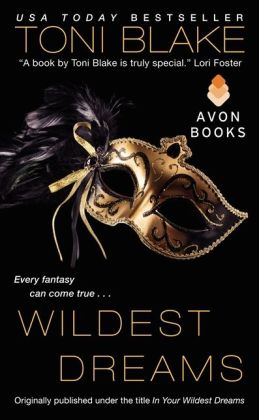 WILDEST DREAMS is a book near and dear to my heart. It was originally released several years ago when I had way less readers, so I'm super excited to get to share this book with a whole new audience. Like THE RED DIARY, which was also recently released, it has a stronger sexual focus than my Destiny books, but it also has a ton of heart, as well. The heroine comes to New Orleans in search of her missing sister, who she believes has become a high-priced escort, and she recruits the reluctant help of a Cajun ex-cop with a dark past to find her. So it definitely explores some darker subjects than my current work, but in what I personally feel is a very tasteful, thought-provoking way. It's a book I'm still very proud of.
Please tell us about the characters in your book
Stephanie Grant is pretty high-strung and controlling and needs to loosen up. But she has a good heart and the world she finds herself immersed in while searching for her sister forces her to face her vulnerabilities – usually being strong comes easy to her, but in this new setting she has to work a lot harder at it. I personally love Stephanie – I loved finding her soft side through the writing and exploring her fears. I loved that she was able to show her vulnerabilities to Jake without shame or embarrassment.
I also adore my hero, Jake Broussard, and would consider him a reader favorite. Because who doesn't love a Cajun hero? Who's extremely tortured by his past? But still protective and strong when he needs to be? And yet still soft enough to show many kindnesses to the people in his world – even if sometimes he does so reluctantly. He's also extremely seductive. Jake is just all around hot in every way – and in serious need of redemption, which we all know adds to the appeal of an already hot hero. My grand challenge in writing Jake was that he is the only hero I've ever written who started out clinically depressed. I actually loved tackling that and I honestly don't think most readers notice – they just know he's struggling when the book starts. But it was a great challenge for me as a writer and I'm proud of the results.
What scene did you have the most fun writing? Why?  
This is a tricky question because I wrote this book so long ago. But one that comes to mind is very early in the book – a scene in which Jake is trying to show Stephanie that she's not cut out for this world she's entered into – she's pretending to be an escort, trying to find information on her sister, and he's calling her bluff by pretending to seduce her. Only as it goes on, the seduction part isn't pretend anymore. This scene takes place in an amazing room which really exists in New Orleans in a restaurant on Jackson Square (which I hope and assume is still there) called Muriel's, and that room, for what it's worth, inspired the entire book.
"What's wrong, Stephanie Grant? Do I make you nervous?"
"Of course not." Sell it. Somehow. "One guy's the same as any other. I just …"
He tilted his head. "Don't think a lowly bartender's got that kinda cash? Surprise, beb, I do. And if you're really in the business you say you are, this would be easy money. Not sure why you didn't leave with any of the other men, but maybe it's just my good fortune, no?"
"No," she said. Unequivocally.
His fingertips grazed the length of her arm, rising onto her bare shoulder to stop at the thin strap there. Heat filled his touch and it was all she could do not to shiver. "Why not?" he asked.
She had no idea how to answer without blowing her cover.
He saved her the trouble by sweeping a tantalizingly soft kiss across her lips, tasting of cool mint. Her body blazed with wild desire and she gasped, trying desperately not to feel – but at the moment, she felt more than any man had ever made her feel before. A stranger. In a modern-day house of ill-repute. It didn't make sense.
But then, what did? Did it make sense that she was masquerading as a lady of the night? Did it make sense that Tina was missing – could be somewhere dead or dying for all she knew? Put in that context, her current circumstances seemed a lot less bizarre.
"What do you say, chere?" he purred in her ear, the soft Cajun accent melting over her, warm and encasing. With that, he brushed another sinfully short kiss over her mouth, leaving the same hint of mint, the same liquid lust pouring through her as he smoothly swept her into a loose embrace, lowering her lengthwise onto the velvet sofa.
What scene was the hardest to write? Why?
Again, this is tricky. And if I can be honest, I loved writing this entire book so much that none of it comes to mind as being difficult. It was all a labor of love.
Who would you cast in the role of your characters if your book was optioned for a movie?
For Stephanie, hmm, I really have no idea. But for Jake, Joe Manganiello comes to mind. That said, he also came to mind as Duke in HALF MOON HILL in Destiny. The tall, dark, handsome, slightly scruffy thing works for me. 😉
What are you currently working on? What other releases do you have planned in 2014?
I just recently completed a book called ALL I WANT IS YOU, which is the first book in a new series called Coral Cove. All of my Destiny fans should not despair – Coral Cove is closely related to Destiny. You'll find familiar faces and get updates on the Destiny gang. I think of Coral Cove as Destiny-by-the-Sea, though Coral Cove might be just a smidge quirkier. ALL I WANT IS YOU will come out in June 2014 and the second book in the series will release in early 2015.
Where can readers get in touch with you?
I'm very active on social media and readers can find me on Facebook, Instagram, Twitter, and Pinterest as AuthorToniBlake. And email can be sent to toni@toniblake.com, though I will admit the quickest way to reach me is via Facebook.
Thanks for blogging at HJ!
GIVEAWAY:

2 print copies of WILDEST DREAMS
To enter Giveaway: Please complete the Rafflecopter form and post a comment to this Q:

I'd love to know what your readers are into right now. For instance, I've found great success with my sexy small town books, but it's the skyrocking of erotic books that has allowed WILDEST DREAMS and THE RED DIARY to find new life in the marketplace. So what's everyone reading right now? Small town? More erotic stuff? Something else? What do you guys think is the next big trend? Or will small town continue to be a big draw? (And I'll just add I'm hoping the answer to that last question is yes, because I have a lot more sexy small town stories in me. ;))