Today it is my pleasure to Welcome author
Grace Burrowes
to HJ!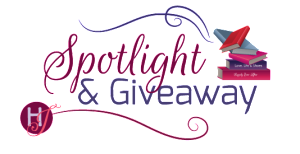 From New York Times and USA Today bestselling author Grace Burrowes comes another sparkling Regency romance filled with desire and drama
Please summarize the book for the readers here: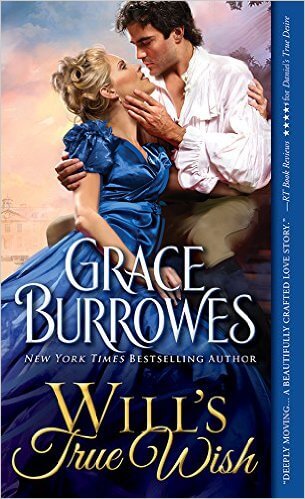 Will's True Wish is the Regency dog whisperer meets "101 Regency Dalmatians," except that Lady Susannah Haddonfield, whom Will has adored from afar for years, has a critical contribution to make when Will needs to foil a dog-napping ring. Just one problem: As much as Lady Susannah is attracted to Will, she's not at all fond of dogs.

Please share a few Fun facts about this book…
Lady Susannah and Esther, Duchess of Moreland, both choose the same Shakespeare Sonnet as their fave (No. 73).
When I met Georgette and Will in Worth's book, I had no idea they would ever have a story of their own, but then I thought about my favorite Disney movies, and boom, they came to mind.
Regency vehicles included a conveyance called a dog cart, which had a special compartment for transporting dogs, because taking your canine along to socialize or join the hunt meet was commonplace.
If your book was optioned for a movie, what scene would you use for the audition of the main characters and why?
Will and Susannah have known each other for years, since he intervened in a situation where Susannah was being bullied by other girls prior to her come out. They keep an eye on each other from a distance, but then Will has an occasion to renew his acquaintance with Susannah. I think that scene could be very interesting acting material, because here are two people with a long-simmering interest with each other and even a little history, but they're seeing each other with new, very adult, eyes. Fun times!
Here's Susannah, trying to adjust to Will Dorning, the man…

Bless Della and her gift for small talk, because Susannah was having difficulty thinking.
This was not the version of Will Dorning she'd endured dances with in her adolescence. He'd filled out and settled down, like a horse rising seven. Where a handsome colt had been, a war horse had emerged. Mr. Dorning's boots gleamed, the lace of his cravat fell in soft, tasteful abundance from his throat. His clothing fit him, in the sense of being appropriate to his demeanor, accentuating abundant height, muscle, and self-possession.
Even as the man sat on the delicate red velvet sofa, a frilly purple parasol across his knees.
What do you want people to take away from reading this book?
The same thing I want them to take away from all my books: Love is what matters. You might think yourself plain, uninteresting, vulnerable, impoverished, and otherwise unremarkable, but love renders those who give it or receive it strong, resourceful, and lovely. When you think all hope is lost, love will find a way.

Thanks for blogging at HJ!
Giveaway:

Print copy of Will's True Wish (True Gentlemen) by Grace Burrowes
To enter Giveaway: Please complete the Rafflecopter form and Post a comment to this Q:

What's your favorite Disney movie and why?
Excerpt from Will's True Wish:
Will and Susannah have met in the park by chance… or by design?
"You still don't enjoy dancing, do you?" Will asked.
Her ladyship was risking freckles, turning her face to the sun that way. For years, Will had told himself Lady Susannah Haddonfield was a sweet memory from his youth. Then another spring would come around, and he'd find himself leaning against another shadowed pillar as she twirled past with some other fellow.
She looked in want of something. A favorite toy, or… kisses, perhaps.
"I enjoyed dancing with you, Mr. Dorning."
Her eyes were closed, her expression serene. If she'd been a dog, a cat, a horse, or even a bird, Will might have gathered insights from her posture, her expression, her attitude, her breathing. She wasn't a dog, and neither was he, but the only conclusion thumping through his male brain was, "Yes, kisses. Lots of kisses."
He'd been away from Dorset too long.
"I'm expecting the Duke of Quimbey to come by directly," Will said, a reminder to himself, a warning to the lady if she wanted to put her bonnet back on.
Lady Susannah retrieved her book from under her bonnet by feel, her eyes remaining closed.
"You have an assignation in the park with a wealthy duke? You intrigue me, Mr. Dorning."
Will Dorning intrigued nobody, nor had he any aspirations to acquire that skill. "I have an assignation with His Grace's dog. The hound is young and rambunctious, not a good pet for an older fellow who hasn't owned a dog before. Quimbey's brother gave him the dog, a final gift before death, so Quimbey's determined to keep it."
"My father always had dogs," Lady Susannah said, opening her eyes and casting a glance at Georgette. "Muddy, smelly creatures. Not like Georgette."
Georgette paused in her gnawing long enough to toss Lady Susannah an adoring look.
Will slipped his pet a nibble of cheese.
"Dogs needn't be smelly or muddy," he said, "any more than little boys do. Perhaps you enjoy cats?"
They'd never discussed pets before. Why was that?
"Cats sit staring at one," Lady Susannah said, "their expressions rife with condescension. Then they lick themselves in certain locations, and one must pretend not to notice, though how can one ignore that?"
She had liked cats, years ago. Had had a tom named Aquinas.
"What about birds?" Will asked. "Surely you can't take exception to a creature both pretty and musical?"
Now Lady Susannah peered at Will, her expression bewildered and grim around the edges.
"Surely, Mr. Dorning, you do not expect me to approve of birds intended by God to soar the skies who are instead kept in cages for our entertainment?"
Maybe this was why Will hadn't approached Lady Susannah, because she wasn't the sweet, shy creature he'd waltzed around Lady March's garden, and never would be again. Neither was he the young fool who'd waltzed with her.
"Not all birds are trapped in gilded cages," he said, and not all earl's sons were forced to bide in London for months at a time. "Yonder robin looks happy enough."
Opera dancers looked happy too, though Will knew their lives were difficult and exhausting.
"I aspire to be like that robin," her ladyship said, as the bird flitted from one branch of the maple to another. "Plain, unnoticed, cheerfully obscure in my high, leafy bower. I'll surround myself with books and nobody will notice me."
At sixteen, Lady Susannah had been intimidated by London, but determined to take her rightful place among the other debutantes.
She was still determined, but determined to hide.
Excerpt. © Reprinted by permission. All rights reserved.

Book Info:
It's a dog's life…
Will Dorning, as an earl's spare, has accepted the thankless duty of managing his rambunctious younger siblings, though Will's only true companions are the dogs he's treasured since boyhood. When aristocratic London is plagued with a series of dognappings, Will's brothers are convinced that he's the only person who can save the stolen canines from an awful fate.
But the lady's choice…
Shy, bookish Lady Susannah Haddonfield has no patience with loud, smelly beasts of any species, but must appear to like dogs so as not to offend her sister's only marital prospect. Susannah turns to Will, an acquaintance from her most awkward adolescent years, to teach her how to impersonate a dog fancier. Will has long admired Susannah, though he lacks the means to offer for her, and yet as they work together to rescue the purloined pets, it's loyal, dashing Will who steals Susannah's heart.
True Gentlemen series:
Tremaine's True Love (Book 1)
Daniels' True Desire (Book 2)
Will's True Wish (Book 3)
Book Links:


Meet the Author: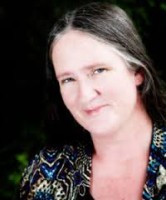 Grace Burrowes began writing romance as an antidote to empty nest, and soon found that writing is an antidote to most of what ails us. She's the sixth out of seven children, has been reading romance for decades, and practices child welfare law in western Maryland.