Today it is my pleasure to Welcome author
Jamie Beck
to HJ!

Jamie Beck's Favorite Scene from Worth the Trouble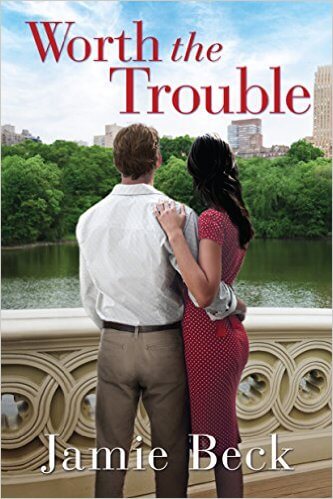 Thank you for inviting me to discuss my recent release, Worth the Trouble, the second book in my St. James series. For those unfamiliar with the series, it follows the loves and lives of the St. James siblings—David, Jackson, and Catalina (Cat)—through the family saga that unfolds in the aftermath of their mother's death.

The series opened with Worth the Wait (David's book), in which readers met all of the key players, including Cat and Hank, the central characters in Worth the Trouble. Cat's book is a second-chances love story between two opposites that is actually about the importance of authenticity.

Cat, a couture model, has spent a decade pretending to be a confident, sensual woman. In reality, she's insecure and rather lost. Hank has a stronger sense of self, but the thirteen years he's buried his own dreams in order to care for his sisters and mother has left him drifting. Each is stuck, unable to move forward in any kind of healthy manner absent some self-reflection and honesty.

Accordingly, one of my favorite scenes in the book occurs when things finally start to get real. Cat is angling to convince Hank to go into business with her. At this point, he's basically gotten over their unpleasant past, but remains suspicious of her agenda. While they're alone in his workshop, Cat—for the first time ever—divulges highly personal revelations. It's the turning point in their burgeoning friendship that paves the way for a deeper connection.
"Don't you want the chance to pursue your own dreams?"

"I have a lot of dreams, Cat. Not just this one." He crossed his arms to show he was equally resolved to his position as she was to hers. "Believe me, the choices I've made have given me more than I've lost."

Her dubious expression coupled with silence forced him to defend his remark.

"My family loves and respects me thanks to the 'sacrifices' I've made. When my mom dies, I'll be at peace because of the way I've cared for her. All of it—everything I've done—has proven I'm a man who can be counted on, who doesn't walk away when things are hard. That means something to me." He looked around his shop. "I do love building furniture. But even if I had my own business and a brand worth bragging about, it wouldn't give me those other things. Trust me, I'm okay with my choices."

Cat stared at him, whether in admiration or utter bewilderment he wasn't quite sure. "Fine."

Living with five women had taught him that fine pretty much meant the opposite. "Why does it even matter to you, Cat? You're a hotshot model with plenty of money, so why fuss around with a little furniture shop?"

She fingered a chisel and worried her lower lip. "When I was young, my dad always bragged about David's IQ and Jackson's athleticism. He even acknowledged Vivi's artistic talent, but apparently all I had to offer was this," she swept her hand from head to toe.

Her sheepish expression kicked him in the gut, but he refrained from interrupting her. Cat St. James had chosen to confide in him. His heart thumped at the realization.

"When I was 'discovered,' I grabbed the opportunity to prove I could be as successful as my brothers, even if my only asset was my face. But after the initial thrill of it all, I've never gotten any real satisfaction from modeling." She sighed before continuing.

"Don't get me wrong, I'm appreciative of my career, and it's important to me. Still, I regret dropping out of college, especially now, when I'm on the downside of the industry. I want—need—a chance to reinvent myself. To discover whether there's more to me than the way I look. I assumed you'd jump at the chance to be your own boss, and figured we could help each other fulfill these needs." Cat glanced up, her expression chagrined. "You probably think I'm a whiny brat complaining about my life when, compared to yours, it's so easy."

"Quit thinking for me, Cat. You're never right." He searched her face, but she kept her gaze averted. Why couldn't she see he found this woman—soft, honest, thoughtful—far more appealing than the aloof "cover girl?" He stepped closer, yearning to comfort her. "You don't sound whiny. Wistful, maybe."

The heavy pulsing of his heart charged the atmosphere in the garage. As if drawn to him by the invisible thread of his need, Cat drifted within inches of his body.

"You said earlier that all I do is play games." She met his gaze, her wide eyes filled with resolve. "Well, I'm serious about this business idea, Hank. My gut is telling me this could be a great change for both of us. Before you say no, could you at least give it some thought?"

"When I accused you of playing games, I meant the personal kind. And frankly, I'm more interested in that kind of relationship than a business one." Holy shit, he said that out loud.
Excerpt. ©Jamie Beck. Posted by arrangement with the publisher. All rights reserved.
Giveaway:

Ebook: WORTH THE TROUBLE (St. James Book 2) by Jamie Beck
To enter Giveaway: Please complete the Rafflecopter form and post a comment to this Q:

What did you think of the excerpt spotlighted here? Leave a comment with your thoughts on the book…
Book Info: 
Cover girl Cat St. James's picture-perfect life is anything but flawless. Luckily, she's a master of hiding the truth from the camera. Relying on that skill, she conceals her latest secret from her family while attending her brother's wedding. Her only trouble now is Hank Mitchell—the soft-spoken carpenter she'd once brushed aside. Seeing him at the reception underscores her private heartache and ignites unwelcome longing, which she promptly drowns in champagne.
Hank is no stranger to sacrifice, having set aside his own ambitions to take care of his family. One thing he won't forsake is his pride, which Cat already wounded once. But when the maddening beauty's reckless behavior forces him to rush to her rescue, he sets in motion a series of events that leads Cat to make a business proposal granting him his dream job.
When Cat and Hank mix business with pleasure, promises and secrets unravel, and each must decide if and what they'll surrender for love.
Buy Link: http://bit.ly/WorthTheTrouble


Meet the Author: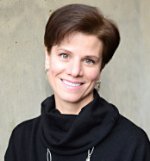 Jamie Beck is a former attorney with a passion for inventing realistic and heartwarming stories about love and redemption, including her popular St. James and Sterling Canyon series. In addition to writing novels, she also enjoys dancing around the kitchen while cooking, and hitting the slopes in Vermont and Utah. Above all, she is a grateful wife and mother to a very patient, supportive family. Fans can learn more about her on the web (www.jamiebeck.com) and Facebook (www.facebook.com/JamieBeckBooks).
Social Media Links
Website: www.jamiebeck.com
Facebook: www.facebook.com/JamieBeckBooks
Twitter: https://twitter.com/writerjamiebeck
Goodreads: http://www.goodreads.com/author/show/8020971.Jamie_Beck