Today it is my pleasure to welcome back contemporary romance author

Robin Kaye

to HJ!
Hi Robin, Welcome to HJ!
For all of our readers who may not be familiar with your work, could you tell us a bit about yourself and your books?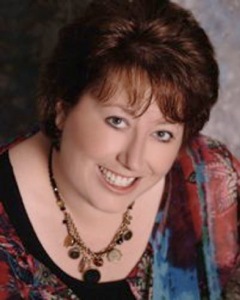 I'm a stay-at-home mom of three, but then lately I've been living at Starbucks since I'm on deadline. I write contemporary romance and romantic comedies and I'm working on two series—The Bad Boys of Red Hook, and The Domestic Gods Gone Wild.
Please summarize You're The One for the readers here ….
Here's the Back Cover Copy—
Award-winning author Robin Kaye proves that home is where the heart is, even for a bad boy from Red Hook, Brooklyn.
Logan Blaise expected to be taking a quick break from his successful vineyard in Napa to visit his hometown of Brooklyn. But what he finds is a complete mess: His father is sicker than he'd imagined, and Logan is responsible for keeping the family restaurant running smoothly. When the chef quits, he's forced to hire the first person who applies for the job—Skye Maxwell, a beautiful enigma with great skills and gaps in her résumé.
Skye is determined to make it on her own, without trading on her famous family name. Working in the community of Red Hook offers the perfect opportunity to stay out of the limelight while pursuing her dreams. At first glance, charismatic Logan seems exactly like all the shallow men she knew back home. But as she notices his small-town roots and strong family ties, the Brooklyn bad boy and his restaurant start to feel exactly like where she really belongs….
Please introduce your characters 

Logan Blaise & Skye Sinclair Maxwell 

from your novel

You're The One

to HJ readers here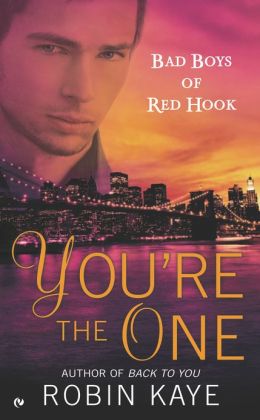 Logan is a twenty-nine-year old vintner who lives in Napa, and has returned to his hometown of Red Hook, Brooklyn, a place he never wanted to see again. He'd grown up in the foster care system, after being left at a police station or hospital when he was about three years old. He has no idea where he came from, or who his parents were. He was given a name and a birthdate and was tossed around from foster home to foster home. When he was about twelve, he busted for making pipe bombs for the Latin Kings—the largest gang in Red Hook—and was placed with Pete Calahan, hard-ass ex-cop and bar owner.
Pete took him on a tour of a prison, then took him to a high school science lab and told him he had a choice. Logan chose school and turned his life around. He went to Stanford on a full scholarship. He never told anyone about his past, he said he was from NY, and if they thought Park Avenue, all the better. He ended up working for a vineyard and was engaged to the owner's daughter. He thought he had everything he wanted until he came home to help care for his foster father after Pete's heart attack and bypass surgery.
What does your character look like?  
He's a hot Latino—tall, dark haired, dark skinned, eyes the color of caramel, and chiseled features.
Skye is black Irish, 5' 2" and curvy—the girl likes to eat.
What does your character do for a living?
Skye Sinclair Maxwell is the youngest of five, and the only girl. Her family owns a group of up-scale restaurants all over the West Coast. Every one of her brothers was given his own kitchen when he turned thirty. On her thirtieth birthday, she received the position of business manager.
She was allowed to play in their kitchens, make up the monthly specials but once they had her recipes, they threw her back in the office. All her brothers were all married to their kitchens and didn't want that for her. They thought she should get married and have kids.
Once she realized she'd never have her own kitchen, she quit and packed her knives, and flew to New York, determined to make her own way in the food world.
Logan is a vintner, but he also worked in a brewpub, and has a degree in Chemistry…
Who is your character's Love interest in the book?
Skye and Logan are my hero and heroine. It takes a while, since Logan and Payton Billingsly are engaged. Once they become disengaged—all bets are off.
Is your character ruled by emotion or logic or some combination thereof?
Both Skye and Logan are ruled by logic, but that logic is over-ruled by emotion—emotion neither of them is very comfortable with.
Skye is the more emotional of the two—when she quit her job, she had a plan, but she was so angry at the time she hadn't seen the holes.
Was it love at first sight for your characters? If not what was the pivotal moment of change?
Not love at first sight, but definitely lust at first sight. The pivotal moment of change for Logan was when they first made love. He felt something he'd never felt before and it scared the crap out of him. His shields came down and that, in turn, scared the crap out of Skye. It was as if he disappeared, shut her out, and she didn't know what she'd done to deserve it.
For Skye it was later… not much later, but after Logan told her about his past, laid his heart bare, she realized she'd just fallen in love with him. She had a bad feeling that she was going to get hurt and hurt bad. She was not happy about it.
If you characters could go back in time and change one thing what would it be? Why?
Before Pete's heart attack, he took in another foster child, Nicki—a ten-year-old girl. Years ago, Nicki's mother had been a waitress at the Crow's Nest—the family bar and restaurant. When Marisa left Nicki with Pete, she told him Nicki was his granddaughter. When Logan comes home to help with his father, he meets Nicki and is told what Marisa said. Logan and Marisa had hooked up when he was eighteen and he thinks Nicki might very well be his child.
If he could go back and change anything, he would have kept in touch with Marisa and he would have taken care of Nicki—she had a rough time of it before she was taken in by Pete. He'd have done anything to have been able to save Nicki from that.
How have your characters evolved from when the novel began to when it ended?
Logan thought he was incapable of love—sure, he cared about his brothers (Storm and Slater) and his father, but he never knew real love until he met Skye and Nicki.
When it came to women, he cared about them, but that was about it. There was no connection that was more intense than lust and friendship. He thought he was incapable of the feeling love. He agreed to marry Payton because it was a sound business decision, he liked her, and they were good together. She didn't expect much out of him and vice versa. They were comfortable. By the end, he realized he'd been wrong. He was very capable of love, and the hurt that the loss of love can bring down on a person.
How did your characters spend the week just before the story starts?
Logan had come home to Red Hook to find his brother engaged to his childhood girlfriend, and was freaking out at the thought of being left to run the restaurant, and take care of his convalescing father, and ten-year-old Nicki, who might be his daughter.
Skye was working at her family's restaurant and praying she'd get the plans to the new Maxwell's restaurant that she'd run.
What are you currently working on? What other releases so you have planned for 2013?
I just finished writing HAD TO BE YOU, which is the third book in the Bad Boys series and will be released on Valentine's Day.
Now I'm back to writing A LITTLE ON THE WILD SIDE—one of my Domestic Gods Gone Wild books. It's Trapper Kincaid's story. I'm about a quarter of the way into it, and I'm so excited about it. It's just a riot! It's great to be back in Boise!
Where can readers get in touch with you?
Physically? I'm headed to RomCon next week. I hope to see a bunch of readers there. But if you can't go to Colorado Springs, you can keep in touch with me through my website: http://robinkayewrites.com/
Facebook: https://www.facebook.com/RobinKayeWrites
Twitter @RobinKayeWrites
Thank you for stopping by HJ!
Thanks for having me! I always love visiting HJ!
Giveaway:
2 print copies

of  

YOU'RE THE ONE  
To enter Giveaway: Please complete the Rafflecopter form and post a comment to this Q: 
Skye and Logan obviously met in the workplace. I have a soft spot for workplace romances… I met my husband at work and we've been married for 23 years. Have you ever had a workplace romance? How did that work out?
Excerpt:
"Rex, the head cook, just quit." Logan leaned against the bar and looked from Rocki to Francis DeBruscio, waiting for their promised help.
Francis was a cross between a walk-in refrigerator and Shrek's Sicilian cousin, Guido the Ogre. He'd been a fixture at the Crow's Nest since he'd beaten the spit out of Logan back when they were in high school. Pete had told Frankie either he could work off the emergency room bill washing dishes or he'd call the cops.
Under Pete's tutelage and watchful eye, Francis had turned his life around, and became a paramedic and an all-around good guy. It was hard to believe that the man upstairs acting like a cantankerous old fart had changed so many lives and single-handedly turned them all into men of whom he could be proud. Logan shook his head at the irony.
Francis did a double take. "Rex would never just up and quit."
Logan rubbed his forehead where the mother of all headaches was forming. "He's an only child and his mother just had a stroke. She's paralyzed on the left side—and she lives in Florida. It's not as if he really had a choice."
Rocki tapped her foot. "Bummer."
Logan couldn't believe this. "Come on, guys, you're supposed to help me out. Can either of you cook?"
The two of them looked like a pair of bobblehead dolls in a crosswind.
"Neither can I. This is just great. What am I supposed to do now?"
Rocki shrugged one shoulder. "I suggest you start looking for a cook."
"It's Sunday. How the hell am I going to find a cook by opening on Tuesday?"
A grin split Francis's face. "You can put a Help Wanted sign in the window."
"What does Pop do if Rex gets sick, Francis?"
"It's never happened as long as I've known Rex—but Harrison the sous chef might be able to take over for a day or two, I think. Bree knew what was what in the kitchen, I'm sure she could step in if necessary."
"Not a big help since Bree's halfway to New Zealand."
Rocki went around the bar and poured herself a soda, missing the glass and making a mess of the bar Logan just scrubbed. "Have you asked Pete?"
"No, I didn't want him to have another coronary."
Both Rocki and Francis shot him matching glares.
"Bad joke. He's had a rough morning. I caught him smoking his cigar on the roof and we had words." Logan was definitely not ready for the role-reversal situation he'd found himself in since he returned. "All I need to do is tell Pop his cook just quit."
Rocki took a long sip of her soda and watched him over the rim of the glass. "It's not as if you're going to be able to hide it from him for long. He'll notice on Tuesday. Maybe he has a backup chef."
Francis shook his head. "I doubt it. He's never needed one before."
Logan's phone vibrated. He didn't have to check to know it was Payton; she'd been calling constantly, crying desertion. He let it go to voice mail. "Fine, I'll tell Pop, but first I'm going to put a Help Wanted sign in the window. Maybe an incredible cook will walk by and want the job."
Francis laughed. "Yeah, and maybe I'll win the lottery."
He got busy with the sign while they made fun of him. He had nothing to lose, and other than putting an ad in the paper, he didn't have a plan B.
Logan taped the sign up in the front window and wondered if temp services had cooks—it was worth a try.
He was still running his finger over the tape when a beautiful dark-haired woman dragging a suitcase shouldered the door open. She was a little thing with black shoulder-length hair, pale, almost translucent skin, and the darkest blue eyes he'd ever seen.
"You're hiring a cook?"
Logan shot a glance at Rocki and Francis, who stood beside the bar with their mouths hanging open.
"That's what the sign says. Can you cook?"
"Honey, there's nothing I can't do in a kitchen." She had a deep, smoky voice that made him think of tangled sheets and sleepy sex.
Between her voice and her comment, Logan's mind spun directly into the gutter. What was wrong with him? Not only was she not his type, but he was engaged. He cleared his throat, temporarily rendered speechless.
"Lucky for you, I'm looking for a job. Can I see the kitchen?"
"Why?"
"I won't work in a dirty or unsafe kitchen."
"Where have you worked?"
"Here and there. You know how it is in the restaurant business." She pulled a menu out of the rack on the side of the hostess stand and paged through it. "There's nothing on here I can't handle. How many people do you seat in a night?"
Logan looked at Rocki and Francis. The two of them shrugged.
"I don't know. I just took over the place last night—I'm filling in for the month. It was a really bad time for the cook to quit."
She smiled and she went from beautiful in a girl-next-door kind of way to simply stunning. "It's a good thing I walked by, then." She looked around. "I assume the kitchen is through there?" She pointed at the swinging double doors.
"Yes, it is."
"Okay then, let's take a look." She set her backpack and suitcase on the bench of a booth and he found himself following her to the kitchen.
"Did you close today because you lost your cook?"
"No, we're only open Tuesday through Saturday."
She shot him another heart-stopping grin. Nope, he hadn't imagined it. She was absolutely staggering. Her lips were full, rose-colored, and bare. She wasn't wearing all that lip crap Payton was always applying—most of which tasted bad enough to put him off kissing for life. If this woman wore makeup, he couldn't detect it—not that she needed it. Her eyelashes were coal black, full enough to create shadows on her pale cheeks, and as long as Payton's fake ones.
"So I'll only have to work five days a week? It'll seem like a vacation."
The way she spoke, he'd think he'd given her the job. He hadn't. Still, he followed her into the kitchen and couldn't help but notice that her back was as attractive as her front—not that he was looking. His cell phone vibrated. He snuck a peek—Payton—and shoved his phone into his pocket as the woman inspected the kitchen like a general inspecting her troops.
She even ran her finger under the hood. "Your cook kept a clean kitchen. I like that." She took a turn through the walk-through refrigerator, stepped out, and closed the door behind her. "Okay, I'll take the job."
"You will?" He shook his head. "Hold on, I haven't even offered it yet. Hell, I don't even know your name."
She stepped toward him and held out her hand. "Skye. Skye Sinclair."
He took it—her hand was small, warm, and as callused as his. Her shake was surprisingly firm considering she barely came up to his shoulder, and her touch sent a shock wave through him that had him holding on to see if it would continue. It did.