Today it is my pleasure to welcome author 

Vanessa Greene

to HJ!
Hi Vanessa Welcome to HJ!
Thanks for having me! It's a pleasure to be here.
For all of our readers who may not be familiar with your work, could you tell us a bit about yourself and your books?
I was born and live in London, and I'm in my mid-thirties. Through my twenties I worked as a book editor at Little, Brown and Random House here in the UK, but when I turned thirty I started to write again and decided to pursue my childhood dream of being a novelist. I wrote The Vintage Teacup Club and was delighted to have it published. The story came to me as I saw that in the midst of all the current economic challenges, there are some really beautiful things happening – communities pulling together, unexpected friendships forming as neighbours help one another out. With both Prince William and Kate Middleton's wedding and the queen's jubilee celebrations a couple of years ago, there were parties in the street in a way we hadn't seen in Britain since the end of the war. I wanted to capture some of that revived blitz spirit and create a heartwarming read with female characters that real women could engage with.
Tell us a little about your process. Do you start with an idea? A character? What is the easiest part of writing for you? What's the hardest?
I start with the characters – I find that if you get those right, they do a lot of the work for you! Get to know your characters inside out and they'll let you know how they'd react in any given situation. To start off with, I fill out questionnaires for all my lead characters – these have dozens of questions, but it's time well spent. What is your protagonist's greatest dream? Biggest fear? What would turn their world upside down (I always make sure I do this to them!), do they have tattoos? How do they wear their hair? How would they spend a rainy day? And so on, even the smallest details make a difference when it comes to fleshing them out. I also put together moodboards – you can see mine here: http://www.pinterest.com/vanessavintaget/
The easiest part is when I've pictured a scene in my mind – I know how each of the characters are feeling, what they are going to say and what the room looks like. When I sit down at the keyboard my fingers race across the keys and it just sort of writes itself.
The part I find most challenging is re-writing. When I receive feedback from my agent and/or editor and need to return to the manuscript and make changes. For example, they might point out that they can't understand why a character is doing a particular thing, or that a certain scene doesn't pack enough of an emotional punch – so I need to return to the text and build in a new scene, or improve the existing one. I used to get quite stressed about this! Now I always leave it a day or two after receiving feedback, during which time the solution usually presents itself. After writing in the changes, it's a case of reading through everything again to ensure it still flows.
What are you currently working on? What other releases so you have planned for 2013?
I'm writing my second novel at the moment – there's a fresh cast and this one is set in a seaside town. It centres around the world of traditional tearooms, with warming cups of Earl Grey, scones and cream – and takes readers into the lives of Kathryn, a young single mother, and an ambitious journalist researching a travel guide to England's hidden tearooms. There's plenty of friendship, romance and secrets unraveled along the way!
In the meantime, I've released a digital-only short, Tuesdays at the Teacup Club, a sequel to The Vintage Teacup Club.
Where can readers connect with you?
Come and say hi on Twitter @VanessaGBooks, or on Facebook (search Vanessa Greene Books.) I love to hear from readers. Take a look at my Pinterest boards (VanessaVintageT) for visuals that inspired the book.
Let's talk about your newest release: The Vintage Teacup Club…
If you had to summarize The Vintage Teacup Club for the readers here ….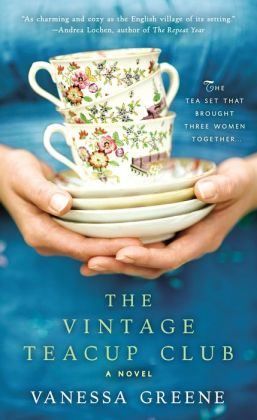 It's about three women, and the summer that changed all of their lives. Jenny, Maggie and Alison live in a small town in the British countryside – they fall in love with the same vintage teaset and an unlikely friendship is sparked. As the months unfold, with family dramas, new romance and an unexpected pregnancy – they turn to each other for support.
Please tell us about the characters in your book
Jenny is a young bride on a budget, saving for her wedding to long-term boyfriend Dan. Her mother left when she was young, but Jenny, her brother and disabled brother Chris get along just fine. There's only one thing that could send her perfect wedding into disarray…
Alison is bright and ambitious, in her thirties she's found her own happily-ever-after – she owns and runs a florist and her own thatched cottage in Sussex. She's happier now than when she was married to photographer Dylan. Isn't she?
Maggie is mum to two young daughters, one on the brink of adolescence. Husband Pete is her rock – but since he lost his job, the cracks in their marriage are beginning to show…
What scene did you most enjoy writing? why?
I really enjoyed writing Maggie's plotline – her ex-husband Dylan comes back into her life and she is really torn, there is a lot of unresolved feeling there. They spend a day together, having brunch, browsing in second-hand shops, and at the end of the day she wonders if she should give him a second chance. I wanted to explore that grey area in relationships, where nostalgia muddies the water and there is still love but it's not clear whether it's love that belongs in the past or the future.
Here's a snippet from their time together that day:
'Maggie turned around to see that Dylan had donned a leather cowboy hat and a white feather boa, a long cigarette holder hanging from his lips. She laughed before she could stop herself.' Then later… 'She watched him leave for the bar and cursed the old feelings that were coming back. Dylan's charm was wearing her down, layer by layer, and she was longing to feel his touch, to feel, just for a moment, the intimacy they'd once had.'
What scene was the hardest to write? why?
Alison's daughter is in her teens, and while Alison and Pete are focused on trying to keep the house finances together, she rebels and disappears. Her parents are distraught, but eventually Alison tracks her down and brings her back home. That night they talk things through:
'Alison reached out for her daughter's hand. For a moment she felt it, Sophie's skin as soft as when she was a little girl. Then she pulled her hand away and turned her face to the wall. Alison felt a tightness in her chest. The daughter she knew had gone.'
I found this scene hard to write because it brought back to me what a terror I was as a teenager! My mum and I are best friends now, and I've seen a whole new, wonderful side to her as grandmother to my baby son. But it wasn't always like that and I know I gave her a grey hair or two back then.
Who would who cast in the role of your characters if your book was optioned for a movie?
I can see Christina Hendricks as Maggie – a spirited redhead with distinctive vintage style. Amanda Seyfried would be brilliant as Jenny – wide-eyed, kind and enthusiastic. I'd love to see Maggie Gyllenhaal as Alison, as she's so great with the kind of dry humour Alison uses to keep going in the face of family dramas.
Thank you for stopping by HJ!
GIVEAWAY:

2 print copies of The Vintage Teacup Club
To enter Giveaway: Please complete the Rafflecopter form and post a comment to this Q:

Which character do you identify with the most? Have you ever found friendship in an unexpected situation? What did that friendship bring to your life, and did it last?
Excerpt
Gold-edged, delicate, almost translucent—four perfect teacups sit on four perfect saucers and a small and shapely teapot gleams in between them. The tea service seems to light up the open boot of the bottle-green Morris Minor, and as I reach out a tentative hand to touch the china I'm pretty sure I can hear a gospel choir singing out. Yes. Here, in the hum and bustle of Charlesworth's car boot sale, the Saturday bargain hunt that brings the residents of our old market town together, we've found each other at last.

"Anything in particular you're after, love?" comes a gentle, welcome voice over my shoulder.

My lord, is that a matching milk jug and sugar bowl I can see nestled among the yellowing newspaper? I peel a corner back to check. I'm right, and they all have the same pretty forget me-not pattern below the gold rim. I'm transfixed. I wrestle my gaze away from the teacups and turn towards the voice, warm smile already in place—less a charm offensive to kick off the negotiations, more that I simply can't stop grinning like a fool. I meet the stallholder's world-weary eyes, grey-blue under unruly brows. I expect my hazel ones look a bit manic—because in my head I'm desperately trying to decide on a maximum price for something I've fallen budget-defyingly in love with. Then, before we've even exchanged a word, I see the old man's gaze drift over my shoulder. Hang on . . .

"Well now, not a customer all morning and then along comes three lovely ladies at once."

I swivel round and see that two pairs of elegant hands have crept onto my tea set—touching the precious cups that, once I'd bought them, would make everything in my life just right.

The women look up in surprise, drawing back from the open boot in unison, still clasping a teacup each. One cup is held protectively by a willowy redhead in a cream silk vest and khaki slacks, the other by a curvy brunette in a gingham dress and red lipstick, her hair pinned back in 1940s victory rolls with just a few curls escaping.

"But . . ." I start. I was here first, I long to protest.

But then I see the expressions on their faces and I can't bring myself to say the words. They both look every bit as forlorn to see me as I am to see them.

"Listen," the redhead says, composing herself and fixing the stallholder with an assertive glare. He's clearly about eighty, and I worry he might faint if a conflict escalates. "It looks like you'll be going home with less stock and fuller pockets when you leave this car park today."

Her green eyes sparkle, and I flinch—how on earth can I compete with this cream-silk-clad professional? She's a crockery tiger. Retro brunette seems to be losing her nerve, she's fiddling with her chunky red necklace and glancing around—though something tells me that she might have the cold hard cash to come up on the inside.

And me . . . I look down at my worn jeans and Converse, suddenly aware of the girlishness of my blonde ponytail and petite figure, complete with blink-and-you'll-miss-it cleavage.

I feel twenty-six going on sixteen. Jenny Davis the amateur; my art deco engagement ring the only sign I've even dipped a toe in the antiques market before. But I do have passion—and that's supposed to count for something, isn't it? Even so, I can't help fearing that neither my purchasing prowess nor the contents of my purse are going to be hefty enough to land me this tea set of dreams. I hope, at least, that the others can't see that my heart is breaking a little bit.

"But ladies," says the redhead, her auburn waves catching the light as she turns to face us, "something tells me that taking this set home would mean really quite a lot to each one of us. Am I right?"

I'm so shocked by this curveball from the tiger, I just nod dumbly—tears prickling at my eyes. Instinctively I look back at the set. Yes, the sugar tongs need a good polish, but that somehow makes the whole thing even more perfect.

"Yes, it looks like we're all keen," I finally pipe up, turning towards the bemused pensioner. "Could you put a hold on the tea service for an hour?"

That was how our summer started.